E-Trade was first started back in 1982 and they have grown into an online broker that has more than 3.5 million clients. They were one of the forerunners in online trading, with their first online trade placed in 1983. They had their initial public offering (IPO) in 1996 and their headquarters is based in New York City. Currently, there are more than 30 retail branches located throughout the US and they have more than 4,000 employees. This E-Trade brokerage review will look at the pros and cons associated with E-trade as a broker.
Highlights
Industry leading software
Fantastic education offering
Large selection of investments
Nearly 40 years of service
1.
of 8 Options Broker
ETRADE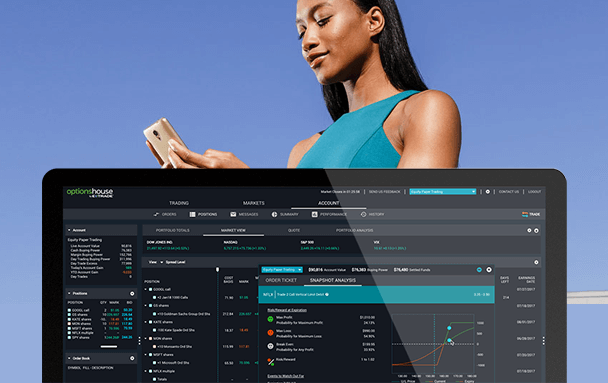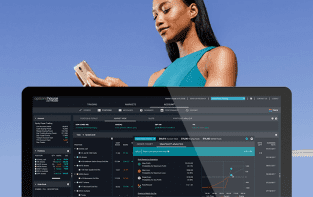 Go to Broker
Risk warning: Capital can be lost. Terms and conditions apply.
Headquarters and regulation
USA (FINRA / SIPC)
International order fees
$6.95
Services & additional benefits
ETFs
Certificates
Futures
Services & additional benefits
Live
Hotline
E-mail
1. Trading Offer
1. Options Broker Trading Offer : Massive range of options
One of the great standouts of E-Trade as a broker is that they have a diverse offering of different types of investments as can be seen throughout this review of E-Trade. Currently, they have over 4,400 mutual funds on offer that are free of any transaction fees, which is superior to their main competitors. In total, there are more than 9,000 mutual funds on offer through E-Trade. They regularly update their rating to reflect the changing tide so the markets and to make recommendations to their user base. For example, every quarter there is an All Star list published which showcases the best ETFs and no load funds that are on offer.
In terms of other investment options, they offer everything from shares trading, options, futures, ETFs, mutual funds and bonds. They even have an option whereby you can utilise portfolios that have been pre-built. If you are an options trader, the proprietary software used by E-Trade is one of the best in the business and can make your trading experience all the better as seen in this E-Trade stock trading review. You have a vast array of options to choose from, with commodities being one of the most popular forms of investment on the E-Trade platform.
Go to Broker
Risk warning: Capital can be lost. Terms and conditions apply.
2. Costs
2. Options Trading Costs : Decently Competitive
This review of E-Trade showcases that their cost structure is on par with a lot of their competitors when you look at a broker comparison. The one area that it lacks in is for those investors who are always on the hunt for commissions that are heavily discounted. However, a lot of the times with these heavy discounts, there is a trade-off in the quality of the offering, something which E-Trade compensates for adequately. For normal E-Trade stock trading, there is a fee of $6.95 and an options trade will be $6.95 in addition to $0.75 for every contract. If you are closing out a short option which is at the most worth $0.10, then there is no cost.
100
International
Trading venues
These rates make it easier for you to plan ahead as there are no hidden fees or charges, just flat rates. For those who make a lot more trades, they can avail of certain discounts. For example, if you make at least 30 trades in a given quarter, you can get a flat rate of around $4.94, with the per options costs lowering to $0.50 for each of the contracts. Their commissions for their mutual funds offering are not much different from their competitors with each trade being $19.99. With 225 ETFs that are commission free, this ranks them as being the 3rd best in the sector for this metric.
Reasonably competitive fee structure
No deeply discounted commissions
Great selection of commission free mutual funds
Go to Broker
Risk warning: Capital can be lost. Terms and conditions apply.
3. Account
3. Accounts : One main account for traders
As you can see with this review of E-Trade, there is a multitude of different types of accounts depending on your specific needs. There is a traditional E-Trade brokerage account, custodial accounts, options for core portfolios, traditional IRA accounts, Roth IRA accounts and Rollover IRA accounts. As mentioned previously, more frequent traders can get better discounts on the fees depending on how many trades they place within a given quarter. For regular traders, the brokerage account will be the option to choose. As part of this account, you will be gaining access to all of the various types of investments all under a single roof.
There is an array of top quality research and other tools you will gain access to and you can even get in touch with the professional team who will help guide you through some of your trickier decisions. There is also the advantage of being able to access this account wherever you go, whether it is on desktop, mobile or tablet.  E-Trade clearly places an emphasis on attracting people and corporations who are looking to cater for their retirement needs, with numerous accounts focused on these people. One drawback of these retirement accounts is that there is a lack of tools to help with the retirement planning process.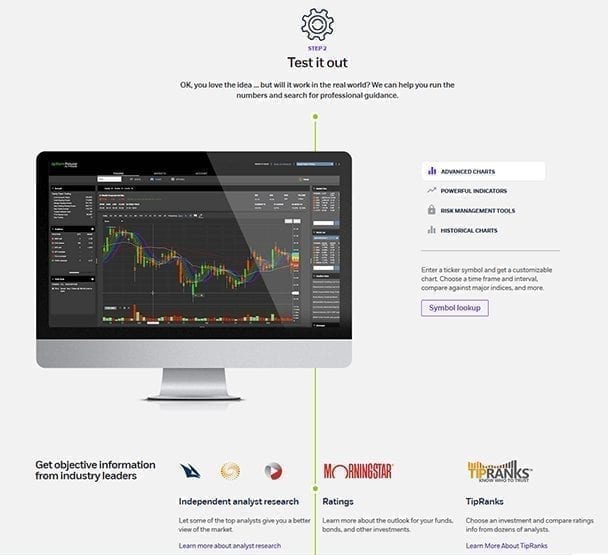 One main brokerage account
Multiple retirement accounts
Lack of retirement planning tools through the retirement account types
Go to Broker
Risk warning: Capital can be lost. Terms and conditions apply.
4. Platform
4. Trading Platform : 3 different trading platforms
There are three different trading platforms as part of this review of E-Trade. These trading platforms are called E-Trade Pro, OptionsHouse and E-Trade Web. There are also two apps for mobile users. The E-Trade web option allows you to stream market data for free, as well as getting quotes in real-time, live commentary on the markets, numerous research tools to name but a few features. You can easily track of all of your respective account and watch lists through the dashboard. OptionsHouse was an independent trading platform that was acquired by E-Trade in 2016 and is available to all types of customers. For those who trade on a more regular basis, OptionsHouse will be the best option for your needs.
You get access to data in real-time, with countless charting tools available and over one hundred different technical analysis tools. You also have a lot of customisation options which allow you to tweak the platform towards your specific preferences. E-Trade Pro is an even higher quality platform but there are some access restrictions in place. You need to have an account with at least $250,000 or make 30 options or stock trades each quarter. This is an impressive platform that is desktop based. They have great tools for the generation of ideas, such as their Strategy Scanner, as well as many different back testing features.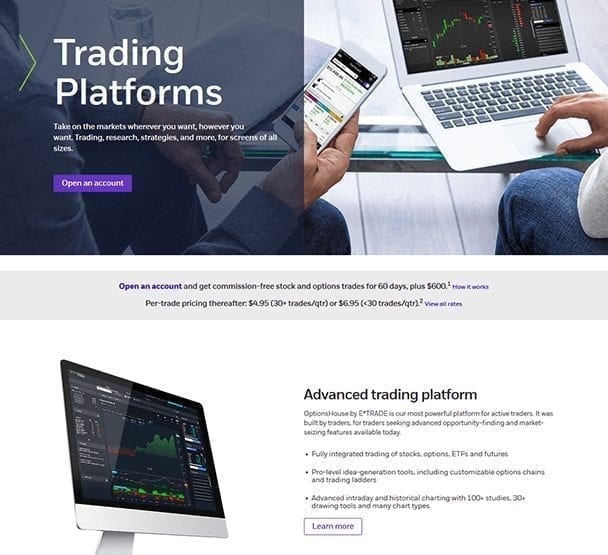 3 main trading platforms
OptionsHouse great option for regular traders
E-Trade pro has limited access
Go to Broker
Risk warning: Capital can be lost. Terms and conditions apply.
5. Usability
5. Usability of the Website : Very easy to navigate
In terms of the E-Trade website, the colour scheme of mainly white and blue is very easy for a viewer to read all of the respective information. There are no frills, it delivers exactly what you need and not much more. Each of the sections is clearly laid out and you can quickly see what the cost structure for each type of investment looks like, with a comparison table showcasing the available discounts for the more frequent traders. This is different to a lot of other brokers who are not very clear on the cost structures for their different offerings.
All of the sections are clearly laid out, with the menus able to be navigated by even the most novice of traders. Their legal terms and conditions are found in the footer of each of the pages on the website and the font is sufficiently large enough that you can read the terms. A lot of websites have these terms in miniscule writing which can be very difficult to read. This often sounds alarm bells because some people will be suspicious that a broker may be trying to hide something in the fine print of they have writing that small.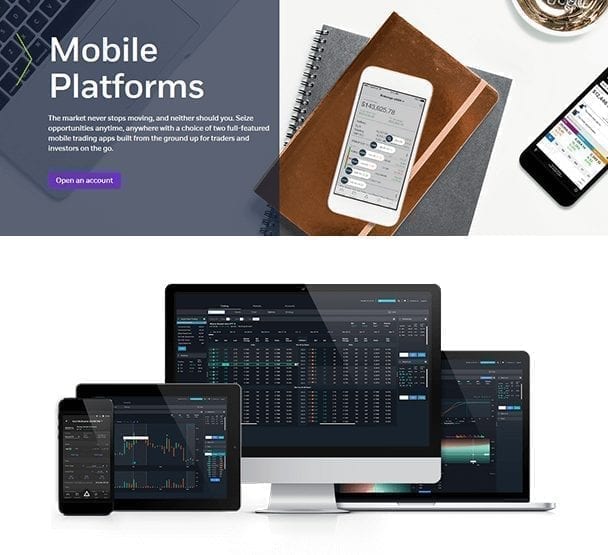 White and blue colour scheme is easy on the eye
Well laid out menus and navigation options
Large and distinguishable test for the legal agreements
Go to Broker
Risk warning: Capital can be lost. Terms and conditions apply.
6. Support
6. Customer Support : Available 24/7
One of the main reasons why E-Trade is such a great option in particular for beginner traders is due to the top quality customer support service that is on offer. They have wide ranging resources in their education section and online courses for their customers to utilise. There is a comprehensive FAQ section that can be used in a lot of cases to solve any questions or queries that you may have without having to get in touch with a member of the customer support team.
They also have email, phone and live chat options in case there is a more pressing matter that needs to be dealt with. If you are based in the United States, there are more than 30 retail branches of E-Trade that you could visit and deal with an issue in person if you prefer to take this type of approach. Their support team is highly experienced in all matters related to the E-Trade offering and trading as a whole, so you will be able to get your issue resolved with minimal frustration of time spent.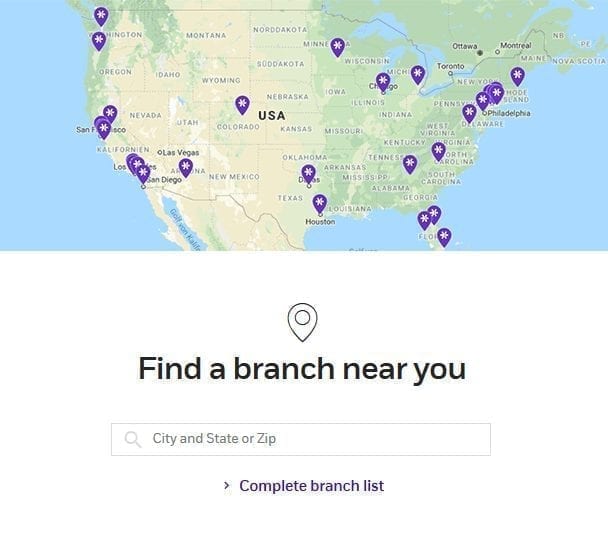 Great support for beginner traders
Live chat, email, telephone and physical retail branches options
Highly experienced customer support team
Go to Broker
Risk warning: Capital can be lost. Terms and conditions apply.
7. Payment
7. Methods of Payment : Variety of options
There are a few different ways in which you can add funds to your E-Trade account. You can utilise an online service that is free called Transfer Money which means you can transfer money quickly and easily between your E-Trade account and other financial institution accounts you may have. It is covered under the E-Trade complete Protection Guarantee and is very easy to use. Usually it takes 3-4 working days for funds to be processed into your brokerage account when using this option. You can utilise the wire transfer option which will see your funds being processed in about 24 hours. There is an option for you to transfer another account to E-Trade.
You could have securities or cash in a different financial institution and wish to consolidate your assets on the same account with E-Trade. This can take up to ten working days for these assets to be properly transferred. Finally, you have the option to add funds to your account by using a cheque. You can mail this into a physical location or you can use a mobile deposit option, which these funds being processed in about 5 working days. With E-Trade you certainly have a lot more funding options than many of their competitors.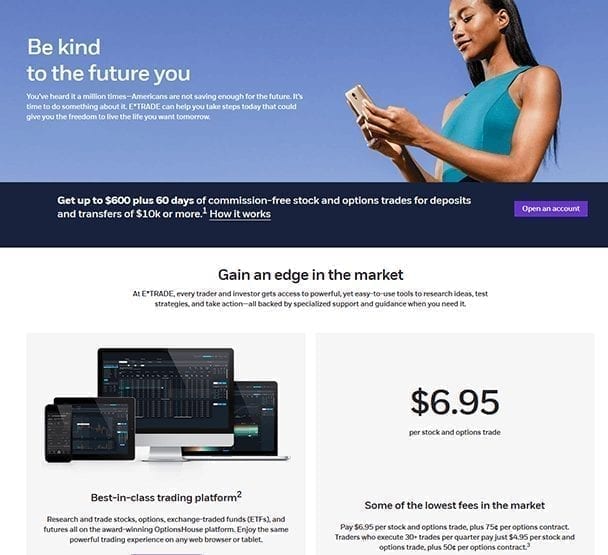 Many different options
Variety of online banking transfer methods
Ability to transfer accounts from other financial institutions
Go to Broker
Risk warning: Capital can be lost. Terms and conditions apply.
8. Offers
8. Additional Offers : Bonus for Newcomers
One of the most memorable aspects of the E-Trade brokerage account offering is the creative marketing campaigns they create which attracts new customers. These clever campaigns showcase the easy to use nature of E-Trade, whether it is through mobile or desktop and the great educational resource son offer. In addition, they usually highlight some form of bonus offer that new traders can avail of. There is a tiered bonus structure for new accounts, with the ability to get as many as 500 free trades and $2,500 worth of bonus funds. The highest rung on the tier structure to avail of a bonus is depositing at least $1 million, which will see you get the $2,500 in bonus funds and the 500 free trades. If you deposit between $250,000 and $499,000 you will get $600 in bonus funds and 50 days' worth of free trades.
When you deposit between $10,000 and $24,999 whereby you will get 60 days' worth of free trades. These deposits will have to be made within 60 days of opening your E-Trade account if you wish to avail of this offer. This is a good offer, especially when you look at an options broker comparison piece. As one of the best options brokers out there, they most definitely look after the needs of beginners and experienced traders alike.
Go to Broker
Risk warning: Capital can be lost. Terms and conditions apply.
9. Regulation
9. Regulation & Deposit Protection : SIPC and FINRA member
Anyone who has an account or is thinking of opening up an account with E-Trade needs to be aware of the various rules and regulations surrounding the broker. They are not insured by the FDIC and there is no bank guarantee in place. This means that your investments may lose value over time. The subsidiary that looks after the brokerage needs at E-Trade is called E-Trade Securities LLC and they are a member of FINRA/SIPC. The options and futures products are operated through the E-Trade Futures LLC and this is a member of the NFA. As part of their membership to the SIPC, cash assets that are held in client accounts are protected up to $250,000, with securities worth as much as $500,000 also being protected.
FINRA / SIPC
Regulatory Authority
The Financial Industry Regulatory Authority (FINRA) ensures that markets offered by given brokers are fair and that the investor has their basic protections met. They focus on preventing cases of misconduct by enforcing their respective rules and anyone who breaks these rules will be suitably disciplined. They are also involved in protecting investors and helping to resolve any disputes that may have arisen in relation to securities.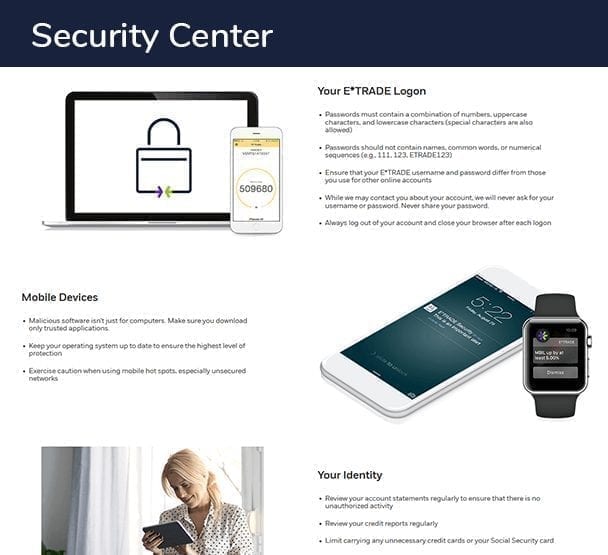 Member of FINRA and SIPC
Options and futures markets licensed by NFA
Cash assets in client accounts protected up to $250,000, securities worth up to $500,000 protected
Go to Broker
Risk warning: Capital can be lost. Terms and conditions apply.
10. Awards
10. Awards : Numerous prestigious awards
Over the years, there have been numerous awards and recognition that E-Trade has received by esteemed groups in the brokerage industry. For the seventh year in a row, there were ranked as being the leading broker in terms of loyalty and overall satisfaction by Group 5. Barron's have an annual survey that looks at online brokers and E-Trade was given 4 out of 5 stars in an overall rating in addition to being shortlisted for numerous titles such as in-person advice, long term investing, and options trading.
For the 2018 NerdWallet rankings, E-Trade was seen as being the number one broker when it came to the selection of investments. They also received a 5 star rating in the overall category. Back in 2016, E-Trade was on the receiving end of getting a distinction in the financial services and banking online category at the 20th yearly Webby awards. There have been many more distinctions and awards that have not been mentioned, but the same theme crops up again and again. They are always noted for being a great place to help their clients and they have a great range of investment products to choose from.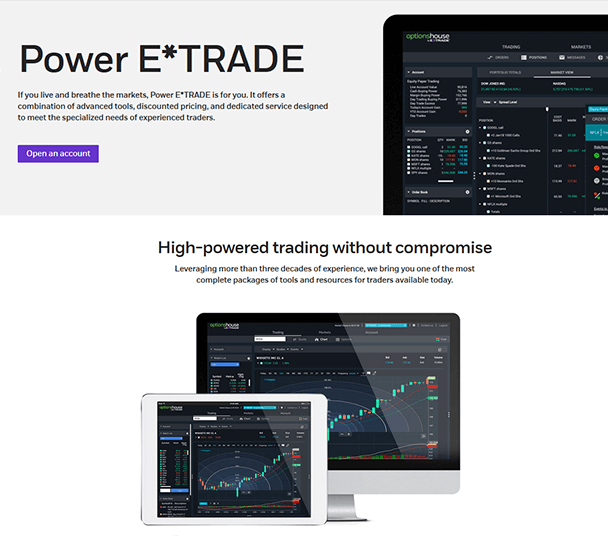 Countless industry awards
Regularly seen as being a leading broker
Great selection of investments is a regular award title
Go to Broker
Risk warning: Capital can be lost. Terms and conditions apply.
Conclusion – great all-round option
After conducting a comprehensive E-Trade stock trading review, it is clear that there are many great advantages to having an account at E-Trade, with only a few minor drawbacks. They have one of the best offerings in the industry when it comes to different types of investments. They are competitive for the most part in terms of their cost structure and they have a solid tiered structure bonus for new customers. There are many different account options, including three retirement account options, but their retirement planning tools do lack a bit. The website is very easy to navigate and the customer support team is top quality.
There are many different options available for you to fund your account and they are regulated by respected bodies.  E-Trade is just a solid all round offering and beginners particularly feel at home here. This is because their platforms are so easy to use and there is a very comprehensive educational centre whereby they can learn the ropes of the trading sector. The numerous awards they have received over the years show how much esteem they are held in the industry as a whole. Overall, to conclude this E-Trade brokerage review and determine if E-Trade is good, there is no doubt that this is a great choice for beginners and experienced traders alike.
Multiple financial products
Excellent customer support
Nice education materials
Test result
Broker

Go to Broker
Risk warning: Capital can be lost. Terms and conditions apply.