Ameritrade is a company that is publicly traded and is one of the most established brokers in the industry today. They have been in business since 1975 and they have been empowering people to invest their money properly ever since. They like to focus on educating their clients as this will help their chances in becoming a more informed trader in the long run, as well as providing other resources that will help them along their journey. Through this Ameritrade brokerage review, the shining lights of their broker offering will shine through.
Highlights
Quality trading platforms
Long operational history
Top notch customer service
Great offering of education resources
4.
of 8 Options Broker
TD Ameritrade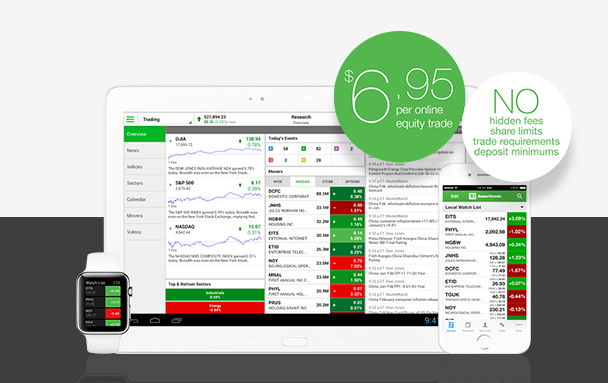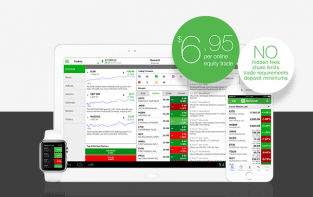 Go to Broker
Risk warning: Capital can be lost. Terms and conditions apply.
Headquarters and regulation
Nebraska, USA (FINRA/SIPC)
International order fees
n/a
Services & additional benefits
ETFs
Futures
Demo account
Yes, unlimited
Services & additional benefits
Live
Hotline
E-mail
1. Trading Offer
1) Options Broker Trading Offer : Wide range of options
As part of this review of Ameritrade, there are a multitude of different types of investments that are available for you to choose from and trade. There is no shortage of options, with even the most experienced of traders being happy with the variety on offer. There is of course Ameritrade stock trading whereby there is order toting which will always look for the best price as possible for a given stock. Their options offering is completed through their specialised thinkorswim platform and their options selection is one of the best out there.
They currently have more than 300 ETFs which are free from commission and are some of the top rated in the business. You are able to choose from thousands of different mutual funds and you can quickly filter out the specific options you don't want to consider. They also offer the likes of futures, forex offering, managed portfolios, cash management, bonds and CDs, as well as annuities. They have one of the best offerings seen with any broker and they outstrip their competitors when it comes to the number of commission free mutual funds and ETFs they have.
Go to Broker
Risk warning: Capital can be lost. Terms and conditions apply.
2. Costs
2) Options Trading Costs : Somewhat pricey
When you are looking through this review of Ameritrade, it is a good idea to look at what their price structure is compared others in the industry by looking at a broker comparison guide. You will then blow for blow be able to see what areas Ameritrade stands up well in and which area it is let down in terms of costs and fees. Ameritrade is seen as being quite an expensive broker when compared to others in the sector as a whole. When it comes to Ameritrade stock trading, there is a flat rate charge of $6.95 and this flat rate applies for every options trade in addition to a per contract cost of $0.75.
0
International
Trading venues
While these are still higher than some of the industry rates, the flat rate was $3 greater only twelve months ago. Fidelity and Charles Schwab are still ahead of Ameritrade in terms of these costs, but they are on the same level as E-Trade. They also have the second most expensive margin costs around. They do have more commissions free ETFs than any other leading brokers and their mutual fund trading fee of $49.99 is about middle of the pack.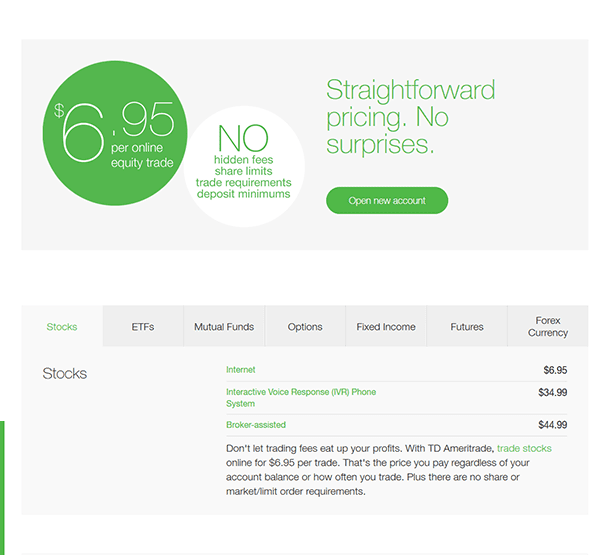 Not very competitive with other industry brokers
Only place where they rank well is for their commission free ETF offering
Flat rate is $3 cheaper than one year ago
Go to Broker
Risk warning: Capital can be lost. Terms and conditions apply.
3. Account
3) Accounts : Many different trading accounts
With this review of Ameritrade, you will see that the types of accounts that are offered by Ameritrade depend on what your specific goals or needs may be. They have accounts for people looking for standard brokerage services, retirement planning accounts, educational based accounts and some specialty accounts. The standard account Ameritrade brokerage account is flexible and gives you access to a comprehensive stable of different types of investments and trading platforms. You do have the ability to create a joint account and upgrade it to allow for the likes of forex, futures and options trading.
There are different retirement accounts, such as a traditional IRA account, those for Roth IRAs and rollover IRAs. There is an account focused on helping people save for educational purposes, with a variety of different ways it can be tailored. You can have your funds managed on your behalf by a professional if you wish to do so through a managed account. The speciality accounts can be used for pension plans and trusts, as well as for the likes of business partnerships. It makes matters a lot easier for people. Finally, more advanced traders may avail of the margin trading account.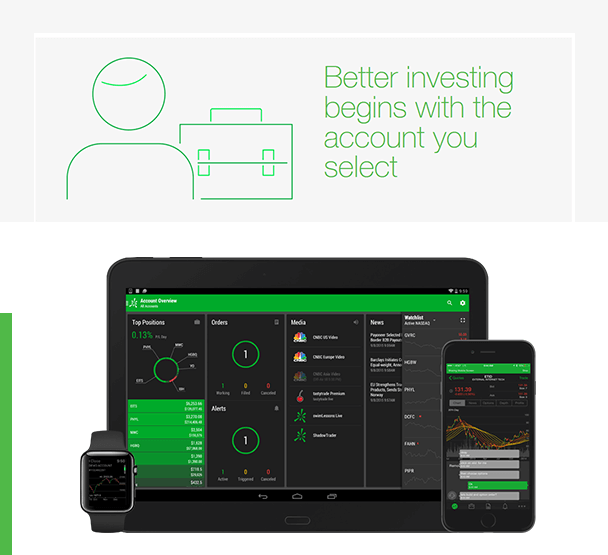 Wide array of account types on offer
Something suited for every type of trader
Margin trading available for more experienced traders
Go to Broker
Risk warning: Capital can be lost. Terms and conditions apply.
4. Platform
4) Trading Platform : One of the best platforms in the sector
As a result of this Ameritrade brokerage review, you will be aware of the great options that exist when it comes to the offered trading platforms. Their main platform is known as thinkorswim and this is their go to for most scenarios. More advanced traders in particular enjoy the wide ranging options that are part of it. For example, with almost 400 different technical indicators available, this is more than double of what is seen with the other leading brokers in the sector. There are 22 different charting options and a massive amount of fields for watch lists, sitting at 514 fields.
There is the ability to conduct simulated trading and all types of customers will have access to this platform, there are no restrictions. Other companies such as Fidelity and E-Trade have trading platforms that can only be used by certain types of clients. Thinkorswim is a desktop platform and is one of the best in the business. There is something there for everyone. You are even able to make your own indicators if you wish to do so.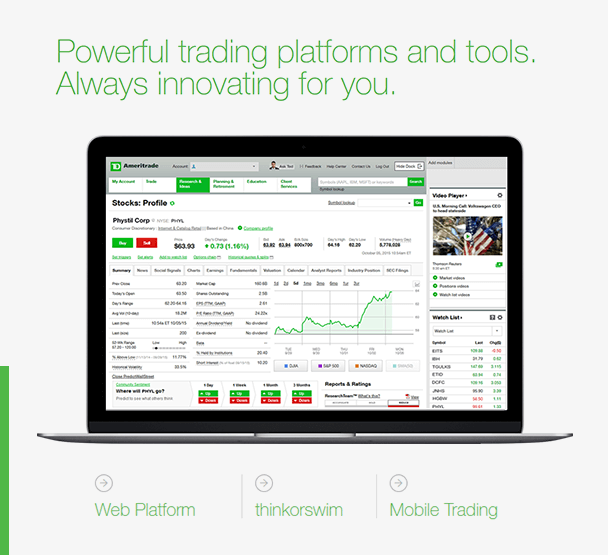 One of the best trading platforms in the industry
All account types have access to thinkorswim
A staggering 400 technical indicators available to use
Go to Broker
Risk warning: Capital can be lost. Terms and conditions apply.
5. Usability
5). Usability of the Website : Easy to use
Ameritrade hasn't been in the business of helping people invest their money for decades without having an attractive website. It is a very modern offering that has a basic white and light green colour scheme that you would often associate with tech companies. They clearly have put a lot of effort into making their website easy to use and navigate. Their menu is well laid out and the have great sections where you can compare the various types of accounts with each other and clearly see what the price structures are that you will be dealing with.
All of the text is sufficiently large and clear that makes everything easy to read. They do only have limited legal agreements in the footer of their webpage, something which is different than most brokers who fill up the footer with legal information. Instead, they have a dedicated page for all of this information which can be viewed if you are interested. Ameritrade clearly knows which of their products are preferred by their clients, as certain aspects of their offering stand out when you visit the site.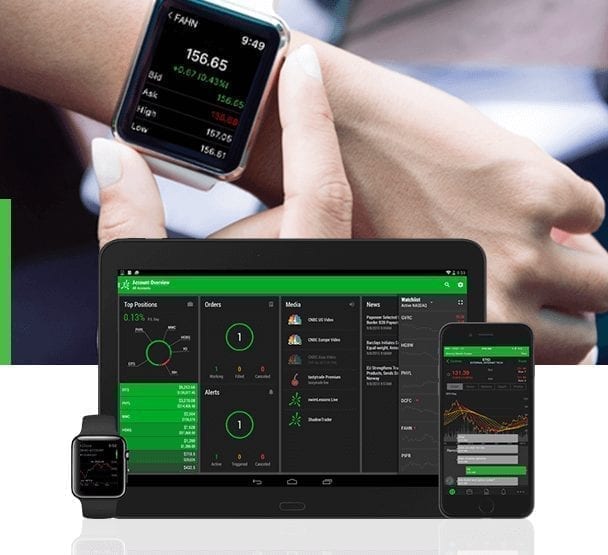 Limited legal talk in the footers of the website pages
Simple, yet effective colour scheme
Easy to navigate website
Go to Broker
Risk warning: Capital can be lost. Terms and conditions apply.
6. Support
6) Customer Support : highly praised
Ameritrade has long been a leader in the industry when it comes to the level of support they provide to their customers. This is why they are so well suited to beginners in particular, as these are the people who are going to be a lot likelier to need to enlist the help of these representatives as opposed to more experienced traders who are very familiar with the various aspects of trading. In terms of their educational offering, they are hard beaten in the regard with a comprehensive number of topics covered comprehensively. You can even decide what level of expertise you have and then follow the relevant type of content.
This comes in many different shapes and forms. There is also great support options for those who may need an issue resolved. After acquiring Scottrade, they now have more than 300 retail branches located mostly in the United States. This means that people can go in-person to their local branch and have their issues discussed. They offer phone and live chat support on a 24/7 basis. They also have a Facebook Messenger option. They certainly tick all of the boxes when it comes to customer support and it is hard to find any other broker that can touch them in this regard.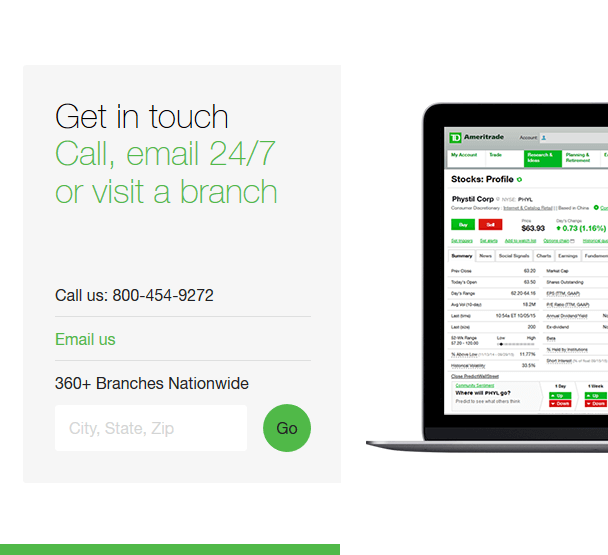 24/7 telephone and live chat support
Top quality educational offering
Over 350 retail branches you can visit
Go to Broker
Risk warning: Capital can be lost. Terms and conditions apply.
7. Payment
7) Methods of Payment : Five main options
When it comes to adding funds to your Ameritrade account, there are five main ways in which you can do so. You are able to make an electronic bank deposit (ACH) which will see the money goes from your bank account and transfer electronically to your Ameritrade account. The processing time for this can take anywhere from half an hour up to three working days. You can make a deposit as small as $50 and up to $250,000 with this method.
This is the most popular option that is used on the Ameritrade platform. You can also use a wire transfer from any financial institution and this will generally take a single working day to process and there is no limit on how much you can contribute. You are able to mail Ameritrade a cheque or you can deposit it via mobile, which will take between one and three working days to process. You can conduct an external securities transfer which allows you to transfer stocks from other firms into your Ameritrade account. This usually takes about a week to be processed. Finally, you can use physical stock certificates by mailing them in, taking about a single day for them to be processed.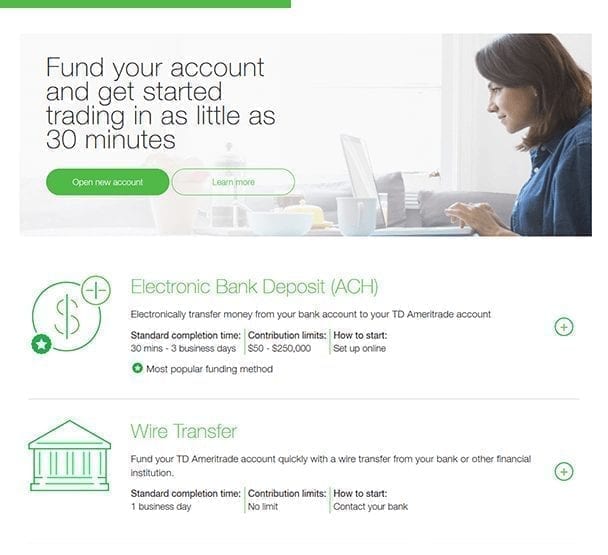 5 main funding options
Generally the processing times are quick
Choose your method depending on your specific needs
Go to Broker
Risk warning: Capital can be lost. Terms and conditions apply.
8. Offers
8) Additional Offers : comprehensive education section
One of the areas that a lot of people look at when it comes to opening an account with a new broker is what type of new customer offer they may have. While this is not the be all and end all, it certainly can be the icing on the cake for a lot of people. When you look at an options brokers comparison, you will see some don't offer any bonus whatsoever, but usually the best options brokers have some sort of offer. For Ameritrade, you can get as much as $600 worth of bonus funds, as well as having commission free trades for a sixty day period.
If you depot at least $3,000, you will get 60 days of free trades. If you deposit at least $25,000, you will get free trades for 60 days and $100 in bonus funds. You will get free trades and $300 when you deposit at least $100,000 and $600 in bonus funds plus free trades if you deposit at least $250,000. This is a hand way to add a bit more to your current portfolio and the free trades are particularly handy if you are a regular trader.
Go to Broker
Risk warning: Capital can be lost. Terms and conditions apply.
9. Regulation
9.) Regulation & Deposit Protection : FIRA and SIPC member
It is important to note when you are dealing with a new broker that there is always going to be a certain level of risk involved when you are making an investment. Your investment will fluctuate over time and it may lose value. Ameritrade is not claiming to make any form of legal or tax advice, these matters have to be looked after by yourself. There are a number of jurisdictions in which they do not have the authorisation to do business, so there is no obligation upon Ameritrade if people or parties break these rules and still use the platform.
FINRA/SIPC
Regulatory Authority
Some of the notable countries that are not covered include European Union countries, the United Kingdom, Singapore, Saudi Arabia, Japan, Hong Kong, Canada and Australia. It is through the TD Ameritrade Inc. subsidiary that they provide their brokerage services. This subsidiary is a member of both FINRA and the SIPC. This means that in the case of insolvency, bankruptcy or any other similar matter that your cash amounts held in an Ameritrade account will be protected up to $250,000, as well as securities that are valued up to $500,000.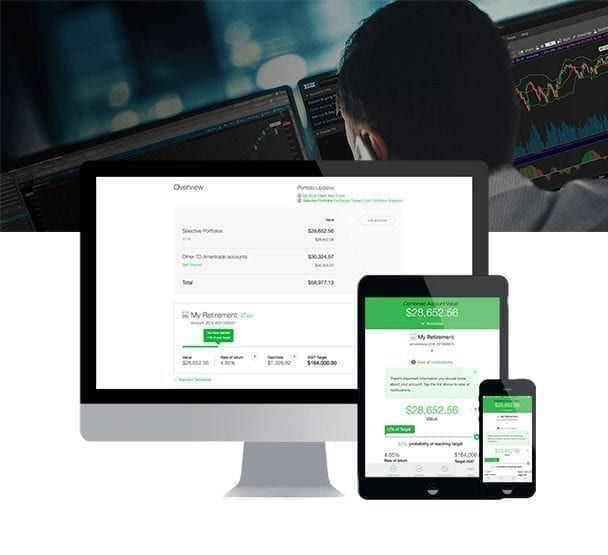 Both FINRA and SIPC members
Restricted list of countries where they are not licensed to operate
Up to $250,000 in cash protected, as well as up to $500,000 in securities
Go to Broker
Risk warning: Capital can be lost. Terms and conditions apply.
10. Awards
10) Awards : Consistent award winners
Ameritrade has been around the block for many years now, so they have managed to refine their offering along the way and focused on areas where they know they have their strengths. This makes them stand out and creates a loyal user base, as well as providing a great platform to attract new customers. They have won numerous awards over the years encompassing various aspects of their business. One of their recent standout awards was being ranked in number one position by Kiplinger for being the best overall online broker.
They received full marks for their user experience, tools and research in particular, with their advisory services and mobile offering also ranking highly. They have also won the award for six years in a row for being the leader in long term investing by Barron's. They have also been number one for seven years in a row when it comes to novices and three years in a row leading the way for the platform's usability. These are just a few of the accolades that Ameritrade have won in recent years. This showcases how committed they are when it comes to providing the best experience as possible for their customers.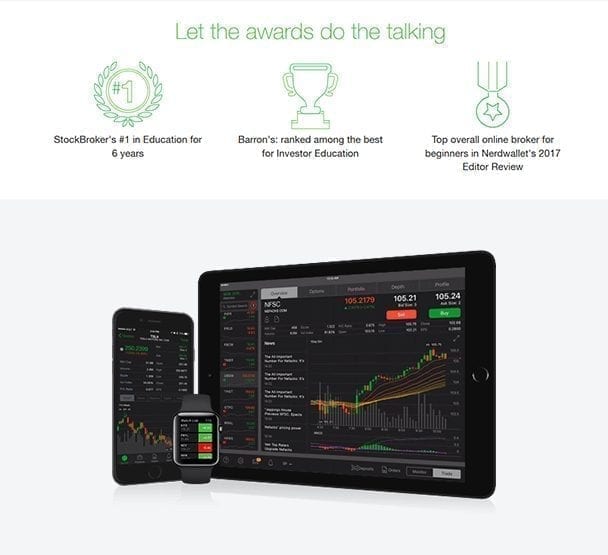 Winner of many prestigious awards
Consistently winning the same awards year on year
Accolades showcases their commitment to their users
Go to Broker
Risk warning: Capital can be lost. Terms and conditions apply.
Conclusion – dedicated to customer excellence
When you look at this Ameritrade stock trading review, you really see just how committed they are to their customers. They have one of the best educational platforms around, as well as having almost unparalleled levels of customer support. While they are not the cheapest when it comes to fees, they make up for it through their array of investment options. They have a bonus offer for new customers and they are well regulated by FINRA and SIPC.
They have one of the best trading platforms in the world and they are very easy to use, no matter if you are a beginner or an experienced trader. As there are so many analysis tools available, experience users are in heaven when it comes to their trading processes. To conclude this Ameritrade brokerage review to determine if Ameritrade is good for you, look no further than the service they provide their customers year on year, as proven by their consistently won awards over the years.
Top customer service
Great educational tools
Multiple great platforms
Test result
Broker

Go to Broker
Risk warning: Capital can be lost. Terms and conditions apply.