Betterment is famously known as an online investment company, headed in New York City. The company registered the Securities and Exchange Commission and is an adherent of the Financial Industry Regulatory Authority (FINRA).
Betterment delivers an automated investment platform that refers to a Robo-Advisor. The company presents $10 billion in asset and more than 270,000 investors, coming out on top among large robo-advisor companies. It was also the first online financial advisor that attained $10 billion AUM (assets under management) in 2017.
Highlights
Online investment firm, based in NYC
Operates under SIPC insurance
Notorious largest robo-advisor company
$10 billion in asset, 270,000 investors ´17
2.
of 9 Robo Advisor Broker
Betterment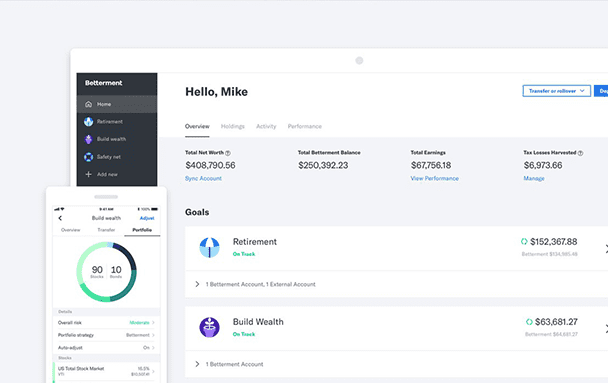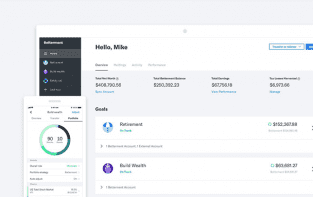 Go to Broker
Risk warning: Capital can be lost. Terms and conditions apply.
Headquarters and regulation
USA (SIPC)
Investment Universe
Shares, Commodities, Real Estate, Bonds, Money Market
Services & additional benefits
Live
Hotline
E-mail
1. Trading Offer
1) Robo Advisor Trading Offer: Carefully Selected Portfolio of ETFs
The robo advisor provides you with the main portfolio, comprised of stock ETFs and bond ETFs.
Betterment stock trading includes 7 stock ETFs: Vanguard U.S. Total Stock Market (VTI), Vanguard U.S. Large-Cap Value (VTV), Vanguard U.S. Mid-Cap Value (VOE), Vanguard U.S. Small-Cap Value (VBR), Vanguard FTSE Developed Markets (VEA), Vanguard FTSE Emerging Markets (VWO).
Besides, Betterment has 7 bond ETFs: iShares Barclays Aggregate Bond Fund (AGG), iShares National AMT-Free Muni Bond (MUB), Vanguard Short-Term Inflation-Protected Securities (VTIP), Vanguard Total International Bond (BNDX), iShares Emerging Markets Bond (EMB), iShares iBoxx $ Investment Grade (LQD), iShares Barclays Short Treasury Bond (SHV).
Betterment requires no minimum account balances for the customer who either wants to set an account or wants to maintain an account. There are a variety of accounts that you can choose from, including Traditional IRA, Roth IRA, Trust account, a joint account, SEP IRA, Betterment for Business, a Roth IRA under your spouse's name.
Strikingly, in Betterment, you can use a retirement planning tool to establish your saving plan. The robo advisor provides consultants and advice for you to achieve your retirement targets.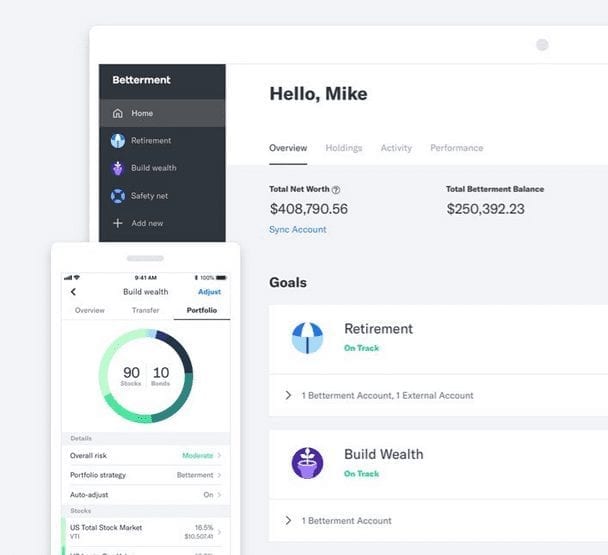 Betterment provides core portfolio with 7 stock ETFs and 7 bond ETFs.
The broker also provides multiple accounts for you to choose from.
In Betterment, you can use a retirement planning tool to build your saving plan.
Go to Broker
Risk warning: Capital can be lost. Terms and conditions apply.
2. Costs
Go to Broker
Risk warning: Capital can be lost. Terms and conditions apply.
3. Account
3) Accounts: A Wide Range of Accounts Supported
In order to establish a Betterment account, you access the Betterment website in a browser and click "Add New" in the menu bar. In this section, you will be offered a list of account types to select; there is also no fee required to open new accounts.
The process to open a new account is simple. Firstly, you provide the purpose of using the accounts, such as saving for retirement, college, or general savings. After that, you fill up the questions about general topics such as income, target, employment, marital status, … From that information you provide, Betterment suggests an investment scheme and then, by using an algorithm, establishes a portfolio that comprises of stocks, bonds, and funds. You can select whether you want Betterment to manage your portfolio with trades and re-balances or not.
You can use the following accounts in Betterment: Roth IRA, SEP IRA, Traditional IRA, trust accounts, joint taxable accounts with rights of survivorship, individual taxable accounts.
Nevertheless, Betterment does not support you with the following accounts: HSAs, solo 401 (k)s, custodial or minor accounts, 529 accounts, self-directed accounts.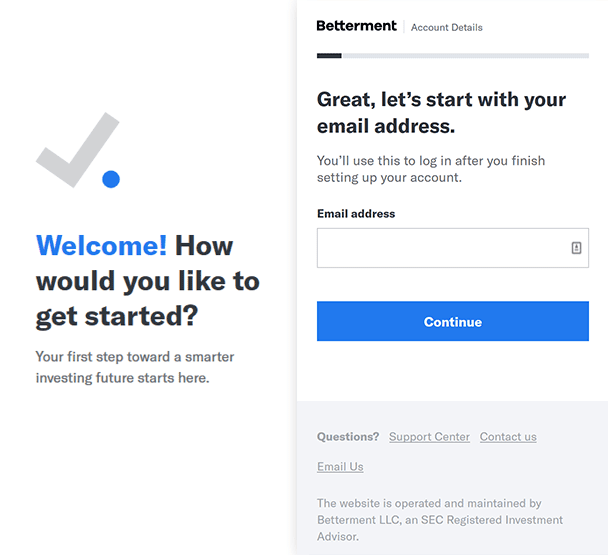 You can easily set up an account in Betterment by accessing the "Add New" in the menu bar.
Betterment will help you to establish an investment strategy and build your portfolio.
There are some accounts supported by Betterment and there are not.
Go to Broker
Risk warning: Capital can be lost. Terms and conditions apply.
4. Platform
4) Trading Platforms: Flexible and Convenient
In the Betterment platform, you can conveniently oversee your overall account operation and inspect the progress toward your goals. Besides, you can easily alter the information of the profile settings, for instance, income, tax filing status, specific aims and risk tolerance. The advantage of the platform is that the dashboard landing page transparently presents all the accounts and goals in one section. If you miss the track toward your goal, the platform will sound a note for you by setting a red tag "Off Track" next to the goal title.
The Betterment app is also convenient to use. You can easily inspect the operation, the asset management, risk tolerance and other targets set and set deposit. However, you need to log in to the website in order to withdraw the money. When logging into the app, you must set up Touch ID or a PIN or another security layer to attain the standard password security.
The only disadvantage of the app is that it does not support user to make withdrawals. The app also provides the standard asset allocation chart that presents the destination your money goes into.
Go to Broker
Risk warning: Capital can be lost. Terms and conditions apply.
5. Usability
5) Usability of the website: Elegant Website Layout
The website is designed with elegant and light theme colour, which contains 3 main colours: black, white and blue. The website is decorated with black font, white background colour and blue button.
The top of the website lies the menu bar containing several buttons: Why Betterment, Services, Resources, Pricing, FAQs, For Business, Search our site. Right below the menu bar is the image of a friendly smile of the women, accompanied with a white heading presenting introduction words and greeting to the readers.
When scrolling down, you will see separated sections displaying different categories about the offerings of Betterment, mission and strategies, instruction of using Betterment, and investment plan.
Below those sections is the Barron review about Betterment, it regarded Betterment as one of the big companies and that Betterment has the great impact on financial advice in the US.
Staying at the bottom of the website is the information about Betterment regulations, insurances, legal policy and terms. Besides, the website designers carefully save room for social address displayed and mobile platform information.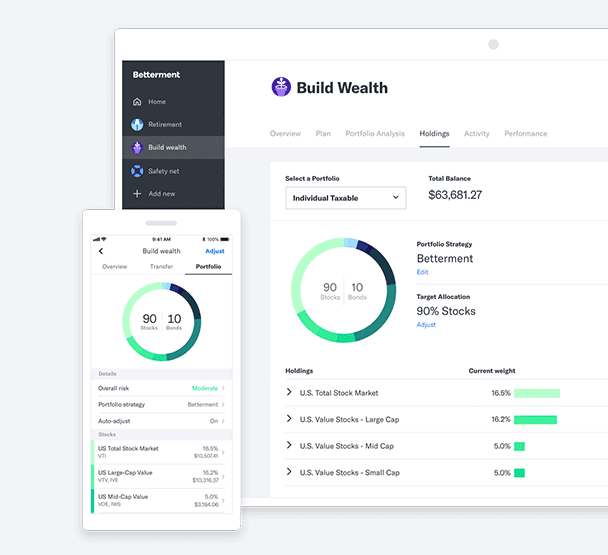 The website is elegant and easy to use.
The top of the website shows the friendly image of a women smiling and greeting words.
The website shows informative instructions with the menu bar lying in the top and the instruction of using the Betterment lying in the centre of the website.
Go to Broker
Risk warning: Capital can be lost. Terms and conditions apply.
6. Support
6) Customer service: Down-The-Line Support For Customer
Betterment sets the customer service as its priority because its goal is to deliver a full-fledged investment product. Support staffs are available from 9 AM to 6 PM in weekdays and from 11 AM to 6 PM in the weekend to satisfy all the customer inquiries. You can use an app to make a contact with financial professionals. Also, you can put any type of investment of financial puzzle into that box and still gets a quick answer delivered from your phones.
If you have already registered the Premium services, you can get certified financial planners via your phone and receive full assistance. The phone number of Betterment service is (844) 291-8593.
You can also contact the Betterment customer service by sending the email via address [email protected]. If you want to use the postal service, you can enter the mailing address: Betterment LLC, 61 W.23rd Street, 4th Floor, New York, 10010.
Other conveyances you can consider using to contact Betterment service is via social network sites such as Facebook, Twitter, Google Plus, LinkedIn.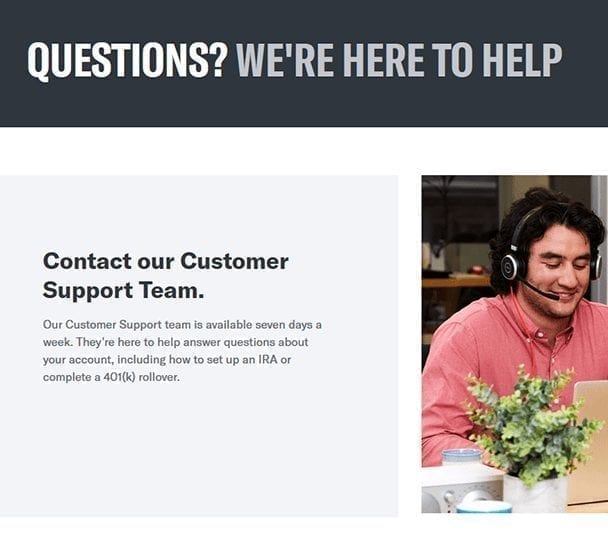 You can contact service staffs of Betterment from 9 AM to 6 PM on weekdays and from 11 AM to 6 PM at the weekend.
The Betterment service phone number is (844) 291-5893.
The postal address of Betterment is Betterment LLC, 61 W.23rd Street, 4th Floor, New York, 10010.
Go to Broker
Risk warning: Capital can be lost. Terms and conditions apply.
7. Payment
7) Methods of Payment: Client Accounts Trading
Betterment will operate all the trading activities for you. Betterment trades in Client accounts in responding to your action of deposit or withdrawals. The robo advisor trades to rebalance the customer account, to alter investment options by further the investment objectives that you set on the website.
The transaction might be delayed in some specific situations. When orders inaugurate on non-business days, less then 30 minutes before market close, normally the orders will not transact until the next business day. Besides, trades that are set by several Client actions in a single day will not be done until the next day.
Deposits and withdrawals trigger to the purchase or sale of shares of the ETFs that compromise the stock and bond portfolio. Deposits normally take 1-2 business days for investment into the portfolio, depending on the algorithm's recommended mix of funds.
Meanwhile, withdrawals take place in 4-5 business days to link to the checking account and also contains settlement and transmission via the ACH network back to your bank.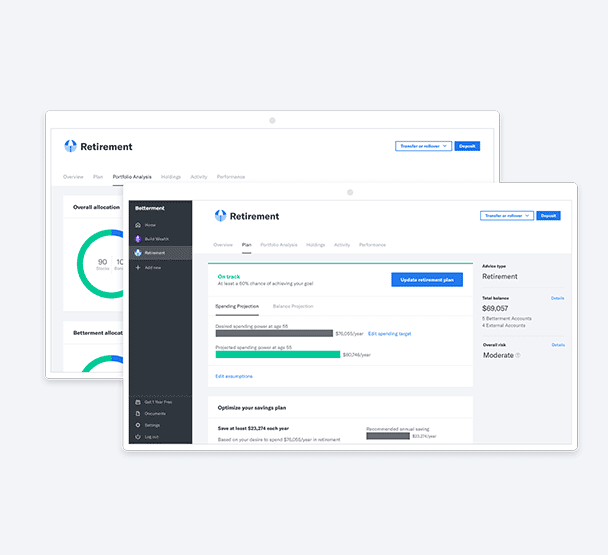 Betterment trades in Client accounts in responding to the customer action of deposit or withdrawals and trade to rebalance the customer account.
Transaction in Betterment can be delayed in some specific situations.
Deposit action normally takes 1-2 business days to be placed while withdrawal action takes about 4-5 business days.
Go to Broker
Risk warning: Capital can be lost. Terms and conditions apply.
8. Offers
8) Additional Offers: Multiple Offering Programs
Betterment provides many attractive programs for users. One of these is financial planning package. These packages provide offers related to particular life events. The five packages start from $149 to $399, and the topic varies from "getting started" to "retirement planning."
Another program is Goal-based saving. Betterment provides the process to find out about your background and goal-setting, recommends a list of targets triggered from your answer, and suggests a retirement savings goal and general goals.
Besides, you can also be offered SmartDeposit in Betterment. You can choose a highest possible amount you need in the checking account and SmartDeposit will manage that account weekly and take out any excess.
Another feature is Smart Saver, which supports you to pour money into the low-risk bond portfolio. The recent expected return is staggering 2%, and that number will drop to 1.8% after fees if you use Digital account and to 1.6% if you use Premium account.
Betterment currently integrated a charitable giving tool into its platform to help customer donate securities, in a tax-efficient approach, to charities via the Betterment platform.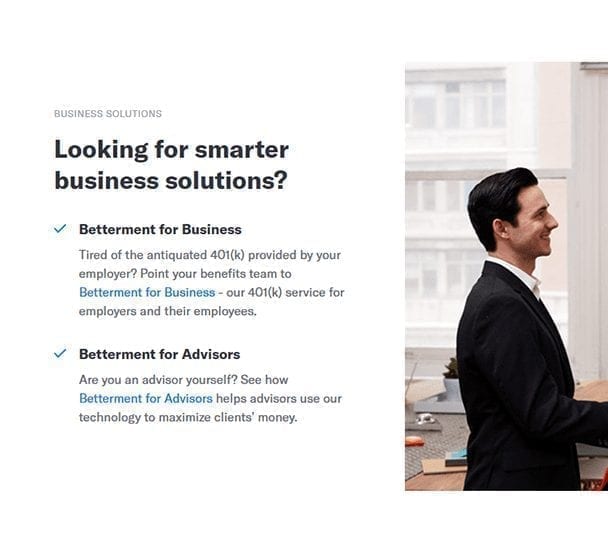 The typical offering is Financial Planning Package, which gives the special offer for you in particular life events.
Other programs such as Smart Deposit, Smart Saver, Goal-based Saving help you to manage your account effectively and swiftly reach the goal.
Betterment also adds a charitable giving tool for customers who want to donate their fund for charity activities.
Go to Broker
Risk warning: Capital can be lost. Terms and conditions apply.
9. Regulation
9) Regulation & Deposit Protection: Under the Scheme of SIPC
Betterment is a member of SIPC (The Securities Investor Protection Corporation). SIPC delivers insurance that helps to cover your investment. It can protect $500,000 of missing assets and $250,000 maximum for each cash claim.
Besides, Betterment assures the firm protection for customer information. The robo advisor applies multiple physical as well as an electronic shield to keep the privacy of customer data. The strongest browser encryption also is used in Betterment and all the data are preserved in the serves with secure facilities. Furthermore, the employees in Betterment have some limit rights to approach the customer personal and financial data; only those who possess validated accesses can use customer data to perform the jobs.
If you make up your mind to terminate the account in Betterment, the robo advisor will strictly follow it privacy regulations and practices. In the case you want to sustain a Betterment account, you need to own the responsibility for safeguarding and sustaining the confidentiality of the account and password.
The Betterment service does not serve the people under 18. If Betterment discerns any utilization from the child under 18, it will immediately close the account.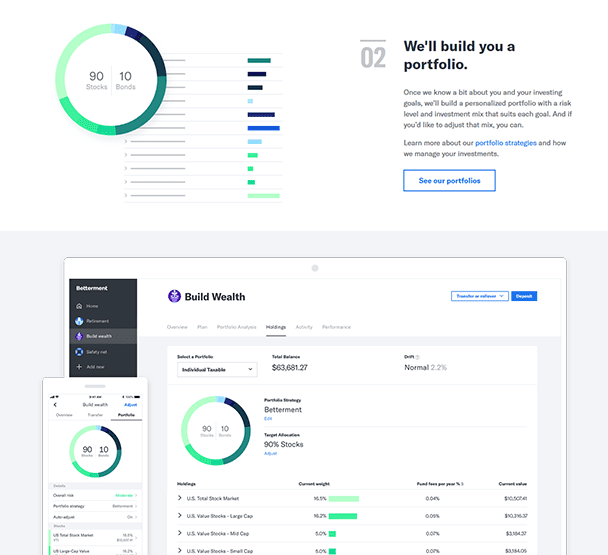 Betterment operates under SIPC insurance that can cover your account up to $500,000.
Betterment also strictly adheres to the regulation of keeping the confidentiality of customer.
People under 18 cannot use Betterment services.
Go to Broker
Risk warning: Capital can be lost. Terms and conditions apply.
10. Awards
10) Awards: Many Winning Awards From Broker Website
Betterment gained high rating from broker comparison articles, Betterment brokerage review website and experts. The Investorjunkie rated Betterment 9/10 points. In the review board from this website, Betterment gained 8/10 in Commission & Fees, 9/10 in Customer Service, 9/10 in Ease of Use, 9/10 in Tools & Resources, 9/10 in Investments Options, and 8.5/10 in Asset Allocation.
In StockBrokers.com, Betterment gained 5 stars in overall. Particularly, it gained 5 stars for Investment Approach, 4.5 stars for Cost, 5 stars for Tools. StockBrokers.com regarded Betterment as the best robo advisor for its friendly feature and the great experience for customer use.
In Nerdwallet.com, Betterment also attained 5 stars in overall. Specifically, it attained 5 stars for Account minimum, 4 stars for Account management fee, 4 stars for Investment expense ratios, 5 stars for Account fees (annual, transfer, closing), 4 stars for Portfolio mix, 3 stars for Accounts supported, 4.5 stars for Tax strategy, 5 stars for Automatic rebalancing, 4 stars for Customer support options and 2 stars for Promotion.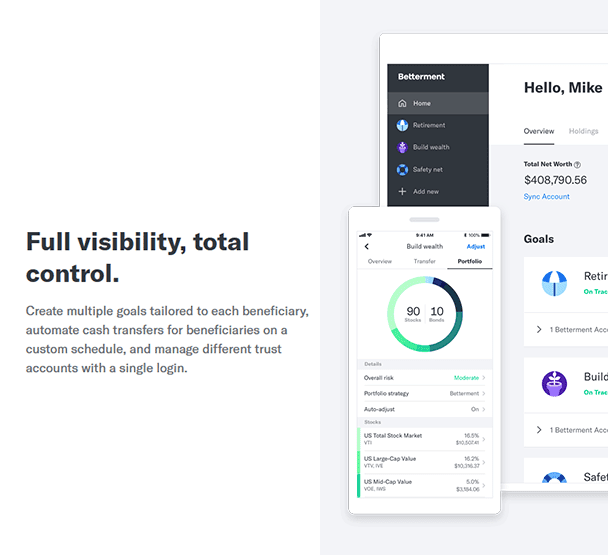 Betterment gained 9/10 points from Investorjunkie.com.
The robo advisor attained 5 stars rating from StockBrokers.com; the website recognized Betterment as the most friendly-used robo advisor for customers and also comment that the Betterment brings great experience for customers.
Betterment hits 5 stars rating from Nerdwallet.com.
Go to Broker
Risk warning: Capital can be lost. Terms and conditions apply.
Conclusion: A Robo Advisor That Heads Toward Customer Benefits
Betterment is one of the largest robot advisors in the industry. Its useful features provide great assistance for traders.
At Betterment, you can find a carefully selected portfolio of stock and bond ETFs which helps you minimize your trades with low cost and tax-effective. The website platform and mobile platform of Betterment are really sleek and organized, helping customer easily access the important features and procedures. All of the features of Betterment designed for the cause of bringing the best experience for customers that they can optimize their trades and get the best results.
Betterment provides multiple accounts for users such as Roth IRA, SEP IRA, Traditional IRA, trust account, etc. With these accounts, you will be supported with the suggested investment strategy and portfolio.
In short, Betterment is customer-focused. Betterment main cause is to provide a concrete scheme to help you maximize your portfolio and attain the goal. Thus, if you are finding the tools that can enhance all the investment portfolios, Betterment should be in your list.
Want to know more about other robo advisors? Check out our robo advisor comparison page now.
Tax efficient
Easy to use platform
Great diversification options
Test result
Broker

Go to Broker
Risk warning: Capital can be lost. Terms and conditions apply.