Charles Schwab is a diverse online broker, with everything from robo advisor services to Charles Schwab stock trading, depending on your preferences. Schwab was founded back in 1973 and is a full-service broker with total client assets of $3.18 trillion. Reviews show that Charles Schwab has 10.6 million brokerage accounts, 1.6 million retirement plans, and 1.2 million banking accounts. The broker's robo advisor accounts are in the form of Schwab Intelligent Portfolios, which it advertises as simple and smart investing of an automated nature.
Highlights
No fees for Schwab Intelligent Portfolios
24/7 access to professionals
More than 50 years of experience
Easy access via mobile app or website
4.
of 9 Robo Advisor Broker
Charles Schwab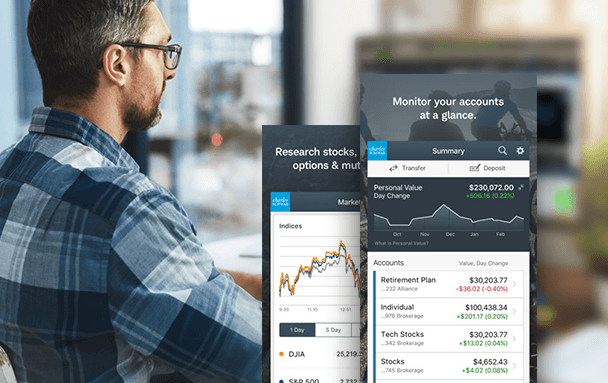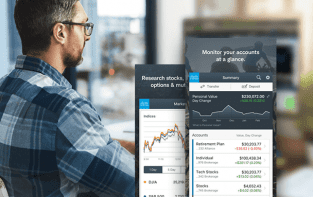 Go to Broker
Risk warning: Capital can be lost. Terms and conditions apply.
Headquarters and regulation
USA (SIPC)
Investment Universe
Shares, Commodities, Real Estate, Bonds, Money Market
Services & additional benefits
Live
Hotline
E-mail
1. Trading Offer
1. Robo Advisor Trading Offer: Focused on ETFs
As with many other options in a robo advisor comparison, Charles Schwab's robo advisor focuses on ETFs. Those with a Charles Schwab brokerage account for robo advising get a diversified portfolio of those ETFs, which are built, monitored, and automatically rebalanced. This particular type of account is known as a Schwab Intelligent Portfolio. There is a great deal of diversification even within the limit of ETFs, as Schwab Intelligent Portfolios include more than 20 different asset classes. In total, the portfolio draws from 53 different ETFs.
A particularly nice feature related to the specific ETFs in Charles Schwab's robo advisor is that you can actually adjust the allocation of ETFs. Most other robo advisors make you stick with its selected portfolio. However, Schwab lets you remove up to three of its chosen ETFs, replacing them with another one chosen by the broker.
Although Schwab's robo advisor services do not offer other types of assets, the broker as a whole does, and clients can have multiple accounts. Those interested in supplementing their robo advisory account with one that they manage the investments for will find a lengthy list of other assets to trade. These include stocks, options, mutual funds, futures, bonds, and other ETFs.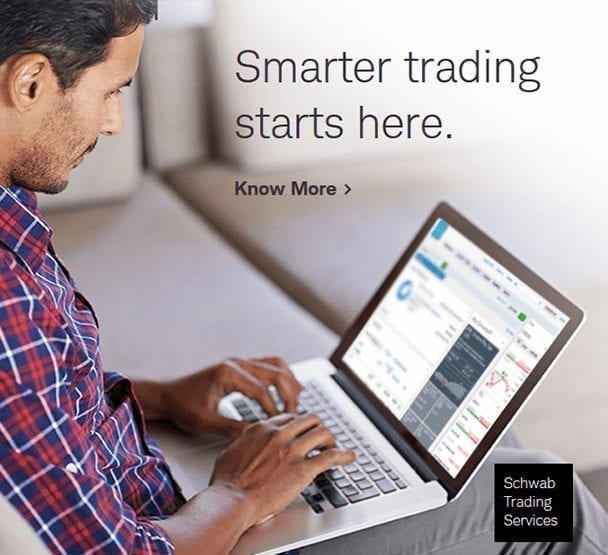 Schwab robo advising only uses ETFs
You can remove three of its chosen ETFs from your portfolio
Other accounts include investment in stocks, options, mutual funds, bonds, and futures in addition to ETFs
Go to Broker
Risk warning: Capital can be lost. Terms and conditions apply.
2. Costs
Go to Broker
Risk warning: Capital can be lost. Terms and conditions apply.
3. Account
3. Accounts: Multiple Options for Schwab Intelligent Portfolios
The robo advisor service from Charles Schwab, Schwab Intelligent Portfolios, works with several types of accounts to allow clients in all situations to take advantage of this service. Options for a Charles Schwab brokerage account include individual, custodial, community property, joint tenant with rights of survivorship, and tenants in common. Revocable Living Trust accounts can be single trustees or two trustees. Schwab robo advisor is also available with multiple retirement accounts, including Traditional IRA, Roth IRA, Rollover IRA, SIMPLE IRA, and SEP IRA. The type of account you select will depend on how you plan to use the Schwab Intelligent Portfolio in the future and is subject to the same considerations you would make before opening any other type of account. Keep in mind that the minimum for a Schwab Intelligent Portfolio is $5,000.
Those who want to supplement their robo advisor account with another type of Schwab account will also find the choice of brokerage account, Roth IRA, Traditional IRA, SIMPLE IRA, SEP IRA, 401(k) Rollover, and Schwab Bank Checking accounts.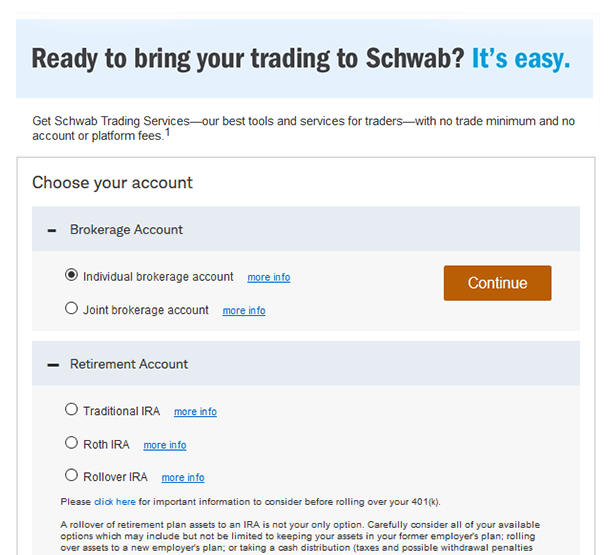 Robo advisor service with 12 account types across three categories
Minimum deposit of $5,00 for robo advisor accounts
Additional Schwab accounts available for retirement, brokerage, and checking
Go to Broker
Risk warning: Capital can be lost. Terms and conditions apply.
4. Platform
4. Trading Platform: Mobile or Web
Like the other investment products from Charles Schwab, its robo advisory service is accessible via either the web or mobile platforms. There are mobile apps for both iOS and Android devices for added versatility. The platforms are easy to use, and both allow for trading when you have the appropriate Schwab account type. Most people with a Schwab Intelligent Portfolio will use the platform to track their investments, funds, and goals.
This is made easier by the included Goal Tracker feature that gives you a daily snapshot of how your portfolio looks in comparison to a goal for income or savings. If you have a chance of at least 50 percent of reaching the goal, it will be listed as "on target." If the chances of achieving the goal are 25 percent to 50 percent, it will be "at risk," and lower than this is listed as "off target." Additionally, the Goal Tracker will suggest changes to increase your chances of success, whether it is changing the risk profile or making more contributions.
It is also interesting to note in our Charles Schwab broker review that the Intelligent Portfolio robo advisor accounts have their own website, separate from other Schwab accounts.
Go to Broker
Risk warning: Capital can be lost. Terms and conditions apply.
5. Usability
5. Usability of the Website: Demonstrates Experience and Professionalism
Thanks to the fact that Charles Schwab has over a half a century of experience in the industry, it should come as no surprise that its website is highly usable and professional in nature. It is unique among the other best robo advisor options in that its robo advisor (Intelligent Portfolio) website is separate from the main Schwab website. Those separate pages do easily connect to each other, allowing for relatively seamless navigation. The Intelligent Portfolios page uses a slightly different color scheme than that of the main Schwab page but in complementary shades, and they have similar layouts. This makes it clear they are with the same company but are different products.
The main website for Schwab Intelligent Portfolios has useful main navigation buttons, including "Investing Insights," "How It Works," "FAQs," and "Contact Us." You can find the choice to log in or create an account in the top-right corner of the page, as expected. The bottom of the page gives you the most important legal information. Above this, on the right side of the screen, you will find a button for more legal information. In the upper-left corner of the website, you will find the "Charles Schwab" logo and the "Intelligent Portfolios" logo, each of which takes you to its respective homepage for simple navigation.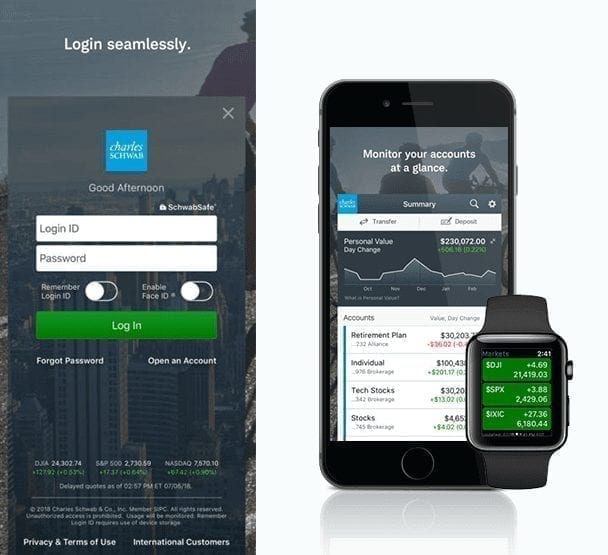 Robo advisor has a separate homepage from the main Schwab page
Easy to navigate
Legal information at the bottom of the page
Go to Broker
Risk warning: Capital can be lost. Terms and conditions apply.
6. Support
6. Customer Support: Highly Rated Support
Our review of Charles Schwab found that this broker is highly rated in terms of customer support, both for robo advisors in particular and accounts in general. As mentioned, you can find a "Contact Us" button in the main navigation bar of Schwab Intelligent Portfolios. Clicking this button lets you know that Schwab Intelligent Portfolios has customer service 24/7, so you can talk to one of the Schwab investment portfolios at any time. You will see the phone number for customer support right there, as well as the choice to start a live chat.
Alternatively, you can go to the main website for Schwab and click on "Contact Us" there, although this is not targeted to those with a robo advisor. You will find the option to call with the main Schwab number listed and access to a live chat. You can even find a branch by you. Below this, there are other specific customer service numbers divided into Schwab Brokerage, Schwab Trading Services, Schwab Intelligent Advisory, Schwab Intelligent Portfolios, and Schwab Bank. You can see each number along with its hours.
Schwab has remarkably highly rated customer support from both satisfied clients and independent Charles Schwab broker review articles. Investor Junkie rates Schwab Intelligent Portfolios 10/10 for customer service, and NerdWallet rates the customer support options as 5/5.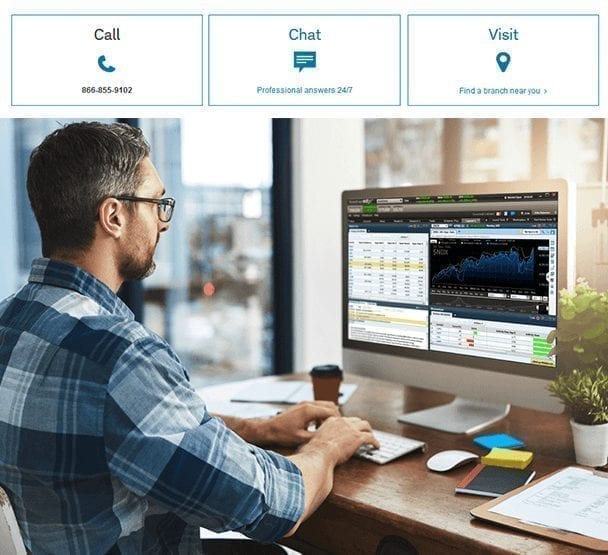 Live chat or phone support
Support for robo advisor clients 24/7
Customer support is highly rated
Go to Broker
Risk warning: Capital can be lost. Terms and conditions apply.
7. Payment
7. Methods of Payment: Simple Process to Fund Account
Although Schwab does not specify how to fund its robo advisor accounts, it does indicate that you can deposit into this account from other Schwab accounts. It is safe to assume that funding options are similar for various types of Charles Schwab accounts. Just keep in mind that for Schwab Intelligent Portfolios, there is a minimum deposit of $5,000.
In a broker comparison, Schwab offers a reasonable number of methods to deposit funds into your account. For most accounts, you can use online bill pay, which will take between zero and seven business days. You can make a Schwab Mobile Deposit via the smartphone application, which takes up to a business day. You can also mail in a check, which takes seven business days, or deposit one in a branch, which takes place the same day. Online fund transfers typically take about five days for the first transfer and one to two for the following ones. Wire transfers typically take place the same business day. You can also transfer in an account, which will typically take five to ten days, depending on the account type, but this varies, and certain types take longer.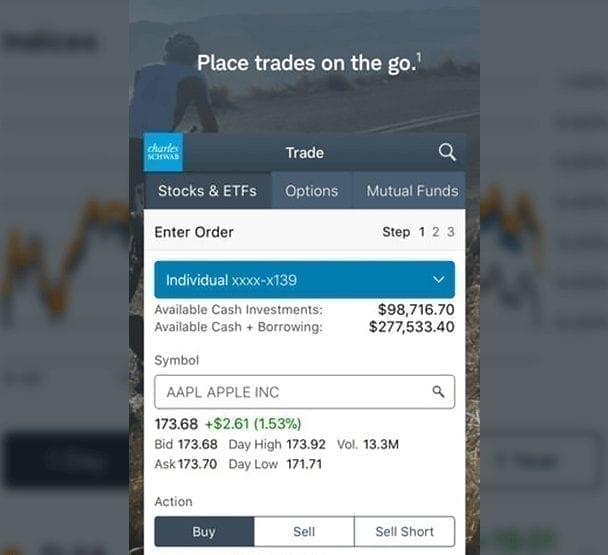 No clear information on funding Schwab robo advisor accounts
Funding methods for other Schwab accounts include checks, wires, bank transfers, and account transfers
Can fund Schwab Intelligent Portfolio with other Schwab accounts
Go to Broker
Risk warning: Capital can be lost. Terms and conditions apply.
8. Offers
8. Additional Offers: Investing Insights and More
As a well-respected broker with a long history, our review of Charles Schwab was not surprised to find that its robo advisor service offers many resources and tools for clients. The ability to remove up to three ETFs that the robo advisor selects for you is a unique feature that is a clear advantage for many clients. We also appreciate the "Investing Insights" section of the Intelligent Portfolios page. This section provides you with articles of varying detail on a range of related topics to help you stay financially savvy.
The tool to help Schwab's robo advisor create your personalize portfolio is also especially useful. It asks you several short questions and uses that information to suggest a set of ETFs from its list of 53 low-cost and professionally selected choices.
While Schwab does offer tax-loss harvesting, like many other robo advisors, it is important to keep in mind that this is only available if you have at least $50,000 in your taxable account. Some competitors have lower requirements, so this is a factor worth considering. Schwab Intelligent Portfolios do include automatic rebalancing of accounts based on an algorithm, and this feature is available for all robo advisor clients regardless of the balance.
Additionally, Schwab Intelligent Advisory adds a 0.28 percent management fee but gives you advice from real CFP professionals.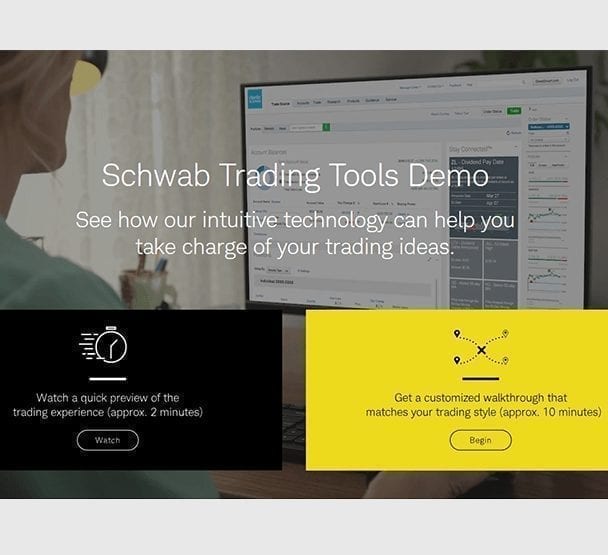 Ability to remove three ETFs the robo advisor selects
An Investing Insights section with detailed articles
Tax-loss harvesting and automatic rebalancing
Go to Broker
Risk warning: Capital can be lost. Terms and conditions apply.
9. Regulation
9. Regulation & Deposit Protection: Member of SIPC
Is Charles Schwab good in terms of membership in financial organizations? Schwab is a member of SIPC, which means that clients get access to the SIPC insurance. This provides coverage of up to $500,000 per person, including up to $250,000 in cash. Additionally, any balances in the Sweep Program from Schwab Bank are covered by FDIC insurance. Keep in mind that brokerage products are not FDIC-insured and have no bank guarantee, meaning they might lose value. Schwab also makes it simple to find regulatory disclosures on its main website.
To protect the information of clients in addition to fund protection, Schwab takes steps to use the highest level of security. In the case of unauthorized activity in your account that leads to loss, Schwab will cover the loss fully. To take advantage of that, you must not share your account information with others (or its activities will be considered authorized), and you must report unauthorized transactions as soon as you can. The broker also has something called SchwabSafe, which is its combination of security measures to protect clients. It includes multilayered technology, an integrated approach to information technology, and operational controls in addition to the Schwab Security Guarantee.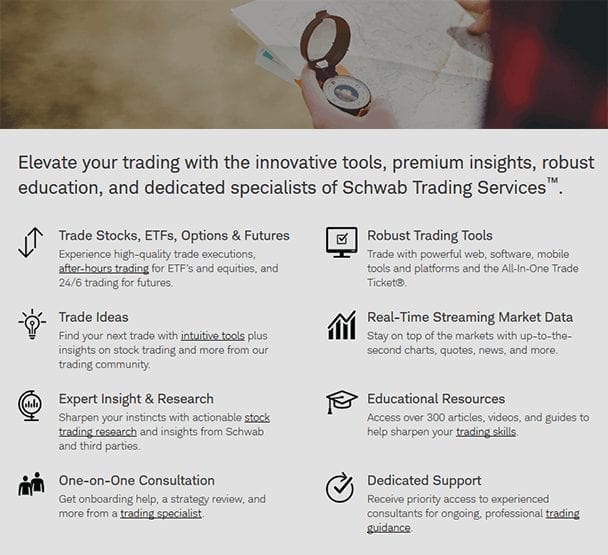 SIPC member
Covered by FDIC insurance
Schwab Security Guarantee reimburses for unauthorized transactions
Go to Broker
Risk warning: Capital can be lost. Terms and conditions apply.
10. Awards
10. Awards: Dozens and Dozens
Thanks to its long history, Schwab has earned many awards over the years, including for Charles Schwab stock trading and other offerings. Three years in a row, J.D. Power ranked Schwab as the "Highest in Investor Satisfaction with Full Service Brokerage Firms." In 2018, Schwab was additionally named as a FORTUNE Top 50 World's Most Admired Company. This included ranking #2 overall and #1 for use of corporate assets, social responsibility, and innovation within the category of Securities and Asset Management. Continuing the trend, Schwab earned 4 of 5 stars from Barron's survey to find the Best Online Brokers of 2018.
These specific awards are supplemented by additional honors via articles offering an independent review of Charles Schwab. For the broker overall, NerdWallet awards Schwab 5/5 stars, and StockBrokers.com gives it 4.5/5 stars. Looking specifically at the Schwab Intelligent Portfolios, Investor Junkie rates it at 8.5/10, while NerdWallet and StockBrokers.com repeat their ratings for the broker as a whole. Since Schwab's robo advisor service is still only a few years old, more awards are likely to come.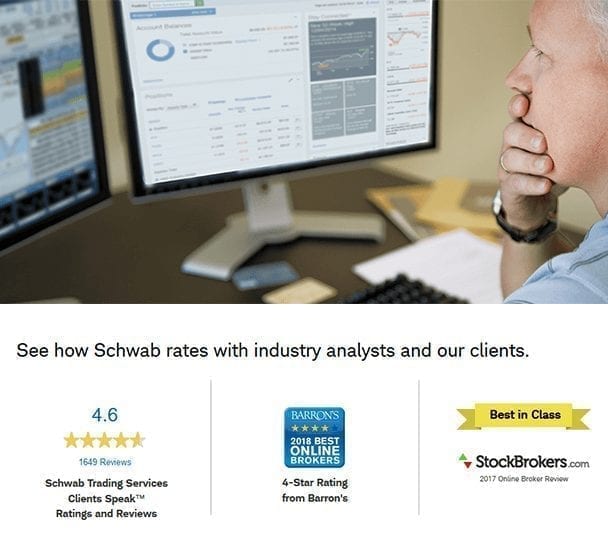 Awards for high investor satisfaction
Honors for being an admired company
Highly rated both as a broker and for robo advisor products in particular
Go to Broker
Risk warning: Capital can be lost. Terms and conditions apply.
Conclusion: Whether You Should Invest in Schwab's Robo Advisor Services
Among the various offerings for robo advisors, Charles Schwab is a solid choice. Schwab is well-respected as a broker and a bank, giving you added confidence in the results it will produce and protection of your money and funds. One of the biggest points in favor of Schwab Intelligent Portfolio is the lack of fees. While most competitors charge a management fee of 0.25 to 0.3 percent for its robo advisor services, Schwab's is completely free. There is a choice of a fee within that range if you want to supplement the robo advisor with a CFP professional, but that is not necessary. This alone leads to strong praise in our review of Charles Schwab. Like other robo advisors, Schwab adapts your profile based on your desired risk level and goals. The ability to remove as many as three ETFs that it selects is something you will not find on most competitors, setting Schwab apart. Between the lack of fees, the personalization, and the compelling reputation of the broker, a robo advisor account from Charles Schwab can be a very savvy decision.
Powerful platform and research tools
Excellent customer service
Low commission
USD 5,000 initial minimum deposit
Test result
Broker

Go to Broker
Risk warning: Capital can be lost. Terms and conditions apply.