Personal Capital is a robo advisor broker that offers a hybrid service. This means that in addition to providing the cheaper alternative of a robo advisor, it gives you the ability to communicate with a person. The company claims that this allows investors to get the best of both worlds. In this review of Personal Capital, we will go through the different services that it offers to find out if having a Personal Capital brokerage account is worth your while.
Highlights
Individual, joint & custody accounts
Personal Capital registered with the SEC
A wide range of IRAs are on offer
A wide range of contact options
3.
of 9 Robo Advisor Broker
Personal Capital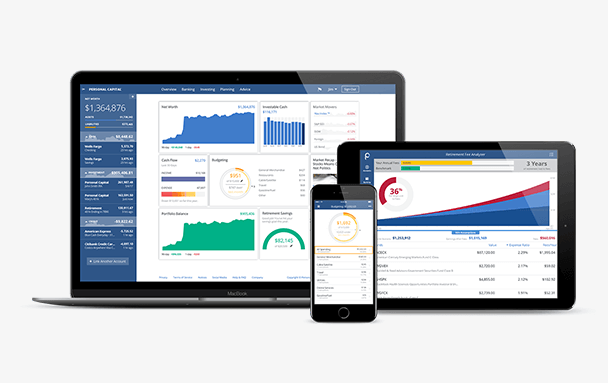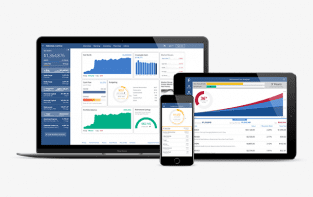 Go to Broker
Risk warning: Capital can be lost. Terms and conditions apply.
Headquarters and regulation
USA (SEC)
Investment Universe
Shares, Commodities, Real Estate, Bonds, Money Market
Services & additional benefits
Hotline
E-mail
1. Trading Offer
1) Robo Advisor Trading Offer – A Great Variety of Options
Personal Capital offers a wide range of choices for its customers in terms of accounts and trading options. It has both individual and joint investment accounts available and also lets you put money into a custody account for your children or people who are incapable of managing their own funds. Although these options are commendable, Personal Capital does not offer you the ability to manage a 401k or other retirement accounts. It does, however, give you advice for retirement accounts.
There are also a variety of savings accounts for investors. In terms of instruments that are available to trade with Personal Capital stock trading, there are quite a few to choose from. You can instruct Personal Capital to trade in shares or futures as well as concentrate on ETFs. The brokerage also gives you the ability to choose a diverse portfolio, which robo advisors tend to lean toward because they trade using data analysis only. This means that Personal Capital will invest in what the numbers say offers the best return, regardless of what it is.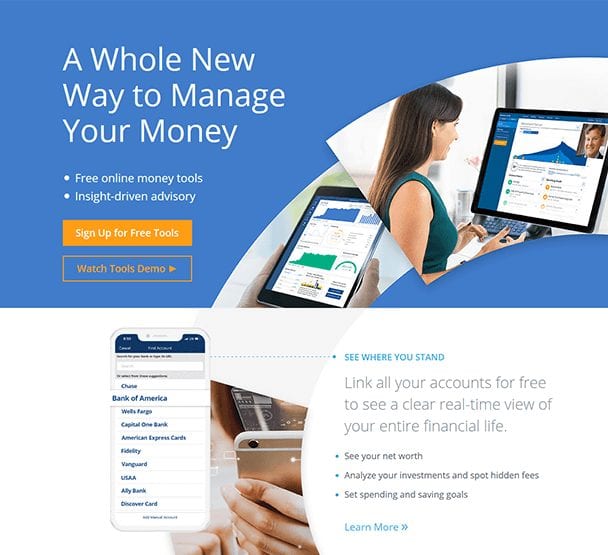 Individual, joint and custody accounts are available
Retirement accounts can be set up but not managed by Personal Capital
Clients can invest in any instrument
Go to Broker
Risk warning: Capital can be lost. Terms and conditions apply.
2. Costs
Go to Broker
Risk warning: Capital can be lost. Terms and conditions apply.
3. Account
3) Accounts – Several Types on Offer
The accounts that Personal Capital offers are in line with the standard accounts that the markets offer. As previously mentioned, there are individual, joint and custodial accounts all available for investors at Personal Capital. The company also has a range of investment accounts within these parameters. They are SEP IRAs, traditional IRAs, Roth IRAs, and rollover IRAs. This means that you can easily choose both the account and investment strategy that is best for your individual situation. Personal Capital offers advice on how to manage 401K accounts, although you cannot open one with the broker. It also does not manage 529 plans.
There are no VIP or premium accounts on offer from Personal Capital because there is a threshold that your investment portfolio needs to be worth before you can start an account with the company. This means that there are no extra costs associated with having access to more features. In fact, Personal Capital rewards successful investors by taking a smaller percentage cut of their portfolios' value. For investors, the wide array of options means that they seldom have to look around for other financial institutions to take care of all their financial needs.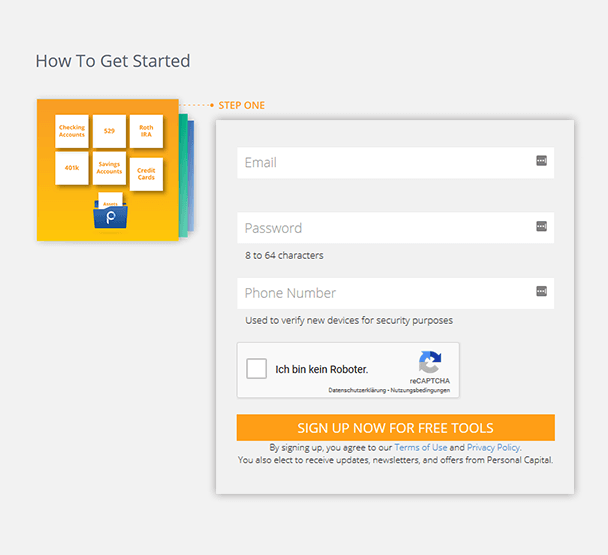 Various types of accounts are available through this robo advisor
A wide range of IRAs are on offer
401k management is not available
Go to Broker
Risk warning: Capital can be lost. Terms and conditions apply.
4. Platform
4) Trading Platform – Easy to Use With Investment Trackers
The Personal Capital trading platform is well designed and easy to use. It includes a number of features, such as financial tools. These come as part of the package that Personal Capital offers as its management service. The Personal Capital dashboard offers access to every account at the touch of a button. This allows for synergy with all of your accounts and means that you can transfer funds to the most effective account within seconds. There is also a retirement planner that allows you to ensure that you are on track to provide for your retirement.
Other features of the Personal Capital trading platform include investment trackers so that you can check the progress of your investments and make any changes accordingly. Their hidden fee tracker makes sure that you are able to avoid any additional costs on mutual funds. The Personal Capital app offers all of these features and is available for both Android and iOS devices. This ensures that you can access your investment accounts on the go at any time without the need for a desktop computer.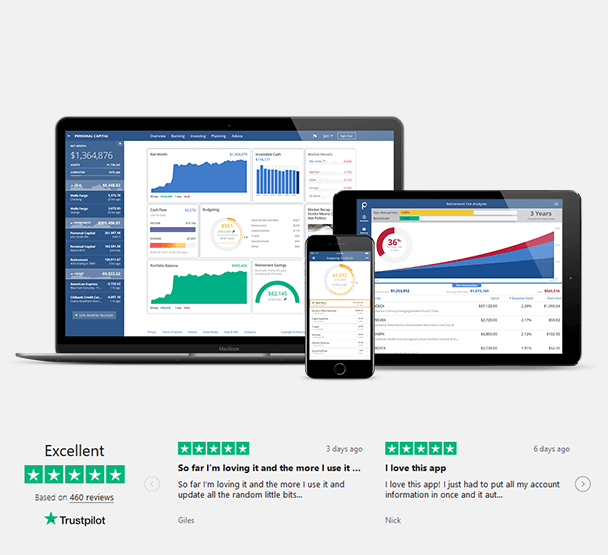 Software included in management fees
A wide range of software available to customers
Fully functional app for both Android and iOS
Go to Broker
Risk warning: Capital can be lost. Terms and conditions apply.
5. Usability
5) Usability of the Website – Convenient, Simple and Clear
The Personal Capital website looks professional. It has light colors that are easy on the eye, a highly  readable font and offers simple navigation. All of the important links to information are located at the very top of the homepage when you first open it, which makes it easy to find your way to what you need. Further important information is in clear infographics as you scroll down the page. This means that whether you use the links at the top or scroll down the page, you will find a wide range of information that lets you know exactly what Personal Capital offers. It is also easy to find the financial tools that you need at the top of the screen. This allows investors to have a look at what the tools featured in this Personal Capital brokerage review can do. All the legal information that covers the company's business practice is available at the bottom of the page through links. By following the wealth management link, you can find information on the services that Personal Capital offers as well as their costs depending on your portfolio value.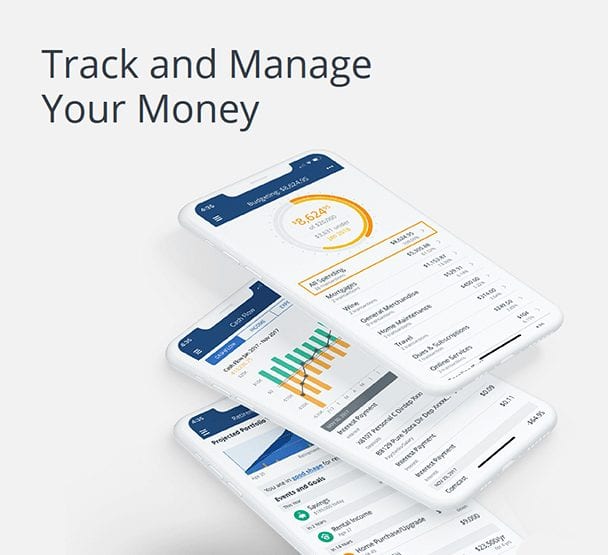 The website is well designed and looks professional
All information is easy to find
Costs are laid out plainly and transparent
Go to Broker
Risk warning: Capital can be lost. Terms and conditions apply.
6. Support
6) Customer Support – Various Options to Enjoy
There is a huge range of support options available at Personal Capital. By clicking on the contact link located at the bottom of its website, you can access various forms of contact information. There are five brick-and-mortar addresses to contact if this is the method that you prefer to use. The website also displays a phone number that you can call if you have any other problems that require an instant response. There is a handy drop-down menu featured on the contact page as well.
Depending on which option you pick from the menu, you can find an email address to contact, a link to log in to your account in order to talk to a live chat operator, an integrated email report form and a phone number. This provides almost every type of customer support contact available and ensures that you can get a prompt response from Personal Capital. This Personal Capital brokerage review found that the company's support options are among the most diverse on the market.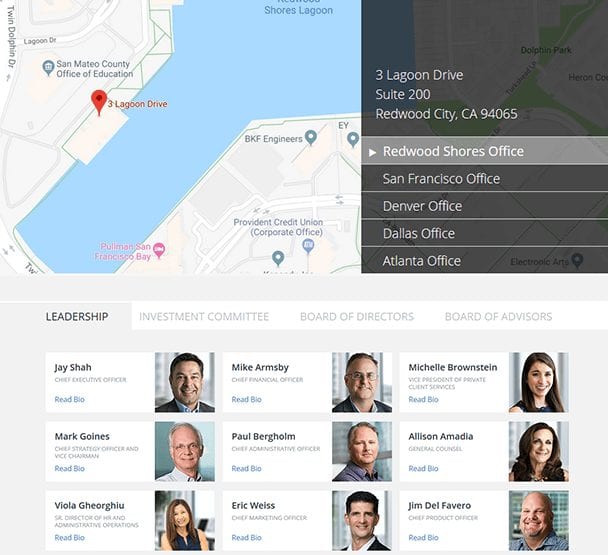 The ability to send a letter is available through Personal Capital
There are phone numbers and an email address for your convenience
A wide range of contact options are on offer depending on your needs
Go to Broker
Risk warning: Capital can be lost. Terms and conditions apply.
7. Payment
7) Methods of Payment – Standard and Fairly Quick
The methods of payment that Personal Capital offers are similar to those available in the general market. The main payment types that the company uses are debit card transactions and bank transfers. This allows for relatively fast payments without additional costs. While e-wallets may become available in the future, they are currently not on offer, which does slightly limit the overall payment options for investors. However, on the whole, Personal Capital's options are standard according to what the rest of the market offers. It is not possible to make direct credit card deposits with Personal Capital, as is the case with most brokers.
The large interest rates on credit cards make this an undesirable process as well. In order to gain access to the robo advisor's, tools, the minimum initial deposit must carry a portfolio value of $100,000, but afterward, further deposits do not have a limit placed on them. Withdrawal times at Personal Capital are between 24 and 48 hours on business days after the request has processed, but transferring funds between accounts is an instant process.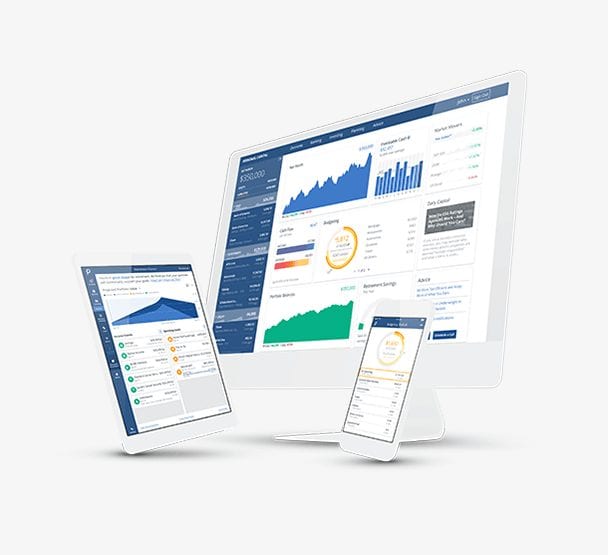 Debit cards and bank transfers used for deposits and withdrawals
e-wallets are not usable
Credit cards are not used on this platform
Go to Broker
Risk warning: Capital can be lost. Terms and conditions apply.
8. Offers
8) Additional Offers – Resources and Training
Personal Capital does not offer a demo account for its users. This is because it aims more at intermediate to expert users who already have a valuable portfolio, which makes a demo account a pointless addition. In terms of training, the company does offer a resources section on its website that has a wide variety of articles all related to the financial sector.
This usually updates on a daily basis to accommodate the rapid pace of market changes. There are also videos and guides available on how to manage your end-of-year tax. In terms of offers on Personal Capital's accounts, there is not much for users to access. There are no premium offers available, and the only way to garner improved fees and other benefits is by increasing the value of your portfolio. Once you have reached the plateau of $10m, you cannot add more services to your package or fee reductions. This means that there is nothing extra on top of what Personal Capital offers to entice people to take on an account with the brokerage.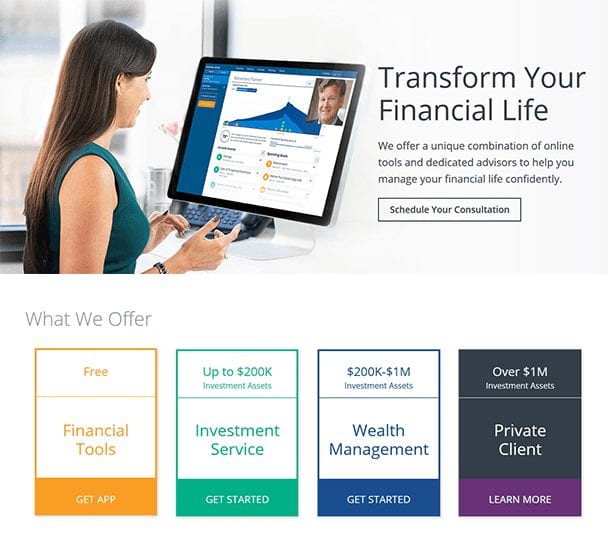 No demo account on offer, which could be a dealbreaker for some
A variety of articles and videos available for knowledge purposes
No offers available
Go to Broker
Risk warning: Capital can be lost. Terms and conditions apply.
9. Regulation
9) Regulation & Deposit Protection – SEC Authorization and Full Disclosure
Personal Capital's registration is with the Securities and Exchange Commission (SEC). This ensures that it is abiding by the rules and regulations required to be able to act as a broker both in the real world and in an online marketplace. In addition to this, the company offers full disclosure on every single service that it offers, including its resources section, to ensure that customers are completely aware of what they are signing up for when they take out an investment account with Personal Capital. The broker discloses its full performance data over the previous year as well as where its data comes from.
The website and software offer full encryption so that investors are always safe when using Personal Capital. In carrying out this review, we discovered that Personal Capital keeps all its data in a secure data center and uses a read-only connection when you follow through with instructions via its app and website. This ensures that your data cannot go elsewhere and that it is safe for you to use the company's services to manage your finances.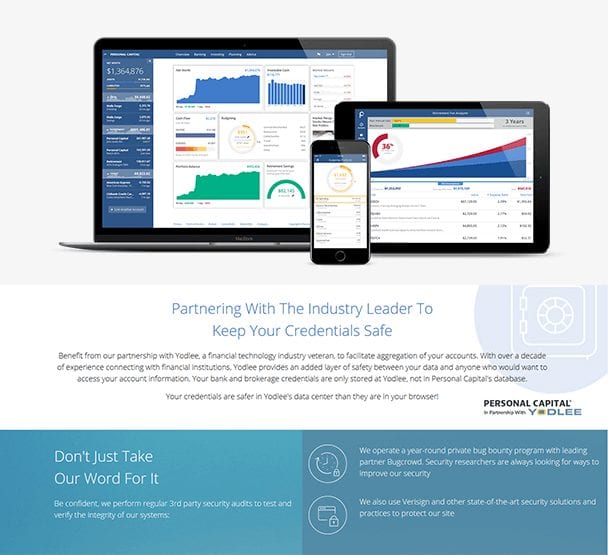 All information on disclosures is freely available
Personal Capital registered with the SEC
All data kept in a secure data center
Go to Broker
Risk warning: Capital can be lost. Terms and conditions apply.
10. Awards
10) Awards – Recognition by several Industry Professionals
In regard to awards, Personal Capital has managed to bring home a variety of different ones for its products. It has four particular tools that are all award winners. Its dashboard is among these, which means that other industry professionals are familiar with and highly respect the most-used facet of Personal Capital's app and website. In terms of a robo advisor comparison, there are few other robo advisors on the market that can offer a similar level of award-winning dashboard quality to their clients. The other renowned tools that Personal Capital has on offer are its retirement planner, investment checkup and also the fee analyzer. They all work together to provide a high-quality service recognized by the financial sector, and these tools are worthy of praise. If you carried out a broker comparison based solely on award-winning features, then you may find it difficult to locate a broker or robo advisor that has as wide a range of respected financial tools on offer. For those who opt for Personal Capital, there is the assurance that they have a high-quality standard.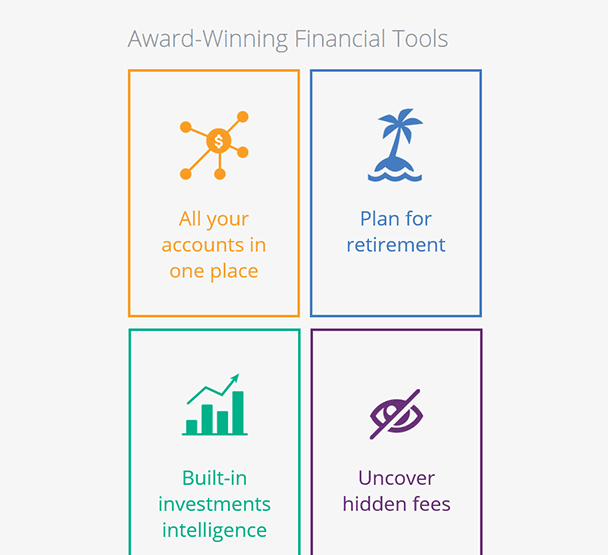 Award-winning dashboard available through the company website and app
Other tools have also won awards
Among the highest-rated on the market in terms of services and tools offered
Go to Broker
Risk warning: Capital can be lost. Terms and conditions apply.
Conclusion – Is Personal Capital Good?
Personal Capital is a hybrid robo advisor that offers a vast range of services to its customers. In this review, we have covered the services that it offers and the fees that its charges. In terms of fees, Personal Capital stock trading charges are significantly lower than those of a traditional broker; however, they are slightly higher than those of other robo advisors. This is most obvious when you have a lower portfolio value. As your portfolio value increases, your fees will decrease to be more in line with other robo advisors. Personal Capital is definitely not a broker for beginner investors unless they have a large number of funds available with which to start their portfolios. If you are a beginner with a small number of funds, then not only is Personal Capital not the best robo advisor for you but it also does not offer the opportunity for you to use its robo broker services.
Professional website
Various accounts and useful tools available
Award-winning products
Wealth of contact options
Hybrid service
Not beginner-friendly
Higher fees on lower portfolio values
e-wallets not currently available
Test result
Broker

Go to Broker
Risk warning: Capital can be lost. Terms and conditions apply.