Ally Invest is one of the branches of Ally Financial but originally was known as TradeKing. As TradeKing, the brokerage was independent for more than a decade. Ally Financial acquired it in April 2016, allowing customers with traditional Ally Bank accounts the seamless use of investing tools. In a stock broker comparison, Ally Invest tends to receive high ratings, particularly for its low fees and top-notch customer support. Learn more about the instruments you get access to with an Ally Invest brokerage account to determine if this is a good broker for you.
Highlights
Formerly TradeKing
Ally Financial acquired TradeKing in 2016
Single login for all Ally accounts
Low fees and great customer service
9.
of 12 Stock Broker
Ally Invest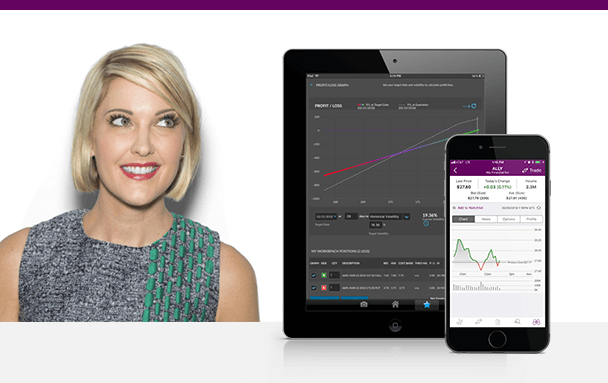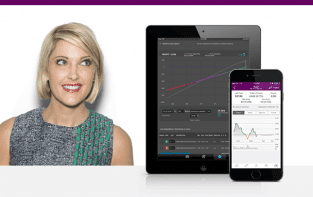 Go to TD Ameritrade
Risk warning: Capital can be lost. Terms and conditions apply.
Headquarters and regulation
Florida, USA (SIPC)
Services & additional benefits
ETFs
Futures
Services & additional benefits
Live
Hotline
E-mail
1. Trading Offer
1) Stock Trading Offer: Multiple Tradable Assets and Account Options
Any review of Ally Invest will point out that this broker offers a Self-Directed Trading Account and an Ally Invest Managed Portfolio. Self-Directed Trading Accounts are designed for "hands-on" investors, including in-depth research, market analysis tools, no hidden fees, no minimum to open the account, and low trading fees. Ally Invest Managed Portfolios are professionally managed. The Ally team recommends and then manages a professionally designed portfolio depending on your risk tolerance, time horizon, and personal goals. The minimum investment is $2,500.
Ally Invest stock trading provides access to a range of assets. There are thousands of stocks, a range of commissioned and commission-free ETFs, options, bonds, and more than 12,000 mutual funds. Other investment products include futures and forex. There is also the option of a margin account, which lets traders borrow funds that they can then use to withdraw funds from their account or to increase purchasing power. Since Ally Invest accounts connect to other Ally Financial accounts, account holders also get access to their savings and checking accounts via the same convenient login. Additional banking options from Ally Financial, all of which have the same login, include CDs, IRAs, Money Market, the Ally CashBack Credit Card, and auto and home loans.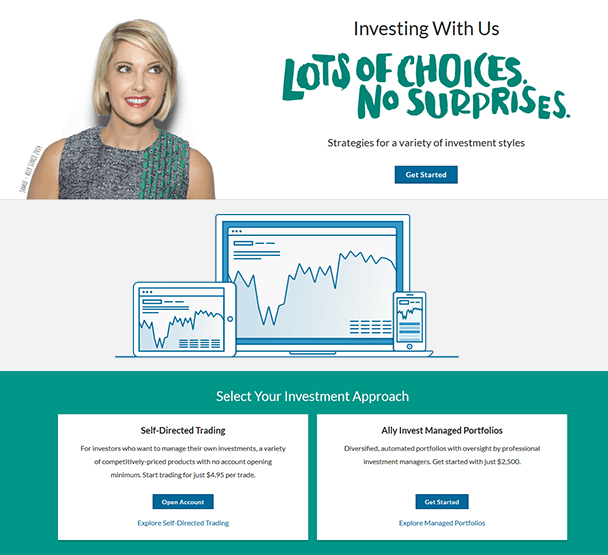 Self-Directed Trading and Ally Invest Managed Portfolio accounts
Trading of stocks, ETFs, options, bonds, mutual funds, futures, and forex
No minimum balance for Self-Directed Trading Accounts
Go to TD Ameritrade
Risk warning: Capital can be lost. Terms and conditions apply.
2. Costs
2) Stock Exchanges and Trading Centers: Many on Offer
In the quest for an answer to, "Is Ally Invest good in terms of the stock exchanges and trading centers it offers?" you will be hard-pressed to find a clear answer. Although Ally Invest has a clear list of offerings for some tradeable assets, there is not one for stocks. However, it is clear that there are thousands of stocks, which indicates that at least the New York Stock Exchange is included, with other United States markets likely being included, as well. Since there is no mention made of stocks from other exchanges and trading centers, it is best to assume Ally Invest does not offer them, a point against this financial institution in a broker comparison. It is also worth noting that Ally Financial Inc. is listed on the New York Stock Exchange with the ticker symbol ALLY.
0
International
Trading venues
In terms of other assets, however, the offerings are much clearer. Ally Invest lists several specific ETFs, such as the S&P 500 and Dow Jones. To provide an advantage over some competitors, Ally does offer trading on the extended market as well as during normal trading hours. Between 8 a.m. and 9:30 a.m. Eastern time, traders can enter pre-market orders. Between 4 p.m. and 5 p.m. Eastern time, traders can enter post-market orders.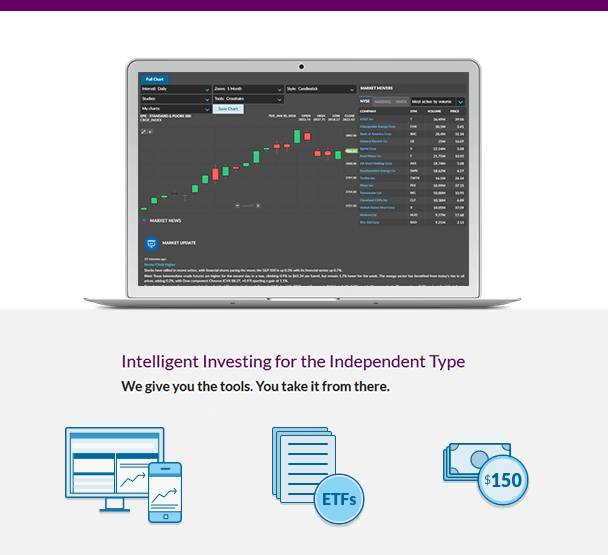 No complete list of stocks
Stock offerings from the New York Stock Exchange
Extended market access
Go to TD Ameritrade
Risk warning: Capital can be lost. Terms and conditions apply.
3. Account
3) Trading Conditions: Incredibly Competitive Fees
One of the strongest points in any Ally Invest brokerage review is the low commissions charged by this financial institution. Self-Directed Trading Accounts have a commission of just $4.95 for ETF and stock trades; option trades cost just $0.65 per contract plus a base of $4.95. Those who have more than 30 trades in each quarter or an average daily balance of more than $100,000 get discounts to $3.95 for stocks and ETFs and $0.50 per contract with options plus a $3.95 base fee. Ally Invest Managed Portfolios have an annual advisory fee of 0.3 percent for all balances. There is a convenient tool on the Ally Invest website to estimate monthly fees.
With Self-Directed Trading Accounts, there is also a $1 fee per bond, with a minimum of $10 and a fee of $9.95 per trade for buying and selling no-load mutual funds. For margin accounts, Ally Invest's competitive pricing remains. Fees start at 9.50 percent for accounts with $24,999 and under, dropping to 9.25 percent for those under $50,000, 8.50 percent for under $100,00, 7.25 percent for under $250,000, 6.25 percent for under $500,000, 5.75 percent for under $1 million, and just 5 percent for those over $1 million. If you wonder, "Is Ally Invest good with clear commissions?" you will be glad to hear that there are no hidden fees.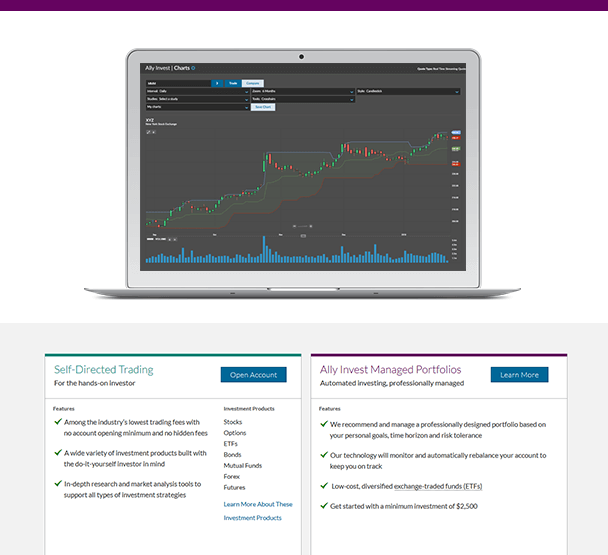 No hidden fees
Stock trades for $3.95 or $4.95
0.3 percent fee for Ally Invest Managed Portfolios
Go to TD Ameritrade
Risk warning: Capital can be lost. Terms and conditions apply.
4. Platform
4) Trading Platform: An Intuitive Experience
Trading with ally Invest can be done via the web platform or the mobile application. The web-based trading takes place on a streaming HTML5 platform. The platform is intuitive and straightforward to use with the basic functionality, but our review of Ally Invest feels that it is not as competitive as some of the other brokerages. For those who used TradeKing before it became Ally Invest, the functionality is a bit trimmed down. The fact that the platform is web-based means you can use it on all devices.
Investors will appreciate the ability to arrange the dashboard to meet their preferences, plus the ability to change defaults and even the color theme. More experienced investors who plan to use the analytic tools will find everything they want. However, these tools can be slightly cumbersome to use at times, requiring extra scrolling. The charts included on the platform are fully featured with excellent technical indicators. You can find 84 technical indicators plus 10 drawing tools to assist.
The mobile application for Ally Invest is the same one used for other Ally Bank accounts and it does offer features, such as streaming charts, probability calculators, watchlists, market data, and research, like the web platform. However, it is easier to trade on the web platform than on the mobile app.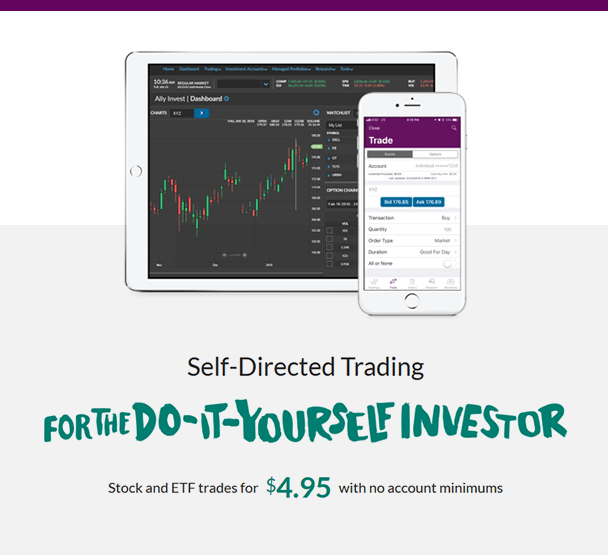 Web-based platform or mobile application
Advanced analytic tools available but require scrolling
Intuitive interface
Go to TD Ameritrade
Risk warning: Capital can be lost. Terms and conditions apply.
5. Usability
5) Usability of the Website: Everything Has a Place
Those interested in Ally Invest stock trading will find the brokerage's website to be well-laid-out and highly usable. The color scheme is professional with a hint of fun from the combination of purple and white. That color theme is found throughout the mobile application and logo, as well, allowing for clean branding. When you visit the Ally Financial website, it is simple to get to the Ally Invest page by clicking the relevant tab on the main navigation bar. This is also where you will find other Ally Financial products, such as bank accounts, credit cards, and auto and home loans. Alternatively, investors can just click "login" in the top right corner of the page and be brought to their accounts. From there, click on the Ally Invest account, and you will be ready to trade stocks.
Each Ally product has its own tab on the main navigation menu, making it simple to find any product. There is also a convenient search tool next to the "login" button. For those who need more guidance, the link to the help page is also in the top right of the page.
Our review of Ally Invest would like to point out that all the legal terms and other crucial information are conveniently located at the bottom of the main page. There are also links in this section to further disclosures.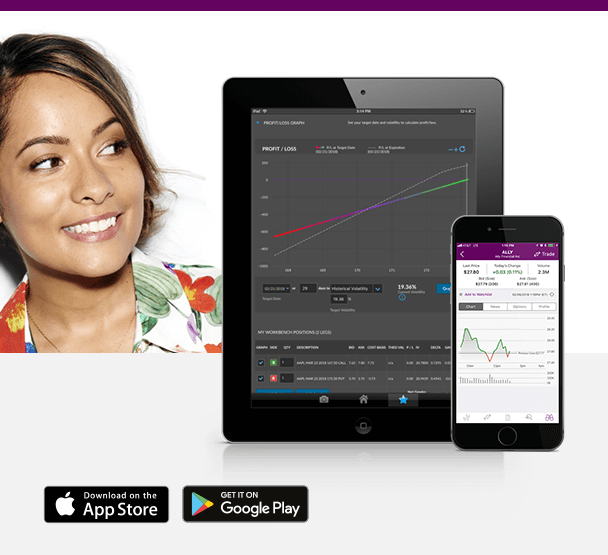 Intuitive website
Main products clearly displayed
Legal information at bottom of website
Go to TD Ameritrade
Risk warning: Capital can be lost. Terms and conditions apply.
6. Support
6) Customer Support: Highly Rated Support
Those with an Ally Invest brokerage account can confirm that this brokerage has excellent customer service. There is a "Contact" button by the top-right corner of the website, which takes you to the contact information for each Ally product. The Ally Invest help center is available 24/7, and there is a number available for those currently outside the U.S. Those who prefer not to call can also send an email for support or chat online.
The answers to the most common questions are found in the "Help" section, which is accessible via the top-right corner of the website. From there, you can search for a specific topic or click on "Invest." From there, you can browse the help topics, which are conveniently divided into "Products," "Account Management," and "Apps and Tools." Each topic then has its own subcategories, each of which has a list of frequently asked questions.
A nice feature of Ally Invest's support is that when you log into your account, you will notice the current average wait time for phone support listed. This lets investors time their calls to minimize the wait or simply confirm they have enough time to call. The only downside to Ally Invest's customer support is that there are no physical branches of Ally, so you cannot resolve any issues or open an account in person.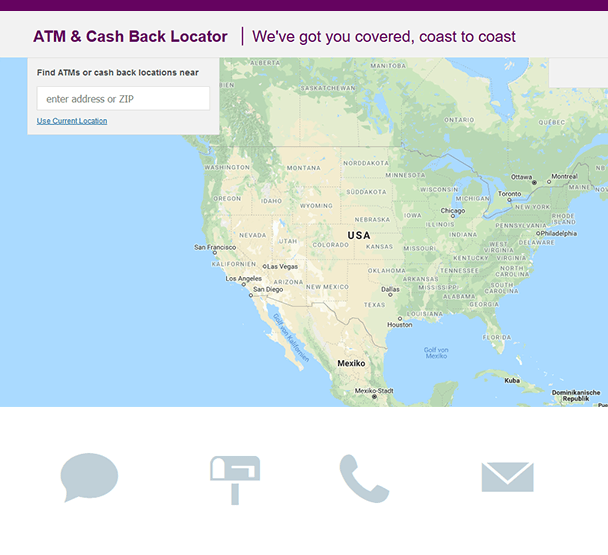 Extensive FAQ section
Support via chat, phone, and email
No physical branches
Go to TD Ameritrade
Risk warning: Capital can be lost. Terms and conditions apply.
7. Payment
7) Methods of Payment: Transfers or Checks
Because Ally Invest does not have any physical branches, it is impossible to deposit cash into your account. Deposits to Ally Invest accounts are easiest when done via a bank transfer, either between another Ally Bank account or from another bank. Alternatively, you can you complete a wire transfer, mail a check, or use Ally eCheck Deposit to deposit funds. Check deposits take three business days to clear for trading or 10 to release funds from the account. Wire deposits take 10 business days to release the funds.
As one of the best stock broker options, Ally Invest also has the choice of depositing stock certificates. This process must be done via regular mail and include the stock certificate along with a stock power form. You cannot use the stock certificate as your first deposit.
Withdrawals from Ally Invest can be done via transfers for free. You can request Ally Invest mail you a check for a fee of $5 or an overnight check fee of $55. Or investors can wire funds for $30. There is also the option of check writing and debit cards for accounts with balances of at least $10,000. These options come with annual fees of $20 and $35, respectively.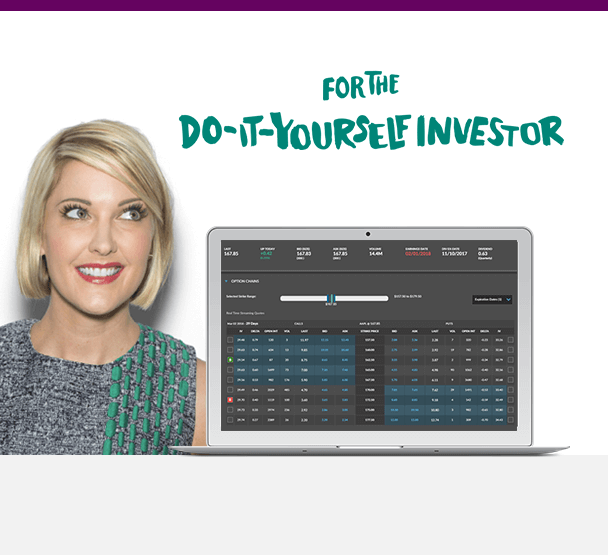 Deposits via check, transfer, or stock certificates
Withdrawals via transfers, wires, or mailed checks
Available debit cards and check writing for a fee
Go to TD Ameritrade
Risk warning: Capital can be lost. Terms and conditions apply.
8. Offers
8) Additional Offers: Some Tools Available
At any given moment, Ally Invest will be likely to have a promotion for new investors. At the time of writing, Ally Invest is offering a cash bonus of up to $3,500 for new accounts. Investors can also receive a $150 Transfer Fee Credit from the fees charged by other brokers with a minimum first-time account transfer of $2,500 to make the transition to Ally Invest more economical.
Our Ally Invest brokerage review notes a surprisingly small number of additional tools available for investors. There are no auto-trading, backtesting capabilities, or order routing guarantees available. However, there are robo-advisers via the Ally Invest Managed Portfolio Accounts. Active traders will also appreciate the customizable trade alerts, fixed-income bond searches, and developer API.
Ally Invest also offers a nice selection of educational materials via such categories as "Your Financial Life," "Financial Education," and "Recommended Articles." The "Financial Education" section takes you to a range of Ally Wallet Wise free courses, including one on banking and investing. However, this online course is geared toward beginners, not experienced investors. Those with a range of skill levels will find useful posts in the area dedicated to educational articles. The topics range from basics, like deciding if you should trade options, to specific advice for a particular investment strategy.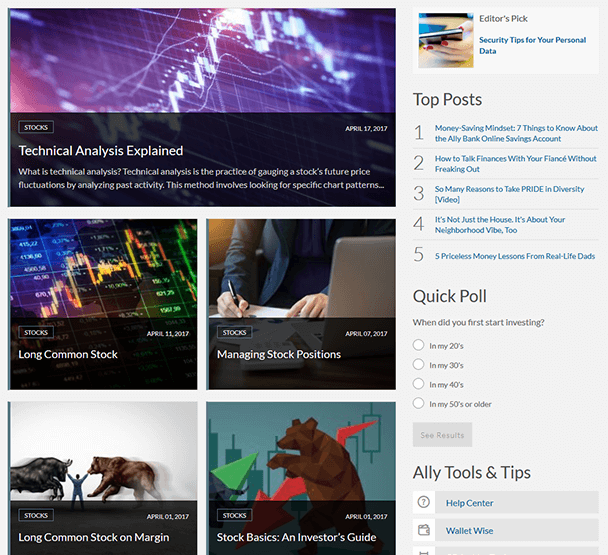 Few advanced tools compared to some other brokerages
Educational courses and articles available
Account opening bonus
Go to TD Ameritrade
Risk warning: Capital can be lost. Terms and conditions apply.
9. Regulation
9) Regulation & Deposit Protection: Regulated and Protected
Ally Invest stock trading gives you the benefit of regulation and a strong reputation. Ally Financial Inc. is listed on the New York Stock Exchange (as ALLY) and is a top 25 U.S. financial holding company. While Ally Bank is a member of the FDIC and, therefore, has the relevant insurance, Ally Invest products are not FDIC-insured nor bank-guaranteed.
Ally Invest Advisors Inc. is an SEC-registered investment adviser with brokerage accounts served by Ally Invest Securities LLC. For protection, assets in advisory client accounts are kept in the custody of Apex Clearing Corporation, both of which are members of SIPC and FINRA. Ally Invest Forex LLC is responsible for offering the forex products in Ally Invest, and this is an NFA member and introducing broker for GAIN Capital Group LLC.
In terms of protection of information, Ally Invest uses several layers of security, including 128-bit Secure Sockets Layer encryption for all communications that occur between its servers and client browsers. All Ally Invest employees receive training to protect the personal information of clients via asking for information that only the client should know at the beginning of help sessions. Ally Invest also uses firewalls and, in certain situations, single-use security codes during login. Additionally, Ally Bank offers Webroot SecureAnywhere for as many as three devices, featuring antimalware and antivirus capabilities.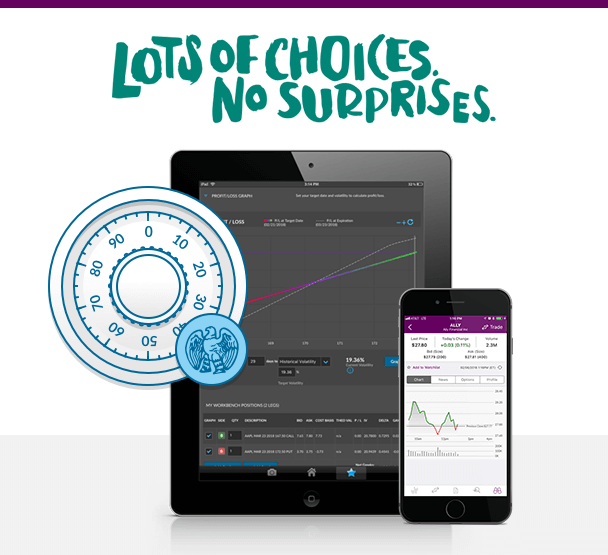 Ally Invest funds are not FDIC-insured, but Ally Bank funds are
Client funds kept in custodial accounts
128-bit Secure Sockets Layer encryption
Go to TD Ameritrade
Risk warning: Capital can be lost. Terms and conditions apply.
10. Awards
10) Awards: Dozens of Honors
Our review of Ally Invest takes it as a very good sign that this broker has received numerous awards over the years. Many of these honors are for the Ally Bank portion of Ally Financial instead of the Ally Invest product, but even those awards show that the company behind Ally Invest is highly regarded. In 2017, Ally Financial won the Detroit Bar Association Foundation's Corporate Citizen Award for its community service and contributions to the community. To further show the company's values, consider Ally's perfect score of 100 in the 2017 Corporate Equity Index, indicating LGBT-friendly policies and practices.
In 2016, Ally earned the title of Best Bank for 24/7 Customer Service from GOBankingRates and the title of Best in Class in the Forrester 2016 US Customer Experience Index. 2016, 2017, and 2018 all saw honors for Ally Financial's excellent customer service in the Stevie Awards. Some awards that apply directly to Ally Bank instead of Ally Invest but give you an idea of the brokerage's reputation include the title of Best Internet Bank from Kiplinger's Personal Finance and the title of 2018 Best Online Bank from GOBankingRates. This honor can encourage traders to enjoy more than just investment accounts from Ally.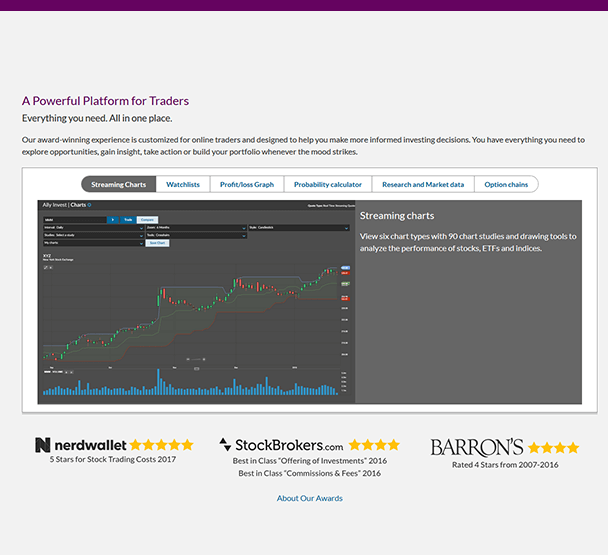 Awards for community involvement
Awards for corporate equality
Awards for best online bank
Go to TD Ameritrade
Risk warning: Capital can be lost. Terms and conditions apply.
Conclusion: Is Ally Invest Good?
For those who want low fees and commissions along with highly rated customer service, Ally Invest is a great choice. This stock broker also has the advantage of letting clients seamlessly connect their investment accounts to other Ally Bank accounts, such as checking and savings accounts. Ally Invest offers an incredibly good selection of stocks and other tradeable assets, although it does not have a full list anywhere on its website. The choice of account types allows Ally Invest to appeal to both investors who want to be in complete control of their investments and those who prefer a professional take charge.
One of the only downsides of Ally Invest is the inconvenience associated with using some of the advanced tools since they require clicking through menus and scrolling to access. This might make Ally Invest less appealing to some experienced investors, although beginner to intermediate investors will likely have minimal complaints about this. The excellent reputation of Ally Invest helps it stand out in a broker comparison.
Highly competitive costs
A single account for stocks, forex, futures, options, ETFs, and bonds
Web-based platform
Mobile platform
Available managed portfolio
No physical branches
Some limitations on web platform for experienced traders
Fund transfers sometimes slow
Test result
Broker

Go to TD Ameritrade
Risk warning: Capital can be lost. Terms and conditions apply.