Firstrade is a reputable online discount brokerage provider founded in 1985. In this review of Firstrade, we'll discuss some of the opportunities the broker offers to traders.
Traders are allowed to trade in exchange-traded funds, options, stocks as well as mutual funds and bonds. The brokerage company also provides competitive promotions especially to new traders on a regular basis.
A stockbroker comparison between Firstrade and its competitors shows that this broker offers some of the best rates. Additionally, investors are not charged software fees. Their customer service is highly-knowledgeable and can be reached via phone, chat or e-mail.
Highlights
Easy to use website
A broad range of services
Competitive promotions
No software or maintenance fees
6.
of 12 Stock Broker
Firstrade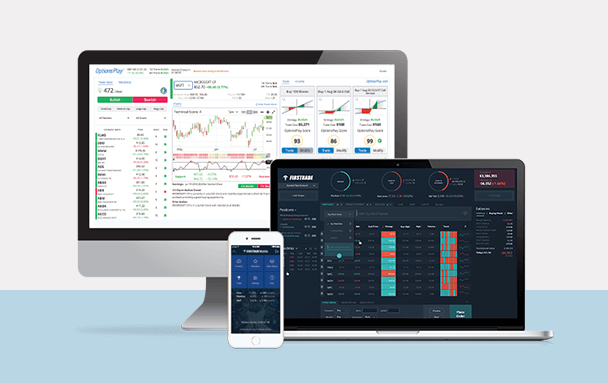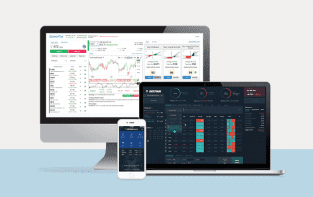 Go to TD Ameritrade
Risk warning: Capital can be lost. Terms and conditions apply.
Headquarters and regulation
USA (FINRA / SIPC)
International order fees
$0
Services & additional benefits
ETFs
Certificates
Services & additional benefits
Live
Hotline
E-mail
1. Trading Offer
1) Stock Trading Offer: Trade In a Wide Range of Investment Products
With a Firstrade brokerage account, customers stand to enjoy a broad range of tradable assets including fixed income products, ETFs, options, and stocks.
Premium Services are offered to accounts with Platinum, Blue and Gold status. A trader is required to have at least $2,000 in their account to obtain the Blue status. Blue status account holders receive free e-documents, quotes as well as market data in real-time. Firstrade offers Gainskeeper to accounts with Blue status at a fee of $5 per year.
Gold account status is given to clients with a minimum of $50,000 in their Firstrade brokerage account. In addition to free e-documents, quotes, and market data, clients with Gold accounts also receive dedicated personal representatives to help them with their trading needs.
The Platinum account status is given to traders with more than $100,000 in their accounts. Clients enjoy all the services offered in
other accounts and receive personalized treatment at no extra cost.
Firstrade accounts have varied commission requirements. The commission requirements for Blue, Gold, and Platinum status accounts are $100, $500, and $1,000 per month respectively. This implies that clients must have a particular capital amount in their accounts and must actively trade in order to maintain access.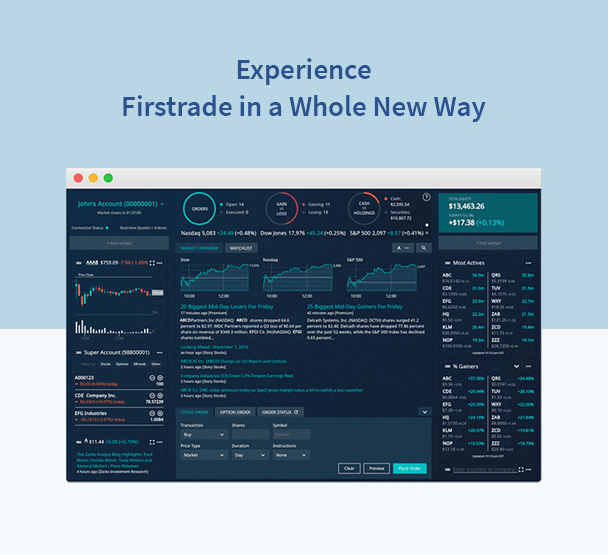 A full line of tradable assets
Market data in real-time
Free quotes and e-documents
Varied commission requirements
Go to TD Ameritrade
Risk warning: Capital can be lost. Terms and conditions apply.
2. Costs
2) Stock Exchanges and Trading Centers: Both Direct and Indirect Trade (IB) and a Resourceful Trading Center
Firstrade offers both direct and indirect trade in Stocks, ETF, and Options. It is prudent for clients to note that all investments have their own share of risks and sometimes the losses might surpass the invested principal.
0
International
Trading venues
Firstrade stock trading might not be ideal for long-term investors because leverage and derivatives might increase their volatility. For this reason, clients should put into consideration the expenses, charges as well as the potential risks before investing.
Clients can access Firstrade's Trading Centre among other services such as retirement planning and research off the Firstrade homepage. Firstrade also provides an education section where new traders can learn how to buy and sell stocks.
The brokerage provider allows margin trading for clients with a minimum of $2,000 in their accounts. Unlike other online discount
brokerage providers, Firstrade updates their margin requirements window on a regular basis and immediately notifies their users after every update. Updating the margin requirements window regularly comes in handy especially when it comes to selling volatile stocks.
Firstrade stock trading is a risky affair and isn't recommended for new investors. Usually, Firstrade subjects all trades involving stocks and options to a thorough review before approval.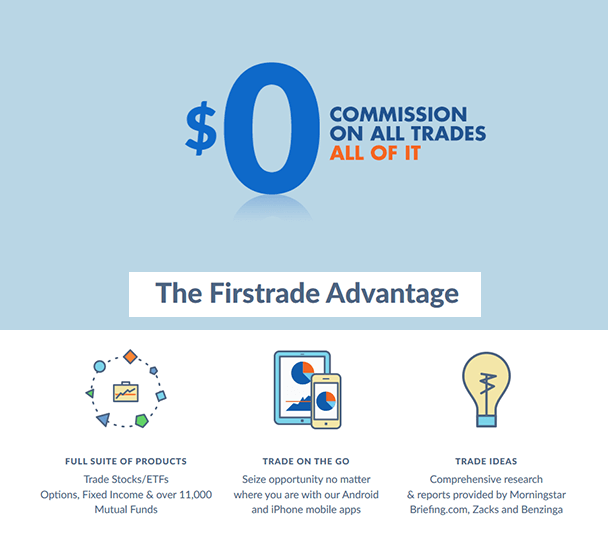 Both direct and indirect trade (IB)
Resourceful trading center
Regular updates on the margin requirements window
Go to TD Ameritrade
Risk warning: Capital can be lost. Terms and conditions apply.
3. Account
3) Trading Conditions: Straightforward Trading Conditions
Firstrade stock trading has some of the most lenient trading conditions in the industry. The discount broker likes keeping things as simple as possible by offering a flat-fee to all investors for every $2.95 stock trade.
As per SIPC guidelines.
Dep. Protection
Firstrade can hence be said to be the best stock broker in the industry. When it comes to options trades, the discount broker offers a flat-fee of $2.95 + $.50 for every contract. Usually, options trades have no minimum size requirements. It is important to note that stocks below $1 are subjected to higher fees. Mutual fund trades, primary market CDs, and fixed income trades are $9.95, $30, and net yield basis respectively.
When it comes to broker comparison in terms of equities, it is safe to say that Firstrade is one of the few brokerage providers who offer some amazing trades. Firstrade only competes with brokers such as Just2Trade who also offer $2.95 trades. On the mutual funds side, Firstrade charges less than most of its competitors giving them an upper hand on the market.
Firstrade also provides up 703 commission-free ETFs. Although this is a big plus, it isn't much considering ETRADE and Charles Schwab offer over 100 commission-free ETFs. Most of the time, Firstrade subjects commission-free ETFs, especially those sold within the first thirty days of purchase, to a trading fee of about $2.95.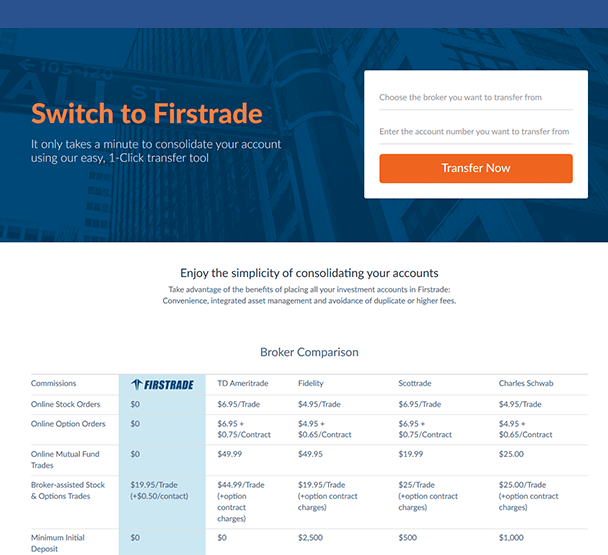 Stocks - $2.95
Mutual funds- $9.95
Options- $2.95+$.50
Go to TD Ameritrade
Risk warning: Capital can be lost. Terms and conditions apply.
4. Platform
4) Trading Platform: Easy to Use
A few years back, Firstrade relied on an unreliable X-Stream watch list tool that was heavily based on Java. Luckily, in 2016 everything changed when the company launched the Firstrade Navigator, which uses HTML 5 code.
Firstrade's trading platform is perfectly divided into three columns, which can be easily customized to suit individual preferences of clients. The new and improved Firstrade Navigator platform is incomparable to any other platform. Clients are guaranteed unmatched trading experience whenever they use the platform.
Note that the Firstrade Navigator can only be accessed by Firstrade Premier Clients. These are clients who have a minimum balance of $10,000 in their accounts. Nevertheless, clients who lack the Premier status can make use of Firstrade Navigator's streaming quotes watch list.
Firstrade Navigator contains 3 pie charts that perfectly summarize important account components such as positions summary, portfolio allocation breakdown, and order summary. Firstrade Navigator comes in a clean color scheme allowing clients to access various services faster and with much ease.
The Navigator contains up to 58 optional chart indicators, which do not allow enlarging past the middle column. Additionally, charts lack the capability to save personalized files. The platform is ideal for clients who like streaming data such as news and quotes in real-time. Finally, with Firstrade Navigator clients don't need to refresh all the time.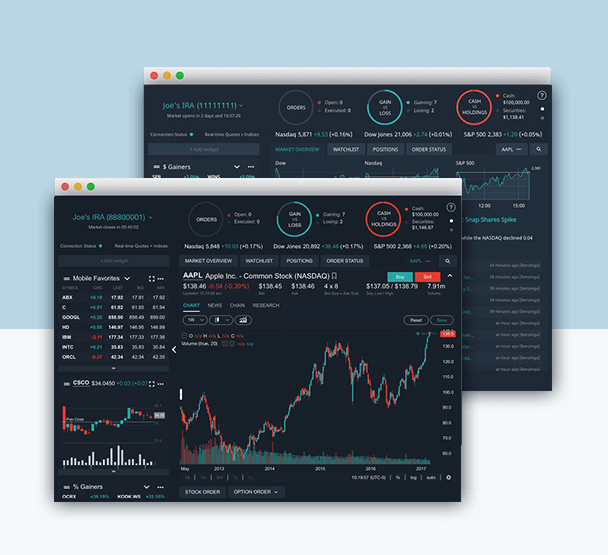 One of a kind Firstrade Navigator
Three columns that can be easily customized
Firstrade Navigator guarantees an unmatched trading experience
Go to TD Ameritrade
Risk warning: Capital can be lost. Terms and conditions apply.
5. Usability
5) Usability of the Website: Well Designed and Easy-To-Navigate Website
Firstrade's website is well-designed to allow easy access. Additionally, the website allows for easy navigation. Traders can easily access various trading and investing services from the homepage. Users can also find important information such as fees, stocks, and other services offered by Firstrade in a matter of seconds.
Items are sensibly structured to allow fast and easy-finding. Importantly, the website has an attractive color design that allows clients to find whatever they are looking for within no time.
Logging in through the website is secure and easy. The website is designed to securely save user' details so that they don't have to manually key in their login details each time they want to access their accounts.
From the homepage, clients can see the various services offered by Firstrade. You can also access investor center for research and education content from the homepage. Additionally, the company has a tendency of advertising ongoing promotions and commissions on the homepage.
New traders can easily open accounts with Firstrade right from the homepage. You can also get in touch with their customer support through Live Support from the homepage. Users can choose between Chinese and English versions of the website.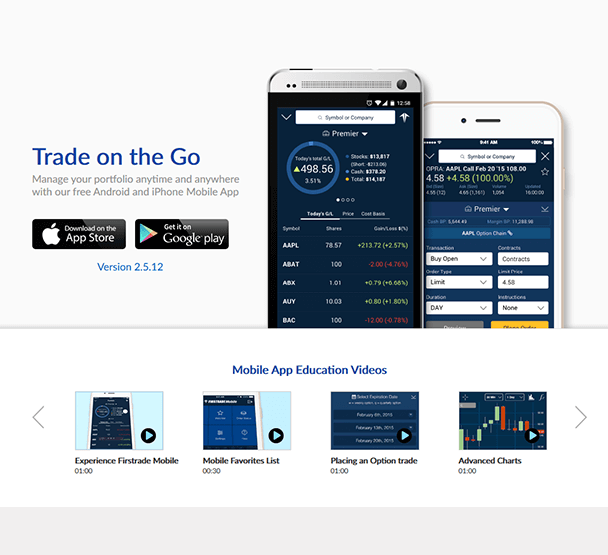 The website is designed to allow easy navigation
It is easy and secure to login through the website
Ongoing promotions and commissions are advertised on the homepage
Go to TD Ameritrade
Risk warning: Capital can be lost. Terms and conditions apply.
6. Support
6) Customer Support: Responsive Customer Support
Traders and investors can reach Firstrade customer service through phone, chat or email. Live phone support is offered from Monday to Friday from 8am-6pm EST. Firstrade offers U.S. and Oversees toll free phone numbers. Their artificial intelligence chatbot known as Sammi is available 24/7. Firstrade also offers customer support services to Chinese-speaking clients.
Firstrade's customer support is very competent. They are highly-knowledgeable and have answers to all customer issues. Most importantly, they are always quick to offer assistance. For instance, if a customer requests for borrows and locates, the customer service will quickly respond appropriately.
The customer support can walk you through the process of linking accounts and how you can track your losses and gains. Note that the company does not provide clients with direct order access routing.
The broker allows non-U.S. residents to open accounts with them. They provide brokerage services to clients from France, Singapore, the UK, China, and Japan. Their website is available in Chinese version and live customer support services are offered to Cantonese and Mandarin clients.
Generally, their customer service is great and dependable. Processing time for customer enquiries and payouts is fast. Clients with Gold and Platinum account statuses are offered personalized or VIP support services.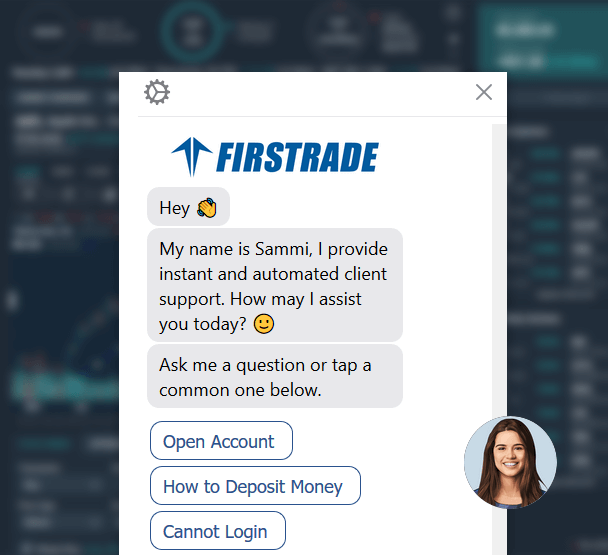 Responsive customer support
Clients can reach their customer service through phone, email or chat
Customer support services to Chinese-speaking clients
Go to TD Ameritrade
Risk warning: Capital can be lost. Terms and conditions apply.
7. Payment
7) Methods of Payment: Several Methods of Payment
Firstrade is dedicated to offering hassle-free methods of payment to its customers. Investors and traders can conveniently deposit funds and withdraw money at any time using various options such as credit cards, Neteller, Skrill, debit cards, among many other methods of payment.
For customers to withdraw their funds the broker requires them to login to their account and initiate the withdrawal process by pressing the withdrawal tab. usually, funds are transferred to the client's bank account and can be accessed after 3 business days.
Time and again, Firstrade is required by the law to collect relevant materials and documents from clients to confirm their identity. For this reason, the company might ask its clients to provide photographs and other documents of identification such as passport or national identity card.
Clients aren't required to maintain minimum deposits. Additionally, customers are free to deposit whatever amount of money they wish. Nonetheless, the company discourages clients from having negative balances in their accounts prior placing orders. Some unacceptable deposits include coin or currency, money orders and double-endorsed checks.
If a trader deposits funds into their Firstrade account via a bankers check, the money is available for trading immediately the check is deposited. All new deposits are subject to a hold period of up to ten business days. Clients can only withdraw these funds after the 10-day hold time.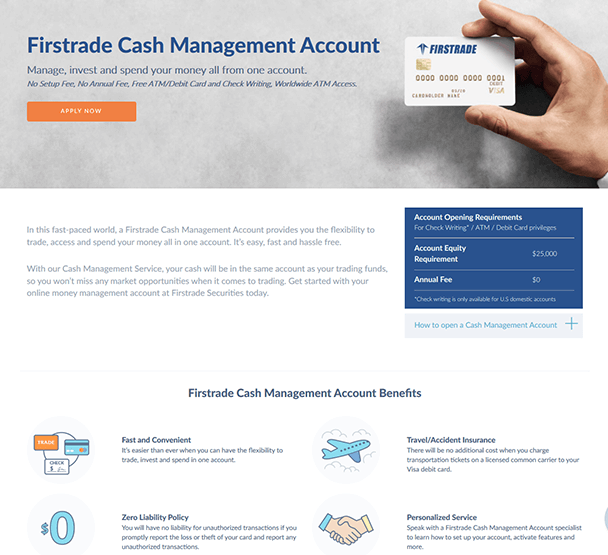 Hassle-free methods of payment
No minimum deposits
Firstrade subjects new deposits to a 10-day hold period
Go to TD Ameritrade
Risk warning: Capital can be lost. Terms and conditions apply.
8. Offers
8) Additional Offers: Free Training and 3rd Party Research Reports
Unfortunately, Firstrade is one of the few brokers who don't offer demo accounts to customers for practice purposes. The broker might start providing demo accounts to newbie clients in the near future so we just need to sit back and wait.
Like most brokers, Firstrade offers free training to clients through various educational resources. Educational resources provided by Firstrade are available in various categories where they address different learning topics independently. This makes it easier for investors and traders to understand various methods of trading perfectly.
Firstrade works closely with Morningstar to provide top notch industry research, unique variables, and data to clients. Through Morningstar, the broker offers vital research on mutual funds and stock to customers. In 2015, the company introduced Video Commentary to offer detailed market analysis to customers.
The company offers one 3rd party research report for both ETFs and stocks. This is a big plus for the company since not many brokers offer such reports. However, they don't offer research report for mutual funds. The broker also provides a glossary section so that clients can familiarize themselves with various trading terms.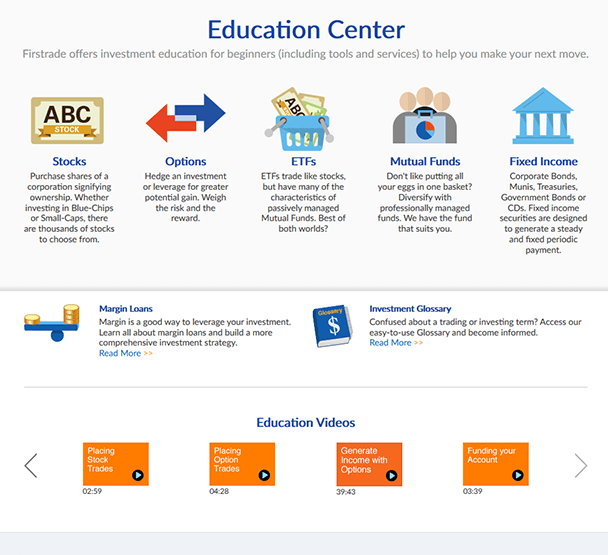 Firstrade doesn't offer demo accounts
Offers free training through educational resources
Video Commentary market analysis
Go to TD Ameritrade
Risk warning: Capital can be lost. Terms and conditions apply.
9. Regulation
9) Regulation & Deposit Protection: Regulated by FINRA
The Financial Industry Regulatory Authority (FINRA) is tasked with the responsibility of regulating the activities of Firstrade. FINRA is a reputable authority with many years of experience. The body regulates securities futures, corporate bonds, and options. In the United States, the activities of FINRA are regulated by the Securities and Exchange Commission. (SEC)
Firstrade is an active member of SIPC (the Securities Investor Protection Corporation- USA) Traders and investors are thus guaranteed maximum security on their funds. Additionally, clients don't have to worry about their sensitive information falling in the wrong hands. This is because the broker encrypts sensitive client data using HTTP web protocols.
FINRA / SIPC
Regulatory Authority
As per SIPC guidelines.
Dep. Protection
Clients can open a custodial account with Firstrade to save funds for their kid's future. The account falls under the UGMA (the Uniform Gifts to Minors Act). Firstrade requires custodians to manage custodial accounts on behalf of their minors until they become old enough. Assets in a custodial account belong to the minor and are registered under their name and SSN.
Custodial accounts don't incur gift tax. Additionally, they don't have minimum deposits or contribution limits. Earnings are tax-free until $1,000 where taxation is based on the minor's rate. Custodians can withdraw funds from a custodial account for the minor's benefit at any time.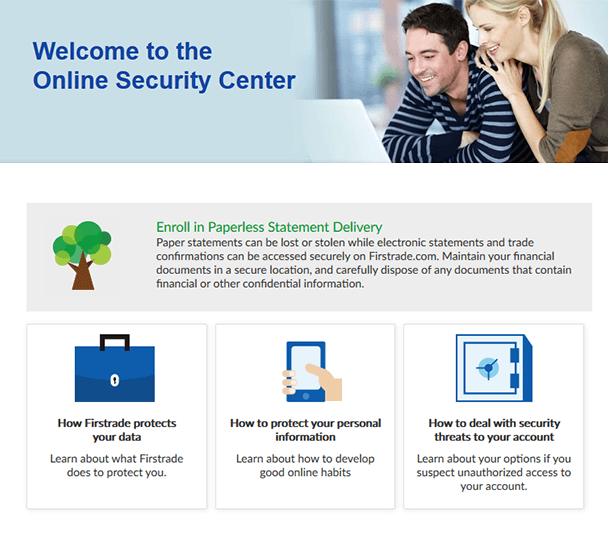 Firstrade's activities are regulated by FINRA
Firstrade guarantees maximum security on clients' funds
Sensitive client data is encrypted using HTTP web protocols
Go to TD Ameritrade
Risk warning: Capital can be lost. Terms and conditions apply.
10. Awards
10) Awards: Firstrade Has Won Multiple Awards
Over the years, Firstrade has worked tirelessly to deliver unmatched services to its clients. The company combines proprietary trading tech, mobility apps, high-quality customer service, and a quality user interface to provide comprehensive trading and investment solutions to customers. Firstrades efforts and commitment to customers hasn't gone unnoticed.
For the last couple of years, StockBrokers.com has highly-rated the broker for its "Ease of Use". Interacting with their website is smooth and hassle-free. Additionally, finding items on their website takes a sec. Active and new traders alike love the services offered by Firstrade and the manner at which the broker conducts its brokerage activities.
This Firstrade brokerage review discovered that the broker delivers high-level services to customers and offers a broad range of great products at low costs. For this reason, the broker was crowned "Clear Winner" by Kiplinger Personal Finance back in 2006 for its contributions in the field of mutual funds. The same year, this review of Firstrade noted that the broker received the "Top Clean-Hands Firm" award in the Best Online Brokerage Firms Category. The broker was also named "the Best Deal" by Smart Money.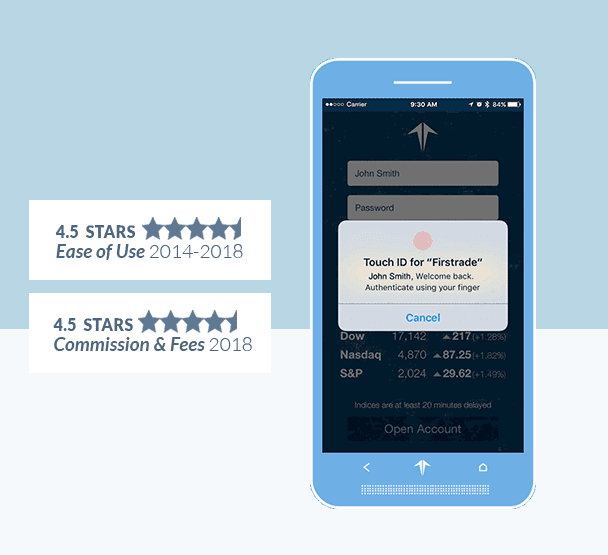 "Ease of Use" award
"Clear Winner" award
"Top Clean-Hands Firm" award
Go to TD Ameritrade
Risk warning: Capital can be lost. Terms and conditions apply.
Conclusion: Final Verdict on Firstrade
Based on the numerous services offered by the broker, this Firstrade brokerage review concludes that Firstrade is one of the best discount broker companies today. They provide a decent amount of investments and have an amazing interface. Importantly, their fee structure is reasonable and ideal for all types of investors and traders, both new and experienced.
The broker is well-known for its low commissions and a full range of educational resources. Their educational resources are perfect for traders who have little to no investment and trading knowledge. The best part is that their accounts do not require minimum initial deposit.
The broker also offers its quality services to international customers. Besides the United States, the broker offers its services to investors in over 20 countries. Its Android and iOS mobile application comes in a clean design and with simple to use menu. Through the app, clients can easily access market data and check their account balances.
So, Is Firstrade good? You'll have to try it yourself and see for yourself.
Cheap commissions
Easy navigation
Great customer service
Great fundamental stock screener
A powerful mobile app
Doesn't support direct order routing
Firstrade Navigator offered to Premier clients only
Customer support problems
Test result
Broker

Go to TD Ameritrade
Risk warning: Capital can be lost. Terms and conditions apply.