Founded in 2010, Just2Trade is a reputable brokerage company committed to offering world-class brokerage services to traders. In this review of Just2Trade, you'll learn more about the broker, the different types of the accounts provided, the various tradable assets available, minimum balance requirements and so much more.
Given the many companies claiming to offer online stock trading brokerage services, it is essential that you do thorough research before settling on one. This review of Just2Trade is meant to help you make an informed decision. Is Just2Trade good? You are about to find out.
Highlights
Founded in 2010
Reputable brokerage firm
Fixed and transparent trade costs
Offers automated trading through iSystems
12.
of 12 Stock Broker
Just2trade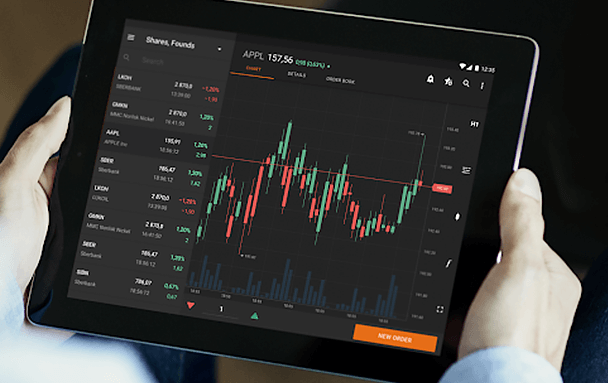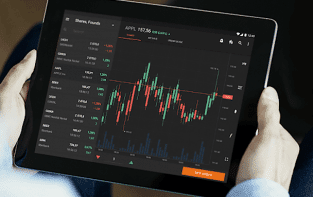 Go to Broker
Risk warning: Capital can be lost. Terms and conditions apply.
Headquarters and regulation
USA (SIPC)
National fees
$2.50 per trade (flat)
International order fees
$2.50 per trade (flat)
Services & additional benefits
ETFs
Certificates
Futures
Demo account
Yes, Fully functional
Services & additional benefits
Live
Hotline
E-mail
1. Trading Offer
1) Stock Trading Offer: Multiple Tradable Assets
Like many other online brokerage companies, Just2Trade provides a broad range of tradable assets to accommodate the requirements of different clients. The company offers ETFs, bonds, stocks, option, and mutual funds. Note that Just2Trade doesn't provide forex trading. This might be a disappointment to customers who like forex trading.
One of the best things about Just2Trade is that it offers unlimited trades for its customers, and with unlimited trades, clients have unlimited trading potential. This is a big plus to customers especially the experienced ones who are looking to take charge of their portfolio.
The firm offers various Just2Trade brokerage account types to customers. Some Just2Trade accounts include LLC, Roth IRA, Custodial Account, SEP IRA, Partnership, Corporate, Traditional IRA, and Educational Savings Account just to mention a few. The fact that the company provides customers with various types of accounts means that customers can choose to delegate their profits to a certain Just2Trade account to increase their investment opportunities.
Once a client has opened an account with Just2Trade, they are required to maintain a minimum balance of $2,000. If a customer is unable to maintain this balance, Just2Trade ceases their ability to trade and can only resume trading if they deposit more funds into their account.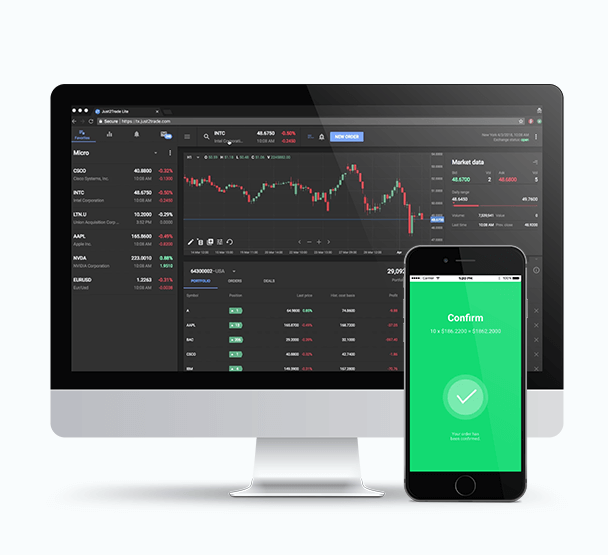 Several tradable assets are offered including bonds, stocks, mutual funds, and ETFs
Multiple account types
Minimum balance of $2,000
Go to Broker
Risk warning: Capital can be lost. Terms and conditions apply.
2. Costs
2) Stock Exchanges and Trading Centres: A Broad Range of Tradable Stock Exchanges
Just2Trade stock trading is ideal for various types of traders. Casual traders are highly likely to fall in love with the broad range of stock exchanges provided by Just2Trade. The broker also has some in-depth and modern stock exchange trading tools perfect for this type of traders.
If you are an active stock trader, you are also likely to enjoy Just2Trade stock trading since the company offers extremely low fees. Compared to other brokers, Just2Trade is arguably the best when it comes to offering low fees to customers.
Just2Trade stock trading is also suitable for knowledgeable traders who are looking to capitalize on what they know about stocks, options, mutual funds, and bonds. Such traders can benefit a lot from the low fees, discounts, and commissions.
100
International
Trading venues
In addition to offering a wide range of tradable stock exchanges, the company has a resourceful trading centre where customers can learn everything there is about stock trading and how they can succeed in their Just2Trade stock trading activities.
The company offers courses to customers through e-documents, videos and other resources. The best part is that courses supplied by Just2Trade are up-to-date.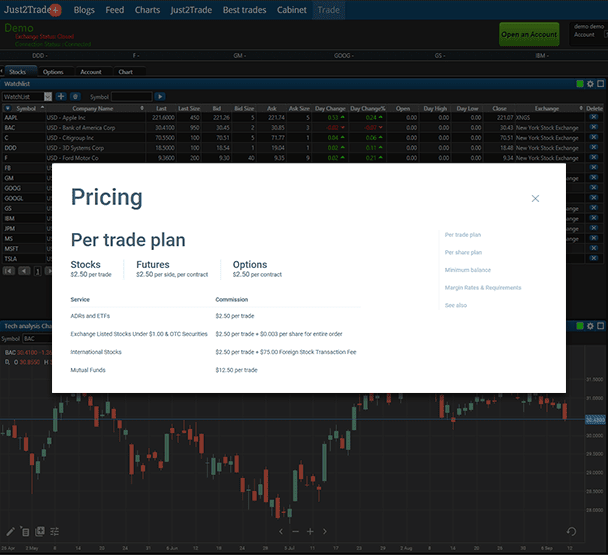 A wide range of tradable stock exchanges
Just2Trade offers practical trading courses
Low fees offered
Go to Broker
Risk warning: Capital can be lost. Terms and conditions apply.
3. Account
3) Trading Conditions: Heavily Discounted Trades
For a customer to open an account with Just2Trade and start trading, they are required to invest a minimum initial amount of $100. The minimum initial amount for Just2Trade ECN accounts is about $100,000.
Compared to other leading brokerage companies, Just2Trade's minimum initial amount for ECN accounts is too high. Brokerage companies like FXTM allow access to ECN accounts with as little as $200.
$2.50 per trade (flat)
National fees
$2.50 per trade (flat)
Intl. fees
As per SIPC guidelines
Dep. Protection
All stock trades of $1 per share or higher are charged $2.50 per trade. This is relatively low when compared to other industry leaders such as TD Ameritrade, Charles Schwab and others. However, traders should be aware that they will only receive free real time streaming quotes for the first 15 minutes of each day. Those who wish to receive these quotes must pay for an advanced package with goes for $7.99 per month.
A Stockbroker comparison between Just2Trade and other high-level brokers shows that although Just2Trade has relatively low spreads; their minimum initial amount, especially for ECN accounts, is very.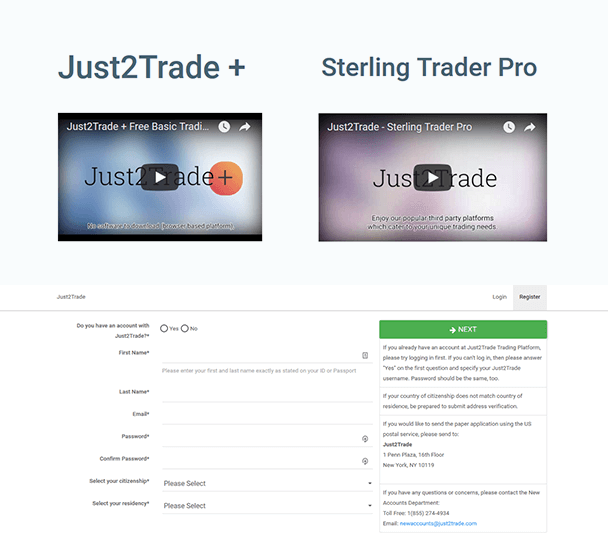 Minimum initial deposit of just $100 for standard accounts
Minimum initial deposit of $100,000 for ECN Just2Trade accounts
Traders must subscribe to an advanced package to enjoy free real-time streaming quotes
Go to Broker
Risk warning: Capital can be lost. Terms and conditions apply.
4. Platform
4) Trading Platform: Offers Quality Trading Platforms
For a firm to be considered the best stock broker, they must have an excellent trading platform. Experienced traders know that with an excellent trading platform, the chances of winning are much higher. Trading platforms must have great tools, their processing speeds must be fast, and must have great interfaces.
Just2Trade offers a couple of trading platforms to clients including MetaTrader 4, MetaTrader 5, and Tradex. The primary trading platform is MetaTrader 4, which provides a wide range of useful trading resources as well as tools. The platform contains over fifty inbuilt technical indicators, Expert Advisors, and a modern charting package.
The MetaTrader 5 platform is increasingly becoming the next big thing, and many brokerage companies including Just2Trade are slowly adopting it. The platform offers a broad range of tools to help traders analyze price changes and utilize Expert Advisors.
TradeX is ideal for new traders. The web-based trading platform is known for its simple interface making it straightforward to use. Importantly, it contains modern tools to allow fast technical analysis.
Just2Trade also supports mobile trading. Customers can use their iOS and Android devices to trade options and stocks.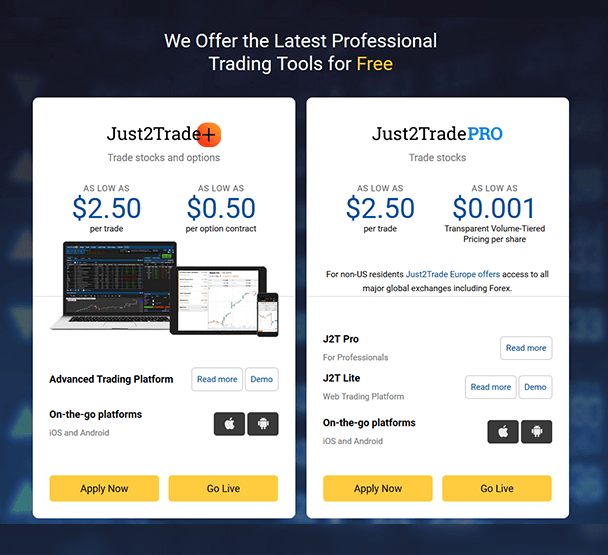 Offers various high-quality trading platforms
Platforms include MetaTrader 4, MetaTrader 5, and TradeX
Mobile trading is available
Go to Broker
Risk warning: Capital can be lost. Terms and conditions apply.
5. Usability
5) Usability of the Website: Decently Robust Website
For customers to enjoy the various services offered by any brokerage company, the website must be easy to use. Most importantly, customers should be able to access various services from the homepage. Luckily, Just2Trade appears to be committed to offering hassle-free and memorable trading experience to customers by providing a smooth interface.
The company's website is decently robust. Most of the important items can be accessed from the homepage. Its interface is perfectly featured and very user-friendly. However, compared to the websites of other leading brokerage providers, Just2Trade's website lags behind in terms of user-friendliness. A few users have complained about having difficulties when streaming quotes.
Generally, Just2Trade's website has a nice interface. It is easy to use allowing customers to access important items such as research and education resources hassle-free. Traders can also learn about ongoing promotions quickly since the company displays them on the homepage. Just2Trade also displays all the important contact information on the homepage.
However, there is need for Just2Trade to improve their website and make it more user-friendly. By doing so, the company will be able to perfectly compete with its high-end competitors.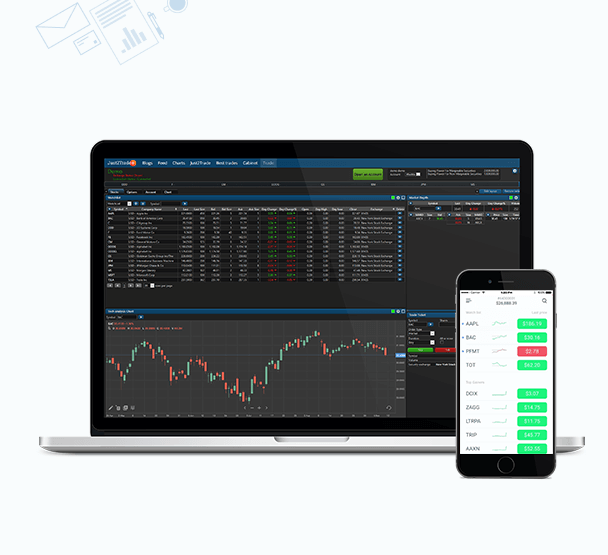 Easy to navigate.
Attractive to the eye.
Lots of good information
Go to Broker
Risk warning: Capital can be lost. Terms and conditions apply.
6. Support
6) Customer Support: Reliable Customer Support
When it comes to choosing an online brokerage company, clients are advised to go for brokers with excellent customer support. Customer support should be readily available to offer necessary assistance.
By the look of things, Just2Trade has an awesome support staff. Their customer support offers assistance to various customer needs with ease. New customers can contact them and ask all type of questions including how to open an account and how to trade.
According to some JustTrade broker reviews online, Just2Trade's customer support provides answers to all customer issues. From the reviews, customers were impressed with Just2Trade's customer support. A happy customer wrote that support was quick and acted professionally when answering to his questions.
Customers can get in touch with Just2Trade's customer support through various ways such as email, live chat, and phone. Additionally, customers can get the attention of the company's customer support by shooting them messages on social media platforms such as Facebook.
The broker's customer support is available on phone from Monday to Friday. This is enough time for clients to call and receive assistance to their various issues. Their live chat service is available 24/7 meaning that customers can get the help they want anytime.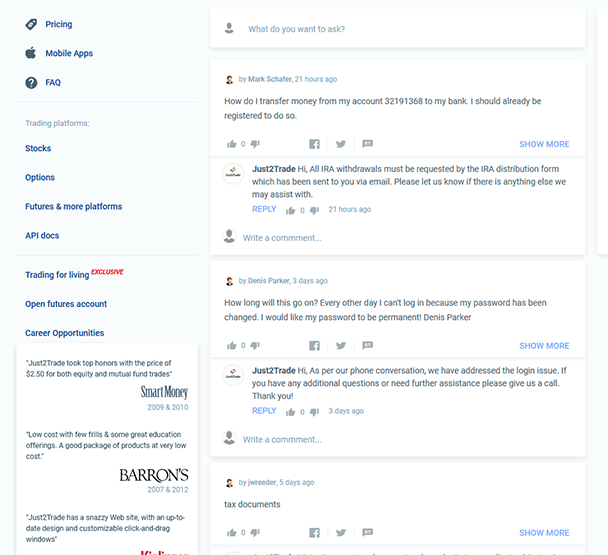 Reliable customer support
Customer support services are offered through phone, live chat, email
24/7 live chat
Go to Broker
Risk warning: Capital can be lost. Terms and conditions apply.
7. Payment
7) Methods of Payment: Multiple Methods of Payment and Withdrawal
For customers to begin trading with Just2Trade, they have to deposit funds in their accounts. The broker is committed to offering smooth monetary transactions to its customers. It provides simple and easy to follow guidelines on how to make a deposit.
Just2Trade customers can fund their accounts through various ways including bank transfers and ACH transfers. Just2Trade also supports wire transfers. The way you deposit will be the same way in which you will withdraw.
Note that you cannot deposit funds into your Just2Trade account through PayPal or credit cards. Customers residing in the U.S. are encouraged to deposit funds into their Just2Trade accounts through ACH transfers. The best thing about ACH transfers is that it doesn't require papers. Additionally, there are no postage charges.
In most cases, deposits made through ACH transfers take approximately three business days to complete. On the other hand, bank transfers are completed within 24 hours.
Just2Trade's minimum deposit is approximately $100. Broker comparison in terms of minimum deposit shows that Just2Trade has the lowest minimum deposit.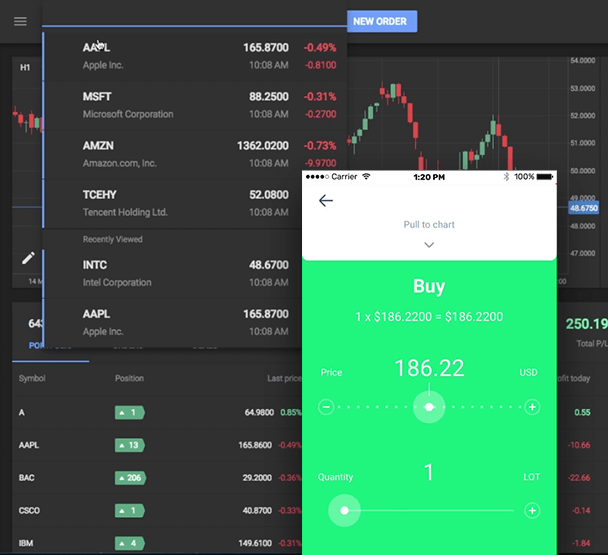 Just2Trade supports multiple methods of payment including ACH transfers, wire transfers, and account transfers
Customers cannot deposit through PayPal or credit cards
ACH transfers are completed within 3 business days
Go to Broker
Risk warning: Capital can be lost. Terms and conditions apply.
8. Offers
8) Additional Offers: Offers Demo Account, Promotions, and Bonuses
Just2Trade provides demo accounts to help new traders get acquainted with their trading platforms. A Just2Trade demo account provides a perfect opportunity for traders to familiarize themselves with the different services offered before they can begin actual trading. If you are a newbie, consider starting with a Just2Trade demo account to learn more about the broker and familiarize yourself with how things are done in the stock trading world.
Just2Trade offers promotions to customers regularly. For instance, the broker offers free trades to everyone who opens an account with them. New users can receive more than 25 free trades once they sign up. Additionally, the company offers promotions and bonuses to existing customers.
The broker also offers training resources and research tools to its customers. It collaborates with reliable sources of market research such as the WhoTrades community to bring up-to-date trading information and news to customers.
It also holds webinars on regular basis to educate customers on how to trade and how they can get the most out of the different services offered. Customers also receive training on how to use various Just2Trade platforms through video tutorials.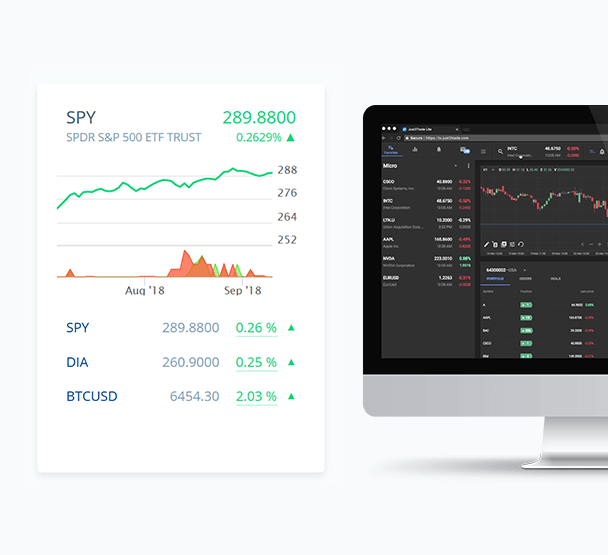 A demo account is offered to new traders
Just2Trade offers regular promotions
The broker offers various bonuses
Go to Broker
Risk warning: Capital can be lost. Terms and conditions apply.
9. Regulation
9) Regulation & Deposit Protection: CySEC and FSC Regulated
Just2Trade allows customers to trade in more than fifty currency pairs. Additionally, the broker offers access to a broad range of stock exchanges. It utilizes trading platforms such as MT4, MT5, and TradeX. The company offers all these awesome services in an effort to provide customers with multiple trading choices.
For brokerage companies to guarantee quality and transparent services to customers, they have to be regulated by an independent body. The brokerage activities of Just2Trade are regulated by various bodies. In Europe, Just2Trade's activities are monitored by CySEC, which is one the most popular online discount brokerage authorities. CySEC requires brokerage firms to hold a certain amount of funds to proof their financial stability. The Financial Services Company (FSC) monitors Just2Trade's brokerage services in the UK.
As per SIPC guidelines
Dep. Protection
In an effort to protect clients, CySEC requires Just2Trade and other brokers to maintain client funds in separate accounts. Additionally, to
guarantee customers' funds further, all brokerage companies regulated by CySEC must acquire membership with the Investor Compensation Fund (ICF). The ICF compensates customers in the event a brokerage firm is in default.
As a CySEC-regulated brokerage firm, Just2Trade is MiFID compliant. This means that it can offer its services across the European Union.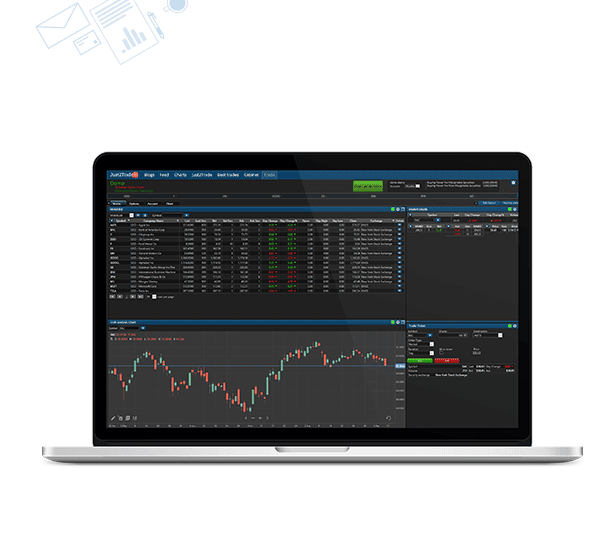 CySEC-regulated
FSC-regulated
MiFID compliant
Go to Broker
Risk warning: Capital can be lost. Terms and conditions apply.
10. Awards
10) Awards: Several Awards and Industry Recognitions
Just2Trade's goal is to provide its customers with the necessary support and trading tools so that they can manage their investments better. Their trading platform is well-designed so that customers can have ample time interacting with it.
Just2Trade is famous for providing modern trading tools to customers for memorable trading experience. Importantly, the company enhances its proprietary software from time to time to ensure that it stays in line with customer demands for quality service and fast execution speeds.
Just2Trade is serious about keeping the personal information of its clients safe. It has put in place special security technology to safeguard the privacy of customers. The company protects all user information transmitted between computers/mobile phones and their trading systems with the latest SSL technology.
For its efforts and commitment to providing only the best services to customers, Just2Trade has won a handful of awards. Some Just2Trade's industry recognitions and awards include: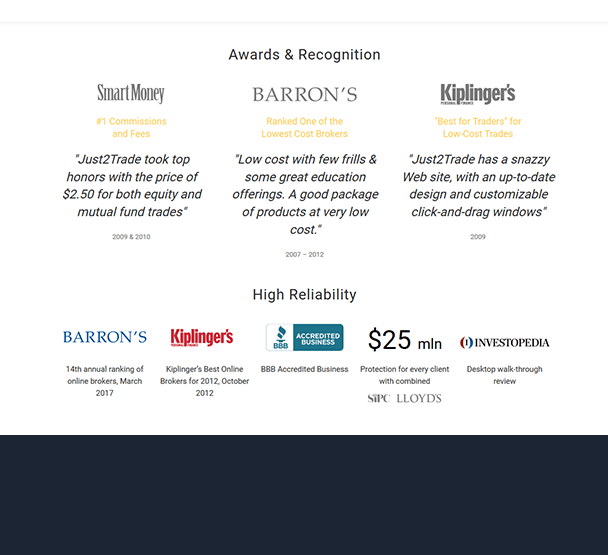 From 2007 to 2012, Just2Trade was ranked the best by Barron's for its keenness to offering quality services to customers at a low cost
In 2009 and 2010, Just2Trade was named "Best Discount Broker for Commissions and Fees"
In August 2009, won the "Best Site for Traders" award
Go to Broker
Risk warning: Capital can be lost. Terms and conditions apply.
Conclusion- Just2Trade Final Thoughts
To end this Just2Trade brokerage review, let's highlight some the most important Just2Trade elements. First, trading with Just2Trade is straightforward and very easy. If you are new to stock, options, ETFs and bond trading, you are strongly advised to start your trading journey with Just2Trade.
When it comes to accounts, Just2Trade offers a handful of different accounts. Customers can choose between regular accounts, shared/partner accounts or company accounts.
Just2Trade is among the few brokerage firms fully utilizing the MT5 platform. The MT5 trading platform is famous for its modern tools and a broad range of trading systems. Importantly, the platform allows traders to try various orders.
Compared to its competitors, this Just2Trade brokerage review found out that the company offers some of the cheapest commissions. Additionally, commissions can be reduced significantly with trading volume.
Just2Trade provides toll-free phone service to customers from Monday to Friday. Additionally, users can receive customer support services via email and live chat.
Quality customer support
Low commissions
Low margin rates
No account activity fees
Real time data
High maintenance fees
Insufficient basic features
No commission-free ETFs
Test result
Broker

Go to Broker
Risk warning: Capital can be lost. Terms and conditions apply.