If you are an experienced day trader, Lightspeed is the broker for you. This broker main target market is the skilled trader. Beginner traders often struggle with the trading platforms and tools provided by this broker.
However, traders who are able to master it enjoy speed and efficiency not seen anywhere in the industry. Also, this is a low cost trader meaning that it is the best stock broker for high volume traders looking to minimize costs and maximize profits.
This broker favors the active trader as opposed to low activity traders. As we shall see later in this review of Lightspeed broker, there are monthly inactivity fees for dormant accounts.
With Lightspeed, you can trade equities, futures, ETFs and options all in one platform. The broker also provides margin lending and cash management services.
Highlights
Best broker for day traders
Low cost trading
A fast and efficient trading platform
Monthly inactivity fees for dormant accounts
10.
of 12 Stock Broker
Lightspeed Trading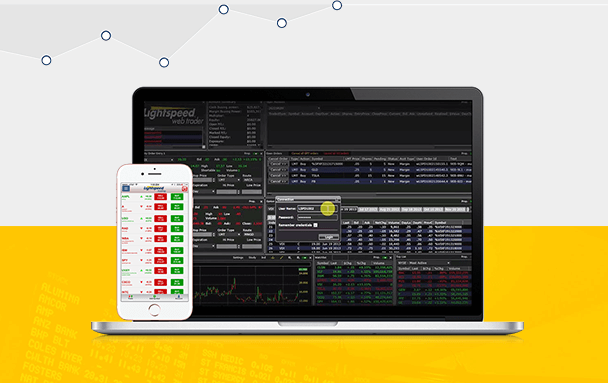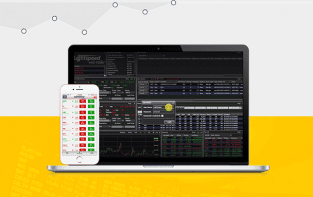 Go to TD Ameritrade
Risk warning: Capital can be lost. Terms and conditions apply.
Headquarters and regulation
USA (FINRA / SIPC)
International order fees
$2.99
Services & additional benefits
ETFs
Futures
Demo account
Yes, Intuitive, advanced trading tools, educational resources
Services & additional benefits
Live
Hotline
E-mail
1. Trading Offer
1) Stock Trading Offer: Trade Multiple Products in One Platform
As mentioned in the introduction of this Lightspeed brokerage review, this broker offers equities, futures, ETFs, and options trading.
The broker is best suited for day traders given its trading cost structure. With this broker, the higher the trading frequency and volume of trading, the lower the margins and commissions charged.
When it comes to trading accounts, the broker offers several options to include individual, joint, corporate, Trust, Partnership, LLC and IRA's. The minimum amount required to open a Lightspeed brokerage account is $10,000. A demo account is available to help traders familiarize with the brokers' trading platform and tools before diving into a live account.
Traders can open a margin account with the Lightspeed broker to enjoy the leverage to trade securities in secondary equity, options and futures markets. This type of account can be used to buy, sell and short sell securities. The amount that can be borrowed through this account is regulated by the Federal Reserve, the SEC, FINRA, and Lime Brokerage LLC, the mother company of LightSpeed broker.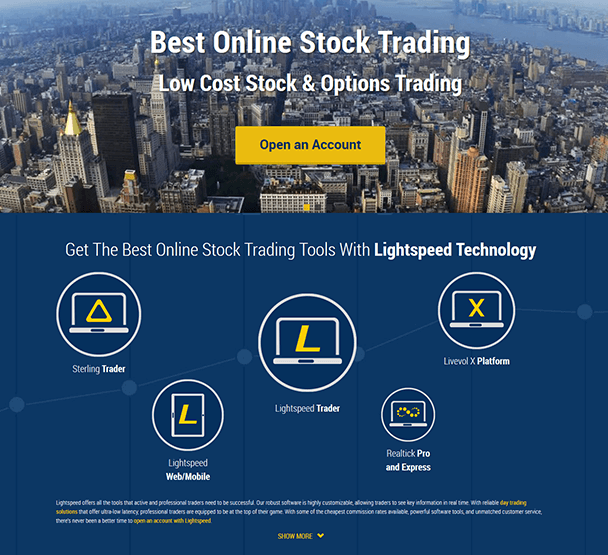 Trade multiple products in one platform
Choose from a variety of trading accounts
Practice with a demo account before going live
Go to TD Ameritrade
Risk warning: Capital can be lost. Terms and conditions apply.
2. Costs
2) Stock Exchanges and Trading Centers
The Tradable stock exchanges offered by this broker include domestic exchanges such as NYSE and NASDAQ. The Lightspeed Gateway trading system has direct connections to all major U.S. equity markets and is co-located with NASDAQ at their military grade hosting facility.
0
International
Trading venues
The trading center includes platforms such as Lightspeed Trader, Lightspeed web/mobile trader, Livevol X Options platform, Sterling Trader, Lightspeed Gateway, RealTick Pro, Specialized Trading software and Futures Trading platform. The most important platforms for stock trading will be discussed later in this review.
Each of these platforms comes with advanced trading features and tools meaning that the trader must have some experience from other platforms when using them. The demo account provides the opportunity to understand a platform first before diving into live trading. The demo is funded with virtual money and relies on real but historical data.
The education resource center is another important component of the trading center. With these resources, new traders can master the platform usability faster and therefore maximize their trades. Also, existing traders can get updates of any changes to the platform and adjust accordingly.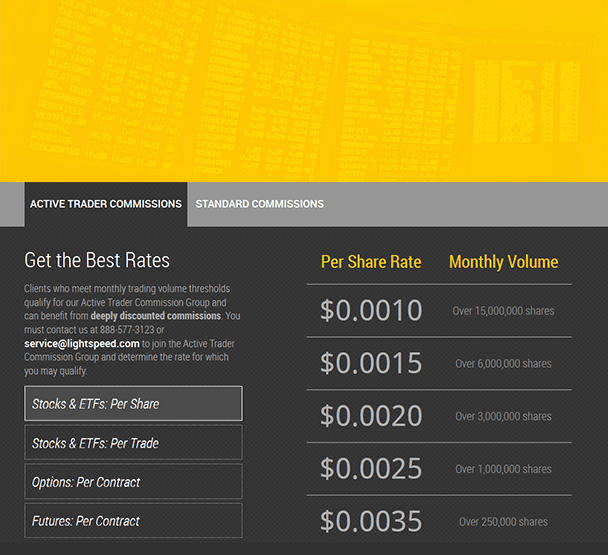 Tradable exchanges include domestic exchanges such as NYSE and NASDAQ
Multiple trading platforms and tools are available
Educational resources are available
Go to TD Ameritrade
Risk warning: Capital can be lost. Terms and conditions apply.
3. Account
3) Trading Conditions: Low Trading Cost for High Volumes
As mentioned earlier in this Lightspeed stock trading review, the key selling point for this broker is low trading costs.
With this broker, traders can choose per trade commission which begins at $4.50 per trade for under 250 trades per month. However, as trading volume increases, the commission reduces to $2.50 per month. A broker comparison shows that this is among the lowest in the industry.
As per SIPC guidelines
Dep. Protection
Alternatively, traders can be charged on per share commissions which range between $0.0010 and $0.0045. Routing fees also apply depending on the market in which the trader is participating in.
When it comes to options trading, Lightspeed is the only broker that does not charge any fixed fee per trade. The only fees paid is the options contract cost of $0.60 for under 500 contracts. High volume trading can reduce the costs to a mere $0.20 for over $100,000 contracts.
Other charges include a Lightspeed Trader platform fee of $100 per month. This fee is scrapped if the trader generates $100 in commissions per month. Sterling Trader, a specialized trading platform for hedge funds and money managers, also incurs a monthly charge of between $140 and $170 per month.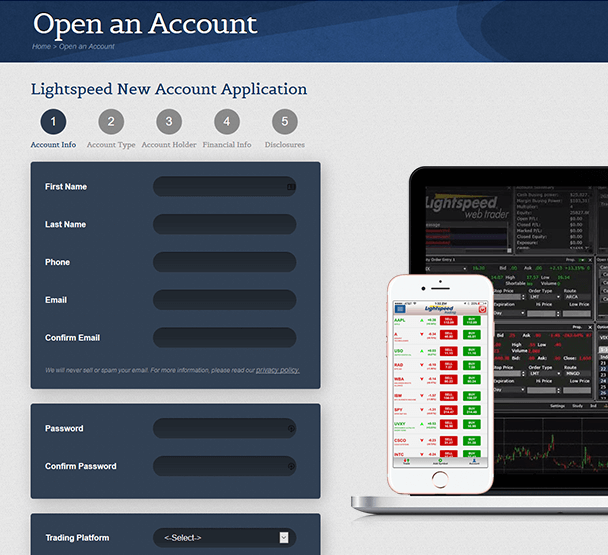 Low per trade commissions
Extremely low per share commissions
No fixed fee per trade for options traders
Go to TD Ameritrade
Risk warning: Capital can be lost. Terms and conditions apply.
4. Platform
4) Trading Platform: Fast, Intuitive and Efficient
While Lightspeed trading platforms and tools are sophisticated for beginner traders, they provide maximum performance and opportunity for active and experienced traders. As mentioned earlier in this Lightspeed brokerage review, the target market here is the experienced and active trader.
As mentioned earlier, trading platforms include Lightspeed Trader, Lightspeed mobile/web trader, Livevol X Options platform, Sterling Trader, Lightspeed Gateway among others. In this review of Lightspeed broker, we will discuss the most popular of these platforms.
The Lightspeed Trader is a desktop-based platform ideal for stocks and options with over 100 order routing destinations. This platform has been identified for speed, stability and execution in several stock broker comparisons. Lightspeed Trader comes with hotkeys which can be customized down to type, order size and routing instructions. Data from exchanges is fed directly to the platform to ensure that every opportunity is maximized.
The Lightspeed Web Trader is another trading platform offered by the broker. This platform runs on windows and Mac devices and provides numerous customization options and basic trading services. This option is fit for less active traders. Lightspeed also provides a trading IoS and android mobile app that connects to their web trader.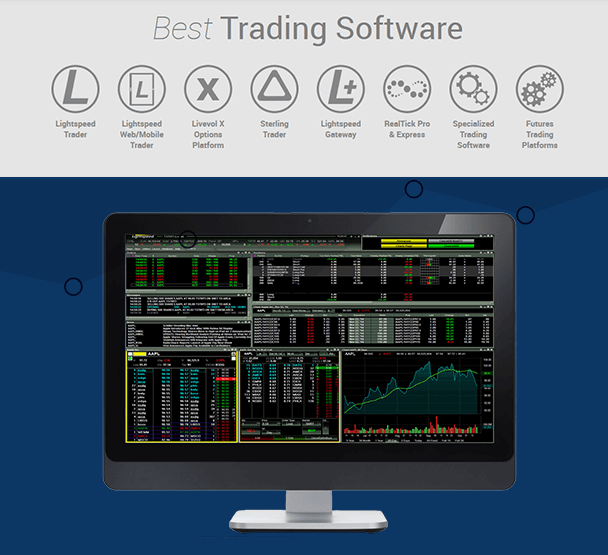 Customizable desktop-based trading platform
A web trader for windows and mac devices
An intuitive mobile app that connects to the web trader
Go to TD Ameritrade
Risk warning: Capital can be lost. Terms and conditions apply.
5. Usability
5) Website Usability: Attractive, Easy to Navigate and Detailed
The Lightspeed broker website is the gateway to everything you need to know to get started with the broker. Apart from being attractive to the eye, the website is neatly arranged to allow traders to find information easily. It is available in three languages namely English, Hispanic and Japanese.
The top menu contains contact information, social media buttons, the "open account" button, the login and the demo button. Under the open account button are submenus that lead to the products on offer. Simply put, with this top menu alone, traders are able to find their way to their interests. Another important thing to note is that the signup process for all types of accounts is a simple one and does not take much time.
Regarding trading resources, the Lightspeed stock trading website has everything that the trader needs. Unlike some brokers' websites where resources are presented in a fragmented way, the Lightspeed website presents everything under the resources button. Even better, each resource is classified under a certain topic to help the trader access them faster.
Another great thing about the website is the graphical presentation of information. This makes it possible for traders to get a picture of what to expect just by opening the home page.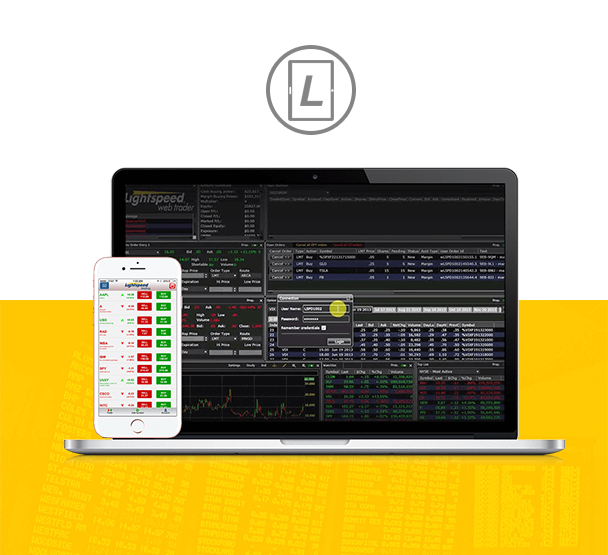 Easy to navigate
Comprehensive trader resources
Graphical presentation of information
Go to TD Ameritrade
Risk warning: Capital can be lost. Terms and conditions apply.
6. Support
6) Customer Support: Get Help Any Time You Need It, 24/7
Lightspeed brokers' lines of communication are open Monday through Sunday, 24 hours a day. They are reachable through phone, email, and live chat. However, there are numerous negative reviews on the internet about their phone lines going unanswered. We made several calls to verify this and all were answered so we are not sure about these claims. The broker is also very active on social media including Twitter, Facebook and LinkedIn. Traders can interact with each other and with the brokers' customer support team through these channels.
Lightspeed broker has its headquarters in New York City and offices in Chicago, Boston, and Platteville, WI. Clients can visit their offices for questions and clarification any day from Monday to Friday between 8am and 5pm.
Apart from the live support, Lightspeed brokers offer materials to help answer the traders' questions. Their FAQ pages are fully detailed and well arranged to allow clients to find helpful information within the shortest time possible.
For technical and trading related questions the broker provides on-demand webinars and tutorials. The tutorials and webinars mostly include presentations on how to use Lightspeed sophisticated tools such as the Lightspeed Trader. The broker also has a blog where key trading information is posted regularly to help traders stay informed of the changes in the industry and on the platform.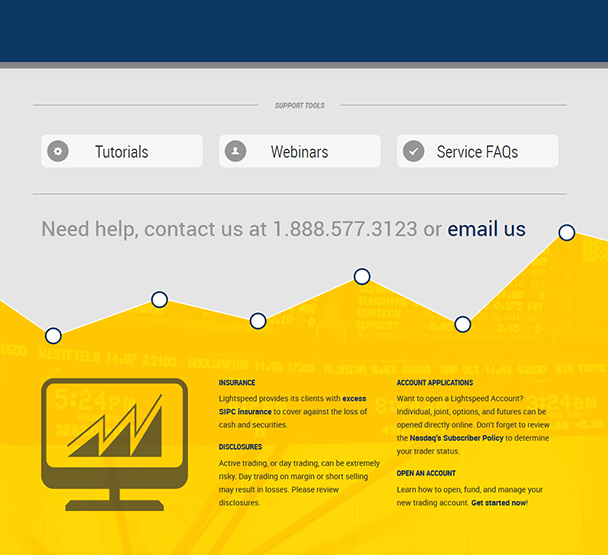 Communication lines are open 24/7
High social media presence
Live webinars and tutorials available
Go to TD Ameritrade
Risk warning: Capital can be lost. Terms and conditions apply.
7. Payment
7) Methods of Payments: Free ACH Funds Transfer
Before we discuss the payment methods accepted by this broker, it is important we revisit the minimum balances. As discussed earlier in this review of Lightspeed trader, the minimum deposit for traders using the web trader platform is $10,000.
However, for those using the Lightspeed Trader, RealTick, Livevol X platform or Sterling Trader Platform, the minimum balance is $25000. On the other hand, the minimum balance for the portfolio margin account is $175,000 and that for a Portfolio Margin Account using Livevol X is $110,000.
The accepted deposit methods include check or ACH and are subject to a 5 business day hold. There are no charges for ACH transfers. Lightspeed does not accept third-party checks or wires.
When it comes to withdrawals, Lightspeed broker accepts check, ACH transfers and wire. While ACH withdrawals are free, wire transfers incur a $20 fee for domestic wires and $50 for international wires. Check withdrawals are processed on the same day and usually takes 3 to 5 business days to reach the trader. The checks are mailed to address of record and normally do not involve any charges.
The deposit and withdrawal process is straightforward one and all instructions are available on the Lightspeed website.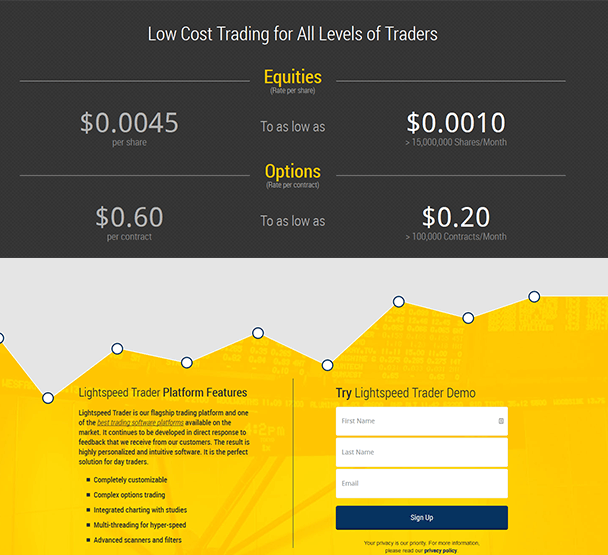 Different minimum account balances for different trading accounts
Checks and ACH accepted for deposit
Checks, ACH and Wire accepted for withdrawals
Go to TD Ameritrade
Risk warning: Capital can be lost. Terms and conditions apply.
8. Offers
8) Additional Offers: Fully Functional Demo Account to Get Acquainted With Lightspeed Trading Platforms
Like most brokers of its caliber, the Lightspeed broker offers a fully functional demo account to help its clients get acquainted with their trading platforms before going live. This account has all the features of a real account and is funded with virtual money and has most features similar to a real trading account.
The demo account simulates the Lightspeed Trader software and is compatible with Windows and Mac. Traders are required to download this software, install it in their desktops and follow the instructions to set up their demo accounts. Accompanying the Lightspeed Trading trial account are resources such as training videos, quick reference guide, Lightspeed User Manual and FAQs. '
Lightspeed brokers offer various promotions to entice new and existing traders. Currently, the broker offering new traders up to 50% rebate on equities and options commissions for the first three months up to $10,000 cash back. The rebate is deposited in the traders' account within 45 days of the end of the promotional period. You can check on their website to determine the current offers and what you need to do to enjoy them.
In regard to on-demand training and materials, this broker comparison shows that Lightspeed Traders lag behind most brokers of its level.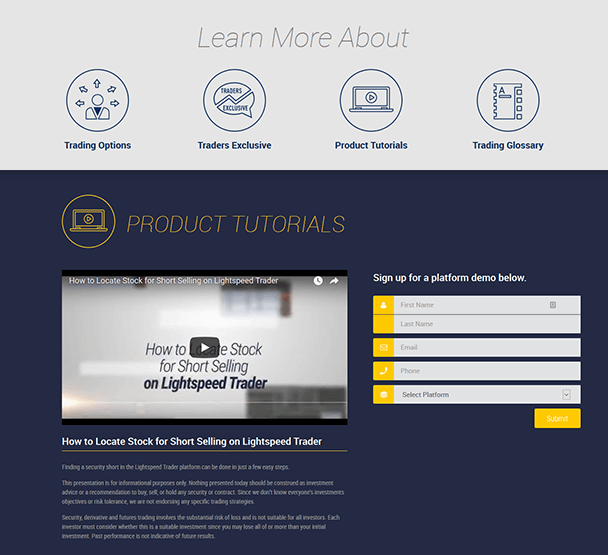 Free demo account
Periodic offers and promotions to entice new and existing traders
Few on-demand pieces of training and learning materials
Go to TD Ameritrade
Risk warning: Capital can be lost. Terms and conditions apply.
9. Regulation
9) Regulations and Deposit Protection: A Registered U.S. Broker Dealer
Lightspeed Trading is registered in the U.S. as a broker-dealer and is regulated by the Financial Industry Regulatory Authority (FINRA), the National Futures Association, and Securities and Exchange Commission (SEC).
FINRA offers investor protection and market integrity by ensuring that the broker-dealer industry operates fairly and honestly. The body achieves this by writing and enforcing rules regarding this, examining firms for compliance, fostering market transparency and educating investors. The SEC, on the other hand, plays a similar role in ensuring that investors' interests are protected while maintaining fair, orderly and efficient markets.
FINRA / SIPC
Regulatory Authority
As per SIPC guidelines
Dep. Protection
When it comes to deposit protection, Lightspeed Traders is a member of Securities Investor Protection Corporation, a body that ensures investors do not lose their money in case of the failure of its member broker-dealers.
Another thing that we have noted about Lightspeed Trading is that its website is highly secure and GDPR compliance. A popup that requires users to allow their information to be collected through cookies is available every time a new user visits the website. The GDPR not only protects internet users from illegal data harvesting but also assures them that the collected data will not be used to harm them.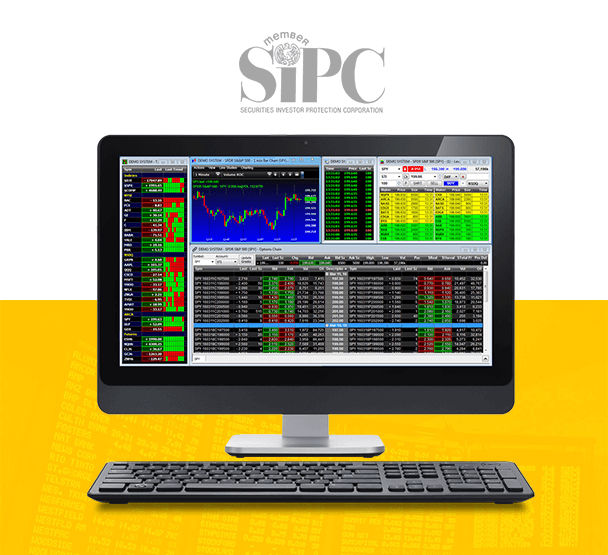 Regulated by FINRA, SEC and NFA
Deposit protection through Securities Investor Protection Corporation
GDPR data collection compliance
Go to TD Ameritrade
Risk warning: Capital can be lost. Terms and conditions apply.
10. Awards
10) Awards: Best Broker for Frequent Trading
Even though various stock broker comparison reviews shows Lightspeed Trading to lag behind other brokers in most things, it still has won various awards in the past.
Among the awards is the Barron's 2017 Best Broker for Frequent Trading and the No.1 in Active Trading by StockBrokers.com. The Barron's award is among the most coveted in the financial services industry and Lightspeed Trading has won it severally in the past. The broker has also been recognized as a key industry player by Deloitte, Inc. 5000 and Forbes.
Also Lightspeed has severally been identified among the best in low cost trading, futures trading and state of the art trading platforms by NerdWallet. We couldn't identify any awards given to this broker in 2018.
When compared with other brokers in the same category, this broker has won the least number of awards. Nonetheless, this is not to mean that they are not good in what they offer. This review of Lightspeed Trading broker shows that they have some very strong points in some areas.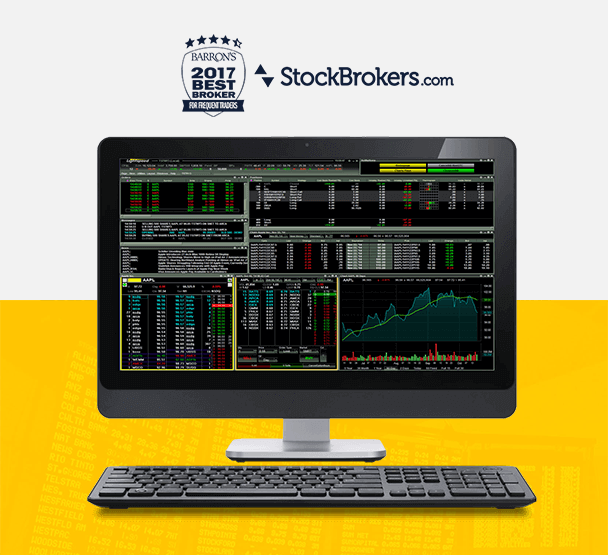 StockBrokers.com No.1 in active trading
Recognized as a key industry player by Deloitte, Inc.5000 and Forbes
Least number of awards when compared to other brokers in its category
Go to TD Ameritrade
Risk warning: Capital can be lost. Terms and conditions apply.
Conclusion: Most Suited for Active Traders
As we have seen in this Lightspeed stock trading review, this broker is best suited for experienced and active traders. The brokers' selling points include low cost trading and fast, intuitive and highly efficient trading platforms. While these platforms are hard to use for beginners, they provide the best trading opportunity for the skilled.
The customer support offered by Lightspeed Trading is good even though there are complaints that their phone calls to their service center usually go unanswered. Regarding regulation and deposit security, the broker is under SEC, FINRA, NFA and SIPC. The SIPC is responsible for insuring the investors' money against loss in case the broker files for bankruptcy.
While Lightspeed has not won as many awards as other stock brokers in its category, it has its fair share of recognitions. Among these is the Barron's 2017 Best Broker for Frequent Trading. Is Lightspeed broker good? Our answer is yes.
Customizable trading platform.
Competitive standard commissions.
Special day trader prices.
Wide range of educational resources.
Monthly commission fees.
Monthly fee to access advanced Lightspeed trader platform.
Limited passive investment options.
Test result
Broker

Go to TD Ameritrade
Risk warning: Capital can be lost. Terms and conditions apply.