Place Trade prides itself on being a full-service discount brokerage with financial guidance in addition to online trading. Our review of Place Trade points out that there are more than 100 market centers, 22 currencies, 24 countries, and 12 languages to choose from with this broker. There is also access to market data 24/6. Place Trade delivers incredibly low margin rates, low costs for trading and investing, and full-service advice. It also offers access to an award-winning trading platform and options for individual investors, business owners, and professional traders.
Highlights
12 languages
24 countries
24/6 market data
Award-winning platform
7.
of 12 Stock Broker
Placetrade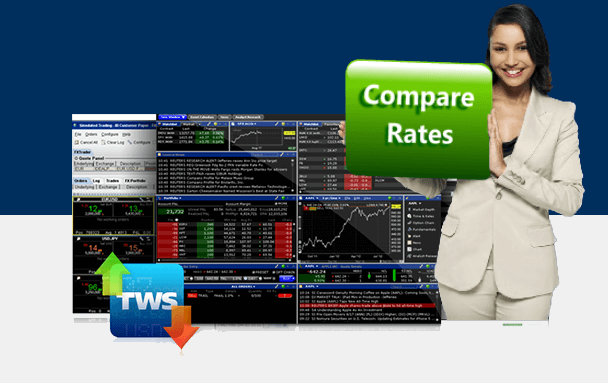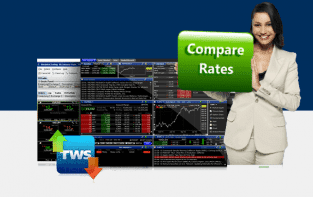 Go to Broker
Risk warning: Capital can be lost. Terms and conditions apply.
Headquarters and regulation
North Carolina, USA (SIPC)
International order fees
$1,50
Services & additional benefits
ETFs
Futures
Demo account
Yes, unlimited
Services & additional benefits
Live
Hotline
E-mail
1. Trading Offer
1) Stock Trading Offer: A Range of Instruments Available
In a stock broker comparison, Place Trade stands out with its impressive array of stocks to trade. Although the broker does not have a list of all stocks or an estimate of how many are on offer, it does offer the ability to trade in more than 100 market centers and exchanges for common stocks, preferred stocks, international stocks on foreign exchanges, IPOs, penny stocks, and American Depository Receipts. Place Trade also lets clients trade options, ETFs, commission-free ETFs, and thousands of mutual funds.
There are four account types to choose from with Place Trade, including Reg T Margin, Reg T Margin – IRA, Cash, and Portfolio Margin accounts. When signing up, investors select their account type. To aid in selecting the right type of Place Trade brokerage account, the platform has a detailed table comparing the account types in terms of available securities and trading instruments. There are choices for full-service accounts or online trade brokerage accounts with various customer types, including single clients and institutional/organizational clients. Trader and investor accounts are available for individuals, retirement accounts, small businesses, and family offices. Institutional accounts are available for advisors, brokers, money managers, mutual and hedge funds, administrators, and proprietary trading groups.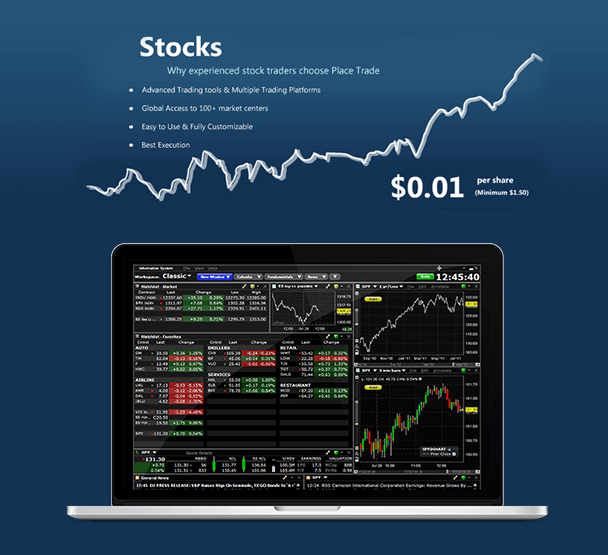 Ability to trade stocks, options, ETFs, and mutual funds
Choice of online brokerage or full-service accounts
Accounts available for individuals and institutions
Go to Broker
Risk warning: Capital can be lost. Terms and conditions apply.
2. Costs
2) Stock Exchanges and Trading Centers: More Than 100 Trading Centers
Any Place Trade brokerage review will be sure to mention the impressive range of trading centers and exchanges that this brokerage offers access to. While most competitors offer access to a handful of options, Place Trade has more than 100 trading centers. There is a clear list on their website of every market center and exchange the brokerage supports, divided by region and asset type.
100
International
Trading venues
Within North America alone, Place Trade has support for 22 stock exchanges in the United States, nine in Canada, and one in Mexico. For ETFs, there are seven supported exchanges in the U.S., four in Canada, and one in Mexico. Securities have support by 12 exchanges in the U.S. and one in Canada. There are also 11 Bond market centers and 37 mutual funds within the United States via Place Trade. Within Europe, there are 32 supported stock exchanges. There also are seven in the Asia-Pacific region.
There also is access to the market data 24/7. Regardless of the asset types, countries, and market centers an investor chooses, Place Trade is a best stock broker thanks to the ability to manage everything in a single account. Everything is reported and held within a single account, which lets you trade assets with various currency denominations from the same account.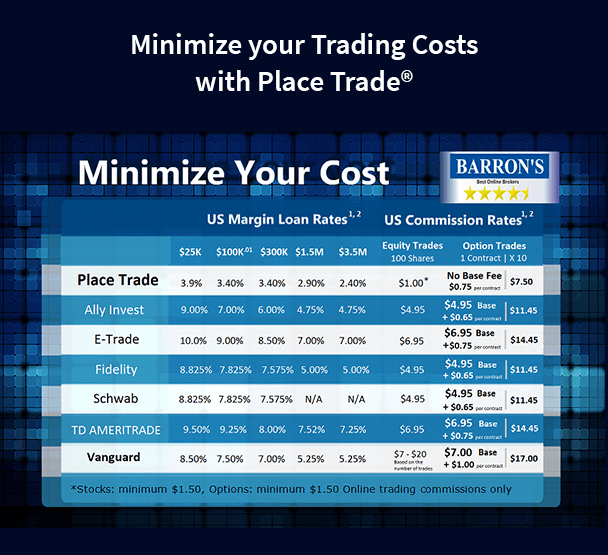 More than 100 market centers
Market centers in over 19 countries
All products and asset types in a single account
Go to Broker
Risk warning: Capital can be lost. Terms and conditions apply.
3. Account
3) Trading Conditions: Low Margins
Place Trade offers margin rates that are significantly lower than top competitors, giving Place Trade stock trading an advantage over other brokers. Margin rates are based on balances; accounts with balances below $100,000 has a rate of 3.68 percent. This drops to 3.16 percent for accounts with balances under $1 million, 2.68 percent for accounts under $3 million, 2.18 percent for balances under $200 million, and to just 1.98 percent for those with balances over $200 million. According to Place Trade, it can offer such low margin rates due to the choice of Reg T Margin or Portfolio Margin accounts, plus its real-time margin system.
You will also find extremely low fees. Stocks, ETFs, and warrants have commissions of $0.01 per share All-In, with a minimum of a $1.50 fee, including exchange fees. For options, there is no "base plus" commission like those you would find in most brokers. Instead, the fee can be as low as $0.15 per contract, with $0.75 per contract with a minimum commission of $1.50. For bonds under $10,000, the fee is 0.15 percent of the face value. For those over $10,000, it is 0.0375 percent of face value with a minimum of $5. Mutual fund commissions are $19.95, with some charging additional fees.
Although the information is not readily available on Place Trade, reviews say there is an inactivity fee.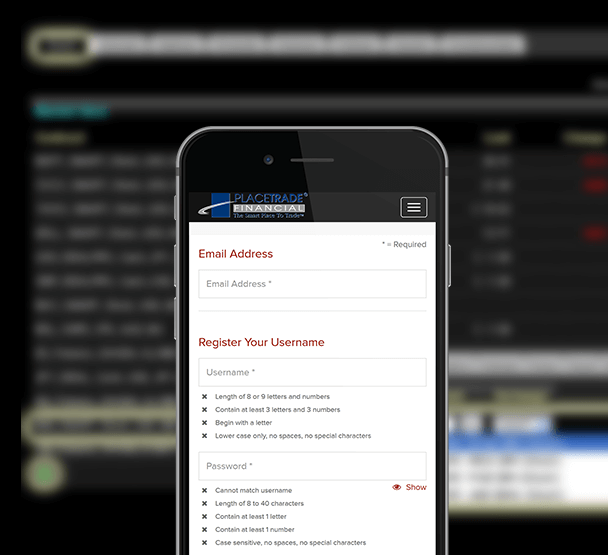 Margin rates only go up to 3.68 percent
Clear fee structure
$1.50 minimum fee for most asset types
Go to Broker
Risk warning: Capital can be lost. Terms and conditions apply.
4. Platform
4) Trading Platform: Four Platform Types to Choose From
For those who wonder, "Is Place Trade good with a range of trading platforms for all types of investors?" the answer is yes. The main options include an HTML-based WebTrader, which is clean and simple; desktop trading with Trader Workstation for full customization; a Quick Trade application; and mobile applications. The Place Trader Workstation (TWS) is the choice of advanced traders thanks to its customization and award-winning status. Clients can take advantage of advanced features in this platform, such as Accumulate/Distribute algo, ScaleTrader, FXTrader, OptionTrader, and SpreadTrader; an optional Paper Trader account; and built-in applications for option pricing and risk management. There are also several available views, including Mosaic and Advanced Order Management.
The WebTrader from Place Trade works well for those of all experience levels, with a modular design and tabbed interface. It also has advanced trading tools, like Market Depth, Market Scanners, ContractSearch, and BookTrader, plus multiple order types. The mobile application is available for Android, iOS, Blackberry, and Java ME. It includes a secure login, SmartRouting technology, and the ability to trade options and stocks, with future support for forex, futures options, and futures. It is not as fully featured as the other platforms but offers enough for beginners. Finally, PaperTrader is a simulated trading environment where investors can essentially use a demo account with the Place Trader Workstation.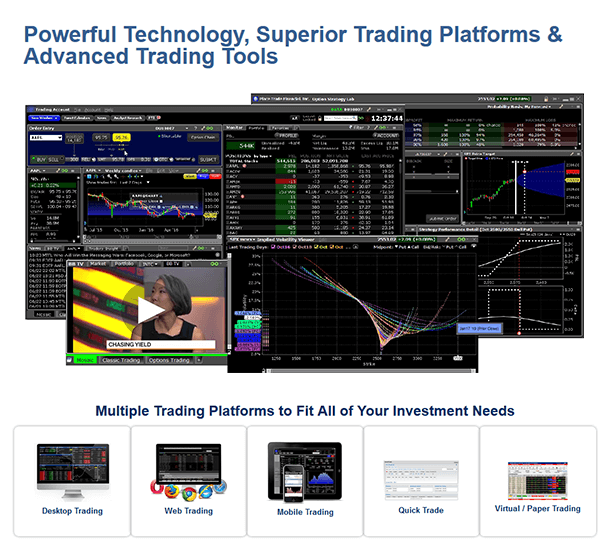 WebTrader or desktop Place Trader Workstation
Mobile application for Android, iOS, Blackberry, and Java ME
PaperTrader for practice
Go to Broker
Risk warning: Capital can be lost. Terms and conditions apply.
5. Usability
5) Usability of the Website: A Focus on Functionality Instead of Style
Our review of Place Trade can find multiple areas of improvement for the website. It is functional, but the style is a bit dated, focusing on simplicity instead of projecting a professional, clean appearance. Users will find it frustrating to access the Place Trade website via a mobile device since every single tab on the navigation bar, including subcategories, is in a single menu that requires scrolling through. The website is easier to use on a computer, although occasionally a sub-tab within a main navigation tab will appear off the side of the page, making it unreadable. The website gets the job done, but not in a stylish way like most competitors.
That being said, you should be able to easily find all the information you need, provided you are on a computer, not a mobile device. Simply hover over any main navigation bar tab to see sub-tabs, with the main categories including "Why Place Trade," "Pricing," "Trading Technology," "Products & Services," "Education," and "Login." You can find the crucial legal information by scrolling to the bottom of the website, with links to various disclosures just above this. Any other information that you cannot find via browsing the website is accessible via the convenient search bar near the top-right corner of the page.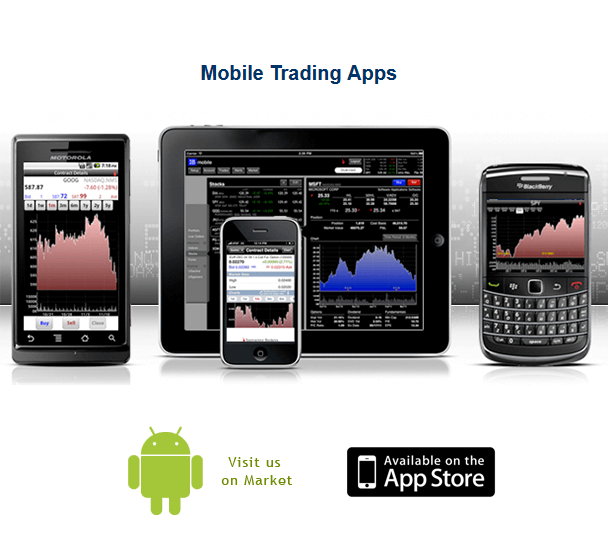 Website frustrating to use on mobile devices
Easy-to-find information on computer version of the website
Legal information simple to find
Go to Broker
Risk warning: Capital can be lost. Terms and conditions apply.
6. Support
6) Customer Support: Multiple Methods
Those with a Place Trade brokerage account will be able to contact customer support in a variety of ways. From any page on the website, click on "Contact Us," which is near the top of the page. From there, you will find phone numbers, email, mail, and chat contact options. There are two phone numbers for clients to call, one of which is toll-free. Both online and phone support are available 24/7. Place Trade offers a separate set of contact information for prospective clients.
Support via online chat is available from Sundays at 4 p.m. to Fridays at 8 p.m. for general inquiries and weekday business hours for funds, banking, and technical help. There is also online chat support in German on weekdays from 3 a.m. to 11:30 a.m. Place Trade also stands out in a broker comparison with the choice of in-person assistance on weekdays from 8:30 a.m. to 5:30 p.m. In the case of urgent issues, after-hours in-person support may also be available, and accountholders receive instructions of what to do in these situations.
At the very bottom of the contact page, you can see a full listing of all contact phone numbers, divided by location and complete with hours of operation and a guide to the phone menu. You can choose which time zone you prefer to view the hours in.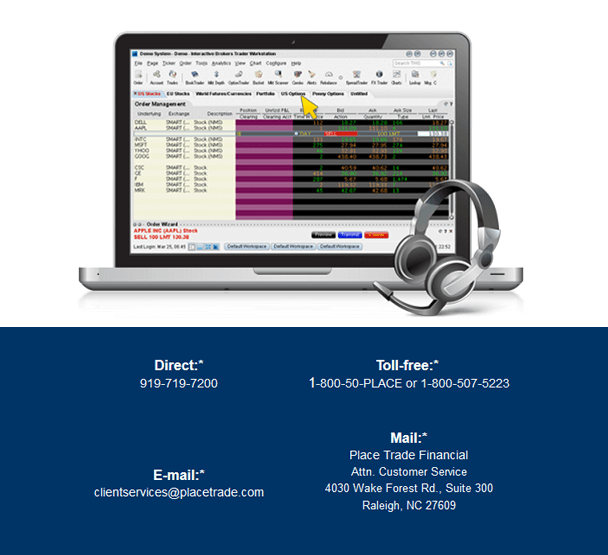 Support available via email, online chat, phone, and in-person
Support available in multiple languages
Easy-to-find international support phone numbers and hours
Go to Broker
Risk warning: Capital can be lost. Terms and conditions apply.
7. Payment
7) Methods of Payment: Several Options
Those who want to open an account for Place Trade stock trading will need to meet a minimum initial investment upon opening their account. The clearing firm that the broker uses requires an initial investment of at least $5,000 in cash or securities for traders. Those with IRA accounts have a minimum of $3,000. In the case of individual investors of ages 21 to 26, the minimum is $3,000, regardless of account type. At any point, you can view your deposits and withdrawals on the Transaction History page of Account Management.
Although accounts can have a base currency of AUD, CAD, CHF, CNH, CZK, DKK, EUR, GBP, HKD, HUF, ILS, JPY, MXN, NOK, NZD, RUB, SEK, SGD, or USD, you cannot fund your account with ILS or RUB and have the additional option of funding with INR or PLN. Keep in mind that Place Trade does not convert funds between currencies, so your bank will have to do this to reach your base currency, for which it might charge a fee.
To begin a deposit or withdrawal, head to the Account Management/Funds Management page when logged into your Place Trade account. Go to the Funds Transfer section, where you will find the information needed for a deposit. You can then deposit via a wire transfer or check.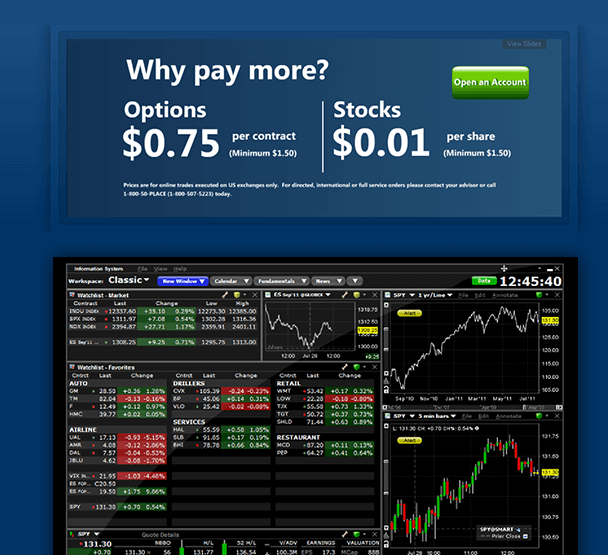 Deposits available in over a dozen currencies
Minimum initial deposit of $3,000 or $5,000
Deposits via checks or wire transfer
Go to Broker
Risk warning: Capital can be lost. Terms and conditions apply.
8. Offers
8) Additional Offers: Demo Accounts and Educational Tools
As previously mentioned in our review of Place Trade, account holders can use PaperTrader, which essentially acts as a demo account. PaperTrader delivers a simulated trading environment for investors to test their strategies before investing real money. It lets them get used to the tools within the Trader Workstation, as well. Place Trade also offers an Education Center filled with information for a range of skill levels. Beginners will appreciate the explanations of stocks and other instruments. There are both live and pre recorded webinars for a range of skill levels, plus investor education courses and interactive tours. You can view the educational materials online or via the relevant mobile applications. The webinars and other educational tools are free for account holders.
Additionally, our Place Trade brokerage review points out that account holders get access to various advanced tools via the platforms. The education center on Place Trade is not as robust as those from competitors, and most tools are integrated within the platforms themselves instead of via the Place Trade website. Instead, clicking on "Education" mostly shows you information about using the platform, not tools to enhance trading knowledge. Additionally, the website does not have a section dedicated to stock market news and analysis, which is something most traders expect to see.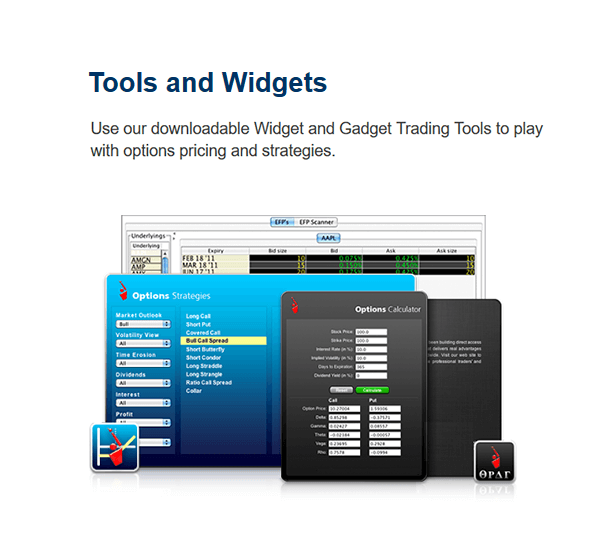 Demo account available via PaperTrader
Education center with courses and interactive tours
Live and pre recorded webinars
Go to Broker
Risk warning: Capital can be lost. Terms and conditions apply.
9. Regulation
9) Regulation & Deposit Protection: Several Account Protections
Place Trade Financial is registered as a broker dealer and a member of FINRA and SIPC, but it does not have registration in every jurisdiction. As an SIPC member, clients of Place Trade Financial get protection for the securities and cash within their accounts, but this coverage does not typically include options on futures or commodity futures. These funds are protected up to $500,000, with the sublimit of $250,000 for cash. For those wondering, "Is Place Trade good?" the brokerage supplements this protection with another policy from Lloyd's of London for extra coverage of $30 million per account, including a cash sublimit of $900,000. This protection includes cash, debt instruments, stocks, warrants, and options.
Added protection for account holders comes from Place Trade's secure login system via two-factor authentication. This is an optional feature supported by Place Trade, but the broker strongly recommends it. Oddly enough, Place Trade does not have an HTTPS web address, so Chrome labels it as "not secure," something worth considering before choosing this broker. The broker does indicate that there is this SSL encryption on the trading area. To make up for this, Place Trade does have a clear privacy policy listed on its website.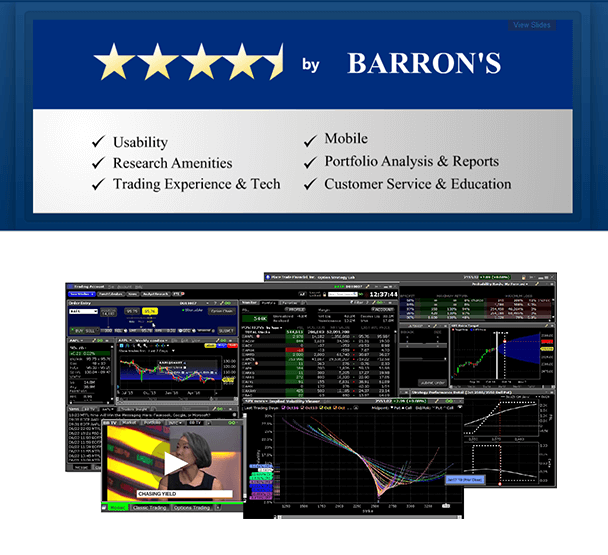 Insurance from SIPC of up to $500,000
Additional insurance from Lloyd's of London for up to $30 million
Two-factor authentication available
Go to Broker
Risk warning: Capital can be lost. Terms and conditions apply.
10. Awards
10) Awards: Multiple Internationally Recognized Awards
Those who use Place Trade stock trading will appreciate that this broker has earned many awards and accolades in recent years. Barron's gave the broker 4.5 stars out of 5 and a Top 3 ranking in its Best Online Brokers 2014. That same year, Barron's also honored Place Trade as the Best for Frequent Traders. Both honors and the 4.5/5-star ranking had also occurred for 2013, along with the title of Lowest Monthly Cost. In 2012, Barron's gave Place Trade a Top 10 Ranking and 4 stars. These repeated honors show consistency and a high-quality platform.
Place Trade also has an A+ rating from the Better Business Bureau, indicating its strong reputation and a lack of any major complaints. Most independent reviews of the brokerage praise it for its low commissions and fees, excellent value, and good customer service. However, some experts do caution investors to read the fine print so they are aware of inactivity fees on the account, which can add up. There is a $10 monthly inactivity fee for those who do not reach the $10 minimum monthly commission, accounts with balances under $2,000 pay an extra $10, and there is a $10 monthly fee for market data access. Those fees can quickly add up over the course of a year. As such, Place Trade is best for frequent traders.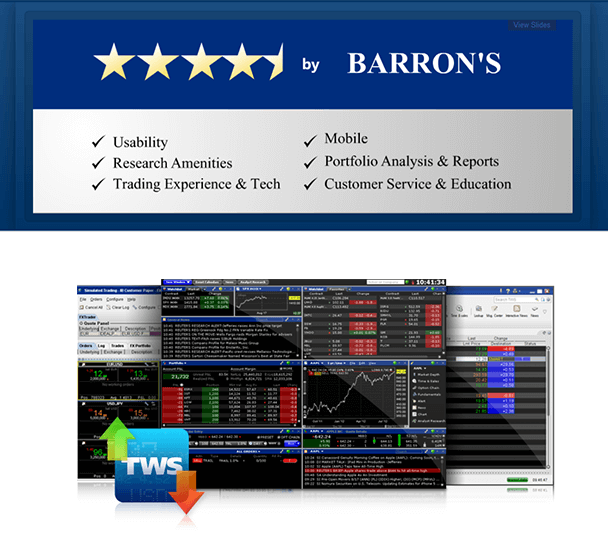 4.5 out of 5 stars from Barron's
Top 3 Best Online Broker from Barron's
A+ Rating from Better Business Bureau
Go to Broker
Risk warning: Capital can be lost. Terms and conditions apply.
Conclusion: Place Trade Brokerage Review
Place Trade stands out from other brokers with its low fees and impressive range of markets. The availability of several platforms, including web, desktop, and mobile versions, helps it appeal to a range of investors. Our review of Place Trade also appreciates the impressive fact that this broker has over 100 market centers from more than 19 countries. That being said, the website is a bit lackluster and is frustrating to use on mobile devices. There are also minimum account requirements that could make Place Trade less attractive to some investors, although most will want to invest more than the minimum anyway. Place Trade has many other positives, including a range of customer support options and multiple honors and accolades. This broker is worth consideration for those in search of a stock broker, although investors will want to carefully compare it with others before making an informed decision based on their trading style, knowledge, and the amount they plan to invest.
Highly competitive costs
A single account for stocks, forex, futures, options, ETFs, and bonds
Web-based platform
Mobile platform
Available managed portfolio
No physical branches
Some limitations on web platform for experienced traders
Fund transfers sometimes slow
Test result
Broker

Go to Broker
Risk warning: Capital can be lost. Terms and conditions apply.