SogoTrade was founded back in 1986, giving this broker a great deal of experience offering investment opportunities. In a stock broker comparison, SogoTrade is known for delivering commissions that are among the lowest you will find. The broker does provide competitive fees and a range of instruments to trade, and the trading interface sticks to the basics without overloading investors with frills. Other high points in a review of SogoTrade include its customer support, the quickly executed trades, and the numerous awards the broker has received.
Highlights
Founded in 1986
Low commissions
Trades executed quickly
Easy-to-use trading interface
11.
of 12 Stock Broker
SogoTrade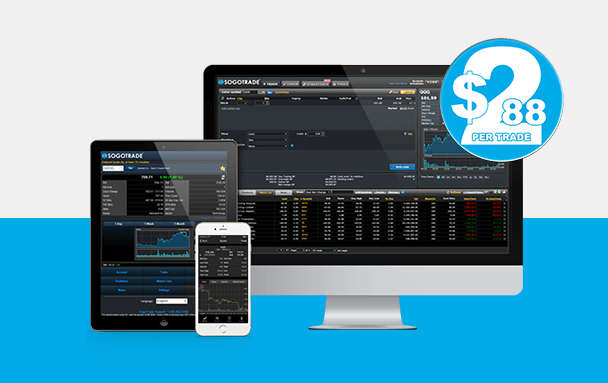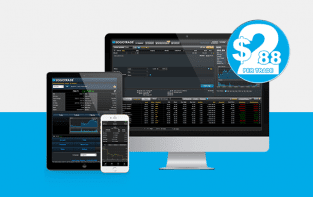 Go to TD Ameritrade
Risk warning: Capital can be lost. Terms and conditions apply.
Headquarters and regulation
South Carolina, USA (SIPC)
Services & additional benefits
ETFs
Demo account
Yes, unlimited
Services & additional benefits
Live
Hotline
E-mail
1. Trading Offer
1) Stock Trading Offer: Multiple Assets to Trade
SogoTrade does not have a full list of the number of assets available for trading via this broker. However, there are many domestic and international stocks available, along with options, ETFs, and mutual funds. You will not find the ability to trade currencies, commodities, futures, bonds, or fixed incomes with SogoTrade.
SogoTrade offers a range of account types, including Individual, Joint, Business, IRA, Coverdell Education Savings, UTMA/UGMA, and Trust accounts. It is also important to note that Active Traders get to take advantage of reduced SogoTrade stock trading fees, helping this platform appeal to those who trade regularly. There is also a choice to prepay commissions with a prepaid package that can be added to a normal account. A final option for a SogoTrade brokerage account is a Foreign Account, designed for international traders.
Because of the offered assets, SogoTrade is a good choice of platform for those who plan to invest in stocks, ETFs, and options, although other platforms tend to do better with mutual funds than this broker. It also tends to be better for active traders than passive ones due to the fee structure, and there is no custody account available. Those who trade options will also appreciate the SogoTrade broker since there are many option-specific features.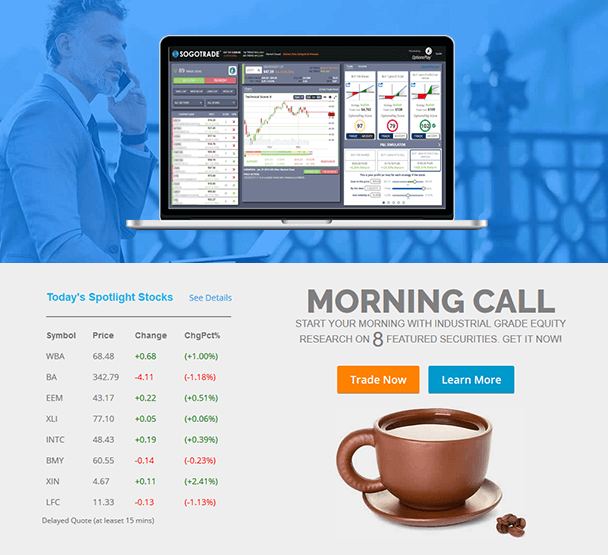 Trade stocks, options, ETFs, or mutual funds
No trading of currencies, bonds, or futures
Several account types, including Individual, IRA, and Trust
Go to TD Ameritrade
Risk warning: Capital can be lost. Terms and conditions apply.
2. Costs
2) Stock Exchanges and Trading Centers: Focus on U.S.
At no point on its website does SogoTrade specify the trading centers and stock exchanges that this broker supports. Since it is based in the United States, it is safe to assume that most stock exchanges supported will be in North America and the New York Stock Exchange should definitely be included. Due to the strong reviews that SogoTrade receives, the broker likely offers thousands of stocks to choose from, although there is no way to know without first creating an account and then looking at the available choices. In fact, the lack of information on trading stocks with SogoTrade is frustrating, something worth noting in a broker comparison. Even so, the high ratings of the broker, including of SogoTrade stock trading, show a nice selection and that investors will not feel that there is a lack of trading centers and stock exchanges.
The Foreign Accounts mentioned earlier in this review of SogoTrade provide opportunities for foreign investors to trade international equities. This makes it possible for those around the world to allocate their investments worldwide. To hold a Foreign Account, you cannot be a United States citizen since that is not who these accounts are designed for. Joint Foreign Accounts are also available.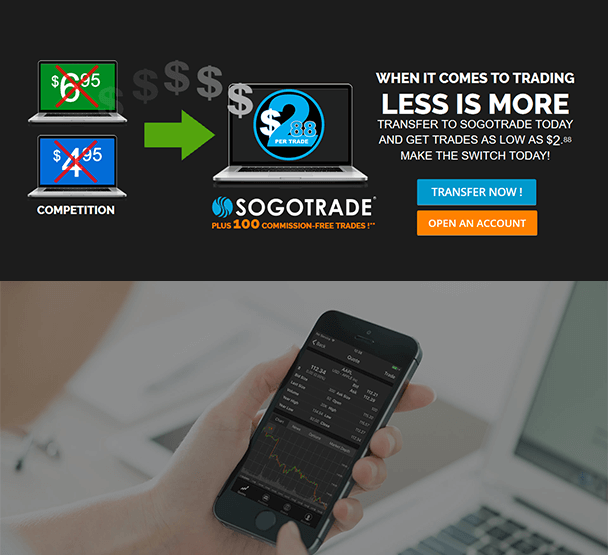 No list of stock exchanges or trading centers
Positive reviews indicate a nice selection of exchanges
Foreign Accounts provide international access
Go to TD Ameritrade
Risk warning: Capital can be lost. Terms and conditions apply.
3. Account
3) Trading Conditions: Competitive Fees with Discounts for Active Traders
One area in which you will get a very strong yes to, "Is SogoTrade good?" is its fee structure. The standard fee for a stock trade on SogoTrade is $4.88. As previously mentioned, Active Traders get discounted commissions, and you can opt for a Prepaid Package for discounts. Active Traders are those with at least 150 trades in a quarter. There are no maintenance or inactivity fees, and their commission goes down to just $2.88 per trade. Each Prepaid Package lasts for a full year with the package of 20 trades dropping the fee to $3.88 and the package of 50 dropping it to $2.88.
Online option trades have a base rate of $4.88 plus a fee of $0.50 per contract, with active traders getting a base rate of $2.88. Equity trades have the same commission schedule as stocks with the option of a $25 base rate for unlimited shares for broker-assisted trades. Option trades also have a broker-assisted option with a $25 base rate plus $0.50 per contract. Mutual fund trades are only available as broker-assisted trades and are $25 per trade.
There are no fees for online account statements, prospectuses for funds or ETFs, tax statements, trade confirmations, or paper proxies. Paper statements and confirmations do carry a fee of $5 or $10. Margin interest rates are competitive.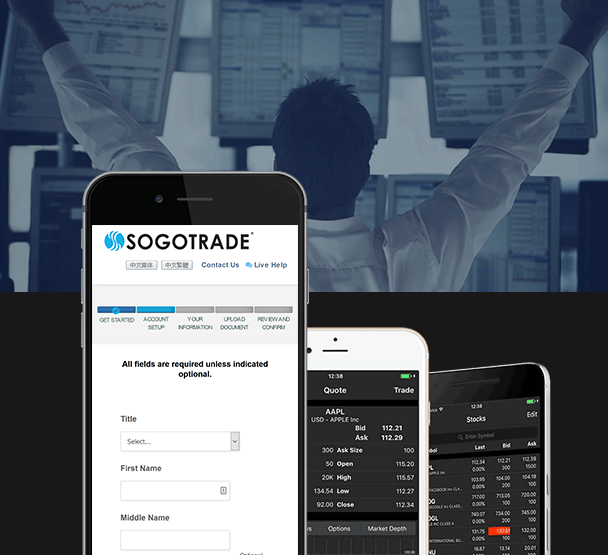 Stock commissions start at $4.88
Active Traders get $2.88 commissions and base rates for options
Broker-assisted trades available for $25
Go to TD Ameritrade
Risk warning: Capital can be lost. Terms and conditions apply.
4. Platform
4) Trading Platform: Several to Choose From
Our SogoTrade brokerage review appreciates that this broker offers the choice of several platforms. SogoOnline is the better option for those who do not want to get bogged down with advanced features. This all-in-one platform works for stocks, options, and ETFs and is easy to use with an intuitive design. Advanced traders will want to use SogoTrader instead. This customizable platform allows for more advanced SogoTrade stock trading, including interactive charts, real-time streaming quotes, flexible order entry, fast and quality execution, and extended hours trading.
SogoOptions is designed specifically for those trading options. It is customizable and includes analysis, risk management, streaming quotes, market data, and the ability to analyze strategies. SogoElite is a downloadable platform that is an alternative to SogoTrader for advanced investors. It has ultra-low-latency real-time streaming market data for options and stocks in the United States, along with integrated trading, streaming charts, streaming quotes, dynamic charting, option chains, and top movers lists.
SogoMobile is a mobile trading platform that is browser-based and works on all internet-enabled mobile devices. It has many of the features of the other platforms but in a browser-based mobile platform. Or you can enjoy mobile trading with SogoApp, which is a traditional downloadable application for Android or iOS. It is fully customizable and includes familiar features. Finally, there is a SogoTrade API for developers.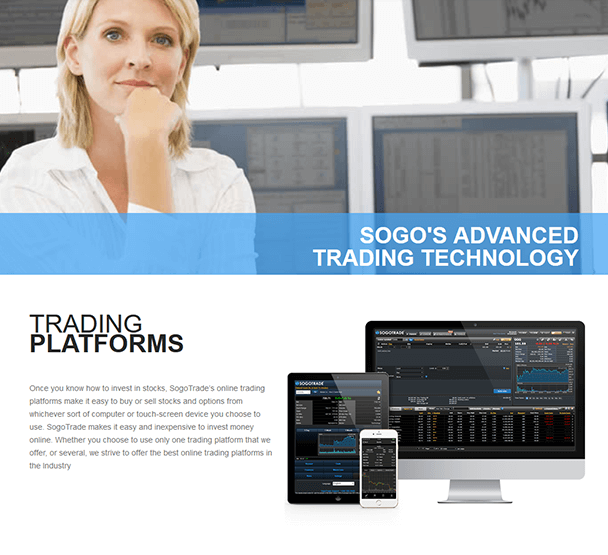 SogoOnline is ideal for beginning traders
SogoTrader and SogoElite are great for advanced traders
Both downloadable and browser-based mobile platforms available
Go to TD Ameritrade
Risk warning: Capital can be lost. Terms and conditions apply.
5. Usability
5) Usability of the Website: Professional Appearance
In a search for the best stock broker, the website for SogoTrade is highly rated. It is easy to navigate and has a professional layout that is clearly arranged. You can easily find the relevant legal information on the SogoTrade website by scrolling to the bottom of the page, as is the case with most competitors. At the very bottom of the page, below the general legal information, you can find links to more details, such as the OTC risk disclosure and Customer Acknowledgement of Risk.
The main navigation bars on the website are for "Why SogoTrade," "Trading Tools," "Options," "Trade Ideas," and "Contact." Our review of SogoTrade appreciates the ease of finding information for the trading platforms, trade ideas, and options, but would appreciate if it was simpler to find information on trading stocks, ETFs, and mutual funds. The design of and information on the website makes it seem as if options are the priority for SogoTrade, although expert and user reviews indicate that trading other assets is also seamless with the platform.
Near the bottom of the website, just above the legal information, SogoTrade has convenient "Helpful Links" with information on things like fees and commissions, about the company, the newsroom, guides for opening the account, the FAQ page, funding the account, and more. Most information not found on the main navigation bar is in this section.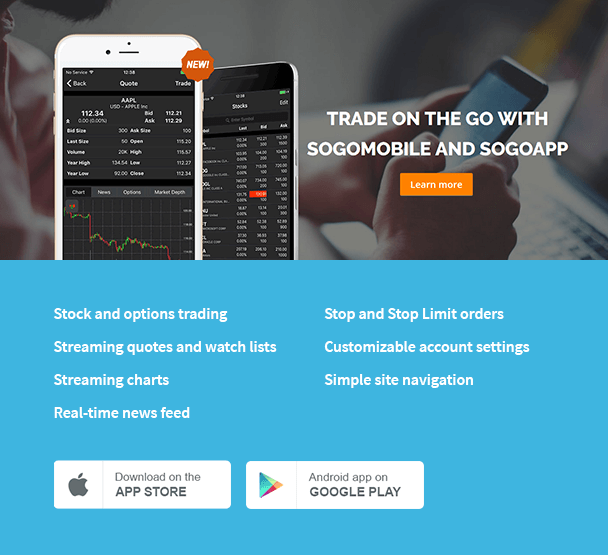 Well-laid-out website
Easy-to-find legal and contact information
Hard-to-find information on stocks
Go to TD Ameritrade
Risk warning: Capital can be lost. Terms and conditions apply.
6. Support
6) Customer Support: Toll-Free Number and Online Chat
Those wondering, "Is SogoTrade good with reliable customer support?" will find a favorable answer. No matter what page of the website you are on, you will see a contact number and a button for live help at the top-left corner of the screen. There is also a "Contact Us" tab on the main navigation bar. This shows you the phone number and customer service hours, which are weekdays from 7 a.m. until 8 p.m. Eastern time. You can fill out the contact form on this page or choose another contact option.
Below this, you will find information on the phone number and service hours for the Nationwide English Service Center, the Nationwide Chinese Service Center, the East Coast New York Service Center, the Midwest St. Louis Service Center, and the General Information Admin Line. You will also find the mailing, fax, and email information. The Chinese Service Center additionally has local numbers for China, Taiwan, and Hong Kong, with 24/5 hours.
In addition to direct customer support, SogoTrade also has a reasonable frequently asked questions page. There are general questions about the broker, the account types, how to open an account, funding your account, and margin and options. This is enough information for most clients searching for answers, and customer support is available if you cannot find what you need.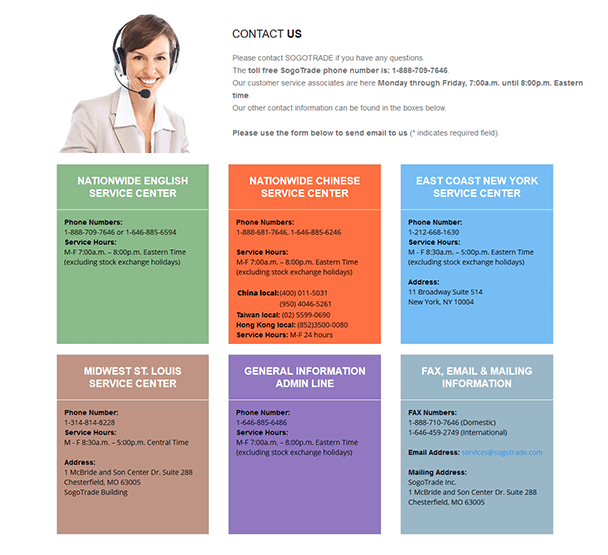 Live online chat
Multiple phone numbers, including English and Chinese
Email support
Go to TD Ameritrade
Risk warning: Capital can be lost. Terms and conditions apply.
7. Payment
7) Methods of Payment: Several Methods
There are three methods to deposit money into a SogoTrade brokerage account, including check deposits, wire deposits, and electronic transfers (ACH transfers). If you use a wire transfer, there will be no fee from SogoTrade, although your bank will likely charge one. The funds should appear in your account within a business day. When withdrawing via a wire transfer, keep in mind that there is a fee of $25 for outbound domestic wires and $30 for outbound international ones.
To deposit via ACH transfers, you must first link your bank account to SogoTrade, which is easy to do via the Funds/Account Transfer page. You will initially need to input the bank account name, number, and routing number. You will then have to verify the account by entering the values of two microdeposits that SogoTrade sends to the bank account within three business days. Once you verify the account, you can easily set up an ACH transfer in the future, and the deposit will be credited immediately following receipt unless it is larger than your existing equity, in which case it takes three days.
To deposit a check, you must follow the SogoTrade check deposit instructions. Check withdrawals come with a fee of $5. All payment methods also have fees associated with returns, at $30, $35, and $30 for ACH transfers, checks, and wires, respectively.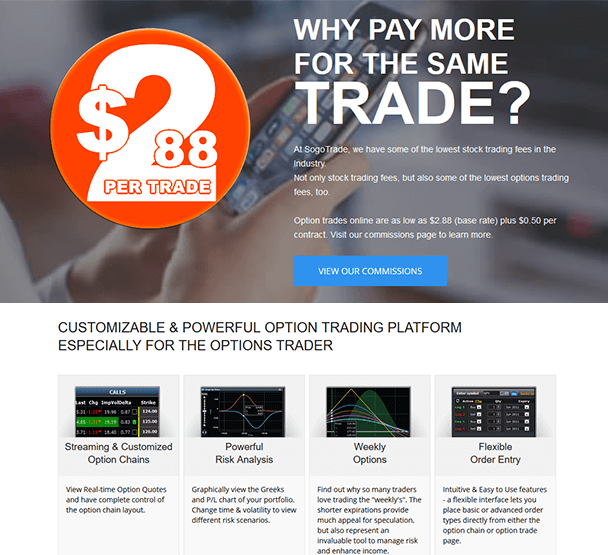 Deposits and withdrawals via wire transfer, ACH transfer, and check
No fees for deposits
Varying fees depending on withdrawal method
Go to TD Ameritrade
Risk warning: Capital can be lost. Terms and conditions apply.
8. Offers
8) Additional Offers: Education and More
To encourage new clients, SogoTrade does allow for the transfer of a portfolio from a different broker. There is no fee associated with an account transfer (or ACAT – Automated Customer Account Transfer) in but a $75 fee with a partial or full transfer out. To transfer your account from another broker, just fill out the ACAT form and attach a copy of the most recent statement from the brokerage, then fax or mail it in. The process should take seven to 10 business days.
Our SogoTrade brokerage review also points out the "Trade Ideas" section of the broker's website, which is filled with additional resources. Morning Call is a free daily newsletter that provides institutional-grade equity research plus trade ideas, including eight spotlight ETFs and stocks. It is trusted by more than 100 global financial institutions spread throughout 30 countries. ValueEngine is the free award-winning stock valuation and forecasting service from SogoTrade. It includes about 5,300 U.S. stock ratings, plus forecast reports, 140 industry reports, and 16 different sector reports.
Finally, SogoPlay lets investors of any level learn more about the rewards and risks associated with trading options and is free for SogoTrade clients. It includes trade measurements and validations, even-handed analytics, and robust tools to help novices understand options.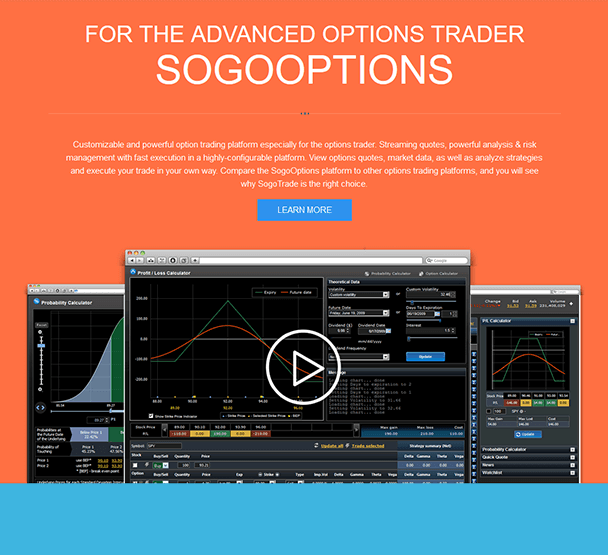 No fee for ACAT in
Daily free newsletter, Morning Call
Offers ValueEngine and SogoPlay for free
Go to TD Ameritrade
Risk warning: Capital can be lost. Terms and conditions apply.
9. Regulation
9) Regulation & Deposit Protection: Member of SIPC and FINRA
SogoTrade is a member of both SIPC (Securities Investor Protection Corporation) and FINRA. The membership in SIPC allows clients of SogoTrade to take advantage of up to $500,000 worth of coverage in the case of a broker failure, a figure which includes up to $250,000 for claims in cash. The coverage does not provide protection against any decrease in securities' market value.
The services offered by SogoTrade in terms of advisory and portfolio management services come from Market Riders Inc., which is an investment advisor that has registered with the Securities and Exchange Commission (SEC). That registration provides additional confidence in the product.
SogoTrade uses Apex Clearing Corp. as its clearing firm, and Apex has an additional insurance policy to complement SIPC coverage. As with SIPC protection, this insurance does not protect against a loss in the securities' market value. The additional insurance has an aggregate coverage of up to $150 million in cash and securities. This maximum aggregate coverage includes a maximum of $37.5 million for the securities of any single customer and up to $900,000 for any single customer's cash. This type of protection is highly competitive among brokers, making it a strong point for SogoTrade and something worth considering when choosing where to invest.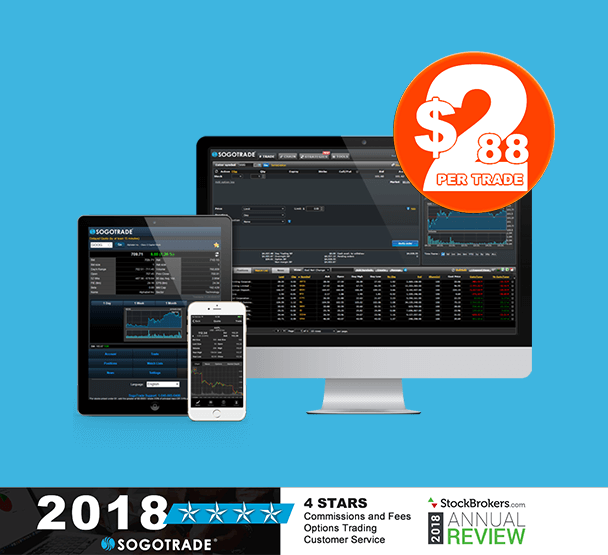 Member of SIPC
SIPC protection of up to $500,000
Clearing firm has additional coverage of up to $37.5 million per client
Go to TD Ameritrade
Risk warning: Capital can be lost. Terms and conditions apply.
10. Awards
10) Awards: Multiple Honors
In the most recent 2018 Annual Review from Stockbrokers.com, SogoTrade earned four stars in three different categories. These include options trading, customer service, and commissions and fees. Those high ratings indicate some of the strongest points of SogoTrade, namely its low prices and available, helpful customer service. They also indicate that while SogoTrade offers stock trading, the broker stands out with its options trading.
Forbes has also referred to SogoTrade as "The Deepest Discount Broker." This accolade coming from such a well-respected platform indicates that SogoTrade has highly competitive rates for those who want to save money while trading while also implying that SogoTrade is a respectable platform. Despite few specific awards, SogoTrade is regularly highly rated.
Other reviews and ratings for SogoTrade tend to be good but not amazing. The platform regularly receives high scores for its low fees with slightly lower ratings for investment options and tools and resources. The broker also tends to receive average ratings for trust thanks to its previously mentioned status as an SIPC member plus the additional insurance from its clearing firm. Experts also tend to appreciate the research and insights offered by SogoTrade, with Investopedia rating this category 4.2/5 thanks to the news, fundamental analysis, ValueEngine, and SEC filings.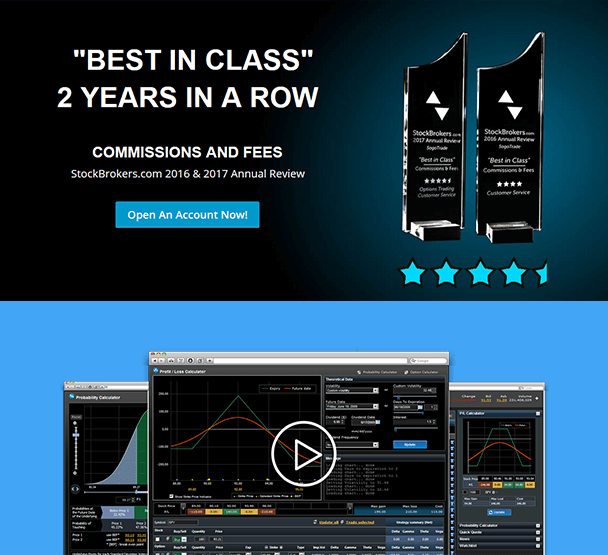 4 stars in multiple categories from Stockbrokers.com
4.2/5 for Research and Insights from Investopedia
Regularly praised for low fees
Go to TD Ameritrade
Risk warning: Capital can be lost. Terms and conditions apply.
Conclusion: Is SogoTrade a Good Broker?
Based on our review of SogoTrade, this broker has highly competitive rates, which regularly earn it praise from independent reviewers. The platform has multiple account types, enough investment options to appeal to the average trader, and some basic educational and research tools. Advanced traders might wish it offered additional investment instruments or advanced tools, but intermediate traders will have no such problem. The various proprietary research, such as Morning Call and ValueEngine, will make up for this lack for some advanced traders, as well. While any trader can appreciate the low commissions from SogoTrade, active traders will be particularly pleased since the fees become even more competitive with active trading. While the mobile trading options could still use some work, they have enough functionality to appeal to most traders, and advanced investors would likely want to use the computer platforms anyway. Overall, SogoTrade is worth consideration, particularly if you are an active trader and focus on options or penny stocks.
Highly competitive costs
SIPC member with protection
Basic educational materials available
Several platforms to choose from
No bonds, futures, currencies, commodities, or fixed income trading
No 24-hour customer support
Advanced users may wish for more tools
Test result
Broker

Go to TD Ameritrade
Risk warning: Capital can be lost. Terms and conditions apply.