TD Ameritrade is among the best-known stock brokers. The company has a long history, during which time it built up a strong reputation. TD Ameritrade has been in business for more than 40 years, offering trading and other financial solutions and even one-on-one support. Our review of TD Ameritrade points out that this publicly traded online brokerage company has more than 11 million customer accounts, processing more than 650,000 daily trades. While the commissions from TD Ameritrade are higher than that of some other brokers, it makes up for it with exceptional service and offerings.
Highlights
More than 40 years of experience
More than 11 million customer accounts
More than 650,000 daily trades
Publicly traded
1.
of 12 Stock Broker
TD Ameritrade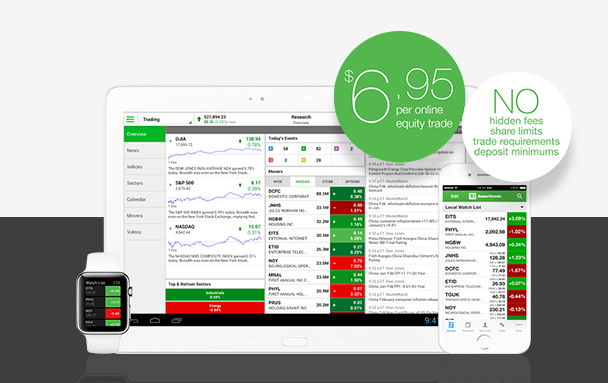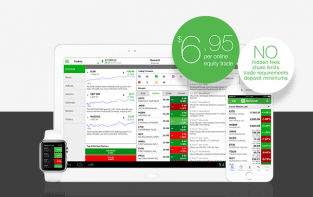 Go to Broker
Risk warning: Capital can be lost. Terms and conditions apply.
Headquarters and regulation
Nebraska, USA (SIPC)
Services & additional benefits
ETFs
Futures
Demo account
Yes, unlimited
Services & additional benefits
Live
Hotline
E-mail
1. Trading Offer
1) Stock Trading Offer: Long List of Products
In a stock broker comparison, TD Ameritrade will be very highly ranked based on its available products. All investment products are managed in a single account for convenience. The available products include stocks, options, ETFs, more than 300 commission-free ETFs, more than 13,000 mutual funds, more than 60 futures, and forex. There are also fixed-income investments, IPOs, and fixed and variable annuities available. Most exchange-listed and NASDAQ stocks, mutual funds, ADRs, and ETFs can also have free dividend reinvestment plans.
Those with a TD Ameritrade brokerage account can also opt for a managed portfolio that focuses on your goals, time horizon, and risk tolerance. Managed portfolios include monitoring, rebalancing, and allocation with the choice of three levels of guidance. There are also cash management accounts that include free online bill pay, free check writing, free ATM withdrawals, and a debit card.
Overall, TD Ameritrade offers six different account types, each of which has several account options. Standard Accounts are the most popular option, while Retirement Accounts include Traditional IRAs, Roth IRAs, and Rollover IRAs. Education Accounts can help save money for education and include tax-free Coverdell, UGMA/UTMA, and state-qualified 529 Plans. Specialty Accounts can range from business partnerships to individual trusts to pension plans and are highly customized.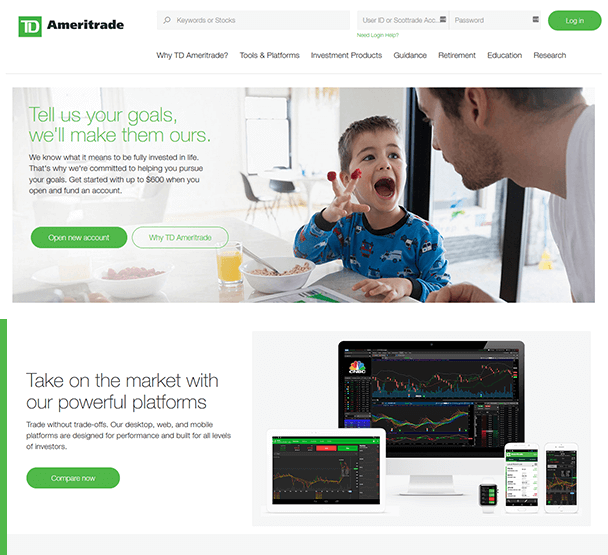 Trade stocks, ETFs, options, mutual funds, futures, forex, and more
Managed Portfolios are available
Six account types
Go to Broker
Risk warning: Capital can be lost. Terms and conditions apply.
2. Costs
2) Stock Exchanges and Trading Centers: No Specific Listings
Unfortunately, there is no exhaustive list of TD Ameritrade stock trading choices, whether you want to know individual stocks available or which markets or trading centers TD Ameritrade supports. The broker does not even offer an estimate of how many stocks or exchanges are available for trading via its platform. While this is certainly a downside, the high level of customer satisfaction and strongly positive reviews, both from clients and independent experts, indicate an excellent range of stocks to choose from. You will be hard-pressed to find complaints about a lack of stocks or exchanges from TD Ameritrade.
Although you will not find a figure letting you know how many stocks TD Ameritrade offers, the brokerage does indicate the specific number of some other assets, all of which help it earn the title of a best stock broker. TD Ameritrade, for example, has more than 300 commission-free ETFs while competitors tend to have no more than 250 or so, if that many. There are also more than 100 forex currency pairs available on TD Ameritrade, while many competitors have none or only several dozen. On a related note, you should also know that TD Ameritrade is publicly traded, as mentioned earlier. It is on the NASDAQ exchange with the symbol AMTD.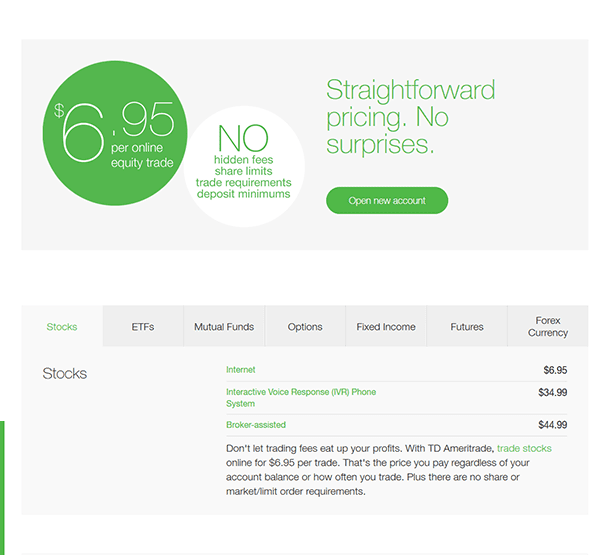 No comprehensive list of stocks or exchanges
Industry leader for commission-free ETFs and forex offerings
Listed on NASDAQ
Go to Broker
Risk warning: Capital can be lost. Terms and conditions apply.
3. Account
3) Trading Conditions: Straightforward Pricing
Those wondering, "Is TD Ameritrade good in terms of pricing?" will appreciate the lack of hidden fees. Most independent reviewers and account holders agree that the slightly higher rates are justified since it offers a high-level service. TD Ameritrade has no hidden fees, no share limits, no trade requirements, and no deposit minimums. Every online equity trade is $6.95, regardless of trade frequency or account balance. You can also trade using the Interactive Voice Response (IVR) phone system for $34.99 or do a broker-assisted trade for $44.99.
The fees are identical for ETFs (except for commission-free ETFs). For options, those are the base fees, with a fee of $0.75 per contract. No-load mutual funds have a $49.99 commission with no commission for load or no-transaction-fee mutual funds. Futures have a fee of $2.25 per contract plus the regulatory and exchange fees.
There are no monthly subscription fees for non-professional clients of TD Ameritrade for streaming news; NASDAQ Level I and II; and real-time OPRA, AMEX, and NYSE quotes. You can also opt for premium research subscription. Those with checking accounts get 100 free checks and a free debit card with no annual fee. Electronic account statements are free, as are paper quarterly statements for those with a liquidation value of at least $10,000. Finally, margin rates vary depending on debit balance and base rate and are competitive.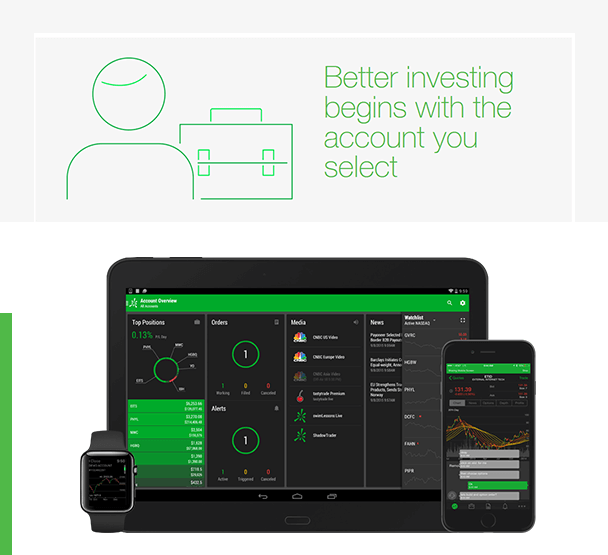 $6.95 per trade for equities and ETFs
No hidden fees
No fees for streaming news and research
Go to Broker
Risk warning: Capital can be lost. Terms and conditions apply.
4. Platform
4) Trading Platform: Web Platform, thinkorswim, or Mobile Trading
Our TD Ameritrade brokerage review appreciates the range of platforms available for those with a TD Ameritrade brokerage account. There is the option of using a web platform, thinkorswim, or the mobile trading platform. The web platform is a proprietary platform from TD Ameritrade with a built-in Education Center, objective research, planning tools, and alerts. There is a range of customizable modules in the Dock, Social Signals that compiles insights from Twitter, and predefined or custom screeners that prescreen stocks, mutual funds, ETFs, and options for you. Other useful features of this platform include the Stocks Overview, SnapTicket, calendars, GainsKeeper, and watch lists.
Thinkorswim is ideal for more advanced traders and includes 24/5 access for select securities. There is an in-app chat for live support, economic data, device sync, custom alerts, social sentiments, and chat rooms. This platform also includes paperMoney, so you can practice trading with a virtual IRA and a virtual margin account. You also get advanced trading, such as the ability to trigger orders automatically, technical studies, the ability to build algorithms, Options Statistics, live-streaming media, Strategy Roller, and Market Maker Move.
Finally, the mobile application also features paperMoney and the ability to trade a range of assets. It also features customizable charts with hundreds of technical indicators, live sharing with trading specialists, and multi-platform support.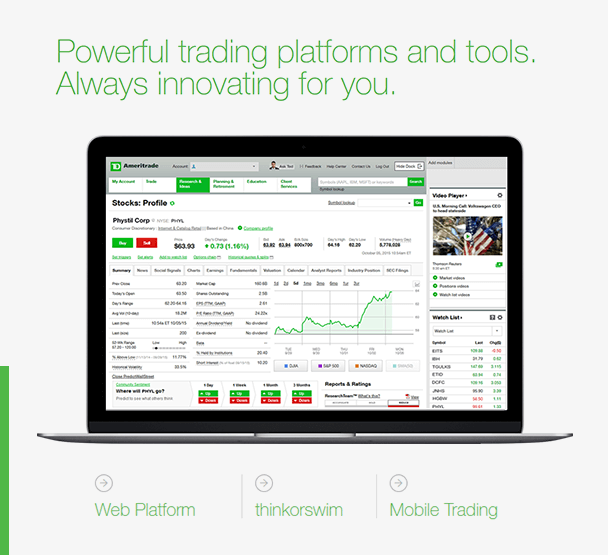 Web trader is ideal for most users
thinkorswim is perfect for advanced traders
Mobile trader app is available for Android and iOS
Go to Broker
Risk warning: Capital can be lost. Terms and conditions apply.
5. Usability
5) Usability of Website: Professional and Easy to Use
Our review of TD Ameritrade appreciates the professional and streamlined appearance of the broker's website. It mostly sticks to black, white, and gray but has pops of color via green, tying in the broker's logo. As expected, you can find basic legal information at the bottom of the page with links directly above this information for even more disclosures. The main navigation bar makes it easy to find everything with tabs for "Why TD Ameritrade," "Tools & Platforms," "Investment Products," "Guidance," "Retirement," "Education," and "Research."
The only downside is that each of the main navigation bar's tabs takes you to a new website. You only can select something else once that loads. For example, if you wanted to read about stocks, you would have to click on "Investment Products," wait for the page to load, then click "Stocks" on the side. By contrast, many competitors have these sub tabs appear on your current page, without having to wait for a page to load. As this is the only issue with the TD Ameritrade website, it is simple to conclude that the answer to, "Is TD Ameritrade good?" is yes.
The website also has a convenient search bar at the top of the page, which lets you input keywords or stocks. The layout of TD Ameritrade makes it easy to contact customer support, log in, or make a new account.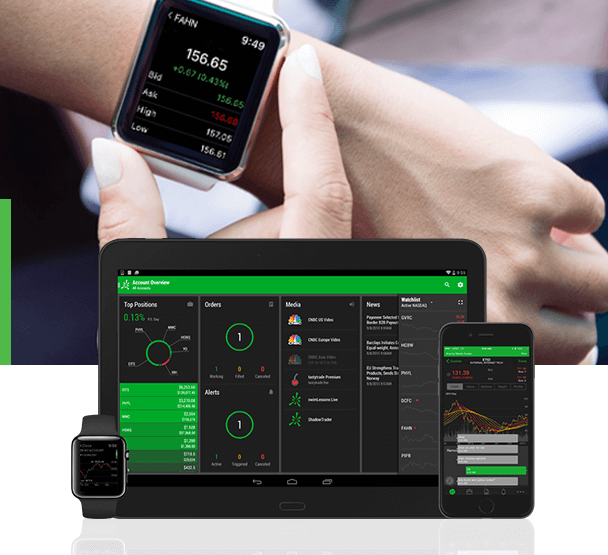 Website is mostly grayscale with some green
Easy-to-navigate website
Legal information readily accessible
Go to Broker
Risk warning: Capital can be lost. Terms and conditions apply.
6. Support
Customer support is one of the areas where TD Ameritrade truly excels in a broker comparison, regularly receiving high ratings. At the bottom of the page, you will find a full section of links dedicated to Service. These include calling, email, finding a branch, FAQs, forms, feedback, and information on funding and transfers. Above this, you can see the toll-free number to call for support.
Those who want to call TD Ameritrade for support will find a full listing of numbers, including for new accounts, existing clients, retirement consultants, Spanish support, Chinese support, international support, calling from other countries, and TTY services. Alternatively, you can chat with support via the iPhone Messages app, send TD Ameritrade an email, send a fax, mail something, or visit a branch. There are more than 360 branches of TD Ameritrade across the country, putting it ahead of most competitors. At these branches, you can get one-on-one assistance from a licensed representative. There is a convenient location finder on the support page.
As mentioned, TD Ameritrade tends to get excellent ratings for customer support. It is consistently ranked in the top spot or one of the top spots for customer service thanks to high levels of professionalism and an average connection time of just one to two minutes.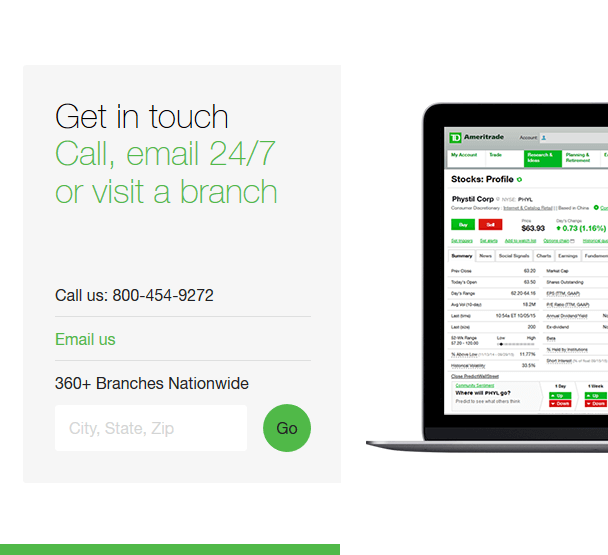 Support via phone, chat, email, or fax
One-on-one support at a physical branch
More than 360 branches
Go to Broker
Risk warning: Capital can be lost. Terms and conditions apply.
7. Payment
7) Methods of Payment: Five Funding Options
Our TD Ameritrade brokerage review is impressed that this broker offers five main ways to fund an account. An electronic bank deposit (ACH) is the most popular funding method and is incredibly quick following the initial linking of your bank account to your TD Ameritrade account. This takes between 30 minutes and three business days and can be used for amounts between $50 and $250,000. The quickest method is Express Funding, which does not require account linking. It takes just 30 minutes but has a limit of $150,000. Another option is to complete a bank wire transfer to fund your TD Ameritrade account, which takes one business day and has no minimums or maximums.
There is also the option of making a deposit via a check, which takes one to three business days and does not have a limit. You can do this via the mobile app (up to $10,000) or mail it in. A retirement rollover ready option is an External Securities Transfer, which takes about a week and has no limits. This is done online and requires filling out a form. Finally, you can deposit a Physical Stock Certificate into an individual account by mailing it in. This typically takes one business day.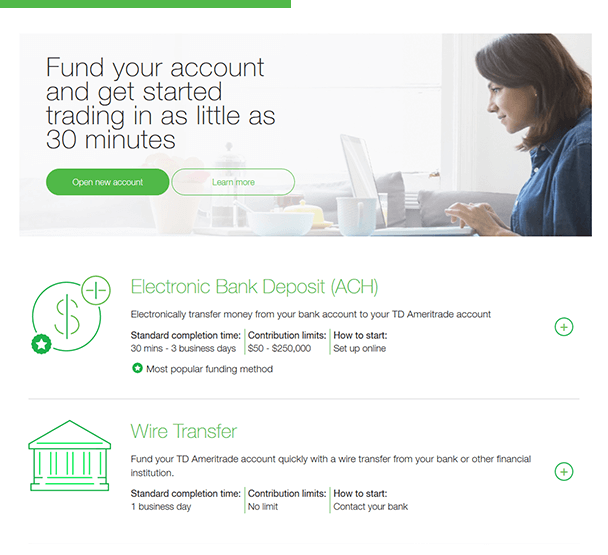 ACH transfers are the most popular
Other funding options include bank wire transfers and checks
You can do an External Securities Transfer or deposit Physical Stock Certificates
Go to Broker
Risk warning: Capital can be lost. Terms and conditions apply.
8. Offers
8) Additional Offers: Plenty of Resources
As previously mentioned, there is a demo account in the form of paperMoney, which gives you $100,000 of virtual money in each a virtual margin account and a virtual IRA. In terms of current bonuses, those who want to begin using TD Ameritrade stock trading and open a new account get as much as $600, as well as commission-free trading for 60 days. You can transfer your account to or from TD Ameritrade. There is no fee for partial outbound account transfers and a $75 fee for a full outbound account transfer.
In terms of education and research, TD Ameritrade stands out from the crowd. Clients can access educational tools right on the broker's website or via the platform. Clients can take advantage of a free fully immersive curriculum covering topics like technical and fundamental analysis of stocks, income investing, portfolio management, options for volatility, and more. TD Ameritrade also has more than 200 instructional videos, investing publications, and tutorials, in addition to webcasts for all skill levels. There are also in-person educational seminars on investing and trading.
To complement the educational tools, TD Ameritrade offers a wide range of third-party research tools free to clients, such as Market Edge, ETF Market Center, Social Signals, Stocks Overview, Stocks Charts, Screeners, Premier List, CD Center, Bond Wizard, and Market Java.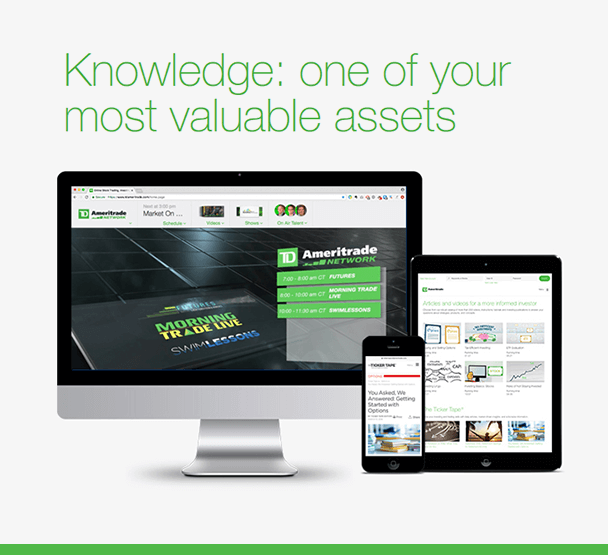 Demo account available
Vast educational resources for all skill levels
Various research and analytic tools
Go to Broker
Risk warning: Capital can be lost. Terms and conditions apply.
9. Regulation
9) Regulation & Deposit Protection: Member of FINRA/SIPC
TD Ameritrade is a member of FINRA/SIPC, and as such, clients of the broker get deposit protection from SIPC. This protection is up to $500,000, which already includes as much as $250,000 for cash. It is important to note that this protection does not provide protection against losses in the market associated with TD Ameritrade stock trading. Instead, it provides protection against the brokerage firm's failure.
TD Ameritrade additionally offers an Asset Protection Guarantee that protects the assets of clients against any unauthorized activity. This means that in the case of a loss of securities or cash from unauthorized activity, TD Ameritrade will provide reimbursement for the losses. This coverage only applies to unauthorized activity, not actions authorized by clients.
Our review of TD Ameritrade also appreciates that this brokerage uses up-to-date technology and security measures to protect client information. The broker uses advanced firewalls plus intrusion-detection technology and anomaly detection. The website also relies on 128-bit encryption when transmitting information between computers and the website. TD Ameritrade also follows the rule of "least privilege access," with that access controlled by a firewall to prevent unauthorized access to client information. The broker additionally has methods for clients to contact it regarding phishing emails or security issues.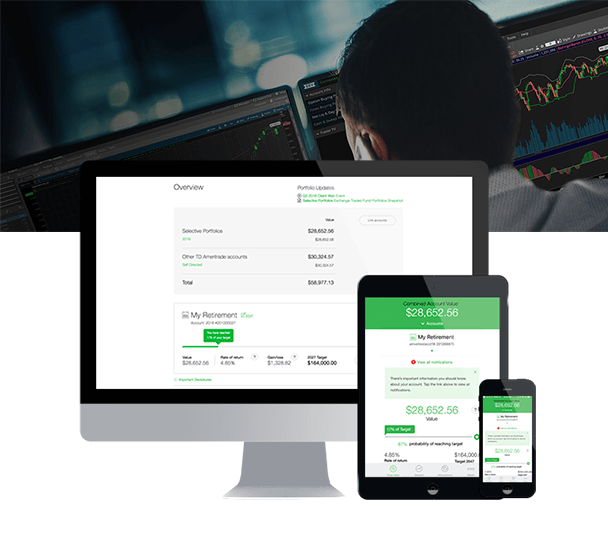 Member of FINRA/SIPC
Protection of up to $500,000 from SIPC
Asset Protection Guarantee
Go to Broker
Risk warning: Capital can be lost. Terms and conditions apply.
10. Awards
10) Awards: Numerous Accolades
TD Ameritrade has received numerous accolades. For the second year in a row, Investors' Business Daily named TD Ameritrade as a top online broker due to its high scores for customer experience.
TD Ameritrade has earned numerous other awards for being number 1, including in the 2018 Online Broker Survey from Barron for Long-Term Investing, Usability, and Novices. This survey also ranked TD Ameritrade among the best for Options Traders (for the eighth year), In-Person Service (seventh year), Investor Education (second year), Frequent Traders (eighth year), Mobile (fourth year), Trading Experience & Technology (third year), and Research Amenities (fourth year).
The broker has similarly high ratings from StockBrokers.com's 2018 Online Broker Review. Not only did TD Ameritrade receive five stars overall, it was number 1 in Customer Service for the second year in a row, Platform & Tools for the seventh, both Education and New Investors for the sixth, Phone Support for the second, Trader Community for the fourth, and Desktop Platform for the third year in a row. Additionally, it earned some new number 1 spots, including Broker Innovation and Trader App. The broker also earned the title of Best in Class for Ease of Use, Options Trading, Active Trading, Mobile Trading, Research, and Offering of Investments.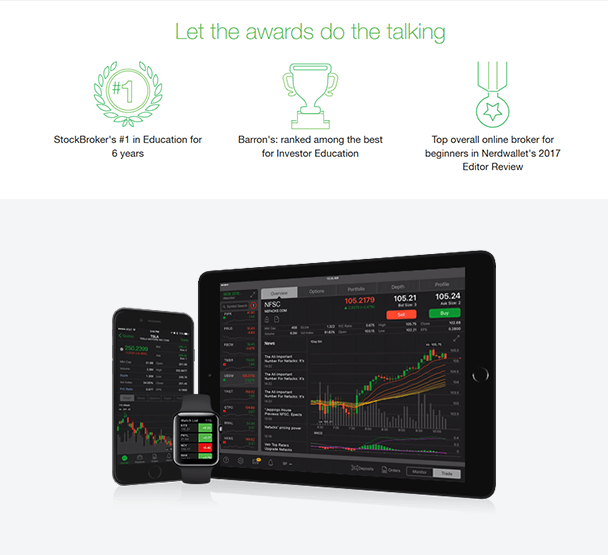 Top Online Broker for two years from Investors' Business Daily
Nine number 1 spots in StockBrokers.com 2018 Online Broker Review
Barron's Number 1 Broker for Long-Term Investing
Go to Broker
Risk warning: Capital can be lost. Terms and conditions apply.
Conclusion: Is TD Ameritrade a Good Broker?
Overall, our review of TD Ameritrade can conclude that this is indeed a good broker with a well-earned reputation. One of the only downsides of this broker is that its fees and commissions are slightly higher than those of other brokers. We agree with other experts that this is justified given the quality of service clients receive from TD Ameritrade, the various account options, the long list of investment products, the vast educational resources, the research tools, and the intuitive website. TD Ameritrade remains successful with many loyal customers in this highly competitive market, consistently being lauded as an industry leader. TD Ameritrade delivers a user experience of a high value, and it is certainly worth consideration for investors of any skill level who prioritize their overall experience instead of low fees. Traders of all skill levels should find what they are looking for with TD Ameritrade, including the opportunity for growth.
Multiple great platforms
Top customer service
Great educational tools
Five deposit options
SIPC member
Higher commissions
Short-term trading fees for commission-free ETFs
Test result
Broker

Go to Broker
Risk warning: Capital can be lost. Terms and conditions apply.