TradingBlock is a well-established and reputable online trading brokerage specializing in the trading of stocks and ETFs, options, and mutual funds. The brokerage was founded in 2010 and is owned and operated by Trading Block Holdings Inc. The company is based out of Chicago, Illinois with their headquarters located at 311 South Wacker Drive, Suite 650, Chicago, IL 60606, United States. TradingBlock stock trading has made quite a name for themselves in the United States and continue to provide reliable stock trading services.
Highlights
Licensed & regulated by FINRA & NFA
Products & services for U.S. residents
Auto-trading is supported at TradingBlock
SIPC Member (Investor Protection)
8.
of 12 Stock Broker
TradingBlock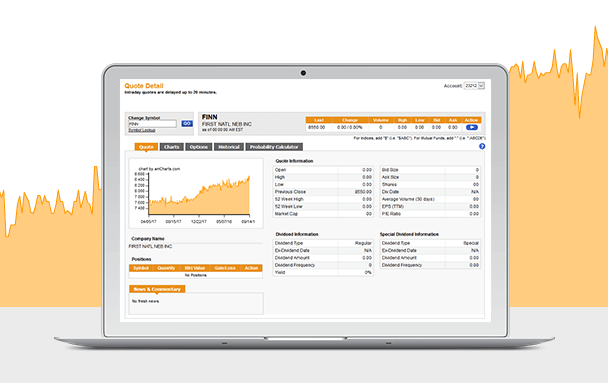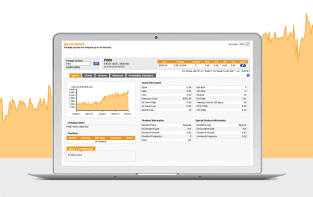 Go to TD Ameritrade
Risk warning: Capital can be lost. Terms and conditions apply.
Headquarters and regulation
USA (FINRA)
International order fees
$100
Services & additional benefits
ETFs
Certificates
Services & additional benefits
Hotline
E-mail
1. Trading Offer
1.) Stock Trading Offer: Options, Mutual Funds, Stocks & ETFs
TradingBlock understands the importance of diversification and how the markets work. Therefore, they offer traders a variety of tradeable assets that complement each other in favourable market conditions and assets that help to hedge against unfavourable market conditions to better protect investors. The extensive array of asset classes offered at TradingBlock include Options, Mutual Funds, Stocks and Exchange Traded Funds (ETFs).
The stocks featured at TradingBlock stock trading consist of the most popular companies from around the world and are the most direct and uncomplicated form of investing. Another easy and uncomplicated form of investing is to invest in mutual funds. The mutual funds offered at TradingBlock provide traders with an excellent solution to diversify their portfolios and mimic professional management. Traders can also trade ETFs which are a nice hybrid between stocks and mutual funds. They provide traders with the diversification of a mutual fund but tradability of a stock. The last type of tradeable product offered by TradingBlock is Options. Options provide traders with a lucrative form of investing in which can be very profitable if the right strategies are used.
Unfortunately, traders looking to trade forex and cryptocurrencies will have to look elsewhere as TradingBlock does not offer these financial assets. A stock broker comparison is more suitable for a broker like TradingBlock.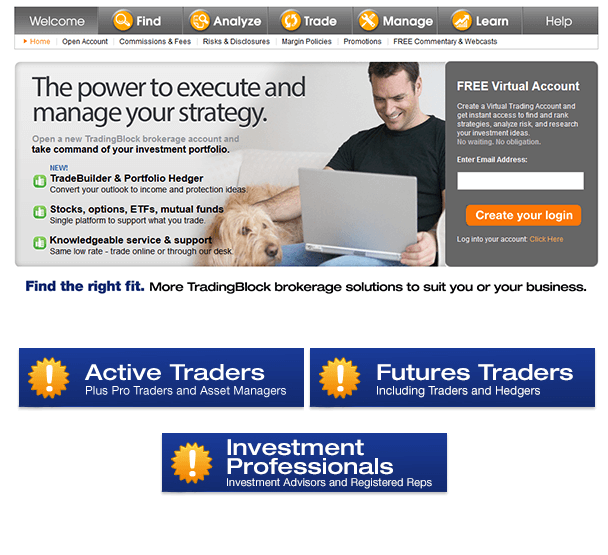 TradingBlock features 4 different tradeable markets
Traders can easily diversify their investment portfolio and hedge against unfavourable market conditions.
Great for retirement investment accounts.
Go to TD Ameritrade
Risk warning: Capital can be lost. Terms and conditions apply.
2. Costs
2.) Stock Exchanges and Trading Centres: Trade on the largest Stock Exchanges
As TradingBlock is a U.S. based trading brokerage with their trading services primarily intended for US residents, the brokerage features trading on the largest and most reputable American exchanges and trading centres. For instance, TradingBlock features stocks that are traded on the New York Stock Exchange (NYSE), the NASDAQ, the Chicago Board Options Exchange (CBOE), the Boston Options Exchange (BOX), the C2 Options Exchange (C2), and other reputable trading centres and exchanges.
0
International
Trading venues
Traders have access to a wide variety of the tradeable products featured on these stock exchanges and can participate in both direct and indirect investing through the buying and selling of stocks, ETFs, mutual funds, and options. For traders who are unsure as to how they would like to participate in these markets, TradingBlock provides them with a wide array of helpful educational content. Traders have access to extensive courses curated by TradingBlock experts and can learn the ins and outs of investing in these markets and what the best trading strategy for them is.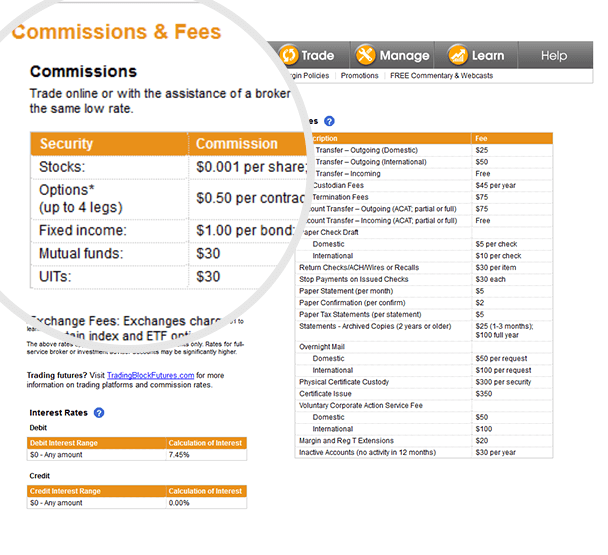 Trade on the most popular American stock exchanges
Both direct and indirect trading
Trader courses and educational content curated to help traders
Go to TD Ameritrade
Risk warning: Capital can be lost. Terms and conditions apply.
3. Account
3.) Trading Conditions: Transparency, Spreads, and Commissions
TradingBlock is a very transparent and fair online trading brokerage which clearly states all of their associated trading fees, account fees, and deposit and withdraw fees on their website. As well, since TradingBlock is highly regulated by multiple regulatory authorities, they maintain and impose fair trading conditions on their traders.
The commissions imposed on traders are very reasonable and competitive with the industry standards. No matter if a trader places trades online, over the phone, fax, or email, the trading commissions are all the same low rate. See the trading commissions associated with the different tradeable instruments offered below.
Stocks: $0.001 per share; $5.00 minimum
Options (up to 4 legs): $0.50 per contract + $5.00 ticket
Fixed Income: $1.00 per bond; $50.00 minimum
Mutual funds: $30.00
UITs: $30.00
Additional fees include exchange fees on certain index and ETF option products. These fees vary between products and a list of the associated fees for each exchange listed products can be found on the TradingBlock website. Traders can also incur a variety of other fees such as deposit and withdrawal fees, account transfer fees, and more. All of which can be found in the commissions and fee section on the TradingBlock website. All in all, the fees are quite competitive with another Broker Comparison – TradingBlock Comparison.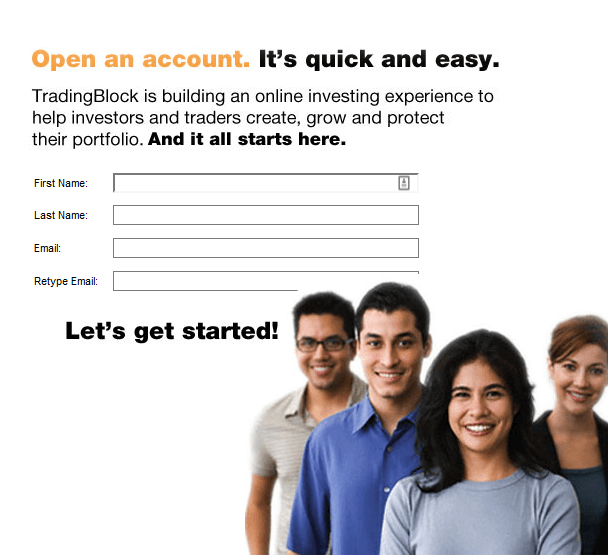 Same commissions no matter how you trade
Low and competitive commissions and fees
Transparent and fair fee structure
Go to TD Ameritrade
Risk warning: Capital can be lost. Terms and conditions apply.
4. Platform
4.) Trading Platform: Sophisticated Software, Numerous Trading Tools, and More
The trading platform offered by TradingBlock is a proprietary web-based trading platform that's accessible for free from any desktop computer or mobile device via the web browser interface. The platform's interface is designed to accommodate the needs of both beginner and experienced traders, but not really for active traders.
Traders do not have direct access to the markets or the ability to use hot keys for scalping. Therefore, the trading platform is rather slow for active day traders and is more suitable for casual traders and mid to long-term investors. However, experienced traders and investors can still appreciate the platform as they feature multiple order types and a variety of other helpful trading tools.
For instance, the platform features a portfolio hedger which protect gains in their equity portfolio by using a query-based tool that creates a protection strategy for nearly any stock or ETF. Another interesting tool is the patent pending TradeBuilder tool which generates up to 40 stock and options strategies ranked from the probability of maximum profit to breakeven. Another trading feature worth mentioning is the auto-trading functionality. Traders have the ability to opt into the auto-trading feature which automatically executes trades that are stated in the published newsletter traders can subscribe too. Furthermore, TradingBlock features all the standard charting and analysis tools used in market and price analysis of various tradeable assets.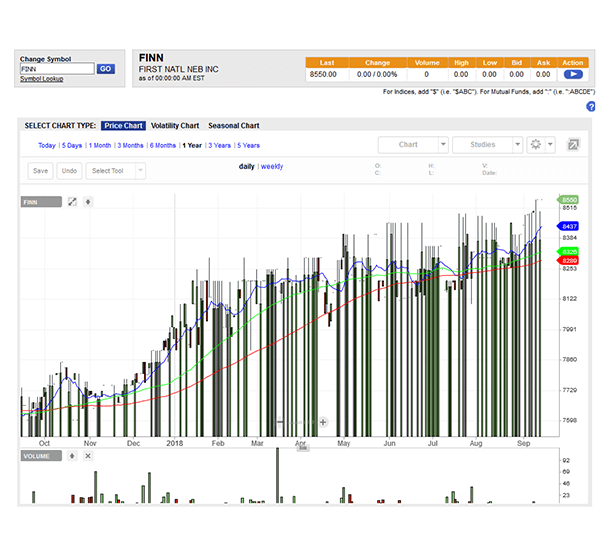 Free web-based trading platform
Variety of unique trading tools
Advanced charting and technical analysis
Go to TD Ameritrade
Risk warning: Capital can be lost. Terms and conditions apply.
5. Usability
5.) Usability of the Website: Is It Up to Today's Standards?
The TradingBlock website is quite possibly the most disappointing aspect of the online trading brokerage. The overall design is very dated and confusing to navigate. It appears the TradingBlock website hasn't changed since the brokerages inception in 2010. The main menu navigation is not structured in such a way that's easy to find information.
New users to the website will have to spend a great deal of time navigating through the pages to find various information as it is not clear where certain information is. As well, upon going to the websites FAQ page, there are only a handful of questions with answers and users are required to scour the website to find answers to others.
As well, it's unclear what is a link on certain pages as the website uses ordinary text for some important links. Also, on many of the websites pages it appears that there is a lot of useless content that doesn't provide the visitor with much value.
While the TradingBlock website has many flaws, there are some positive aspects. For instance, the colour design is simple and fitting as it matches the brokerages logo. Also, the commissions and fees page are organized very well and clearly displays all the commissions and fees associated with TradingBlock. Overall though, a broker comparison with other brokers makes TradingBlock look bad.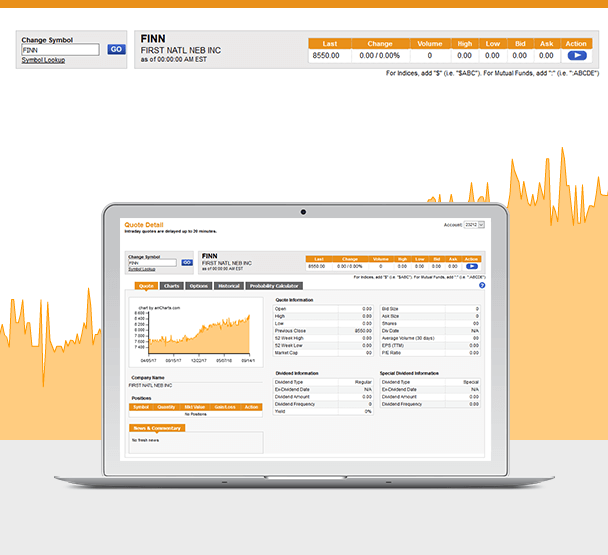 Poor website design
Confusing interface and navigation
Nice colour choice
Go to TD Ameritrade
Risk warning: Capital can be lost. Terms and conditions apply.
6. Support
6.) Customer Support: Client Services of the TradingBlock Platform
TradingBlock customers benefit from a phenomenal support team that's dedicated to their success. Traders can contact support representatives five days a week, Monday to Friday from 7:30am – 4:30pm central time (US). The contact methods available include telephone, email, fax, and postal mail. All support methods are free of charge and are very quick to respond. As well, support representatives are found to be very helpful and friendly with their responses.
Additional methods of support include portfolio margin and customized execution solutions to hedge funds and asset managers, professional and active traders, institutions and trading groups, and independent investment advisors. This is VIP level customer service and available to all traders.
Apart from the traditional customer support services, TradingBlock provides all traders with unparalleled educational material via educational YouTube videos. All the videos are approximately 40 minutes long and consist of strategic and tactical topics designed to help traders become more successful and to better understand market conditions. As well, traders have access to an extensive FAQ page, and access to both a free and a paid email newsletter complete with stock picks and other resourceful content.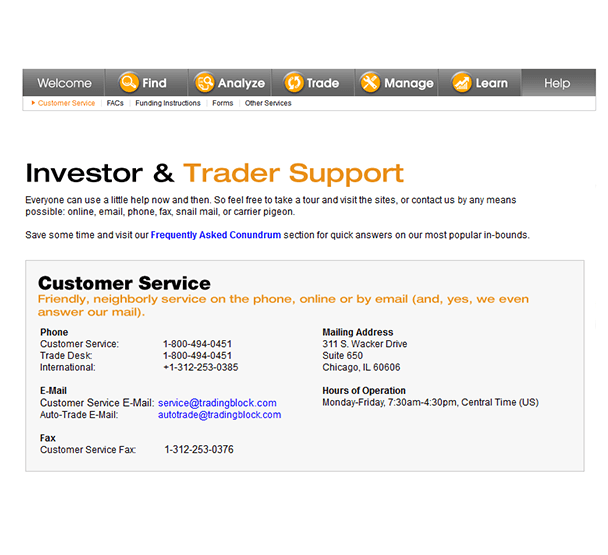 VIP level customer service
Educational video content
Friendly and responsive customer support
Go to TD Ameritrade
Risk warning: Capital can be lost. Terms and conditions apply.
7. Payment
7.) Methods of Payment: All Modes of Payment Accepted by TradingBlock Stock Trading
TradingBlock only supports two types of deposit and withdrawal methods for funding or withdrawing funds to or from the TradingBlock brokerage account. The two methods are; check or wire transfer in US Dollars (USD). Additionally, traders can conduct an account transfer from one brokerage account to the other.
Account transfer deposits and withdrawals take the longest to process as they require 7 – 10 business days on average to post. Checks are the second longest as they take anywhere from 24 – 48 hours to post, and wire transfers typically are posted within 24 hours of submission. During this TradingBlock brokerage review we found that the minimum deposit for a margin account is $2000 and the minimum deposit for a retirement account is $500.
As for deposit and withdrawal fees, see them overviewed below.
Wire Transfer – Outgoing (Domestic): $25.00
Wire Transfer – Outgoing (International): $50.00
Wire Transfer – Incoming: Free
Account Transfer – Outgoing (ACAT; partial or full): $75.00
Account Transfer – Incoming (ACAT; partial or full): Free
Paper Check Draft – Domestic: $5 per check
Paper Check Draft – International: $10 per check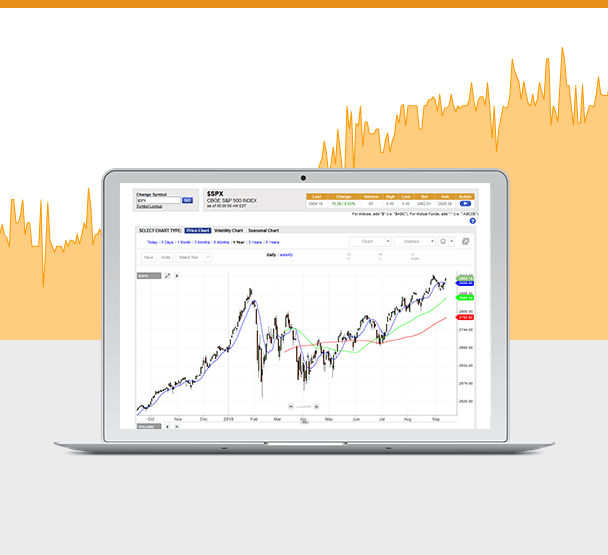 Limited deposit and withdrawal options
All deposits and withdrawals in USD
Reasonable fees
Go to TD Ameritrade
Risk warning: Capital can be lost. Terms and conditions apply.
8. Offers
8.) Additional Offers: What Other Benefits Does TradingBlock Offer
An unfortunate feature the TradingBlock stock brokerage is lacking is a demo/sample trading account. This is very unfortunate as new traders do not get a chance to test out the services TradingBlock provides or get a chance to become familiar with their trading platform. Traders must deposit real money to their trading account to begin trading and testing the platform.
Though new traders are not offered a demo/practice account, they do benefit from free account transfers from a previously owned brokerage account. Another promotional offer are the free email market updates. Traders can opt in to receive the "TradingBlock's Play of the Day" which is an email every day with four strategy ideas on top stocks and ETFs. As well, traders can opt in for the "TradingBlock Update" which is a weekly email update on upcoming TradingBlock events, webcasts, new investor and trade services, special offers, and more.
In addition to the promotional emails, TradingBlock features an extensive learning centre that comes complete with over 80 investor webcasts. Each webcast runs for approximately 40 minutes and is packed with great educational content.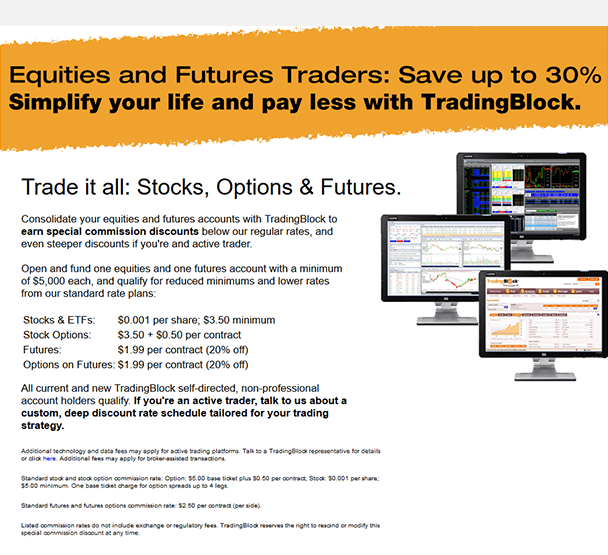 Free educational webcasts
Free email market updates
Free account transfers for new clients
Go to TD Ameritrade
Risk warning: Capital can be lost. Terms and conditions apply.
9. Regulation
9.) Regulation & Deposit Protection: How Safe Are TradingBlock Traders
TradingBlock is one of the safest and most secure stock trading brokerages available. The brokerage is based out of the United States and is well established as they were founded in 2010. As well, TradingBlock is licensed and regulated by multiple regulatory authorities such as the Financial Industry Regulatory Authority (FINRA) and the National Futures Association (NFA). These regulatory compliances ensure that the brokerage employs the latest and greatest security standards as well as the offering of fair and transparent investing and trading services. Also, TradingBlock is a member of the Securities Investor Protection Corporation (SIPC). This membership protects investor funds of up to $500,000 in the event of brokerage insolvency or fraud. Therefore, TradingBlock traders can rest assured that they are well protected and are trading in a safe, fair, and secure trading environment.
FINRA
Regulatory Authority
Furthermore, TradingBlock employs a variety of security measures to protect their client's personal information and funds. For instance, encrypted identification and ID verification process are used for logging in securely. As well, brokerage accounts are protected by sophisticated firewalls and limited access for network security and all data is heavily encrypted which allows for secured account access.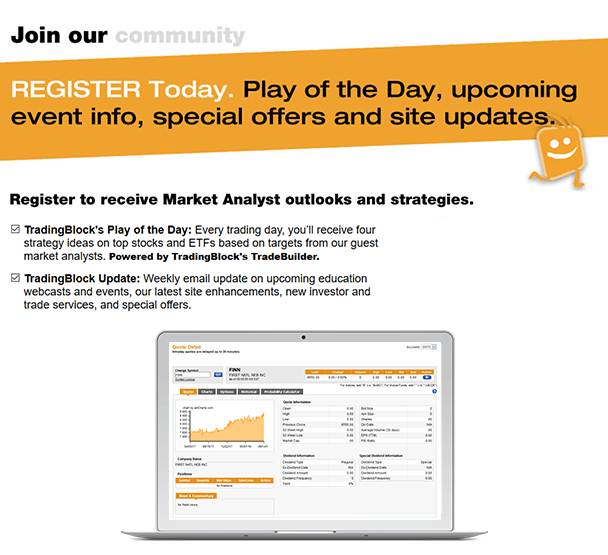 Highly regulated trading brokerage
Investor compensation scheme
Sophisticated security measures
Go to TD Ameritrade
Risk warning: Capital can be lost. Terms and conditions apply.
10. Awards
10.) Awards: All About Accolades Bagged by TradingBlock
The TradingBlock online trading brokerage may not be the best stock broker because they have never won any reputable awards for their trading services. TradingBlock is not the type of brokerage to go out and seek awards from numerous publications and therefore have no published awards.
This comes as no surprise however, as TradingBlock is a very simple stock trading brokerage with a dated website and basic trading services. The brokerage doesn't seem to change with the times and therefore are not innovative enough to be noticed and receive awards. However, TradingBlock is still a viable stock trading brokerage but without the fancy bells and whistles.
TradingBlock has various mentions in top online financial publishing websites and is always talked about in good light by publishers, traders, and investors. User reviews and mentions on trading forums are also generally of praise for the stock broker. Therefore, just because TradingBlock doesn't boast any awards, the brokerage is still highly reputable and loved by many in the trading and investing industry.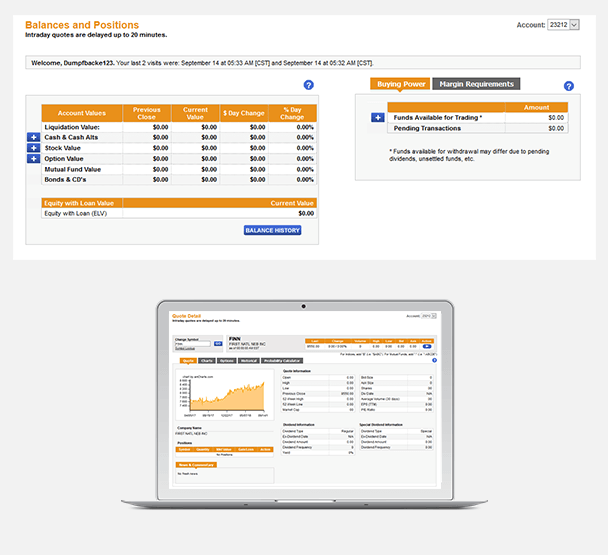 No published awards by viable trading industry experts
Dated trading brokerage that fails to innovate
Does not get noticed as well as other trading brokerages
Go to TD Ameritrade
Risk warning: Capital can be lost. Terms and conditions apply.
Conclusion: Final Thoughts for Our TradingBlock Brokerage Review
Upon reviewing the TradingBlock brokerage, the question of whether is TradingBlock good or not has been answered. TradingBlock is a good stock trading brokerage with an excellent reputation in the online trading industry. The brokerage features an array of traditional asset classes with some sophisticated trading tools to help investors and traders succeed. The brokerage is rather dated and has failed to innovate in many areas which has hindered their ability to win awards and attract new investors.
However, for traditional stock and ETF traders, TradingBlock provides exceptional trading services. Perhaps the most unique trading feature provided by them is the patent pending TradeBuilder tool which generates up to 40 stock and options strategies for traders to choose from. As well, traders have a variety of order types they can execute to better protect their investments and make profits.
Overall, TradingBlock is a safe, reliable, and fair trading brokerage that appeals to traditional investors and traders. If you're looking for a viable stock broker to trade with, then TradingBlock could be the broker for you.
highly regulated
well established and reputable broker
educational resources
competitive trading fees
good trading tools
poor website design
limited deposit and withdrawal methods
limited tradeable assets
slow execution speed
Test result
Broker

Go to TD Ameritrade
Risk warning: Capital can be lost. Terms and conditions apply.