Charles Schwab is a leading online brokerage company that offers financial advisory, brokerage, and banking services. Charles Schwab stock trading company was established in 1973 and operates under two subsidiaries; Charles Schwab & Co and Charles Schwab Bank. The firm is trusted by many investors and has a total asset pool of USD 3.56 trillion and 1.3 million banking accounts. Its headquarters are in San Francisco, California. This Charles Schwab brokerage review will reveal to you why Charles Schwab and is the best stock broker in the world.
Highlights
Multiple financial products
Trusted and reliable firm
Good customer service
Full range of investment services
2.
of 12 Stock Broker
Charles Schwab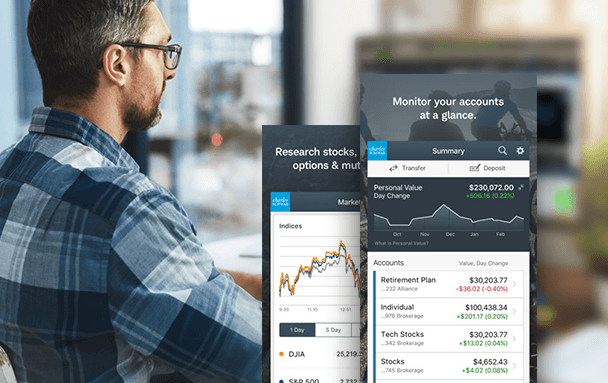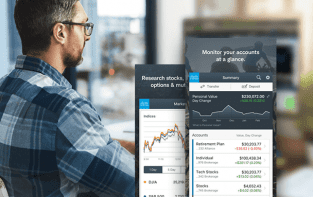 Go to Broker
Risk warning: Capital can be lost. Terms and conditions apply.
Headquarters and regulation
USA (FINRA)
International order fees
$4.95
Services & additional benefits
ETFs
Certificates
Futures
Demo account
Yes, Charting tools, virtual money, indicators,
Services & additional benefits
Live
Hotline
E-mail
1. Trading Offer
1) Stock Trading Offer: Multiple financial products offered
Charles Schwab oversees 1.6 million retirement plan accounts and another 1.2 million accounts. The many accounts are used to bank the following financial products; stocks, annuities, options, ETFs, mutual funds and bonds. These products are held in the following accounts; Brokerage and Trading, IRA, Trading Services, Global Trading, Small Business Retirement, Trust, Estate & Charitable, College Savings, Organization Account, and Personal Choice Retirement Account (PCRA). Some of their banking products include; mortgage loans, debit cards, and credit cards among others.
Charles Schwab ETFs is comprised of both the market cap index and fundamental index ETF. For the ETFs, you can choose between the three Charles Schwab ETF investment approaches; Schwab Managed Portfolios, Schwab Intelligent Portfolios, and Windhaven Strategy. The individual retirement accounts (IRA) has the three options; traditional IRA, Roth IRA, and Rollover IRA.
The SIMPLE IRA is the Charles Schwab saving account and it's meant to help self- employed and business with a staff of less than 100. Employees can make contributions from salary deductions and direct contribution. There is still are two education savings accounts meant to help parents save money for their children the college accounts have tax benefits. There is a custodial accounts and organization account.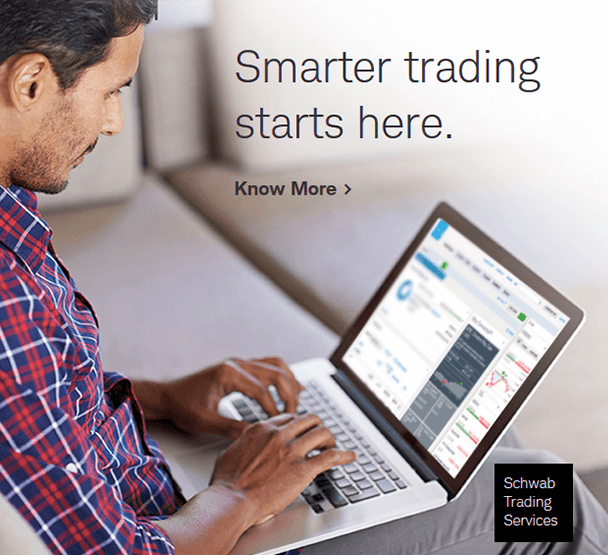 Custodial and company account
Bond, stocks, options and other securities supported
Savings account available
Go to Broker
Risk warning: Capital can be lost. Terms and conditions apply.
2. Costs
2) Stock Exchanges and Trading Centres: Profit from different exchanges
Charles Schwab offers trading of OTC market and NYSE market in US. Apart from US you can trade stocks in exchanges in Europe, Asia and Australia. Traders from the following countries can trade using Schwab's platform; France, Japan, Australia, Netherlands, Germany, Belgium, UK, Canada, Hong Kong, Norway, Finland, and Italy. However clearance of the orders is done via a specialized team that handles foreign equity trading.
80
International
Trading venues
Charles Schwab brokerage review of the exchange access that traders have present a profitable opportunity for traders who would want to profit from stocks in different parts of the world. In execution of the orders Schwab considers execution price, market depth, among other factors in an aim to provide its customers with the best trading and buy/sell opportunities. Charles Schwab uses ECN protocol which makes it even cheaper for trades which are of equal volumes but of different calls. Settlement of such trades is done via the ECN which makes such trades even faster.
Charles Schwab uses a direct order approach when routing orders. It uses unaffiliated brokers to route non directed orders for options and equities. The brokers sometimes may act as markers or oversee the executions of the orders in exchanges.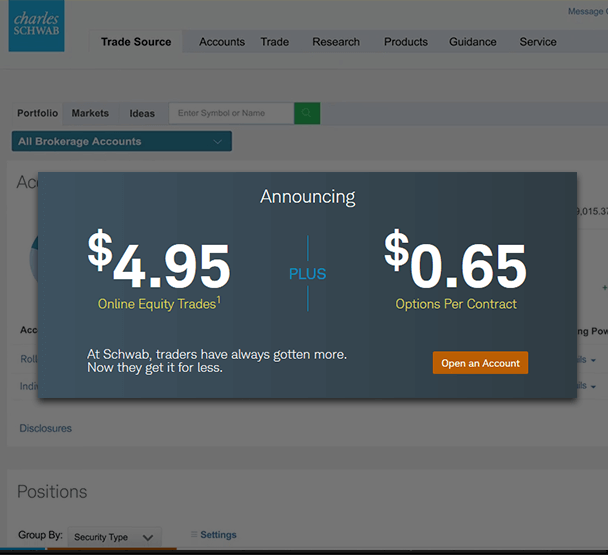 Direct order approach
Use of ECN
Multiple exchange access
Go to Broker
Risk warning: Capital can be lost. Terms and conditions apply.
3. Account
3) Trading Conditions: low trading commission
Charles Schwab is known to offer discounted commissions. After the collapse of the SEC commission rule in 1975 that saw deregulation brokerage commissions, Charles Schwab took a different approach from other brokerages in terms of their commissions. Charles Schwab uses fixed pricing of commissions with commission per trade being set at $4.95. A Stock Broker Comparison of the fees between Charles Schwab and other brokers leads to the conclusion that Charles Schwab has lower fees.
USD 500,000
Dep. Protection
Charles Schwab has 244 ETFs that are commission free. Even the others that are subject to commission attract a low commission. Charles Schwab Mutual funds are also attractive with zero transaction fees for their 4,342 source funds. None of the 5,509 funds have a load carry. There is a $76 commission per trade if you buy a fund which isn't OneSource fund. However, there is no commission when selling. This is the second highest in the industry.
The minimum account balance when opening an account is USD 1,000. There is an exception if you guarantee a monthly direct deposit of $1,000. There are several accounts that aren't subjected to minimum deposits for instance; SEP-IRA, Individual 401(k), SIMPLE IRA and several others.
Charles Schwab stock broker doesn't have an account maintenance and inactivity fee. Charles Schwab charges USD 25 for broker assisted trades.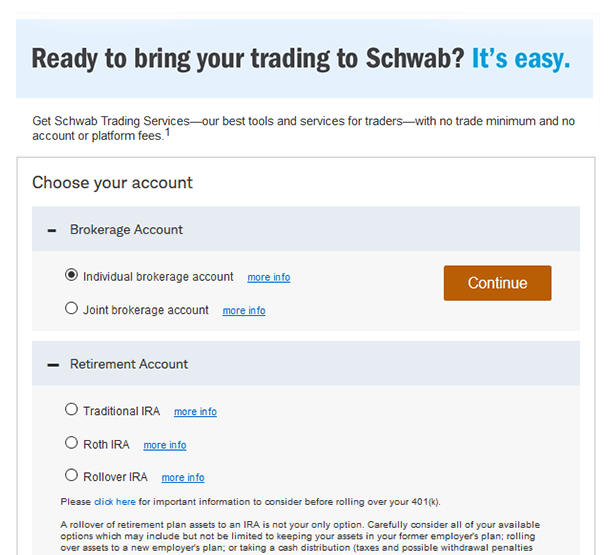 No inactivity fee
Fixed $4.95 commission per trade
Zero commissions for selected ETFs
Go to Broker
Risk warning: Capital can be lost. Terms and conditions apply.
4. Platform
4) Trading Platform: Three trading platforms and Mobile app
Charles Schwab offers its customers three account platforms. These platforms are; StreetSmart.com, StreetSmart Central and StreetSmart Edge, the first two are web based and the latter is desktop based. Though as at the beginning of 2018 StreetSmart Central was only available to futures trading, all the platforms are now available to all Charles Schwab customers. The platform is free to use and is only available to existing customers. The platform are not restrictive can be easily integrated with other software. The platform has handy tools that will assist you to manage your risk, draw patterns and much more.
Traders who have used other trading platforms before will find using Charles Schwab's desktop trading platform a walk in the walk. The platform is highly customizable with options of choosing different layouts, colour schemes, and other personal preference settings. Traders can use tools such as High/Low streamer to keep a check on the market momentum. There are pop up notifications that will alert you when your orders are picked and filled successfully.
Charles Schwab has a mobile app which you can use to keep track of the market in real-time such as Charles Schwab stock (SCHW) and other portfolios. The mobile app is supported on both Android and Apple devices.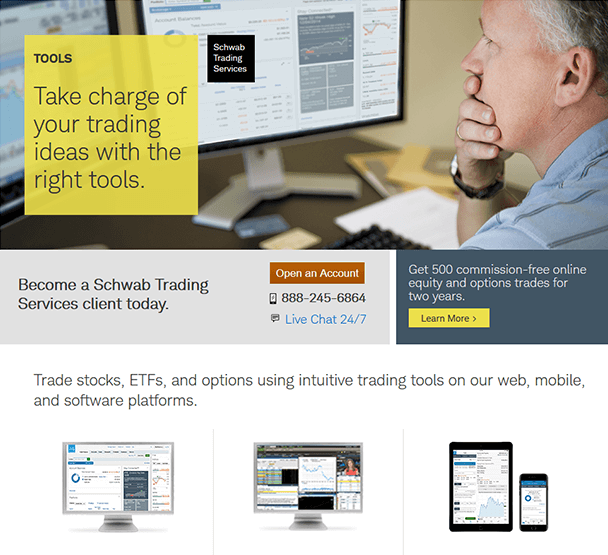 Interactive trading platform
Multiple charting tools
Mobile app supported
Go to Broker
Risk warning: Capital can be lost. Terms and conditions apply.
5. Usability
5) Usability of the Website: simple user interface
Charles Schwab has five menus to its website. The menus have detailed submenus giving the website an easy navigation from the homepage. The website has a simple user interface with a search button to make your search even easier.
The website uses a mix of grey, white and light blue which are cool making the website not distracting to the eye. Apart from the website primary colours the website has handy tools such as find a branch icon which makes it easy to locate one their branches. You can use the same tool to locate a consultant. The website home page has no distracting promotions or advertisements
On the bottom section of the website the legal terms and the terms and of using Charles Schwab services are listed. On the bottom most section of the menu there are links to menu such as careers, financial statement, compensation and advice disclosures. The site map will give you all the menus and useful links of the entire Charles Schwab stock trading website.
Other useful icons such as contact us are located at the top section of the website. The login and open an account tabs are located at the right top corner of the website, therefore giving users an easy time getting access to their Charles Schwab brokerage account.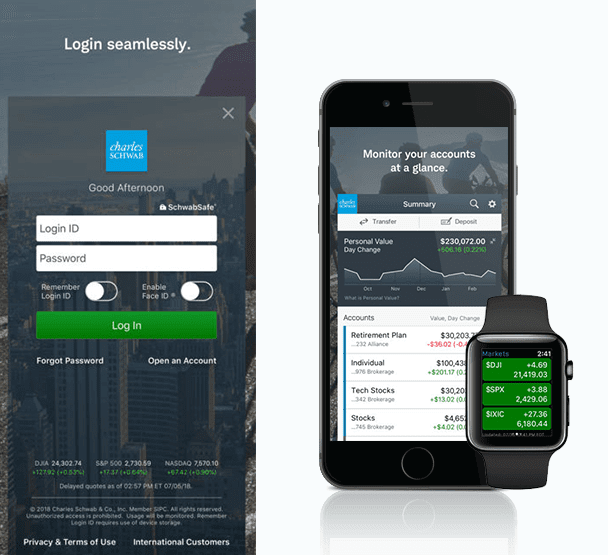 Simple user interface
Useful menus
There is a site map for easy access of menu and links
Go to Broker
Risk warning: Capital can be lost. Terms and conditions apply.
6. Support
6) Customer Support: professional customer service available 24/7
There are four main ways you can reach Charles Schwab stock trading. These are; live chat, phone support (866-516-0483), email support but only for clients with existing accounts and physical visit to any of their 300+ physical branches in US. The number provided is toll free. You can get support also from the Schwab Trading Community where you can get some of your questions answered by one of the 10,000 active forum members.
The customer service representatives are professional and available on a 24/7 basis except for the earlier mentioned phone support for stolen/lost cards. For instance, on live chat you will get attended in less than 5 minutes and hardly is there waiting time.
You can also get help from Charles Schwab when you tweet or direct message them on their Twitter or Facebook page. There is also a frequently asked question (FAQ) page where you can get answers to some of your queries before trying to contact customer support. Another alternative would be to visit their physical branches or visit any of their consultants.
Charles Schwab doesn't have VIP customer service, all accounts are treated same.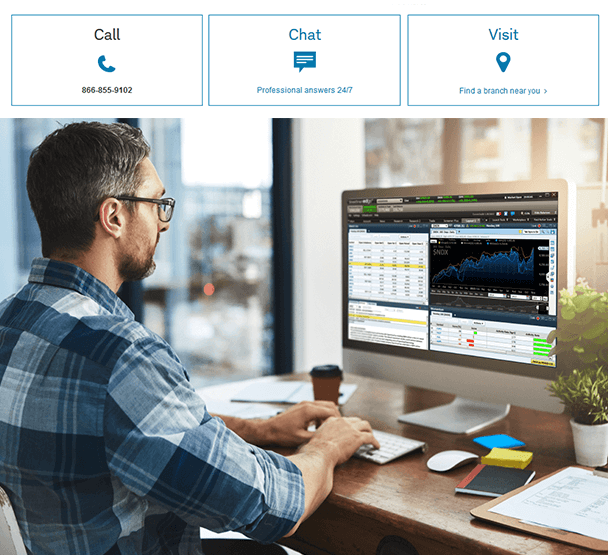 Timely customer service support
24/7 customer support
No VIP support
Go to Broker
Risk warning: Capital can be lost. Terms and conditions apply.
7. Payment
7) Methods of Payment: four account funding options
Charles Schwab uses several payment methods for funding an account. You can fund your Charles Schwab brokerage account by writing a cheque to Charles Schwab, transfer an account, wire transfer or mobile deposit. Another option would be to use the Schwab's money link feature which you can use to move money between your Schwab's accounts for free.
These payment methods have different lag times for instance cheques would take 4-5 days for the money to reflect in your account. The wire transfer takes around 3 days for money to reflect your Schwab's account. The mobile deposit is processed within the same day before 4 p.m. US time. This service is available on both Android and Apple devices. The cost of doing a cheque deposit will depend on your banks cheque clearing fees, wire transfer is also dependant on the depositors bank charges.
E-wallets are not accepted by Charles Schwab. This means that PayPal and other forms of peer to peer money such as bitcoin Zelle and Venmo are not accepted.
When opening an account the minimum deposit amount to your account is USD 1,000.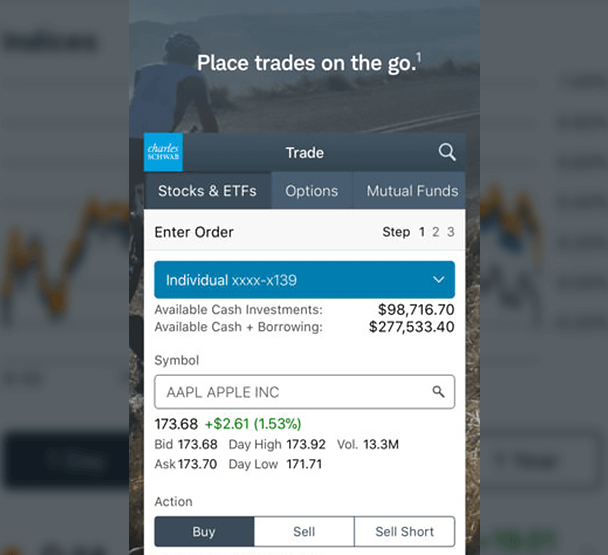 Minimum deposit $1,000
Four account funding options
Doesn't accept PayPal
Go to Broker
Risk warning: Capital can be lost. Terms and conditions apply.
8. Offers
8) Additional Offers: Free educational resources and demo account
Charles Schwab reputation and success in offering investment services and banking products goes beyond having a business conglomerate and expanding business. Charles Schwab understands its customers and part of its core values is customer satisfaction. That said, Charles Schwab offers its customers a range of services add on services to make their trading journey a breeze.
Inexperienced traders have the option of testing the Charles Schwab's demo account platform where they can practice with virtual money. Traders who are new to Charles Schwab are eligible for the 500 commission free option and equity trades for a span of two years. However, there is a deposit requirement of USD 100,000. There are other terms that relate to the promotion such as deposit within 45 days from subscribing to the promotion.
Charles Schwab offers its customers a free live education. There are three ways to keep you abreast with the various investment opportunities Charles Schwab offers. You can opt to attend a local workshop, join the trading community or read their articles, guides and join seminars in their learning centre. The local workshops involve a one on one interaction with a financial consultant.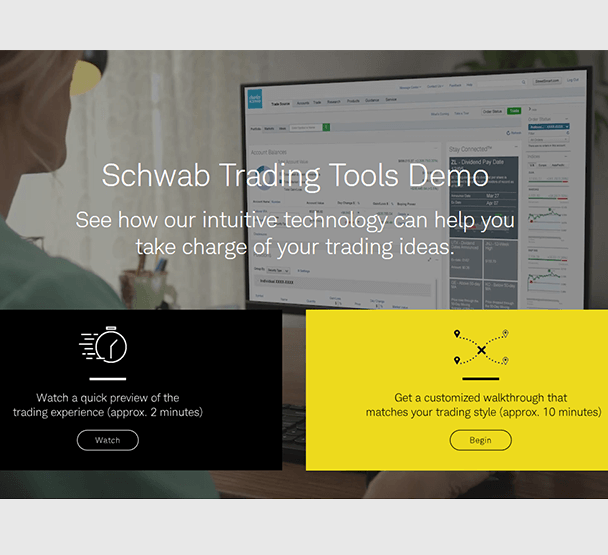 Free educational resources
Market expert commentary
Free demo account
Go to Broker
Risk warning: Capital can be lost. Terms and conditions apply.
9. Regulation
9) Regulation & Deposit Protection: licensed Brokerage Company
Charles Schwab is a fully regulated stock broker and licensed in the jurisdictions it operates. In the US it is regulated by SEC under license number 16514 and is a member of FINRA; CRD 5393. In the UK it is regulated by FCA under license number 225116. In Singapore it is regulated by the Monetary Authority of Singapore under company registration no: 200504402C
Charles Schwab is a member of Securities Investor Protection Corporation (SIPC). Cash on deposit is insured by SIPC up to USD 250,000 and investment accounts are insured up to USD 500,000. The insurance applies per depositor/customer.
FINRA
Regulatory Authority
USD 500,000
Dep. Protection
On opening Charles Schwab brokerage account, you will be required to provide proof of identity. This will be used to verify age so as to prevent minors from opening accounts. Other backgrounds checks are also done such as source of funds which is part of KYC and AML compliance.
Charles Schwab website has an encrypted secure connection. Its website is uses 256 bit keys, which means that the website is extra secure and no part of the website information can be intercepted. Its website is verified by DigiCert Inc.
Charles Schwab is listed in the stock exchanges and its ticker is SCHW.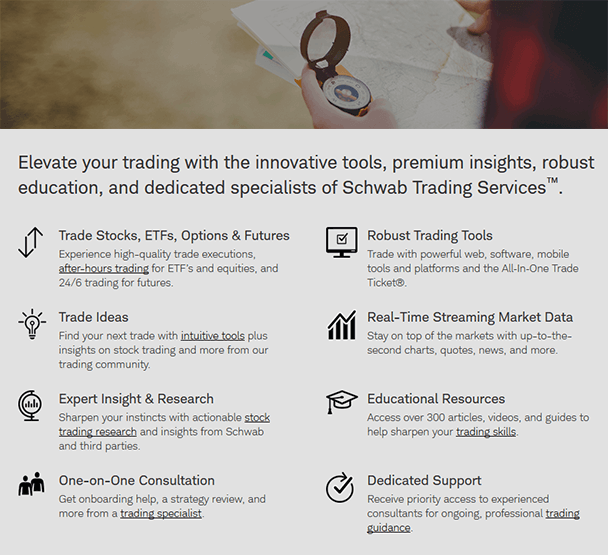 Secure website connection
Licensed brokerage company
SIPC insured
Go to Broker
Risk warning: Capital can be lost. Terms and conditions apply.
10. Awards
10) Awards: Award winning Brokerage Company
Charles Schwab brokerage review of services has made it receive awards on different occasions. For three years in a row, JD Power has ranked Charles Schwab as the highest in investor satisfaction. In 2018, Charles Schwab was ranked among the world's FORTUNE's top 50 most admired companies. It also ranked #1 in innovation and use of corporate assets. It ranked #2 overall for the category social responsibility in securities and asset management. In Barron survey of best stockbrokers online, Charles Schwab got 4 stars out of 5.
Charles Schwab experience in the investment services dates back in 1971. The company has grown by leaps and bounds to become of the most reputable investment Service Company and banks. Its financial services are unique and cut across both veteran financial markets experts and newbies. Their accounts are customized to fit the needs of customers ranging from savings account, IRA to custodial accounts and others.
Its trading platform is an attraction to many investors and traders and it's designed to make trading a breeze courtesy of the charting tools and other interactive features of the platform. Is Charles Schwab good? Yes, a broker comparison on customer service, commissions, platforms and other features it is fair enough to say that Charles Schwab is a good broker.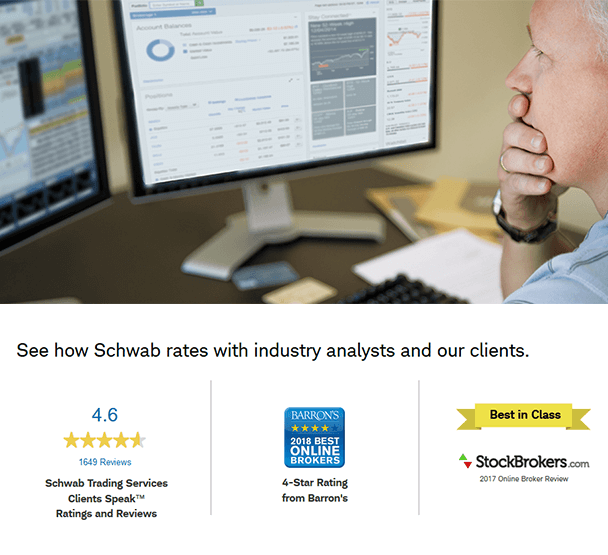 Award winning broker
Experienced stock broker
Ranked high in the market
Go to Broker
Risk warning: Capital can be lost. Terms and conditions apply.
Conclusion: The sky is the limit for Charles Schwab
Charles Schwab is a respected brand as revealed in this Charles Schwab stock Trading – Review 2019. Its asset base keeps increasing and its continually expanding in different territories. It is important to acknowledge the enormous effort it has put to keep their customers satisfied and the range of products and accounts that benefit customers. The company has kept a balance between the investment services they offer and the banking products they have which is a good thing. Charles Schwab has invested a lot in research and this could be witnessed by their platforms they offer traders and so much that has keep it ahead of the game in the competitive financial services realm. Everything about Charles Schwab seems to be fine starting from their commissions which are market competitive to its premier trading platform. A little bit aggressiveness and fine tuning of their services will see this online brokerage company ascend the ranks of world's best brokerage company.
Relatively low commission
Excellent customer service
Powerful platform and research tools
Free prefesional account management for account above USD 5,000
Multiple account options and financial products
USD 1,000 initial minimum deposit
Test result
Broker

Go to Broker
Risk warning: Capital can be lost. Terms and conditions apply.