For example, some traders might be willing to pay the cost of increased trading commissions in exchange for the ability to use superior technical analysis tools on the most modern software platforms available.  Since there are so many different choices available in today's market, it's a good idea to compare these types of factors and select the online trading broker that'll work best for you. Ultimately, it has been said that true wealth building requires a financial brokerage service that matches your trading style with the proper educational materials and software requirements with a fee structure that's capable of matching your long-term investing goals.  
Of course, this is especially true for newer investors that might not have much active experience in the financial markets.  Selecting the right broker might make all of the difference for those that encounter frustrating operational disappointments (leading to unnecessary trading losses) —or those that learn the ability to develop new and reliable streams of investment income.  While it might not be a sure-fire guarantee that every investment will generate returns, choosing the right broker is one of the best ways to put every new investor on the right path toward achieving success.  In the following guide, we'll cover each of the main factors every investor should look for when choosing a trading broker.
Top 3 Forex Broker Comparison
of 7 Forex Broker
Forex.com

Currency pairs
80 Currencies
of 7 Forex Broker
TD Ameritrade

Currency pairs
80 Currencies
Go to Broker
Risk warning: Capital can be lost. Terms and conditions apply.
of 7 Forex Broker
Interactive Brokers

Currency pairs
100 Currencies
Go to Broker
Risk warning: Capital can be lost. Terms and conditions apply.
Getting Started: Selecting the Best Trading Broker
Gaining access to the forex and stock markets is both inexpensive and relatively easy these days, thanks to the large number of discount brokers currently operating via online software platforms.  Finding the right broker amongst all these choices can be a challenge, and different trading brokers might be optimized for different trading styles (i.e. long-term investors with sophisticated buy-and-hold strategies or active day traders with a more fast-paced approach to daily market developments).  
Finding the right trading broker requires patience, due diligence, and a certain amount of trial and error in order to avoid losses and get the most from your investment capital.  Reductions in trading costs can have a significant impact on a trader's overall performance rate (profits after calculating any losses). Ultimately, each trade begins at a loss and remains in the red until the position's trading costs are overcome, so this is a factor that traders will face every time a new position is opened.  When evaluating a trading brokerage, make sure to reduce your initial trading costs by addressing each of the following factors: 
Account minimum
Account charges
Trading commissions
Current promotions
For traders with smaller account sizes, these factors are particularly important because added promotion rewards can provide a substantial increase, depending on the offering.  For example, a trading broker might offer a bonus of $250 for any accounts opened with an initial balance of $2500 or more. As long as the broker's terms and conditions are met, these types of added bonuses can provide a nice boost to the total value of a trader's account size.
Trader's Approach: Focusing on Specific Types of Investments
Trading brokers will generally offer a menu of investment options that's mostly similar in terms of what it actually provides.  For stock brokers, common investment types include: mutual funds, individual stocks, exchange-traded funds, bonds, or options. Forex brokers will generally offer spot positions in foreign exchange, precious metals, and cryptocurrencies.  Some forex brokers will also offer futures and options trading in various asset classes.  
As a trader, your choice of market broker will depend heavily on the firm's ability to meet the requirements outlined by your chosen approach to investment strategy.  Investment types that are provided by a broker will often dictate whether your trading needs will be met and the amount of money you're likely to save in trading commissions.  Finally, remember to pay special attention to commissions charged by your broker for all of your preferred investment types:
Individual stock trades: 

Many trading brokers still charge commission in order to buy/sell stocks (either on a per-trade basis or per-share basis).  Fortunately, some brokers now charge zero in commissions for stock trades (including E-Trade, Interactive Brokers, and TD Ameritrade).

Options trades:

  Options trading often faces stock trading commissions in addition to an options contract fee (which is applied to each contract).  These fees typically range from $0.25 to $1.60. As an example, options trades at Ally beat the market average with costs of $4.95 per trade (plus $0.65 cents per options contract). 

Mutual funds: 

Many investment brokers charge a fee when an investor purchases mutual funds. Investors are able to mutual fund limit transaction costs for mutual funds (or even avoid them altogether) by simply choosing a broker that provides access to non-transaction-fee mutual funds.  Please note:

Mutual funds may also come with internal fees (which are referred to as "expense ratios"), which aren't charged by the trading broker (they are charged by the mutual fund itself). 

Exchange-Traded Funds: 

Popular exchange-traded funds (or ETFs) trade just like shares of stock, so ETFs are generally subject to the stock trading commission charged by each broker.  However, many brokers will offer lists of ETFs that are commission-free. As an example, TD Ameritrade offers 100+ ETFs from respected organizations like Vanguard, from SPDR, and iShares.  Traders interested in investing in ETFs should consider a broker that offers commission-free ETFs.

Bonds:

Investors can purchase bond ETFs and mutual funds (with no additional charges) with commission-free ETFs and non-transaction-fee mutual funds.  Brokers might charge their own fees in order to buy individual bonds (using a minimum/maximum charge that varies with the market).  
Compare Account Minimums and Trading Fees
Highly-ranked trading brokers that offer no account minimum include Ally Invest, Merrill Edge and, TD Ameritrade.  This is great for new traders that might have smaller account sizes or anyone that is simply looking to test a broker's platform.  However, many brokers require an initial minimum deposit, which might be $500 or higher (depending on the investment firm). Some mutual funds will also require a minimum investment that is similar to this figure but this can make it difficult to construct a versatile trading strategy over time.  For these reasons, investors with smaller account sizes should consider trading with brokers that offer accounts with low minimum deposits.

In some cases, it might not be possible to avoid every trading account fee.  But you can definitely set a goal of cutting all trading fees to minimal levels.  Many brokers charge fees to transfer funds out of a trading account (or when closing an account).  To attract more clients, some trading brokers offer the option to reimburse account transfer fees when moving to a new broker.  A majority of the other fees that are commonly charged can actually be avoided if you simply select a broker that doesn't charge for that particular trading product/service (or by choosing to opt-out of cost-based services.  Typical fees that traders should watch out might include annual fees, trading platform subscriptions, extra charges for research or data, and inactivity fees.
Broker Offerings: Trading Platform Features
Beginner investors might not require all of the extras provided by an advanced software trading platform.  Instead, new traders might be interested in a trading broker's educational materials or access to real-time customer service.  The learning materials that are provided by each broker might include tutorial pages or videos, but some brokers will also offer conferences and seminars at various branches.  In some cases, trading brokers will provide these services free of charge to client account holders.
On the other hand, active traders might want to find a trading brokerage with a software platform that supports heightened trading frequency.  Broker trading platforms will usually include charting tools, analyst research, and economic data releases. High-volume traders should look for brokers that offer low fees on a per-trade basis (while also selecting a broker that offers reasonable commissions).  
In today's market, there are many high-quality trading brokers that provide account holders with free access to efficient trading platforms, market research, and a wide variety of technical analysis tools.  As a result, traders should be very cautious of brokers that charge clients for individual platform features. These types of costs can add-up quickly and these features might not have a positive impact on a trader's profit results.  As an example, here are some of the features included on TD Ameritrade's platform: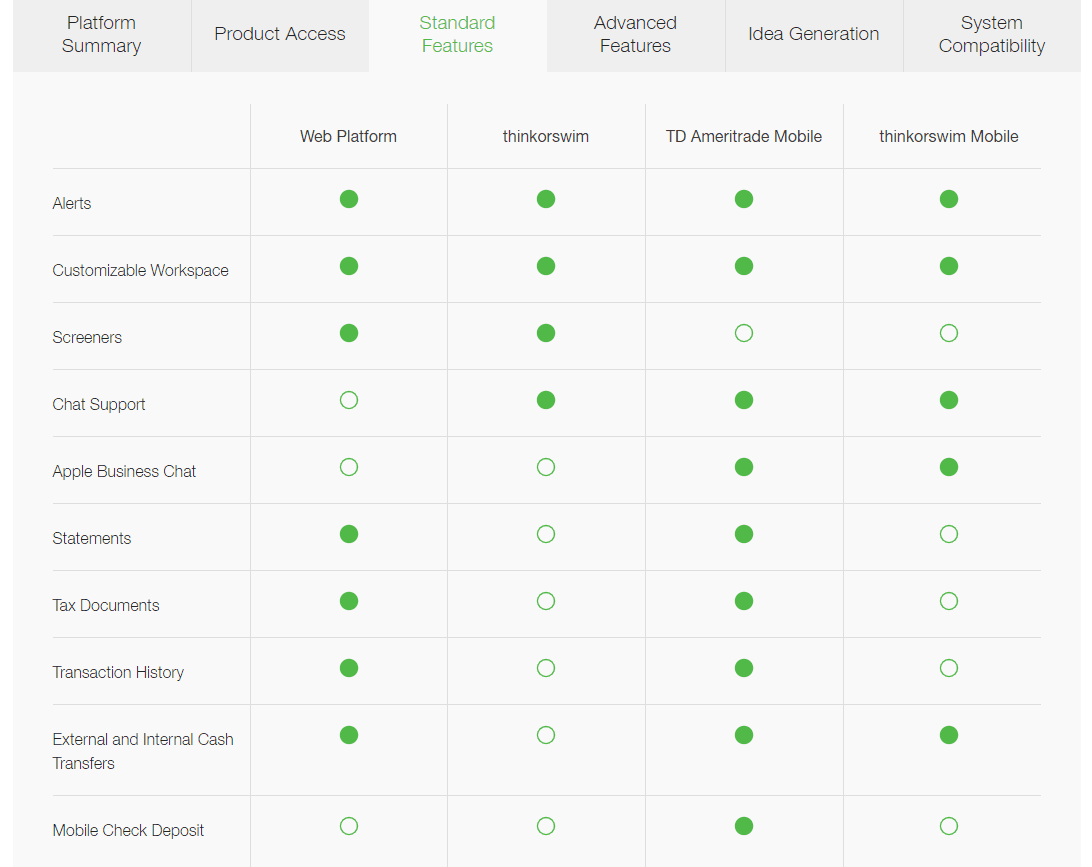 (Graphic Source: TD Ameritrade)
Whenever you are choosing a trading broker in the forex and stock markets, it's always important to test the trading platform.  Ensuring ease-of-use can help to safeguard against costly trading mistakes in the future. Trading brokerages will usually have a good description of the tools and resources made available on the trading platform.  However, the only way to truly assess the quality of any trading platform is to practice using a demo account. If you are considering one of the brokers that clients to establish a trading account for free, it might be worth the time to simply sign-up and be granted access to test the trading platform.
Since technology can be intimidating, some brokers have designed their platform layout in ways that cater to newer traders.  As an example, consider the Fidelity platform design which is laid-out in a very basic format with chart graphics, buy/sell buttons, and a news data feed that is clearly visible: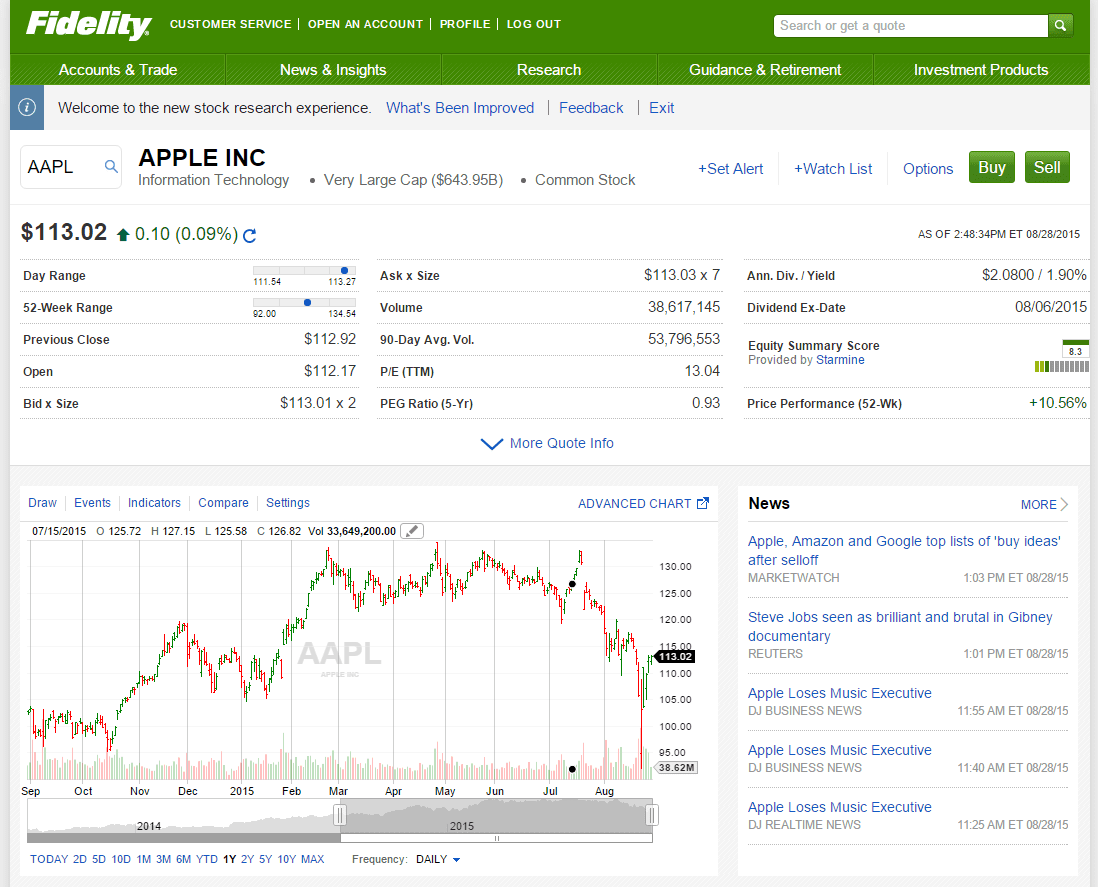 (Graphic Source: Fidelity)
In contrast, TD Ameritrade's platform is more heavily focused on providing advanced technical analysis tools that can even be used by day traders.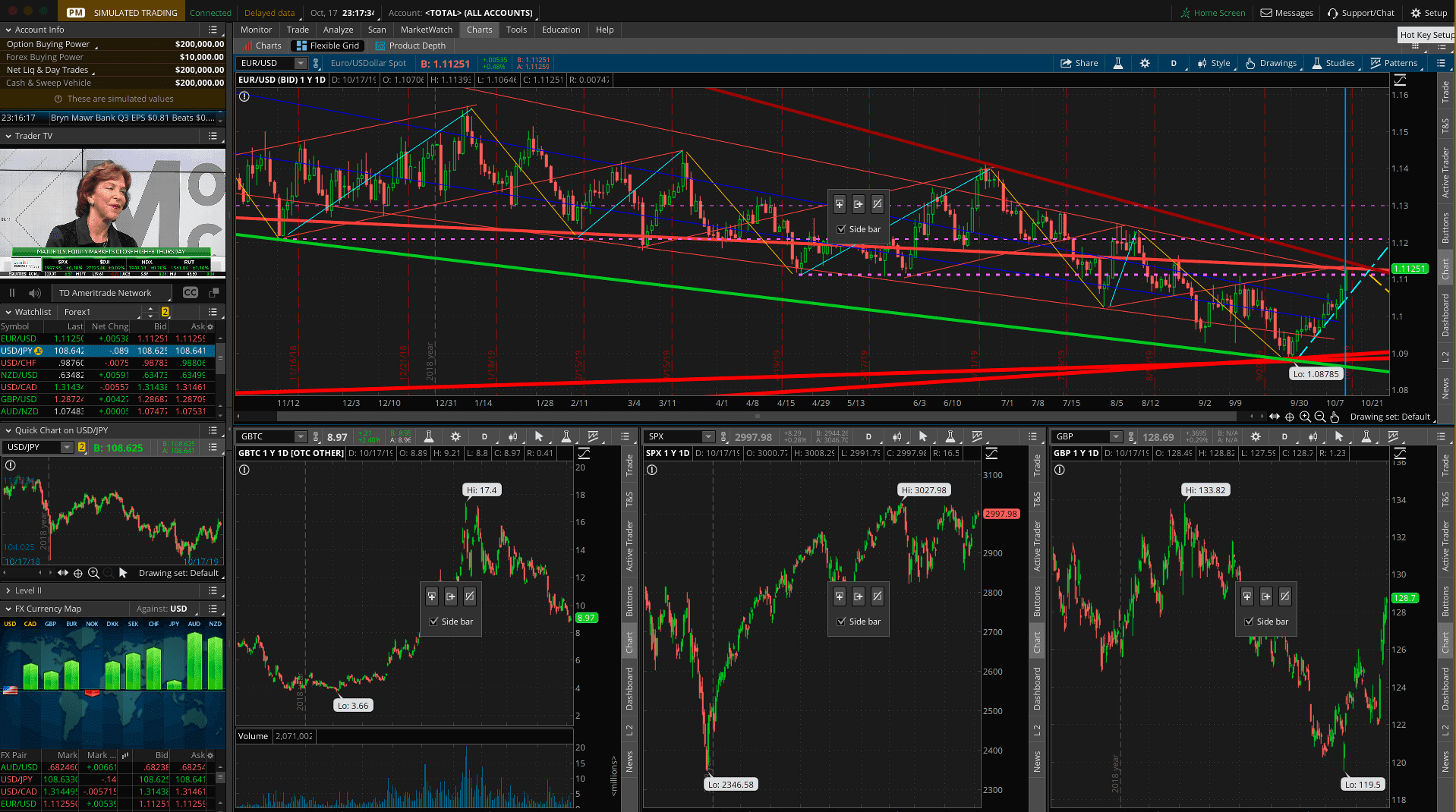 (Graphic Source: TD Ameritrade)
Foreign exchange broker Forex.com offers a trading platform that lies somewhere in the middle, in terms of its basic design and ease-of-use for those interested in active trading strategies: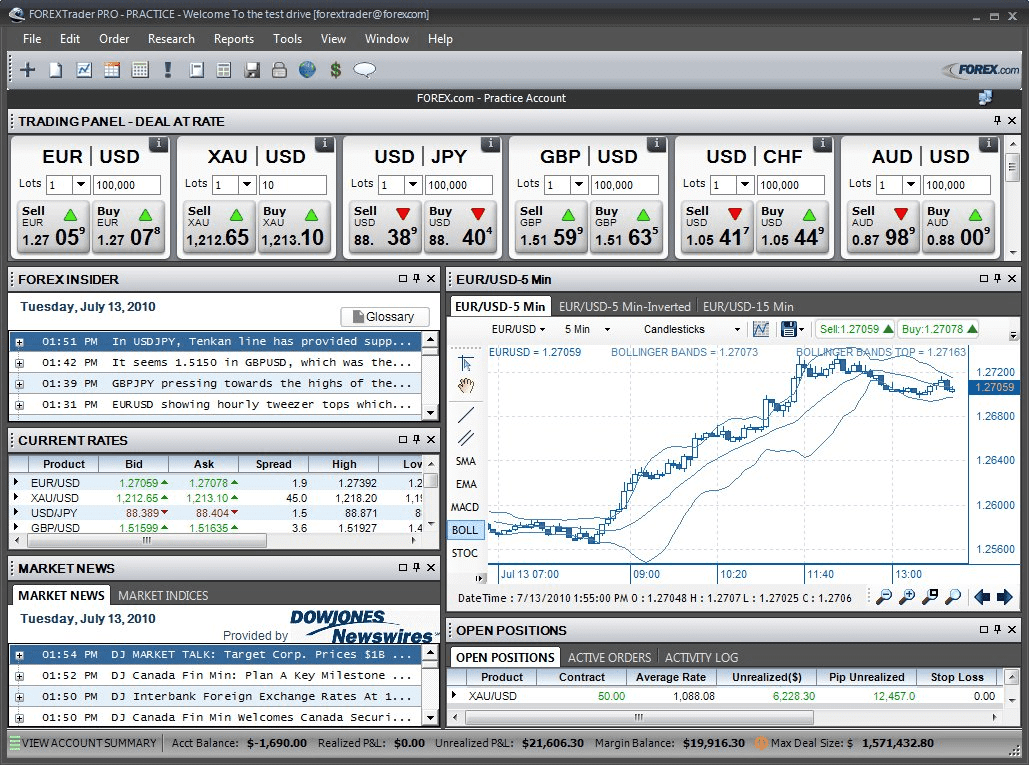 (Graphic Source: Forex.com)
But whether you're still a beginner or have reached the stages of an advanced trader, its always a good idea to assess platform features that might be available on different parts of the platform.  Go through each of the motions and take the time to place an actual trade. This will allow you to understand the entire platform process and see how smoothly it operates. In the graphic below, we can see the stock trading window on the E*TRADE platform: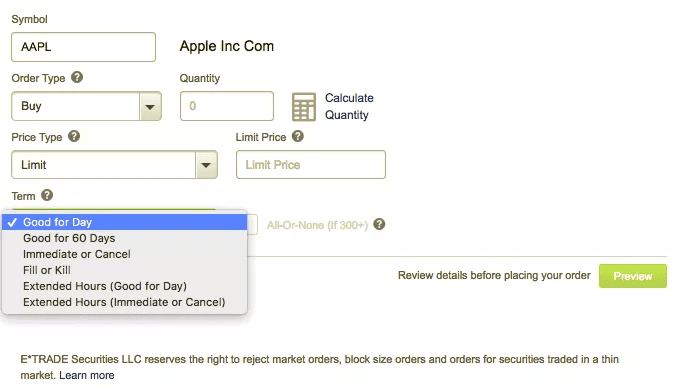 (Graphic Source: E*TRADE)
Click on multiple price quotes for stocks, forex pairs, and other securities.  Don't be afraid to explore every tab and see the kinds of information provided by the platform.  Check out the various stock screeners and quantitative analysis tools to help find new investment opportunities that meet your specific trading requirements.  
Testing Software Platforms: Key Questions For Traders 
Which assets can be traded on the broker's platform?  Trading brokers in both forex and stock markets will generally offer a wide variety of assets that can be traded whenever markets are open.  If you're trading in foreign exchange markets, always make sure that your broker's trading platform offers all of the forex pairs you might be interested in using as part of your investment strategy.  If you're trading in stock markets, make sure the platform automatically grants access to the preferred shares, funds, and IPOs that are most likely to be used in your investments. If you can't find the specific securities using the platform but you're certain the brokerage supports trades using the asset, look at the platform's account settings to find ways to activate those specific features and obtain the proper permission requirements. 
Are price quotes offered in real-time?  In most cases, brokers will offer multiple ways to find a price quote for any asset.  Unfortunately, not every broker will provide access to price data through a real-time feed.  When selecting a trading broker, always make sure to find market information that streams in real-time in order to make sure your trades perfectly timed.  For example, Vanguard's trading platform provides real-time price data using the Ticker Profile webpages on its site but quote data at the simplest levels if often delayed by +20 minutes.
What kinds of trading orders can you place?  Basic trading platforms should provide easy access to market orders, limit orders, stop orders, and stop-limit orders.  The best platforms allow traders to use trailing-stop orders and market-on-close orders (positions that execute at the market price of a security at the close of the session).  Traders that expect to make only a limited number of trades (investors that aren't interested in making day trades or swing trades) the basic selection of trade order types will likely be sufficient.
Does the platform work under demo trading conditions? Demo trading offers investors an excellent opportunity to practice their trading without the risk of losing real money.  Demo trading accounts operate under live market conditions using virtual funds, so they offer investors (with all experience levels) a great way to practice a trading strategy, master the platform, and develop new without the possibility of monetary losses. 
Technical Analysis Traders: Compare Price Chart Features
Once you've tested the execution of the platform, it's a good idea to assess the trading station's charting tools and technical analysis capabilities.  Pay special attention to the different types of price data that can be plotted on the charts and interpreted using technical indicators. It should be relatively easy to switch between technical studies while still providing access to fundamental market data. Is should also be possible to customize the trading station and save the settings for future reference. 
Can traders compare different price trends on different assets using the same chart?  In order to structure trades based on technical analysis, traders will often draw trendlines, Fibonacci arcs, and retracements, harmonic patterns, chart diagrams, or support/resistance levels.  The best broker platforms offer trading journals or other ways to save work that is conducted using technical chart analysis. Whether you're still learning to read price charts or if you have already reached expert trading status, it's important to be able to customize indicator tools and to save price charts so that you can continue with your analysis in future sessions. 
Does the trading platform enable backtesting features?  One of the best ways to test any trading strategy and to become familiar with the process of trading is to use historical backtesting and determine its potential for profitability in the future.  Essentially, backtesting analysis allows traders to simulate trading strategies based on past performance visible in each asset. In other words, backtesting offers a way for traders to place retroactive (hypothetical) trades and assess what may have happened if the same strategy was implemented in the past.  As an example, forex broker Oanda is well-known for its backtesting tools that are available for traders focused on technical analysis strategies. 
Does the platform support alerts and customized watchlists?  Active traders generally opt to receive trading alert notifications via email or text message.  This can help when investors are trying to manage their positions and the best brokers will allow multiple watchlists to be created at the same time (based on different input criteria). 
Which technical indicators should be available on price charts?  Generally speaking, it's preferable to have a larger number of technical indicators available on a broker's trading station. At the very least, it should be possible to plot simple charting functions (i.e. trading volume, Simple Moving Averages (SMAs), Bollinger Bands, Moving Average Convergence Divergence (MACD), stochastics, and the Relative Strength Index (RSI).  If these basic price indicators aren't visible on a broker's trading station, technical analysis traders should consider using a different platform. As an example, here are lists of technical indicators and drawing tools made available when using the IG Markets trading platform: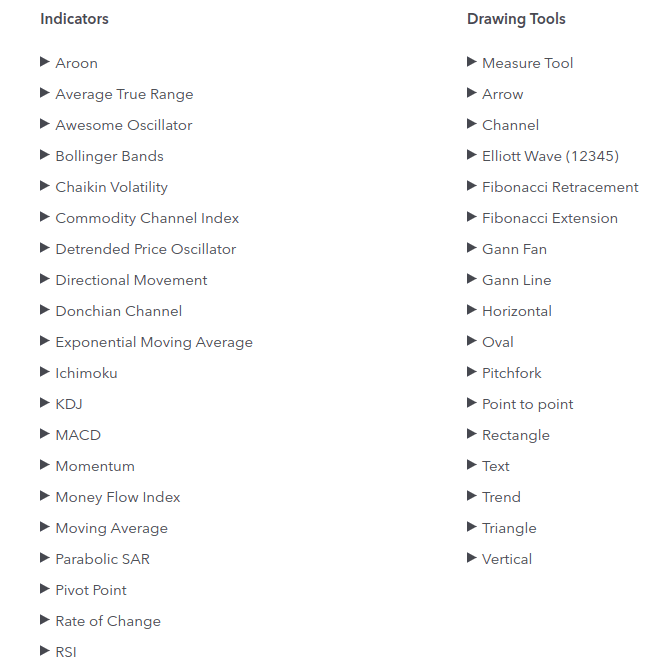 (Graphic Source: IG Markets)
Additionally, the best charting stations allow traders to plot a schedule of corporate events (i.e. stock splits, dividend payments, and earnings reports) directly onto a price chart when stock trading.  Similarly, the best forex trading platforms allow traders to plot important macroeconomic events (i.e. interest rate decisions, GDP reports, or labor market data releases).
Comparing Trading Brokers: Operational Questions
Can investors place trades after-hours?  Stock markets operate during normal business hours (from 9:30 am – 4:00 pm EST) while foreign exchange markets are generally considered to be open 24 hours each weekday.  But many stock traders are interested in trading during the pre-market and extended-hours trading periods, as this can be a great way to capitalize on new corporate developments.  Every trading brokerage determines specific time periods that are defined as "after-session hours". For example, the pre-market session at E*TRADE begins at 7:00 am EST while the pre-market session on the Charles Schwab platform begins an hour later.  Some brokers charge additional fees when offering access to after-hours trading, so it's always important to review each broker's terms to ensure investors aren't caught with unexpected trading fees. 
Who controls order-timing and trade execution?  Basic trading platforms allow traders to place good-for-day orders (which can be executed at any time in the trading session) or good-until-canceled orders that hold potential trades as active for as many as 60 days (or until it's canceled by the trader).  Advanced platforms allow traders to initiate limit orders with a certain degree of variability (i.e. fill-or-kill orders that automatically cancel trades if they aren't filled immediately in their entirety) or immediate-or-cancel orders that automatically cancel a trade if it's not partially filled by a certain time.
Leveraged Investments: Trading on Margin
Trading on margin tends to be most popular in forex markets. But similar offerings can also be made by stock market brokerages. Margin trading gives investors full position exposure with just a fraction of the total capital outlay that might otherwise be required.  The term "margin" refers to the amount of capital that's needed to open a trade (which is defined by the market's margin rate). For example, let's assume an investor opens a forex position worth $1,000 using a margin ratio indicating leverage of 50:1. In this case, the investor is able to capture all of the related profits/losses even though the trader is required to contribute just $200 (in addition to any relevant broker charges) in order to the open position.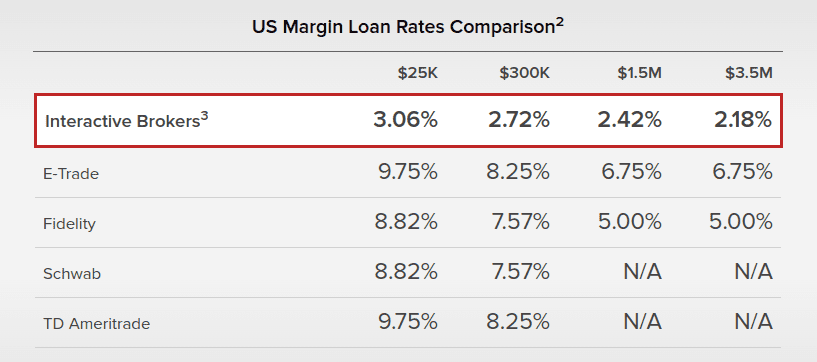 (Graphic Source: Interactive Brokers)
In stock markets, margin benefits are generally more limited but one of the best selections available for margin traders is Interactive Brokers, which offers attractive margin rates as low as about 2% (depending on the size of each position).
Trading Accounts: Taking Advantage of Broker Promotions 
Finally, it's important for traders to find added advantages anywhere they become available.  Just like businesses operating in any other industry, online trading brokers will often aim to attract new clients with deals that offer incentive bonuses to potential trading clients.  These incentives will typically take shape as a cash bonus (based on account deposit amounts) or as a pre-determined number of trades that will be commission-free. Of course, it's often unwise to select a broker based solely on promotional offerings.  If a broker normally charges commissions that are very high, the value of any offered bonus advantages might be erased over the long-term. However, in cases where two trading brokers appear to offer similar features, a promotional bonus payout can be a great way to sway your decision and provide additional trading funds in your account.
Conclusion:
Reviewing Trading Brokers in Forex and Stock Markets
Conducting a comprehensive review of each of the market's leading trading brokers can seem like a challenging task.  However, it really does pay dividends to take the time that's needed in order to understand each broker's account transaction fees, read all of their relevant trading terms, and to practice executing trades using the specific analysis techniques made available on each software platform.  Before committing real money to a live deposit account, a patient and thorough approach should be undertaken in order to assess the strengths and weaknesses of any stock market or forex trading broker.
When considering each of the factors outlined above, it's clear that selecting the best trading broker often depends on the types of investment strategies each investor plans to utilize.  
For these reasons, a proper self-assessment is required of each trader in order to better understand which brokers are likely to offer the most beneficial investment advantages.
Ranking The Financial Trading Industry's Best Names
Given the rising trend in market competition amongst financial market brokers, it's not surprising that this new environment has created several advantages for investors.  Trading costs have fallen to their lowest levels in recent memory while total client-trader services have improved dramatically. As a result of this competition, it's clear that many of the market's most popular investment brokerages have gone to great lengths to attract your business as a trading client.  
Selecting the best trading brokerage can be a challenging task that requires an assessment of each trader's individual priorities and overall investment approach.  With so many different choices available in today's market, it's absolutely critical to start with a demo account and test each product so that you can find the tools you need to consistently build wealth over time.  These rules are particularly true for newer investors that might not have much active experience in the financial markets.  
Almost inevitably, successful trading requires a financial brokerage service that matches your trading style and long-term investing goals.  This is why selecting the right broker can often make the difference between success and failure for those seeking to establish reliable streams of investment income.  While it may not be a guarantee that every investment will generate returns, choosing the right broker is one of the best ways to put every investor on the right path to achieve success.     
(Possibly rank these names in order?)
Major Market Stock Brokers
In this article, we covered some of the main factors every investor should look for when choosing a trading broker.  AskTraders has compiled the following list, which includes some of the best-reviewed trading brokers in the foreign exchange and stock markets.
Trader Pros:  TD Ameritrade offers impressive research capabilities and several update news feeds for traders conducting fundamental analysis strategies.  TD Ameritrade's education materials help familiarize beginning investors with a broader variety of asset types. Customer support channels utilize an impressive range of offerings, which include Twitter, WeChat, and Facebook Messenger (among others).  Trading commissions on individual stocks and exchange-traded funds were recently reduced to $0.
Trader Cons:  Clients may be forced to use multiple trading systems in order to locate each of the trading tools that are available (a common problem amongst brokers utilizing more than one trading platform).  TD Ameritrade's website has so much content that it may be difficult to find specific tools within its contents.
Trader Pros:  Margin rates are near the lower end of the market's average ranges.  Interactive Brokers introduced the commission-free platform called IBKR Lite on its Client Portal.  Interactive Brokers offers trading access to 120 markets in more than 30 different countries. Active investors can use the firm's Trader Workstation to achieve superior efficiency in position execution.
Trader Cons:  New traders might have difficulties operating Interactive Brokers' downloadable platform (Traders WorkStation).  Interactive Brokers doesn't support employer 401(k)s or educational brokerage accounts (commonly referred to as a 529).  Inactive accounts could be subject to data charges or additional maintenance fees.
Trader Pros:  Superior trading execution and extensive research devoted to exchange-traded funds (ETFs).  Recently, Fidelity opened access to its Active Trader Pro platform, which made the software available to all of the firm's clients. 
Trader Cons:  Clients might be required to use more than one trading platform in order to implement all of the data analysis tools that are available.  Investors outside of the U.S. are unable to open a trading account.
Trader Pros:  Ally Invest integrates trading transactions along with its consumer banking capabilities.  Ally Invest provides excellent tools that can be used to identify and execute new options trades. The firm's InvestLIVE trading platform implements streaming quotes and is fully customizable. 
Trader Cons:  Traders are unable to customize portfolio performance reports.  Algorithms that direct trading orders don't offer much improvement on price availability.  Ally Invest's website is somewhat outdated and can be a challenge to navigate. 
Trader Pros:  The E*TRADE software platform offers excellent trading tools for options investors.  For futures traders, the firm's mobile apps feature an innovative ladder that can work to expand on the number of available trading opportunities.  High-quality research offerings are made available by an integrated third-party.
Trader Cons:  Traders might be forced to use multiple platforms in order to locate each of the firm's available trading tools.  E*TRADE's platform is associated with margin interest rates that are higher than the market average.
___________
Major Market Forex Brokers
Trader Pros:  Excellent desktop and mobile trading functionalities. Built-in charts are easy to use and the firm is highly regulated. 
Trader Cons:  Higher spreads when compared to some international forex brokers.  Small rebate rewards for active forex traders. No protection against negative balance activity.  No cryptocurrency trading is allowed in the U.S. (however, crypto trades are accessible for traders in other countries).
Trader Pros:  Thousands of available market trading assets.  Guaranteed stop-loss parameters. High-end software platforms, including the industry-standard trading platform MetaTrader 4 (which is available for both Mac OS and Windows).
Trader Cons:  All accounts are subject to inactivity fees.  Traders may also be charged subscription and exchange fees.  IG doesn't offer a social trading platform and retail clients are unable to trade in forex markets using an interbank platform.
Trader Pros:  Investors can open an account with just one dollar.  Oanda offers access to more than 70 forex pairs and an impressive variety of alternative asset classes.  Traders have access to different trading platforms (i.e. MetaTrader 4 and OANDA's proprietary trading software)
Trader Cons:  Cryptocurrencies and single-stock Contracts For Difference (CFDs) are currently unavailable for traders.  Customer service reps are often slow to respond to messages. Trading accounts are not protected against slippage or negative balance activity. 
Trader Pros:  Forex Club's customizable Rumus trading platform offers 35 default indicators that can be expanded by importing additional indicators.  The Rumus trading platform has a user-friendly interface, detachable window components, customizable toolbars, and the capability to generate tick charts.  The Rumus trading platform can also combine several time intervals in a single price chart and includes has an innovative system to link pending trade orders.
Trader Cons:  Forex Club's website is not available in English.  Clients are redirected to Libertex (the CySEC trading broker) when attempting to switch the default language to English.  Forex Club no longer holds regulated status. 
Trader Pros:  Competitive forex spreads and the ability to trade a dozen different CFD instruments.  Metatrader 4 operates as the broker's default charting station, which helps to increase trading efficiency.
Trader Cons:  ATC Brokers works as an introducing entity in the U.S. (which means ATC Brokers does not hold client funds in U.S. markets).  Range of trading research tools is relatively limited.
Trader Pros:  Broad range of available trading account types (some of which offer commission-free trades).  For margin traders, Alpari provides access to a foreign exchange ECN that offers 1:1000 leverage.  Alpari's platform offerings include the MetaTrader 4 and MetaTrader 5 software platforms. Alpari also provides access to social trading programs.
Trader Cons:  Educational materials are lacking and market research tools are limited for traders looking to conduct up-to-date fundamental analysis.
Trader Pros:  eToro offers an impressive catalog of tradable cryptocurrencies and a robust charting station.  
Trader Cons:  eToro doesn't offer a standalone version of its trading platform.  eToro's trading platform doesn't offer a streaming news feed or the ability to customize the trading station. 
Trader Pros:  Nadex offers low minimum account sizes, below-average trading fees, and a broad list of binary options instruments.  Nadex also offers an excellent library of educational materials (which include video tutorials and instructional webinars). 
Trader Cons:   Nadex doesn't offer trading promotions or bonuses.  Investors that are familiar with CFD brokers in Europe might find the firm's binary options offering to be complicated.  Research reports and market data tools are somewhat limited.