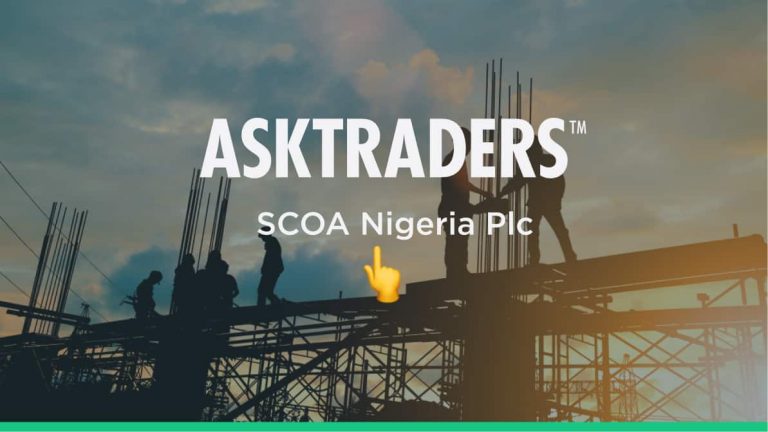 SCOA Nigeria Plc is a conglomerate company listed on the Nigerian Stock Exchange (NGX) specialising in turnkey projects in the technology, infrastructure, farming, water engineering, food technologies and telecommunication sectors.
Latest SCOA Nigeria Plc Share Price
The graph above shows the latest SCOA Nigeria Plc share price on the Nigerian Stock Exchange. Investors have seen SCOA Nigeria Plc shares perform well historically, and it remains a steady investment. SCOA Nigeria Plc stock is live on the NGX under the stock symbol of SCOA and is available to trade via several brokers in Nigeria.
Overview of SCOA Nigeria Plc
SCOA Nigeria Plc Turnkey projects in the hospital and healthcare sector includes supplying and servicing hospital equipment and providing medical training services in the area of magnetic resonance, computed topography, cardiovascular, x-rays, radiography, ultrasound, nuclear medicine, radiation therapy and cardiac resuscitation. SCOA Nigeria Plc manages centres for physiotherapy and dentistry and a laboratory to diagnose and treat terminal illnesses and heart and neurological diseases.
Today, SCOA Nigeria Plc's portfolio of products and services are diversified in more sectors of the Industrials value chain and include the following: supply, construction, installation and maintenance of power generation and air-conditioning systems, home/office systems, security systems, electrical systems and fire prevention/industrial safety systems, distributing and servicing of a range of passenger vehicles, trucks, buses and trailers and provides services for fleet management, trade-ins, vehicle leasing, providing drivers and service and repairs.
The history of SCOA Nigeria Plc goes back to 1926 when it was first founded, and it had been listed on January 1, 1977.
SCOA Nigeria Plc has its head offices at 157 Apapa Oshodi Expressway, Isolo, Lagos, Nigeria.
The current CEO or managing director of SCOA Nigeria Plc is Massad Fares Boulos.
SCOA Nigeria Plc's equity stocks are for sale online on the Nigerian Stock Exchange (NGX) under the stock symbol SCOA.
SCOA Nigeria Plc forms part of the Auto & Truck Manufacturers Industry and the Industrials Sector of the Nigerian Stock Exchange (NGX).
SCOA Nigeria Plc Stock Performance
The current price for SCOA Nigeria Plc stocks on the Nigerian Stock Exchange (NGX) is 1.04 Nigerian Naira (NGN).
An analysis of financial data of SCOA Nigeria Plc showed that the company has a total market capitalisation of 676 Million NGN. No info on the Price/Earnings ratio is available. The number of shares outstanding is 650 Million.
With an increase of earnings per share and reliable profits over a period, investors who want to buy or sell SCOA Nigeria Plc stocks can look forward to more profitable dividends and earnings in times to come.
According to an analysis on the live chart of SCOA Nigeria Plc, analysts forecast further improved performance for the Industrials sector with market share growing as trading volumes increase.
Highlights of SCOA Nigeria Plc in 2021/2022
SCOA Nigeria Plc is currently the 103rd most-traded stock on the NGX and it has experienced a total trading volume of more than 1.18 million shares, which were finalised in 181 deals and were valued at a total of 1.27 million Nigerian Naira (NGN) over the recent three month period from October 2021 to January 2022, with an average of 18,700 shares in each trading session.
During the same period a volume high of 180,450 was achieved on November 5.
How to buy SCOA Nigeria Plc stocks – Step by Step
The stock market is one of the most attractive financial markets that sees millions of retail investors and traders participating daily. To buy, sell or trade SCOA Nigeria Plc stocks on the Nigerian Stock Exchange (NGX), traders and investors can follow a few simple steps:
Find the share that you want to buy, in this case, "SCOA".
Select a forex broker that offers access to the Nigerian Stock Exchange (NGX).
Review the broker's trading conditions, fees, deposit and withdrawal methods, trading platform, customer support, regulation, and other components to ensure that they are aligned with your trading plan.
Open a live trading account with the broker by completing the online application form and providing the necessary documentation to verify the trading account.
Once your account has been activated, you are ready to make your first share purchase through the broker.
From here you can start to build and diversify your portfolio by buying more shares.