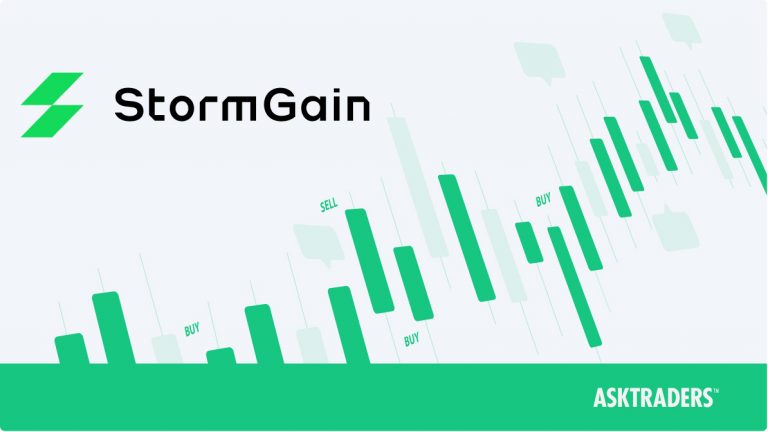 Founded in 2019, and registered in the Seychelles, StormGain was developed by an international team of experts, with success and experience in world-leading companies. As we review StormGain, we will pay particular attention to the company's history, attributes and key selling points.
The company's main strategy is to provide unprecedented support, tools and easily-accessible services for cryptocurrency enthusiasts and novice users from all over the world — ranging from fast KYC to a convenient interface in several languages.
The platform exists for traders and users of crypto tools, and functions as a broker, a cryptocurrency exchange, a cryptocurrency wallet, and a platform for cryptocurrency trading.
StormGain offers an affordable solution for those who want to make a profit in the cryptocurrency market, from long-term investments in cryptocurrencies to more challenging cryptocurrency trading.
The platform supports the trading of the most popular and capitalised coins, with a multiplier of 150x. Users can also invest in buying and holding strategies.
StormGain was launched in mid-2019 and is headquartered in London, England. Despite the company's young age, its supported regions include Europe, the GCC, CIS, Southeast Asia, Latam and countries including the UK, France, Belgium, India and South Africa.
Many cryptocurrency trading platforms have strict or even restrictive KYCs. However, StormGain has created a simple process for registering and opening an account, allowing traders to use significant multipliers that are on offer.
StormGain Review Navigation
#

Crypto
| | | | |
| --- | --- | --- | --- |
| Min Deposit | App Support | Max Leverage | Trading Fees |
| £50 | Many | 1:1 | Low |
StormGain integrated the most popular crypto tools into its trading platform, and also included additional features that are difficult to find on competing platforms.
The platform is based on the trading of crypto derivatives that are protected by a deposit in US dollars on the client's account. This deposit is all that is needed to start trading on the platform. Due to leverage, the client can trade using 200 times the amount of the deposit. It should be noted that leverage increases both profit from operations and losses in case of loss-making trading.
The company provides comfortable and favourable conditions. Clients can enter into transactions with 11 cryptocurrency futures contracts. They can also use the multiplier and invest in digital assets.
Trading is carried out with the following cryptocurrencies — bitcoin, bitcoin cash, ethereum, ripple and litecoin.
The platform is intended both for experienced traders and beginners who want to use leverage and who can use the professional level on the site. For beginners, a video library has also been created where you can learn the basic concepts.
High leverage can be dangerous for inexperienced traders, and robust risk management strategies are needed to stay solvent.
It should also be noted that StormGain offers an efficient cryptographic wallet for free.
If the client is looking for a cryptocurrency that is associated with high leverage, then you should take a look at the StormGain wallet. In addition to connecting directly to the StormGain exchange, the StormGain wallet allows customers to send and receive cryptocurrency directly.
StormGain wallet supports all major cryptocurrencies. To download it, you just need to go to the 'wallet' section on the StormGain website and complete the free registration process.
To start trading with StormGain, a minimum deposit of $50 is required.
What did our traders think after reviewing the key criteria?
StormGain Fees
When compared with its competitors, the cost of StormGain's services is considered low. Despite this, the broker has types of accounts that make trading conditions more profitable.
Commissions from 0.15 to 0.5% per position are valid for trading with cryptocurrency on the exchange, depending on the type of cryptocurrency.
The commission for an instant cryptocurrency exchange is 0.08%. There are also withdrawal fees of 0.1% of the amount withdrawn.
However, all commission fees depend on the status of the client. The more money the client has contributed and the more transactions the client performs, the higher the status of the client and the lower the commission. More activity also results in more profitable bonuses.
The section below presents all the requirements for the type of accounts that the client can open for themselves.
Account types
StormGain has developed a loyalty system for its clients, who can opt for one of the following account types, and enjoy special conditions for each.
Standard — the balance amount is less than $499. For account holders, standard trading fees apply.
Gold — the balance amount is more than $499 and the trading volume is not less than $150,000. The discount on trade commissions is 5%, and exchange commissions are 0.08%. There is also a bonus of 5% to replenish the balance.
Platinum — the balance amount is more than $1,499 and the trading volume is less than $750,000. There is a 10% discount on trading commissions, and the exchange commission is 0.07%. The replenishment bonus is 10%.
Diamond — the balance amount is more than $4,999 and the volume of trade is less than $2.25m. The user receives a discount on trade commissions to the amount of 15%, as well as a bonus for replenishing an account to the amount of 25%. The exchange commission is 0.07%.
VIP — the balance amount is more than $49,999 and the trading volume is less than $7.5m. Individual conditions are provided for each trader.
For the Gold tier and up to the Diamond tier, StormGain offers a bonus deposit percentage of 25%.
Platforms
StormGain has developed its own platform for trading crypto assets. It has limit orders, such as stop-loss and take-profit, as well as other useful tools.
The website has one of the most aesthetically pleasing trading screens among its competitors.
StormGain has built-in trading signals in its platform, which is a unique feature. The advanced AI algorithm will help StormGain customers keep abreast of any opportunities arising from automated trading alerts.
There is also a full-featured mobile application for StormGain customers, which allows them to use the platform from any Android or iOS device. The application is completely free and delivers market notifications and interactive charts. Through its tracking system, the application allows the monitoring of traffic, hits and referral signups.
The use of leverage means that the trader uses the multiplier of their capital to maintain the position.
The multifunctionality of the platform allows you to set stop-loss and take-profit orders.
Each time a leverage transaction is opened, this increases the risk of loss of capital. In order to limit losses, the platform allows you to set a stop-loss order.
Also, the trader is given the opportunity to set take profit with a take-profit order. This is used when the trader does not always make the market. When the price reaches the take-profit level, the transaction automatically fixes the profit.
StormGain has prepared many amenities for clients who want to collaborate with one another.
Usability
KYC rules are a great thing for the crypto industry. Many cryptocurrency exchanges have had to lose their customers for regulatory reasons.
The registration process at StormGain is very simple and takes no more than three minutes. After registering and setting up a password for the new account, the user then has to make a deposit in US dollars. A client will be able to trade with leverage up to 150 on StormGain in less than 24 hours. Verification of a user with a broker is optional.
To confirm personal information, the user is advised to navigate to the profile menu and provide the following data:
Name and surname
Date of birth
Country
Town
Address of residence
Postcode
Passport ID
The website and platforms that the broker offers are very convenient and intuitive to use.
To conclude a deal, simply click the 'Open New Course' button, and the client will be able to place it in the opened modal window. In the transaction parameters, the client can use leverage, as well as set a stop loss.
Customer support
StormGain has a 24-hour support service, with many ways to contact customer support.
It should also be noted that StormGain has created a video tutorial database for customer support. However, if the video tutorials do not answer the question, there is a customer support phone number and email address.
The client can leave a review by clicking the 'leave a review' icon at the bottom of the respective interfaces.
The following methods of communication are available:
Email — users can send emails directly to customer support, using the email address [email protected].
Telegram — users can join the StormGain community on Telegram, which also provides round-the-clock support.
Social media — StormGain has a wide reach, with outlets on Facebook, Twitter, LinkedIn, and YouTube.
StormGain customer support can also be contacted by telephone at the following number — +248 467 19 57.
Payment methods
Depositing and withdrawing funds from StormGain is a fairly simple procedure. The user simply needs to select the asset that they want to send and indicate the wallet address or card.
Card payments
StormGain accepts payments in US dollars through Visa or MasterCard, without any restrictions on replenishment or withdrawal of funds. No commission is charged. Deposits are instant and withdrawals take up to one business day.
Bank Transfer
Clients are not able to fund their account by bank transfer.
e-wallets
StormGain provides a built-in wallet that allows the user to manage their funds and exchange them.
Depositing and withdrawing funds from StormGain is a fairly simple procedure. The user simply needs to select the asset that they want to send and indicate the wallet address or card.
Best offers
From an educational point of view, StormGain offers a video library so that users can learn the basic concepts of cryptocurrencies and trading.
StormGain also provides e-books on trading strategies and advice for novice brokers.
A wide selection of advertising materials is available to StormGain partners, as well as detailed traffic statistics, including countries and sub-accounts.
StormGain also has an affiliate program that allows affiliates to earn revenue from user trading. Earnings are paid according to the CPA or 'distribution of income' model, depending on the chosen plan. A partner receives a fixed fee for each approved trader who trades on a live account and is registered through the StormGain trading platform. The payment amount depends on the trader's country of residence.
Revenue Sharing Plan — using this plan, within three months the partner receives 30% of the gross income received from the lead trader. Gross income amounts to spread income without bonuses and chargebacks.
StormGain does not, however, accept traffic from the United States, Canada, Japan, Afghanistan, Bosnia and Herzegovina, Guyana, Iraq, Lao People's Democratic Republic, Yemen, Vanuatu, Uganda, Syria, Trinidad and Tobago, Tunisia, Iran and North Korea.
Regulation and deposit protection
Currently, StormGain has no regulators. However, it should be noted that it provides traders and investors with services that have a primary focus on privacy and security.
StormGain provides cold wallets to protect investor and trader crypto assets from theft. Cold wallets are disconnected from the network, which makes them inaccessible to hackers via the internet.
It is recommended for StormGain traders and investors to use the necessary Google applications for Android or iPhone to add a time-based one-time password (TOTP), enabling two-factor authentication each time they log in or request a withdrawal.
StormGain recommends:
Keeping your personal data private.
Using a unique email address and a unique password for your account.
Using a fingerprint or password lock on your phone.
Protecting your computer with reliable, up-to-date antivirus software.
To always check the domain address that you are visiting.
Awards
StormGain is relatively new, meaning it has not yet managed to receive many awards, CoinMarketCap lists StormGain as the number one cryptocurrency interest rate provider. StormGain is also a member of the Blockchain Association, as part of the Finance Commission.