FINECO is an international bank, broker and investment services provider offering more than 20.000 tradable instruments across global markets. Founded in 1999, the firm is based in Italy, with its registered office in Milan and headquarters in Reggio Emilia. FINECO is regulated by Bank of Italy and CONSOB and subject to limited regulation by the Financial Conduct Authority and the Prudential Regulation Authority. FINECO offers the opportunity to trade forex, shares, futures, ETFs and indices, and trading via CFDs is available on some instruments, with leverage of up to 30:1.
The broker offers various routes towards lox-cost trading. CFD markets benefit from tight spreads and zero commission. Those looking to invest rather than trade can take advantage of low trade commissions and the platform's occasional promotions. UK based clients who open an account between 22nd September and 31st December 2021 will get three months of commission-free trading in major equity and bond markets, up to a commission balance of £500. There is no minimum deposit, and there are no custody fees, administration fees, and inactivity fees.

Accounts are run on a high-quality proprietary platform, PowerDesk, which has been developed in-house to perfectly meet the needs and requirements of FINECO clients. Opening an account is a quick and easy process. Broker comparison sites that have chosen to review FINECO have been favourable, finding it to be a reliable brokerage with competitive pricing. Customers who review FINECO online are also generally positive about the broker, with the majority of independent customer reviews on Trustpilot rating the company as 'excellent' or 'great'.
Forex
| | | | |
| --- | --- | --- | --- |
| Min Deposit | App Support | Max Leverage | Trading Fees |
| £1 | Good | 1:30 | Low |
It is very easy and convenient to get started trading forex with FINECO, with over 50 currency pairs to choose from, including majors and minors. The broker offers competitive spreads and low commissions, with spreads as low as 0.8 pips on EUR/USD. Forex with FINECO has no trading fees, only spreads and overnight financing costs.
CFDs
| | | | |
| --- | --- | --- | --- |
| Min Deposit | App Support | Max Leverage | Trading Fees |
| £1 | Good | 1:30 | Low |
FINECO offers shares and indices as contracts for difference (CFDs) with no commissions on UK, US and EU share CFDs. CFD trading is a form of derivative trading that allows clients to speculate on the price movement of an asset, without actually owning the underlying asset, while taking advantage of leverage to access extra capital. Our FINECO review found that the broker offers leverage of up to 1:30, and spreads on indices CFDs are as low as 0.4 pips.
Stocks
| | | | |
| --- | --- | --- | --- |
| Min Deposit | App Support | Max Leverage | Trading Fees |
| £1 | Good | 1:30 | Low |
At FINECO, you can trade either single stocks, or stock indices, as CFDs. Indices offered include the S&P 500, Nasdaq 100 and FTSE 100, giving traders access to global stock markets and allowing them to trade in some of the best-known companies across the world. The FTSE 100, for example, comprises the top 100 companies (by market capitalisation) listed on the London Stock Exchange.
What did our traders think after reviewing the key criteria?
FINECO fees
FINECO trading fees are competitive, with tight spreads, and no commissions on UK, US and EU shares when traded as CFDs. There is a fixed commission of £2.95 on directly traded UK shares and ETFs traded on the London Stock Exchange, and there is a fee of $ 3.95/€ 3.95 on US and European stocks and ETFs traded on stock exchanges in the US and Europe. Commission on futures can go as low as $0.7 and commissions on options start at $2.50. Bonds generally have a fixed commission of £6.95 when traded on Euronext, MOT/EUROMOT, Hi-MTF and EuroTLX, and there is a maximum annual platform fee of 0.25% on funds, though this fee reduces the more you hold in your portfolio. Spreads on indices CFDs are dynamic and will depend on market conditions, but they go as low as 0.4 pips on the S&P 500 and 0.6 pips on the Nasdaq 100 and the FTSE 100. Forex spreads are also dynamic but can start as low as 0.8 pips on EUR/USD.
At FINECO, there are very few extra or 'hidden' fees. There are no custody fees, administration fees or monthly account fees. There is also no inactivity fee, no deposit fee and no cost attached to transferring your portfolio. There are no extra currency conversion fees, with the only charge on conversions being taken from the spread. Remember that fees are liable to change, sometimes without notice, and there may be fees not mentioned in this FINECO broker review that could apply to your account.
Account types
FINECO provides a single multi-currency account (with 20+ currencies), that includes brokerage, investment and banking services: a "One-Stop-Solution" model that allows customers to manage all their financial needs through a single bank and brokerage account. When opening an account with FINECO all features (Banking and Multicurrency accounts) and platforms (Trading and Investments) are available with the same login and password.
Unlike many brokers, FINECO does not offer a range of different trading accounts. There is one account type for all retail traders, which gives you access to all the features of the trading platform, all the tradeable instruments, and all global markets.
It is also possible to open a professional account with FINECO if you are eligible. You may be eligible if you have a financial instrument portfolio in excess of €500,000 (including cash on deposit), if your trading has averaged 10 transactions per quarter of significant size over the last four quarters, or if you can self-certify your advanced knowledge of financial instruments through your work experience or study. You will need to meet at least two of these requirements in order to open a professional trading account, which offers even more instruments, and up to 100:1 leverage, though you should be aware that professional accounts do not enjoy all the same protections as retail accounts. The Trading and the Investment accounts are already available in the platform and the clients do not need to take any further action. In case they fund (minimum amount £100) they will be charged according to the size of the investment portfolio, which will not be mixed with the trading portfolio in the same account. No fee apply when buying or selling the funds. As of 2021, Fineco will also have a Stock and Shares ISA account available within the single login account platform.
Platforms
FINECO has designed and built its own in-house platforms, developed with the needs of its clients in mind. The proprietary PowerDesk platform is a high-quality, intuitive web-based platform, accessible on any browser and from any device. It includes a personalised dashboard with a multi-chart function, built-in technical analysis, historical reports, live prices, automatic orders and push notifications. The platform incorporates Stock Screener, an intuitive search option to allow you to explore the markets and quickly find and trade-specific securities. The professional charting system comes with customisable timeframes and more than 90 technical indicators.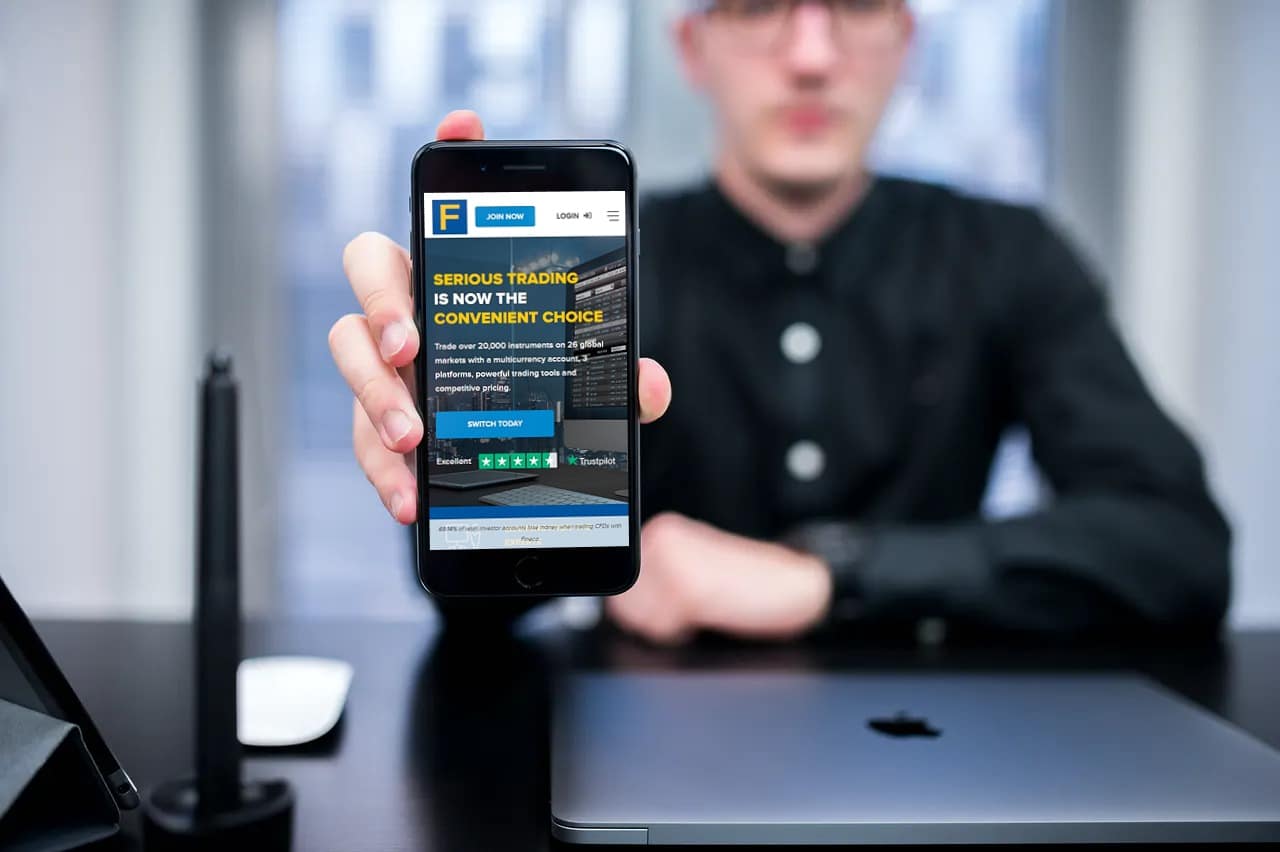 This broker also has a robust mobile trading platform in the form of the FINECO app, which incorporates most of the same features as the web-based platform, including live quotes, news and customisable interactive charts. The app is available for both Android and iOS devices, and is free to download from Google Play and the App Store. It has a 4.5-star customer rating at both outlets.
Usability
Most FINECO clients will agree that the website and the trading platforms offer a very positive user experience. The website is well-designed, intuitive and easy to navigate, with a clear and simple top-bar navigation menu leading to the main sections of the site. The PowerDesk platform is also very intuitive and easy to use, even for less experienced traders, and the customisation process is very straightforward. The mobile apps work well, as evidenced by many positive customer reviews, and most clients seem to be more than satisfied with the usability of the site.
Customer support
FINECO offers a high level of customer support via email, telephone and an all-important live chat function. Support can be accessed from 8am to 9pm, CET, Monday to Friday. You can, of course, email out of hours, and you will receive a response fairly promptly (as soon as the next business day). Live chat and phone lines only operate during business hours, but responses during these hours are fast, and staff are very knowledgeable. There are UK Freephone numbers for both clients and potential clients. If you already have an account, the number is 0800 640 6667. Non-clients can call 0800 640 6465 with any questions they may have about the company or account opening. The broker also operates active social media accounts on Facebook, Twitter and LinkedIn, offering further communication channels for clients.
FINECO also offers some high-quality education and training resources for clients. These include various live events, weekly webinars covering important topics in the trading and investing world, and a video library that releases weekly videos looking at strategy and patterns in global trading. The broker also publishes regular articles via its newsroom, covering topics such as common trading and investing mistakes and factors that influence global currency markets.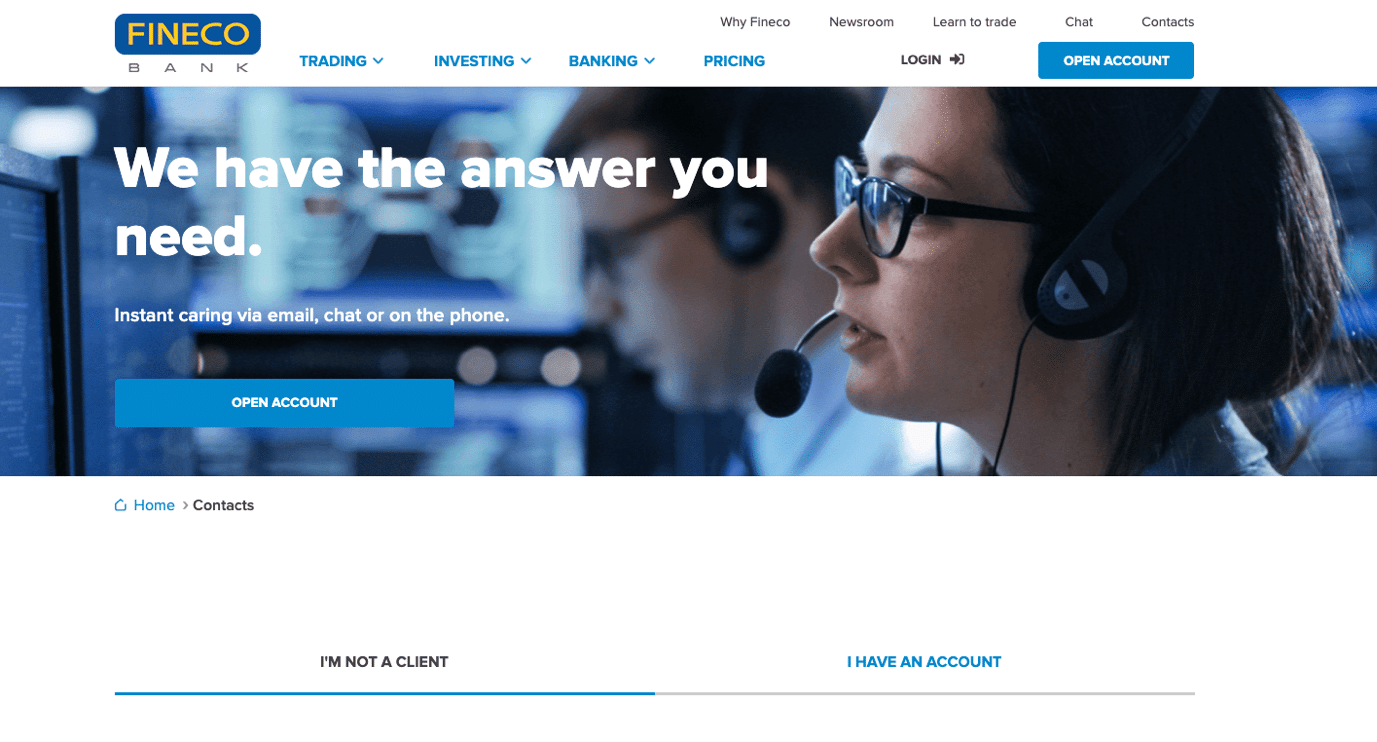 Payment methods
Depositing and withdrawing funds with FINECO is straightforward, but the payment methods available are limited compared to many of its competitors.
Card payments
FINECO will issue clients with a Visa debit card, which can be used for withdrawing money from your account. Transaction fees and a card maintenance fee apply.
Bank Wire Transfer
Wire transfers are accepted, and you will need to do an initial wire transfer in order to fund your FINECO trading account.
E-wallets
FINECO does not currently allow you to fund your account via e-wallets or any third-party payment methods such as PayPal or Neteller.
Best offers
FINECO offers a strong suite of trading tools for traders at all levels, and its market news and education sections are a very nice bonus. Both the proprietary PowerDesk platform and the mobile apps come with a range of trading tools, charts and technical indicators, and they are highly customisable. The market news section includes relevant and informative articles, and helps keep clients informed regarding events that will impact the markets.
The broker is also currently offering a bonus for new customers. On signing up, you will receive 50 free trades, and this bonus is being made available up until the end of September 2020.
Regulation and deposit protection
FINECO is based in Italy, is authorised by the Bank of Italy, and is subject to limited regulation by the Financial Conduct Authority and the Prudential Regulation Authority. The firm is a member of the National Compensation Fund and the National Interbank Deposit Guarantee Fund. FINECO follows all best practices that you would expect of a reputable international brokerage. On the website, you will find access to a depositor information template, a Key Information Document (KID), and a complaints policy, all found under the Transparency tab in the footer of the site. Deposit protection is up to €100,000 per depositor, per credit institution. Note that all deposits at the same credit institution are aggregated, so the total protection is still €100,000. However, if you hold a joint account, the €100,000 limit applies to each depositor separately.
Awards
FINECO has won various awards and accolades during its time in operation. It was named Best Digital Bank in Italy at the 2016 Global Finance Awards, and it won a World Finance 100 award in 2015. The Boston Consulting Group declared FINECO The Most Recommended Bank on the Planet in 2015, making it a firm worth considering for any trader or investor.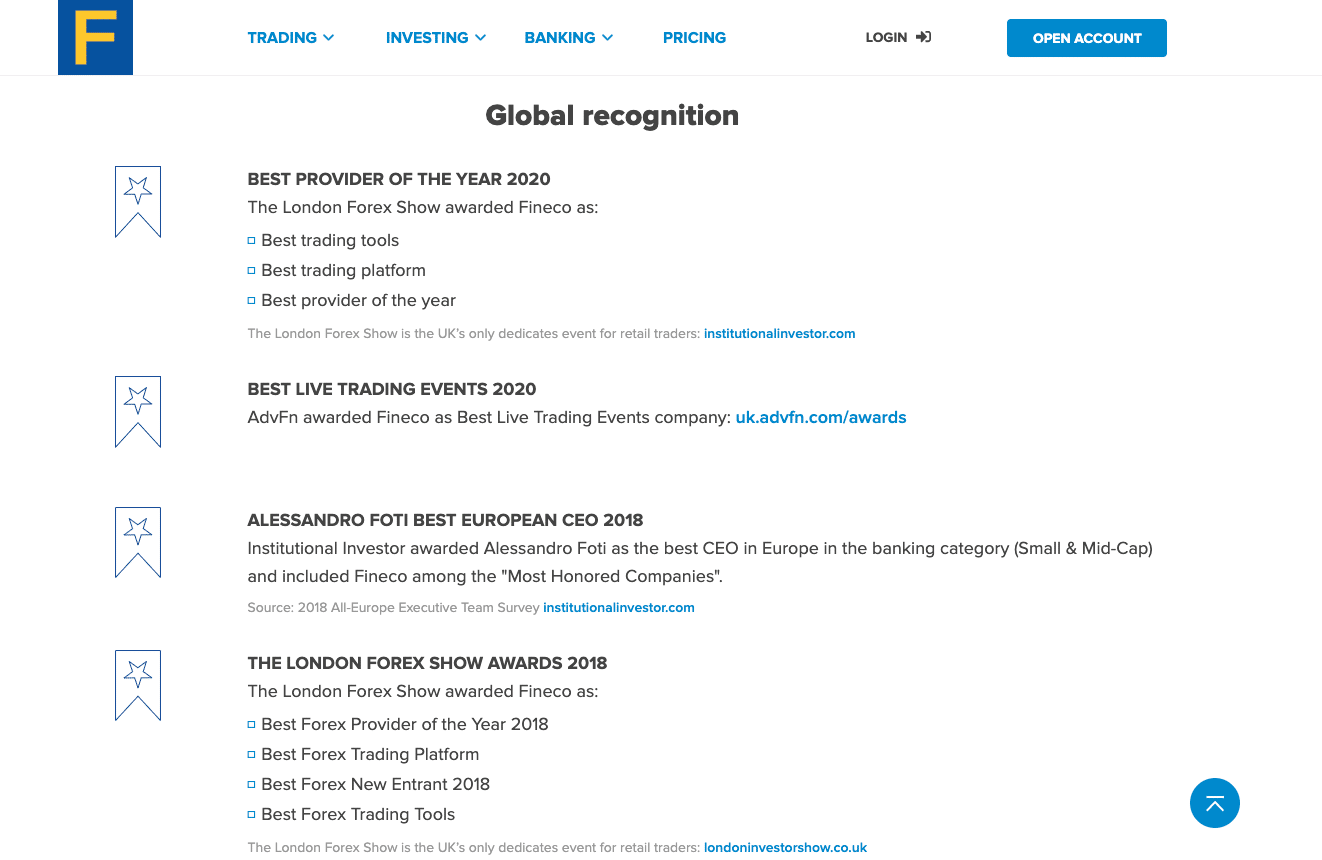 PEOPLE WHO READ THIS ALSO VIEWED: