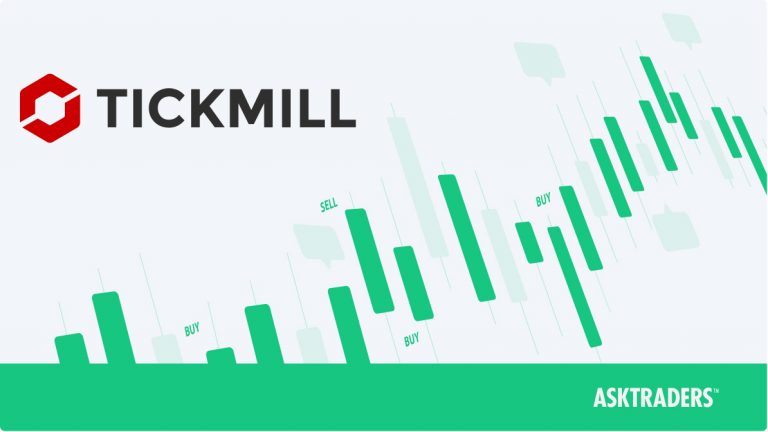 Tickmill is an online trading service that has been in business since 2014. The broker has offerings to appeal to beginner and expert traders alike, and has several account types.
Tickmill Ltd is a member of Tickmill Group, and trades under the name Tickmill. The group is regulated by the Seychelles Financial Services Authority (FSA), with additional regulation from the FCA and CySEC, Labuan Financial Services Authority (Labuan FSA) and Financial Sector Conduct Authority (FSCA).
According to the Tickmill website, Tickmill Group has more than 485,000 registered accounts, more than 240,000 satisfied clients, more than 200 employees around the world, and has executed more than 385 million trades. But how does it stack up against the competition?
Although it is a mid-sized broker, Tickmill has plenty to offer traders and investors of all skill and experience levels. This includes a range of educational resources that will help you to design and execute trading strategies, and it also provides some very competitive trading conditions.
There are a number of account types on offer, which will allow you to choose a package that best suits your style of trading. Despite being fairly middle of the road in terms of its overall product offering, Tickmill's competitive trading conditions make this broker worth a look.
Tickmill Review Navigation
Forex
| | | | |
| --- | --- | --- | --- |
| Min Deposit | App Support | Max Leverage | Trading Fees |
| £100 | Good | 1:30 | Low |
Forex is where Tickmill performs best out of all the financial instruments available to trade. In total, there are over 60 currency pairs on offer, drawn mainly from the minor and major currency pairs. Tickmill does not currently offer much support for exotic currency pairs.
When it comes to execution, Tickmill averages a speed of around just 0.20 seconds. In terms of the spreads provided on forex trades, the EUR/USD typically has a minimum spread of 0.0 pips and an average spread of 0.2 spreads. Long positions are -8.51 and short positions are 4.9 at the time of writing. Tickmill leverage on forex trades is offered all the way up to 1:500.
CFD: Metals, Oil, Bonds
| | | | |
| --- | --- | --- | --- |
| Min Deposit | App Support | Max Leverage | Trading Fees |
| £100 | Good | 1:30 | Low |
As you review the Tickmill CFD offerings, you will notice that most assets available via the broker come in the form of CFDs. These include precious metals, Oil and bond CFDs. The average execution speed of 0.20 seconds is the same in a Tickmill CFD review as it is with other assets from the broker.
Tickmill supports gold and silver crosses for precious metals, with spreads from 0.0 pips, support for all trading strategies, and leverage of up to 1:500. The typical spread for XAGUSD is 0.021 and 0.12 for XAUUSD at the time of writing this UK Tickmill review.
Bonds have similar features to those in other aspects of this review, including the same quick execution speed, enabling of all trading strategies, and spreads from 0.0 pips. There is also access to German bonds, a relatively unique offering that many traders will appreciate. Most bonds have minimum spreads of 18 with typical spreads of 40.
Stock Indices
| | | | |
| --- | --- | --- | --- |
| Min Deposit | App Support | Max Leverage | Trading Fees |
| £100 | Good | 1:5 | Mid |
This Tickmill UK review points out that the broker supports trading of stock indices, which feature groupings of stocks that share some features in common. The broker prides itself on delivering a fast execution speed averaging just 0.20 seconds.
Spreads for stock indices from Tickmill start at just 0.0 pips and leverage can be as high as 1:100. There are more than 14 indices to choose from, which is less than some competitors but is still a reasonable amount. This means that although Tickmill stock indices are not its strongest offering, most beginner and intermediate traders should have access to just enough variety to balance out their portfolios.
To provide example rates to help you review Tickmill offerings and make a final decision, you should note that the minimum spread for the DE30 is 00.7, with a typical spread of 0.8. For the UK100, these figures are 0 and 1.09, respectively. They are 1 and 2, respectively, for the US30.
Information about the Tickmill UK rates and spreads for stock indices and other assets are easily accessed via the Tickmill website and should be reviewed before signing up to the platform.
Futures
| | |
| --- | --- |
| App Support | Trading Fees |
| Good | High |
Tickmill UK Ltd currently offers Futures across 5 global exchanges and wide range of contracts.
What did our traders think after reviewing the key criteria?
Tickmill Fees
This Tickmill UK review finds that the broker is transparent with its fees, something that we highly appreciate and feel that potential clients will also. There is a dedicated page of the website that is easy to find and lists the spreads and swaps for all assets. It is conveniently divided by category and features a search bar.
Simply register with the site to gain your Tickmill login. Click on 'Trading' in the navigation bar and select 'Spreads and Swaps' under 'Trading Conditions'. Use the search bar to filter by asset type and class. Tickmill fees will depend on the type of account you have opened with the broker.
The Tickmill account types include a Classic account, which uses spreads rather than charging a commission on trades. Depending on the type of trading strategy you want to pursue, you can choose an account with lower spreads and commissions, or you can upgrade to an account that has higher fees on trades but offers more competitive spreads.
There is also a Tickmill demo account, which allows you to access a full demo without having to deposit any funds to the platform. Generally speaking, we would always recommend that you try out a website before committing any funds to the platform. This makes the Tickmill demo a valuable feature.
The different account types also offer varying limits on leverage. This will vary across the asset classes, with up to 1:500 available for forex, 1:100 for stock indices and oil, 1:250 or 1:500 for metals, and 1:100 for bonds.
Account Types
There are three main types of accounts outlined in this review, with some other variations available. The Tickmill minimum deposit is generally 100 units of currency unless specified otherwise.
Tickmill's Classic account allows you to select the base currency of USD, GBP or EUR. Spreads start at 1.6 pips, leverage goes up to 1:500, there is a minimum lot size of 0.01, and there are zero commissions. This type of account allows for all strategies, and swap-free Islamic accounts are available.
Pro accounts add the option of PLN as a base currency. The maximum leverage is 1:30 for retail clients and 1:500 for professional clients. Spreads are from 0.0 pips with commissions of 2 per side per 100,000 traded. Once again, Islamic accounts are available, and all strategies are allowed.
VIP accounts increase the minimum balance to 50,000 units of your base currency, which can be USD, GBP or EUR. They allow for all strategies, and Islamic accounts are available. The leverage can be up to 1:500 and spreads start at 0.0 pips. Commissions are 1 per side per 100,000 traded.
To open an Islamic account, you should contact Tickmill customer support and they will process the request within one business day. You will receive an email when the set-up is complete. If you plan to open multiple accounts with Tickmill, any future accounts will also be swap-free, saving you time.
Those who want to conduct their own Tickmill review before opening a real-money account can also sign up for a demo account. It uses virtual funding, real market conditions, and access to the full-featured trading platform.
Platforms
Experienced traders will find it easy to review Tickmill CFD offerings and other assets as the broker uses the MetaTrader 4 (MT4) platform. This is the most popular platform in the market and is fully customisable. You can use the Web Trader version of MT4 or a downloadable version for Windows, macOS, Android or iOS.
Trading with Tickmill's MT4 gives you access to the CFDs on forex, stock indices, bonds and commodities available via Tickmill. The platform also allows for the execution of orders without partial fills, thanks to the huge liquidity depth.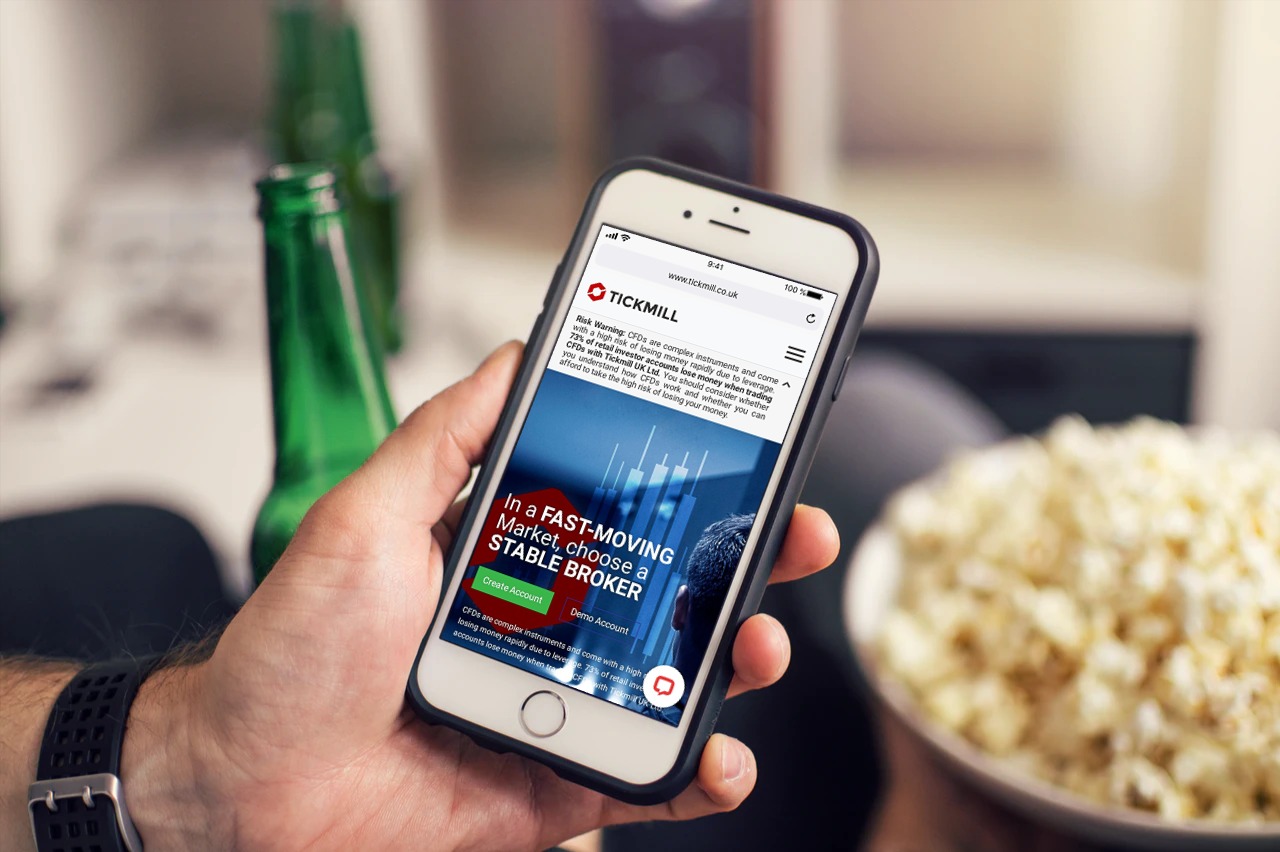 The platform supports Expert Advisors, and these are made easier thanks to the VPS services, which this Tickmill review feels are a strong offering. Advanced traders and those learning various trading skills will appreciate the inclusion of customisable charting, advanced technical analysis, and more than 50 indicators. Trading signals are also available, complete with an advanced notification system.
The Web Trader has the full functionality of the downloadable MT4 platform, and includes more than 30 indicators, nine timeframes, customisable price charts, real-time quotes via MarketWatch, and securely encrypted data transmission. Best of all, there is no need to download a platform, and you can begin trading immediately.
Usability
This Tickmill review rates both the broker's website and platform as highly usable. MT4 is the industry standard, and there are numerous online tutorials available for those who need help getting started, together with Tickmill's own tutorials. Generally speaking, however, you shouldn't run into too many difficulties using the Tickmill website or the Tickmill MT4 platform, as both have been designed with usability in mind.
The Tickmill website has a professional appearance with a mostly grey background and a black font, mixed with relevant background images and a white font. Visitors to the site should be able to find all the information they need between the main navigation menu and the footer. We were impressed by
the Tickmill aesthetic, which gives the brand a crisp and distinctive look, supported by user-friendly site pages.
Customer Support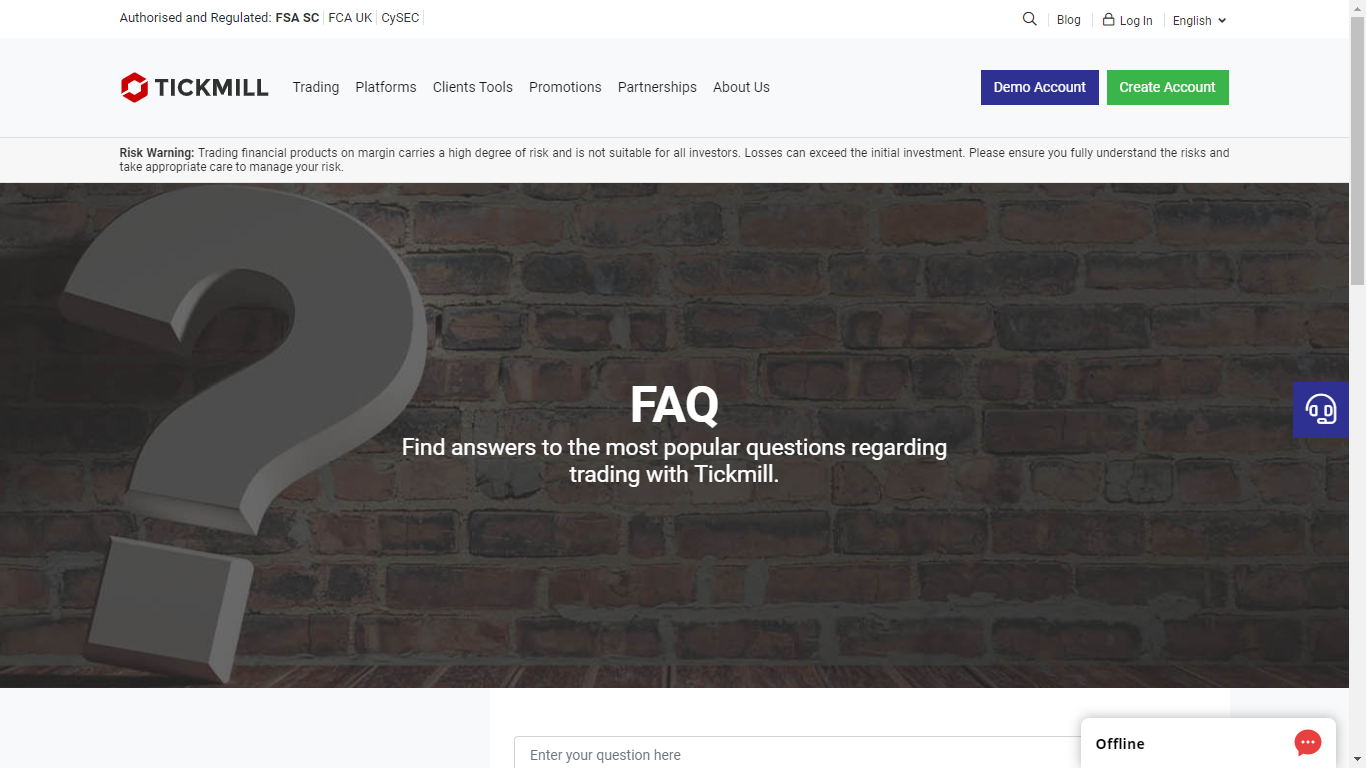 If you have any questions as you use and review the Tickmill CFD offerings, you should be able to find the answers in the FAQ section. This page has several categories, a section for Top FAQs, and a search bar. The information contained in these sections is generally of a very high quality, and it is clear that Tickmill has put a lot of effort into carefully curating the answers it provides.
If you are unable to answer your question using these resources, Tickmill support is available, which includes client support delivered via live chat, phone or email. Customer support is only available on weekdays between 7:00 and 20:00 GMT (GMT+1 during Daylight Savings). Although the level of customer support is very high, with queries responded to quickly, we would like to see the opening hours extended in the future. The current 13 opening hours encompass most trading hours around the world, but we would prefer to see 24/5, if not 24/7, support on offer.
Payment Methods
Tickmill offers many deposit and withdrawal methods, though it should be noted that certain methods will only be available in certain countries. All withdrawals will be automatically processed in the base currency registered with your account. This will be set during the Tickmill sign up process.
Card payments
Tickmill accepts payments in USD, GBP and EUR via Visa or Mastercard, with minimum deposits of 100 and minimum withdrawals of 225. There are no fees. Deposits are instant and withdrawals take up to one working day.
Bank wire transfer
Bank transfers are supported in EUR, GBP or USD with a minimum deposit of 100 and a minimum withdrawal of 25. There are no commissions, and the deposit or withdrawal requests are typically processed within a business day. It should be noted, however, that once processed, it may take between one and three days for the funds to actually hit your bank account.
E-wallets
The Tickmill platform currently supports a number of different eWallet solutions. Electronic or digital wallets allow you to make instant deposits to any of your Tickmill account types. Skrill and Neteller are accepted for USD, EUR or GBP, with instant deposits and withdrawals within one working day.
Other regional eWallets that Tickmill supports include STICPAY, FasaPay, UnionPay, NganLuong.vn, Qiwi and WebMoney. It should be noted, however, that Tickmill does not currently support PayPal.
Best Offers
In terms of education, Tickmill offers a range of free seminars around the world in a variety of languages. There are also e-books on strategies for trading majors and becoming an introducing broker. Those who prefer visual learning will appreciate the broker's collection of educational videos in various languages. There are also infographics, a forex glossary, technical and fundamental analysis resources, a wide range of relevant articles on a variety of topics, and market insights. Generally speaking, this is a great selection of resources and will undoubtedly assist you in increasing your trading skills and overall market awareness.
In addition to these educational resources, Tickmill provides access to a number of resources to help your trading. These include Autochartist, Pelican, Myfxbook, copy trading, an economic calendar, forex calculators, one-click trading, and even a virtual private server (VPS). While these resources tend to be aimed at more experienced traders, traders of all experience levels will find something of use in these added extras. Many of these can be implemented directly into the Tickmill MT4 platform.
At the time of writing, there is also an offer of a $30 Welcome account, so new clients do not need to deposit funds to begin trading. Beyond these special features, however, it does not appear that the broker offers any extras beyond the Tickmill bonus scheme.
Regulation & Deposit Protection
As we would expect of a broker of Tickmill's size, it is a fully licensed broker that operates in a number of regions and territories across the world. As a global operator, compliance with Tickmill regulations is monitored by a number of different financial services bodies, which include the Seychelles Financial Services Authority (FSA) and the Financial Conduct Authority (FCA). The FSA regulates Tickmill as a security dealer under licence number SD008, while the FCA authorises Tickmill UK Ltd to offer financial services under licence number 717270.
It is also regulated by the Cyprus Securities and Exchange Commission (CySEC) under licence number 278/15 as a CIF limited company, the Labuan Financial Services Authority (Labuan FSA) under Licence number MB/18/0028, and the Financial Sector Conduct Authority (FSCA) under Licence number FSP 49464.
Additionally, various Tickmill Group trading names are registered with the FCA in the UK, BaFin in Germany, CONSOB in Italy, ACPR in France, and CNMV in Spain. This Tickmill review also points out further confidence in the broker via its participation in the MiFID II, the Financial Services Compensation Scheme, and the Investor Compensation Fund. Currently, it does not appear that Tickmill Africa has any regulatory scheme in place.
Based on the above, Tickmill compares very highly in terms of regulation and deposit protection. It is clear that the Tickmill regulations currently in place offer a high level of customer protection and provide a safe environment to trade and invest in.
Awards
In addition to positive Tickmill forex review articles, the broker and other members of Tickmill Group have earned numerous honours and awards over the years.
In 2019 alone, it was voted the Best Forex Execution Broker at the CFI.co Awards, Best Trading Platform Provider at the FxDailyInfo.com Broker Awards, Best CFD Broker Asia from International Business Magazine, Best CFD Provider from the Online Personal Wealth Awards, Most Transparent Broker from the Forex Awards, and Best Forex Broker Asia from the Forex Awards.
In 2020, Tickmill's awards include: Best Commodities Broker from the Rankia Markets Experience Expo, Best Trading Experience from the Forex Brokers Award 2020, Most Reliable Broker from the Online Personal Wealth Awards, Best Forex Education Provider
from the Global Brands Magazine, and the Best Trading Conditions from the Shares Awards.
Although a relatively young broker compared to some of the other players in the market, Tickmill has performed really well in recent years and this is reflected in the array of awards it has won.
PEOPLE WHO READ THIS ALSO VIEWED: