The share price of listed football clubs can rise and fall in line with their on-pitch performance. So, not only is an investment a vote of confidence in a club, but it's also a chance to make a financial gain and share in their success. Here are some of the best football club shares to buy.

Best Football Club Stocks
Which Football Clubs Can You Trade Shares In?
Football club ownership structures follow two different paths. One involves super-wealthy private individuals or organisations that buy the club outright and own it like any other private asset. With football now being 'big business', the price tags on some of the clubs have meant that outright ownership has become something that only the ultra-wealthy can consider.
The buyout of Newcastle United in October 2021 saw a Saudi-backed consortium pay £305m for the club. The Public Investment Fund of Saudi Arabia manages £250bn of assets, so for them a £305m price tag was small change, but not all deals are on that scale.
Publicly listed football clubs take a different approach. These clubs have floated on stock exchanges, which means that anyone can buy shares in them in the same way that they might buy shares in any other company or sector, such as UK blue-chip companies. We consider the prospects of the shares in three of the most popularly traded football clubs below.
Manchester United PLC (NYSE: MANU)
One of the first clubs to take the step of listing its shares was Manchester United. It came to the market in a 1991 IPO, which valued the club at what now appears to be an incredibly low £6.7m. This was a result of the then owner Michael Edwards deciding that a public sale of the club was the best way for him to liquidate his holding in it.
The shares traded on the London Stock Exchange until 2005 when US businessman Malcolm Glazer announced that he had bought 28.7% of the club and had taken effective control. The investment vehicle Glazer used, Red Football Ltd, paid £800m in total to buy up the remaining shares and take it off the London Stock Exchange and into private ownership.
After extensive restructuring, the Glazer family in 2012 took a similar path to previous owners and decided to list MUFC on the New York Stock Exchange. While the Glazers held back enough shares to remain in control of the club, the $14 per share price tag at the time of the IPO valued Manchester United at $2.3bn, making it the most valuable football club in the world.
Manchester United PLC – Monthly Price Chart – 2012-2022
Source: IG
Since being listed, the price of Manchester United has tracked the performance of the club. In 2017, the club won the UEFA Europa League and appeared to be turning a corner in terms of contending for the top trophies in the game. Correspondingly, the shares reached an all-time high of $26 in 2018, which represented an almost 100% return on investment for early-bird investors.
Juventus Football Club SpA (MTA: JUVE)
Juventus Football Club SpA shares have been listed on the Milan Stock Exchange under ticker JUVE since 2001. Juventus is one of three Italian clubs listed on the stock market, with the others being Roma and Lazio.
Between January 2017 and January 2019, the JUVE share price surged by more than 500% thanks to the signing of high-profile star Cristiano Ronaldo. The player's on-field and off-field value resulted in the club's prospects improving. Juventus won Serie A in 2018, 2019 and 2020.
The share price of Juventus has since fallen away, largely due to the amount of debt that the club has on its balance sheet – a reminder to those fans who want to buy shares in a football club that economic fundamentals, as well as silverware, will determine whether they make a profit or a loss.
Juventus Football Club SpA – Monthly Price Chart – 2002-2022
Source: IG
Celtic PLC (LSE: CCP)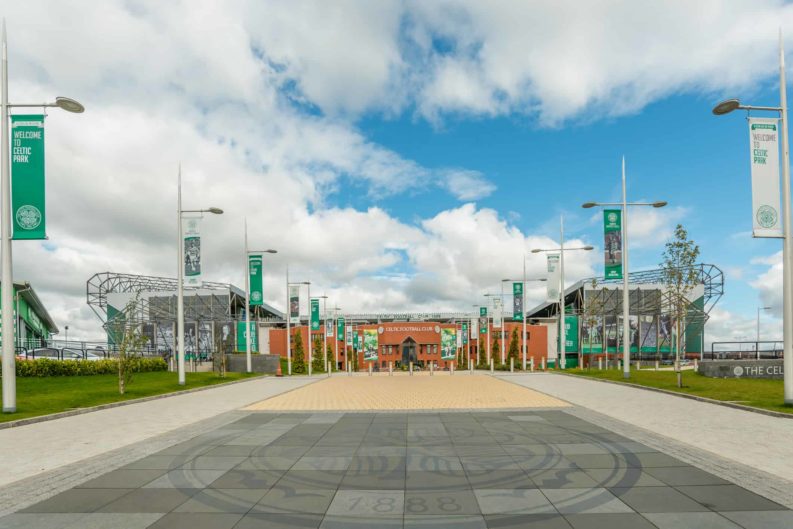 Shares in Scottish giant Celtic FC can be bought on the AIM division of the London Stock Exchange. The club is currently valued at £99.1m, which reflects the fact that the club operates in a relatively small domestic league. So, while having a loyal fan base, it doesn't take part in headline-grabbing fixtures every weekend.
A large percentage of Celtic PLC shares are owned by Dermot Desmond, who has a 35% stake. The fortunes of the club and the share price depend a lot on how long that position remains the same, and those deciding to buy Celtic shares will want to ensure that their interests align with Desmond's.
One way that Celtic shareholders could make a profit on their investment is if the club can manage to tap into its passionate fan base. French sports magazine So Foot reports that only Boca Juniors of Argentina and Germany's Borussia Dortmund are ahead of the Glasgow club in terms of fan support. There are more than 200 Celtic supporters' clubs spread across more than 30 countries, and that 'sleeping giant' status needs to be considered when valuing the stock.
Dramatic changes to the structure of the club game have taken place over the last decade and a move towards a European super league, which 'the Hoops' were part of, would unlock significant potential revenue streams.
Celtic PLC – Monthly Price Chart – 2012-2022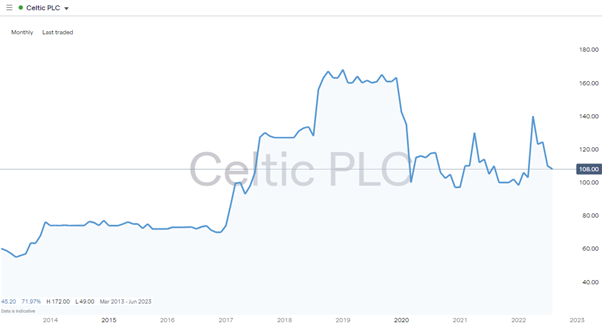 Source: IG
How to Buy and Sell Football Club Shares
Whether you're buying shares in a football club as a gift or a hard-nosed investment, the good news is that the process is as easy as clicking a button. Online brokers have revolutionised the finance sector and hand-hold their clients through the process of opening an account and starting trading. Pricing terms are also attractive – so if you follow the below common-sense steps, then buying football club shares can be cost-effective as well as safe.
Research Football Club Shares
The price drivers of football club shares are many and varied. Impressive on-pitch results are generally good news for the stocks in the sector, but need to be monetised by the management team having the ability to strike successful commercial deals.
Curve-balls such as COVID-19 can also play a part. The 2020 pandemic hit clubs hard as games were suspended or had to be played behind closed doors.
Establishing whether a football club is a good investment comes down to carrying out effective research into the players, and also the support structure behind them.
Find a Broker
Even if you're only making a token investment, it is important to ensure that your broker is well-regulated. The firms found on this shortlist of trusted brokers are well-regarded in the industry and have all been reviewed by the AskTraders team. They have been checked over to ensure that they offer their clients a good level of service, in-line T&Cs, and high levels of client safeguarding.
One easy-to-spot rubber stamp of a good broker is if it is regulated by a Tier-1 regulator such as the Financial Conduct Authority (FCA). Firms that are licensed by the FCA are required to comply with a detailed set of rules and regulations that are designed to protect their clients.
Open and Fund an Account
After you have decided to buy shares in a football club, the process of signing up to open an account takes moments to complete. The onboarding process is carried out online and involves uploading some personal ID. That way, the broker will be able to identify you and ensure that it follows appropriate Client Care protocols.
If you're interested in trading football club shares, or shares in any other companies as a long-term investment, you can 'try before you buy'. Good brokers offer free Demo accounts, which credit users with virtual funds so that they can practice trading before using hard cash. These accounts can usually be set up using little more than an email address and offer a simulated trading experience so that newbies can get to grips with how to trade.
The next step is to fund your account. Like the rest of the process, this is designed to be user-friendly. Popular funding options include credit and debit cards, bank transfers and ePayment agents. Some of the payments will be processed immediately; some can take a day or two until the funds hit your account; but the good news is that most brokers don't apply charges on deposits.
Once the funds are credited to your new account, you're ready to go.
Select and Buy Football Club Shares
The simplest way to buy football club shares is to head to that stock's monitor on your trading dashboard. You then enter the quantity of shares you want to buy, or the cash value of the investment you want to make, and click or tap 'buy'.
The value of your football club shares will be determined by the live market price that will feed into your account on a real-time basis. This will, of course, to some extent be determined by how they perform over the course of the season.
Set Order Types
Not all traders are winners, and if you want to limit the amount you can lose on your investment, you can use stop-loss orders. These are automated instructions that are built into the system to sell some or all of your position if price goes against you.
Take-profit orders work in the opposite direction. If the club and its shares take off, then a take-profit instruction will lock in some profits if the shares reach your target price.
If you're a buy-and-hold investor who fancies the chances of a particular club over the long term, then you might want to avoid using stop losses and limit orders. They can kick you out of losing positions during short-term price dips or cap the upside potential of your trade.
An alternative approach to risk management is to only invest an amount of money that you can afford to lose.
When you decide to sell your football club shares, it's simply a case of reversing the process. Navigate to the portfolio section of your account, click on the position, and enter the quantity you want to sell. This will result in your unrealised profit/loss being crystallised and converted back into cash, which you can then withdraw from your trading account using the same payment method as when you deposited.
Fees When Trading Football Club Shares
When choosing your broker, it's important to make the right call in terms of whether you set up a CFD (contract for difference) or share dealing account. CFDs have superior functionality, which can come in handy if you're looking to trade other markets as well as football club shares. They allow clients to trade other stocks, forex and commodities such as oil and gold.
They allow you to scale up on risk return by using leverage, and you can even speculate on an asset by using short-selling strategies. CFDs do, however, come with additional daily financing charges, which can stack up over the long term.
A more detailed breakdown of the differences between CFD and share dealing accounts can be found here. However, if you're a buy-and-hold-style investor looking to be a shareholder in a football club for more than a few weeks, then a share dealing account will be a more cost-effective option.
| | | | |
| --- | --- | --- | --- |
| | eToro | Plus500 | Markets.com |
| Inactivity Fee | Yes | Yes | Yes |
| Inactivity Fee Details | $10 per month. After 12 months | $10 per month. After 3 months | $10 per month. After 3 months |
| FX Conversion | Yes – on non-base currency trades | Yes – on non-base currency trades | Yes – on non-base currency trades |
| Fund Withdrawal Fees | Yes – $5 | Applied on some payment methods | Yes – $5-$100 |
| Trading Commissions | Included in spread | Included in spread | Included in spread |
| Overnight Financing | Yes – on CFDs | Yes – on CFDs | Yes – on CFDs |
Best Brokers to Buy Football Club Shares
Finding a trusted broker can be a daunting task. To help with the process, AskTraders has handpicked a selection of firms that tick all of these boxes. They have been rated in terms of reliability and customer service levels and offer all the features needed to help someone make their first trade.
Final Thoughts
The move by some football clubs to list their shares offers a chance for fans to follow their club in another way. The share price performance isn't completely correlated to on-pitch performance, but it is a big element of the valuation process.
Whether you're an experienced investor looking for a different play on the leisure and entertainment sector, or a beginner wondering how things work, choosing a good broker is essential. If you set up with a scammer, then you'll be scoring a financial own goal. This list of trusted brokers includes firms that meet the strict criteria of the AskTraders analysts and offers the best route towards taking a view on the prospects of a club.