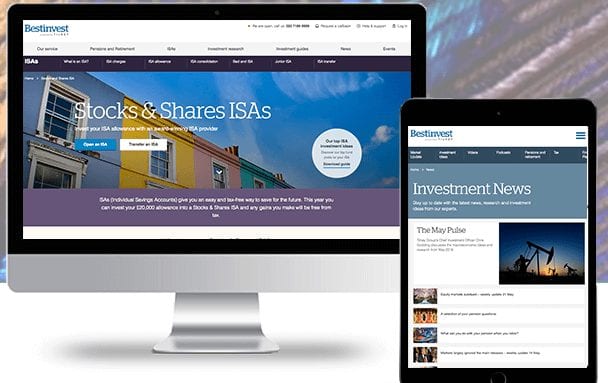 The world of finance is one in which numbers, however minute, tend to result in a significant difference in your bottom line at the end of the day. As such it is imperative that you take a keen look at the fees/charges of any investment company – in this case, Bestinvest fees/Bestinvest charges. Bestinvest is a subsidiary of Tilney Investment Management Services Limited and it predominately offers investment products, such as funds, shares ETFs and so forth. Here are some of the positives that we will go into further detail on throughout this review:
Low competitive Bestinvest fees
Ease of use
Crisp and intuitive best invest app
Authorised by the FCA
Low Platform Fees
Whether you are a novice or a pro, Bestinvest has a wide array of investment options catered to simplify the process of seeking out your piece of the financial market pie. This includes stocks and shares, offshore bonds, jointly held portfolios, investment trusts, shares in UK-listed companies as well as pensions and retirement. Other than this, they also offer clients the ability to transfer funds from other investment groups.
When it comes to fees, Bestinvest charges no initial costs for most products available through their website. Moreover, should there exist any, you shall be informed of this before making a selection. Note that it is free to open an account as well as to buy or sell funds. No Bestinvest fees are charged for inactivity or placing limit orders. The company offers a tiered service fee of 0.3% on investments between up to £250,000 and 0.2% on investments from £250,000 to £1,000,000. There are no Bestinvest charges for investments over £1,000,000.
On the other hand, the establishment levies an Ongoing Charge Figure (OCF), which is the fund manager's annual fee, as well as party costs. It is collected on a yearly basis and is typically set at a mild 0.9% for equities and 0.3% for tracker funds, with bond funds taking on roughly 0.6% (this could vary as stipulated by the issuer of the bond). These fees are some of the lowest and most competitive ones in the market as of this writing.
User-Friendly Website
A quick look at the site gives a strong sense of direction and efficiency. Everything is well organised to maximise your time – time which is better spent making crucial decisions such as whether an ISA account or Exchange Traded Fund (ETF) better suit your needs as opposed to trying to figure out how to manoeuvre across the page.
To make investment hassle-free and less complicated, they offer ready-made portfolios. These have proven to be quite popular with the masses, as they – the clients – understand the importance of having money work for you but lack the either or both time or skills to execute a profitable portfolio investment.  This option enhances the ease, speed, choice and value as well as investment level to anyone with it in their crosshairs.
Among the most popular channels through which you can invest with Bestinvest is the IC (Investment Account). Here, you have the option of either opening a fresh account or transferring your investment from another company into this one. Not only will you get great value in the form of low annual fees as well as no fees on buying or selling funds and shares, you will also be part of an award-winning investment platform that was voted on in the Financial Times and the Investors Chronicle awards in 2017.
Awards and Prestige
As a sign of the market's overwhelming faith in Bestinvest, the company managed to scoop several titles coveted by many in its ranks, including at the Investment and Wealth Management Awards, a feat they have taken three years in a row. This includes being voted as Best Low-Cost SIPP Provider, Best Investment Platform and Best Online/Execution-Only Stockbroker by readers of the Investment Chronicle and the Financial Times back in 2017. The graceful event was held at the Glaziers Hall in London. These tripartite awards are typically bestowed on companies or institutions in recognition of their exemplary customer care and value for money.
On the same, Tilney, the mother company to Bestinvest, has had the honour and prestige of being bestowed the title of Best Conventional Advisory Service 2018 by investors themselves in recognition of their high-quality service. It's the third time they have been recognized by COLWMA. It was also featured on the top 25 private client financial planning companies back in 2014 as well as "Investment Adviser of the Year" within the same year along with a multitude of other accolades running back to 2011. Accolades are a huge part of any stock broker's reputation and can be a massive lure for new customers.
The Mobility of the Trade
MyTinley by Tilney Bestinvest app is a mobile app that you can install on your device to help you keep track of your portfolio's performance even while on the go. It is currently only available on iOS. Users get to enjoy benefits such as: management of their Bestinvest Tilney portfolio; the ability to keep tabs on recent transactions on your bank account; access to your tax statements and valuation statements via the document store; and interactive portfolio performance tools in order to check how you are performing against your pre-set milestone targets.
Having been developed with high encryption in mind, the Bestinvest app's firewall protects you from any fraudulent attack on your investment. The app doesn't compromise safety and security, so you can rest assured that your investment is in safe hands. The app helps break down geographical barriers, as all you need is a reliable internet connection.
The Bestinvest app offers unparalleled situational awareness along with flexibility, thereby making you a better investor as you can make split decisions irrespective of where you are. It is currently available for download in the Apple app store for free. This app is one of the best that are freely available to customers and is definitely worth taking a look at.
Transfer of Assets From Other Providers to Bestinvest
By opting to switch over to Bestinvest you choose to take advantage of a fast and easy service, as you don't have to spend any of your money doing so. Whether it is your pension, ISAs, funds and shares, Child Trust Funds or Junior ISAs, the entire process of moving over is fast, seamless and stress-free on your end.
Transferring your pension into Bestinvest SIPP places you a step ahead of the rest by offering you better control over your retirement investment. It is also totally free. If you currently don't have a B-SIPP account you need not worry, as the minimum combined value of pensions you can transfer across along with any additional contributions is set at £10,000, which is quite low in the market. The other benefit of consolidating your pensions is that they will pay as much as £500 for any exit fees applied to your previous providers, though this is subject to terms and conditions.
To do so, all you need to do is fill out a few forms online on their website, download it, then send it over via post (Bestinvest 6 Chesterfield Garden London W1J5BQ). Once this is done you will spend less energy and save time on paperwork. You could also stand to save money thanks to fewer fees and you will have all your investments on one platform.
Customer Support
Running a great website is key to ensuring overall satisfaction regarding the online experience. Couple this with well-executed research pieces elegantly put together in an exciting manner and the average investor's level of comfort is raised since the information is easier to understand. Should there be any concern or further assistance required, not only can you get in touch with customer service through their Bestinvest app from anywhere, but you can also connect with them via social media (Google+, Linked In, Twitter or Facebook), telephone (020 7189 9999) or email. A quick look across the Internet will yield an enormous amount of customer reviews along with their levels of satisfaction, with most clients, without a doubt, being happy with their investment along with the few who are less satisfied. New investors and those seeking additional assistance can place a call-back request at no fee.
Reliable customer service
Call back option
Regular social media platform updates
For your convenience there are several articles on their site (www.bestinvest.co.uk) that are simple to understand and piece together should you have any questions pertaining to the products and series on offer. You can also chat with them online via the same site during their office hours (7:45 a.m. to 6 p.m. on Monday, Tuesday, Wednesday, and Friday; 9:30 a.m. to 1:30 p.m. on Saturday; 7:45 a.m. to 8 p.m. on Thursday; closed on Sunday)
Additional Benefits
Bestinvest offers priceless information through its website with no extra Bestinvest charges to its clients. This includes but is not limited to access to top-notch expert research. You will receive updates on a monthly basis, giving you insight into ideas as well as insights on current happenings. Similarly, you can find a bulk of articles extensively covering investment and market posts over at Tilney's website. Research is a crucial part of brokerage so any potential investors should definitely look to take advantage of the amount of content that Bestinvest offer.
You will also get one-off recommendation, regular valuation and online access to your investment with a detailed history of your account transactions. Bestinvest also offers free investment seminars across the UK, serving as the ideal opportunity to have a feel of the latest investment opportunity in the financial world. You can access these benefits through the best invest app as well as PC.
Interestingly, since 1994 Bestinvest has been running "spot the dog", which lists and tracks the assets managed by the industry. To do this they use a fund's statistical performance data while comparing it to their benchmark to shed light on the best and worst industry performers.
Access to expert research
Free investment seminars open to all
Latest news and updates on the markets
Future Outlook
With nearly four decades under its belt, Bestinvest looks like a reliable company in which to invest and grow your money safely. In 2013 Bestinvest managed the secure backing of Permira, a private equity firm, which later on in 2014 bought Tilney from Deutsche Bank. The result was the creation of a wealth manager worth £9 billion in assets. While celebrating its 180th anniversary, Tilney Bestinvest firm acquired a London-based investment manager, thereby increasing their holding to £11.2 billion worth of assets. In the same year, 2016, Bestinvest managed to buy Towry for £600 million, raising their assets once more to £20 billion.
So why is this all important, you may ask? The key to this question lies in the acquisition of Tilney Bestinvest by Permira in early 2014 with the ultimate intention of enhancing growth as well as furthering their sector acquisition. Being a private equity firm, Permira is capable of providing necessary capital for future purchases and expansion, executed with a timely exit, courtesy of IPO's or trade sales, to attain the highest levels of profits. This sheds a bit of light on what is hopefully any investor's dream of a Bestinvest growth plan. While Bestinvest offers incredible SIPP with a wide array of investment options, not opening up to hedge funds and gilts/corporate bonds may deprive it of more significant portions of institutional money.
Trailblazing
Lastly, a glance at Tilney's Bestinvest competition enhances investor confidence as it is currently ahead of its game by scoring high on leadership, size of the workforce and above all revenue, where its closest rival Fairstone rakes in approximately £37.96 million while Bestinvest sits comfortably at £52.44 million. Other competitors to watch out for include Succession £34.81 million and Argentis £27.48 million in revenue.
Who said investment has to be a tedious endeavour? With all of this information and tools at your disposal, it is simpler today than ever to successfully realise the gains thought of as unthinkable a few decades ago by getting into the right market. Today's successful investor is one who can adequately predict market trends and get in early enough.
By separating the chaff from the grain, it is without a doubt that Bestinvest/Bestinvest app could potentially be the ultimate tool for both the seasoned trader/investor as well the novice DIY investor. Investment is a lifetime process that requires regular updates. Keep fluid and abreast of the goings-on in the finance world. The future looks promising, and it belongs to those who grab the bull by the horn.
PEOPLE WHO READ THIS ALSO VIEWED: