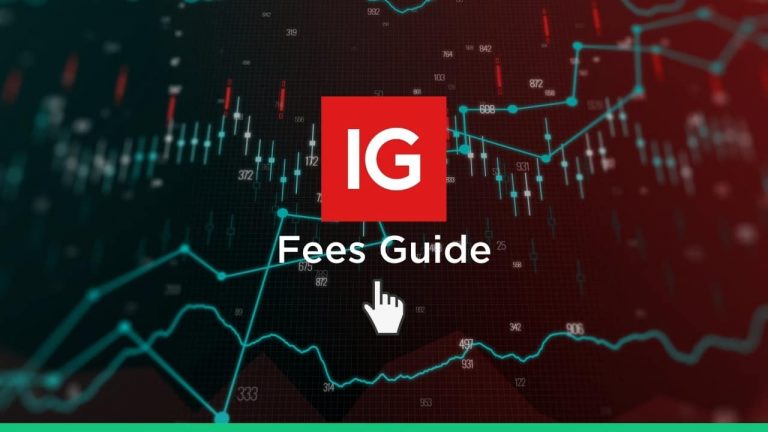 In this guide to IG trading fees and charges, we'll be taking a look at the various trading and non-trading fees you need to be aware of before you start trading with this broker. If you're ready let's get started, You can also take a look at our IG review for a more comprehensive look at the IG trading platform.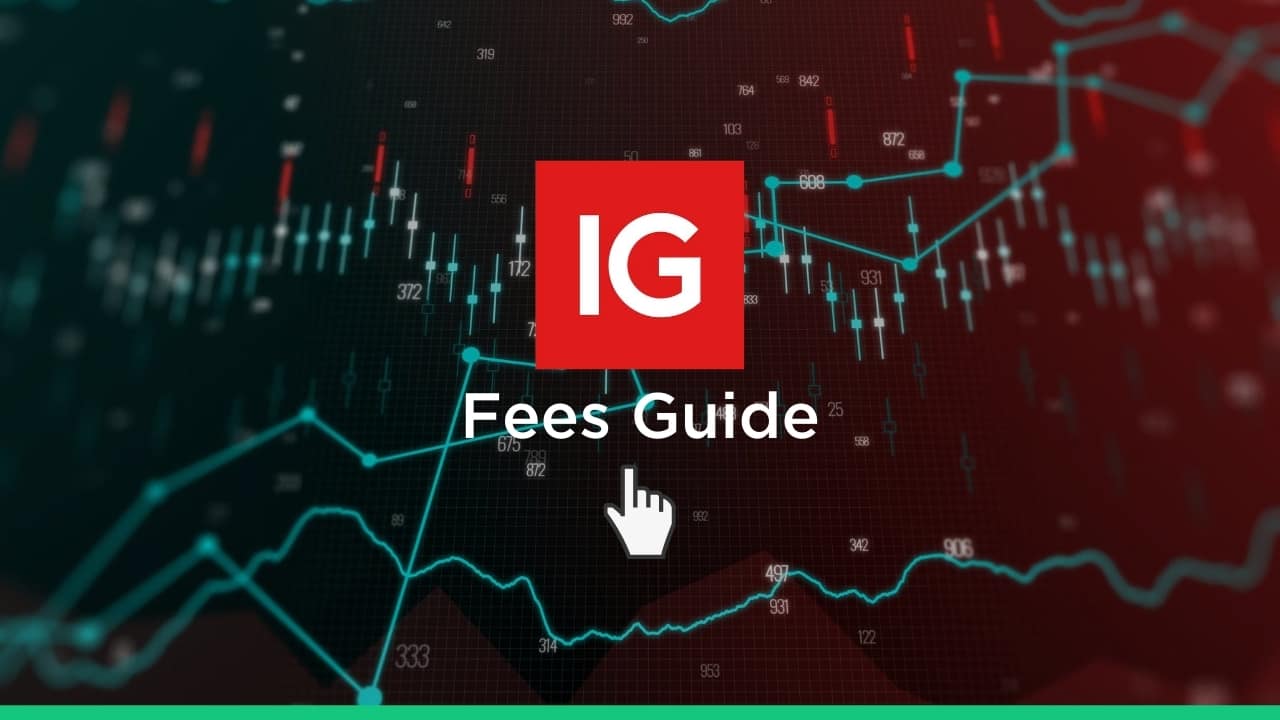 Before we get going, have a look at our other IQ Option guides:
IG Trading Fees
When we talk about trading fees, we are referring to the costs of your day-to-day trading activities. These commonly include:
1. IG Deposit Fees
All deposits to your CFD trading account are free except for those via credit cards. The fees to fund your account via credit card include a 1% charge for Visa and 0.5% for Mastercard. Besides, the minimum funding amount through card payments is $300, while there is no minimum for bank transfers.
You can deposit funds into your IG account from any of the following methods
Debit/credit card
Bank transfer
PayPal
In the case of IG investments, deposits are free if transferred via credit card or PayPal. You browse through the deposit section of your IG live account for more information on the deposit methods.

2. IG Transaction & Commission Fees
IG Share Dealing Fees
In the case of CFDs, IG charges a commission only for share trading. However, when it comes to exchange-traded markets, the commission extends to all the products.
IG CFD Commission Fees
With CFDs, the commission depends on the markets you are trading in and the trading method (online/phone). It is a percentage of the transaction value for most markets and cents/share for US and Canadian markets.
The following table illustrates the transaction charges for share trading in CFDs in some of the markets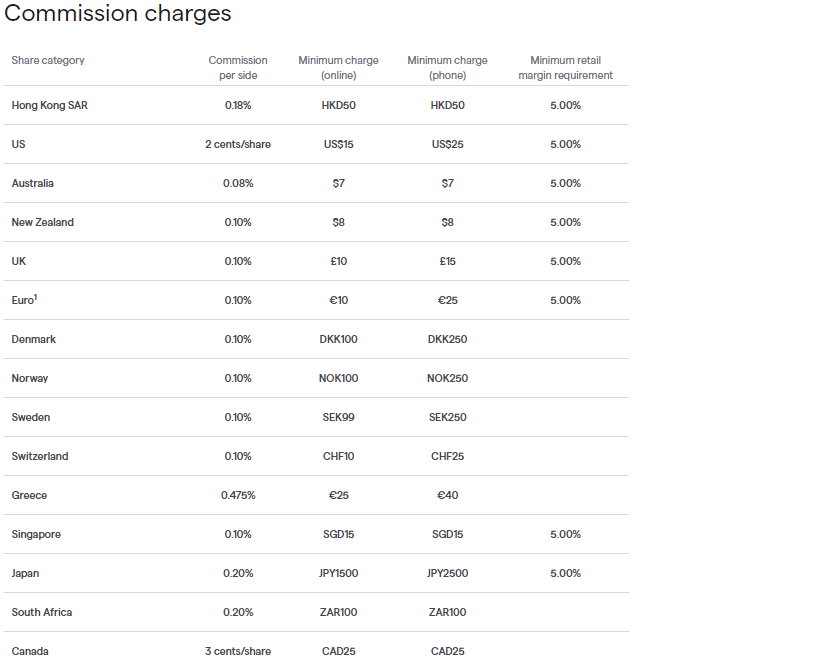 The commission depends on the markets, trading method (online/phone), and the trade consideration for exchange-traded products. To qualify for the best commission rates, you should have carried out at least three trades in the previous month in your share dealing account.
Illustration of the commission charges for a share-dealing account on the US and UK exchanges- Trade consideration: £25,000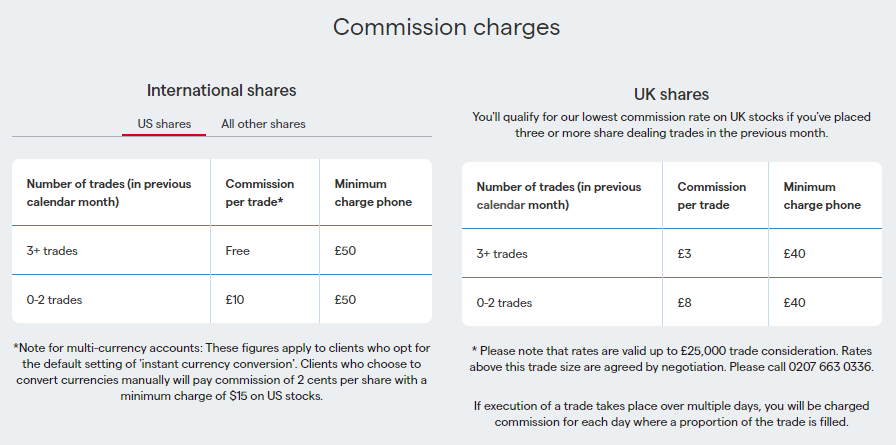 You can view the entire commission list from the website under the HELP AND SUPPORT category for CFDs or 'INVESTMENTS' for exchange-traded shares.
3. IG Spread Betting Fees
IG offers the same variable spreads for CFDs and spread betting, excluding shares. The broker charges a commission for share CFDs, while there is a spread in share trading. For all the other instruments, the spread varies across trading instruments and asset classes.
You can look-up the 'Our charges' page on the broker's website for detailed information on the spreads. Ultimately, you can also download the customer agreement pdf for more detailed information on each product and charges.
Illustration of the minimum and average spread for Cash CFDs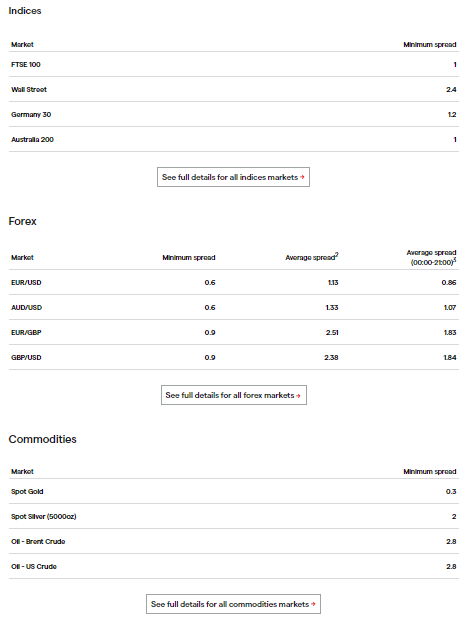 Illustration of the average, standard, and minimum spread for daily funded bets in some of the asset classes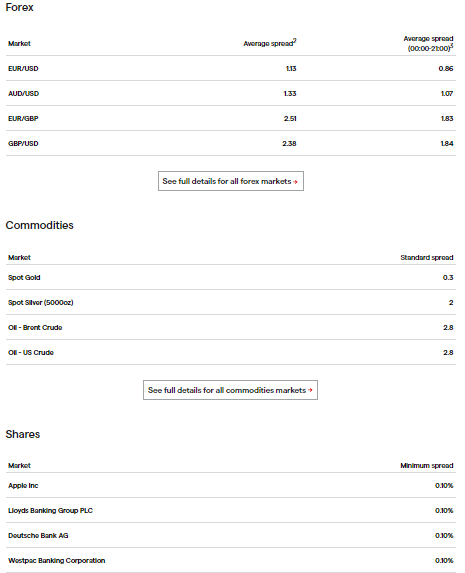 There is no such option as a minimum, standard, or average spread in the case of exchange-traded financial instruments. The spreads are dynamic, vary across asset classes, market volatility, and the expiry dates in derivatives.
4. Guaranteed Stop-Loss
If you have a guaranteed stop-loss attached to your position, IG charges a fee of 0.3%, which is applicable only if the stop loss is triggered.
5. Direct Market Access
IG does not charge for DMA to trade CFDs in forex or shares or to trade via the share-dealing account. However, you have to pay a monthly exchange fee to access live DMA prices for shares listed on individual exchanges.
6. Live Price Data Feeds
There is a monthly fee to receive live streaming quotes from exchanges. The fee applies to the CFD and share-dealing accounts.
7. ProRealTime
IG provides access to Prorealtime charts- an online technical analysis software that you can integrate with the IG trading web and mobile platforms. The subscription charges are £30 per month if your volumes are less than four trades a month or if the value of the trades is scanty.
IG Currency Conversion Fees
IG charges a currency conversion fee of 0.5% for both CFDs and share dealing accounts. For CFDs, the currency conversion occurs if you are trading in a currency other than your base currency. While the broker's default setting is instant conversion, you could also choose from the daily, weekly or monthly conversion rates.
9. Overnight Funding
The overnight funding or the swap charges are applicable for all CFD instruments and vary across assets. IG applies the interbank, tom-next rate to arrive at the overnight funding fees for CFDs in equities and stock indices. You can find all the info on the overnight funding rates in the broker's website, or you could access them from the trading platform.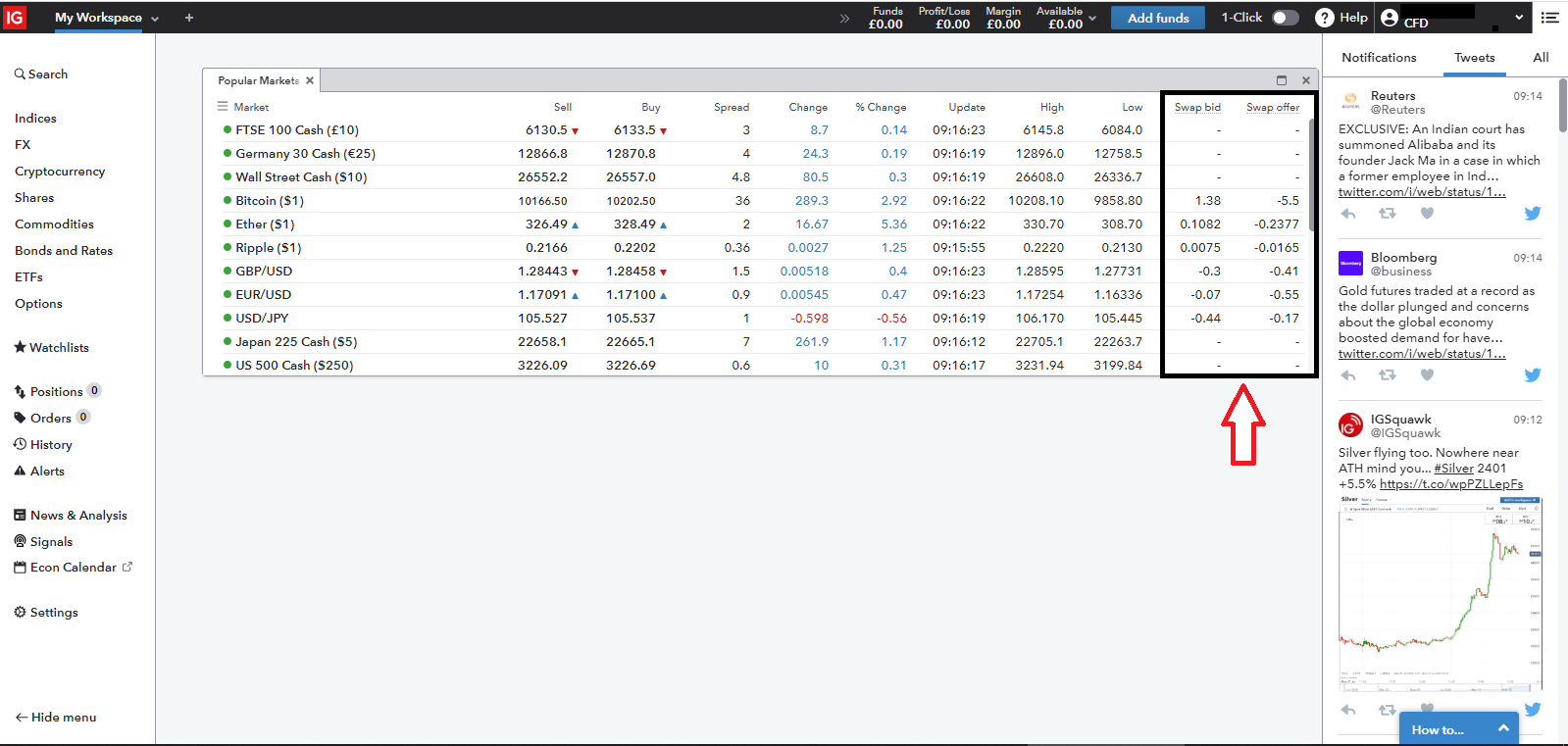 Low Cost IG Alternatives
If you are looking for a reliable broker with low fees and fair conditions then this is who we recommend. All have been reviewed by our team and have been found to offer a low cost way to trade
NON TRADING FEES
Under this category, the fees are for the associated services offered by the broker and do not come under the trading activities of clients. Here's an overview of the non-trading fees-
1. IG WITHDRAWAL FEES
If you are a client of IG Investments, most of the fund withdrawal methods are FREE. However, in the case of 'Same day bank transfers,' there is a fee of £15 if the withdrawal amount is less than £100.
2. IG INACTIVITY FEES
IG charges an inactivity fee of £12 for CFD and spread betting accounts only if you have not placed any trades for two years or more. The fee is pretty reasonable if you compare them to some of the other CFD- spread betting brokers.
3. IG PHYSICAL SHARE CERTIFICATE- DEMAT/REMAT FEES
IG charges £100 (including VAT) to convert your physical shares into a dematerialisation or electronic form. Also, if you wish to convert your dematerialised holdings into physical shares, the broker charges £100 (including VAT) per listed company. It could take anywhere between 3-6 weeks to dematerialise/rematerialise shares.
4. IG CUSTODY FEES
Clients holding shares or ISA investments have to pay £24 a quarter as custodial fees. However, the fee is exempt if you trade three or more times on your share dealing account or hold £15,000 or more in the form of investments in your IG Smart Portfolio. The fee does not apply to CFD in shares.
Conclusion
As traders, it is important to find out the fees and charges of the brokers before you start trading with them. IG trading fees, mostly for spread-betting and CFDs, are the commission for exchange-traded products in the bid-ask difference. Besides the spread and commission, there are several supplementary charges from this broker, most of which are directed at clients registering for the share dealing account.
Take a look at our guide on IG trading platform for more information on trading with this multi-asset broker.
Further Reading