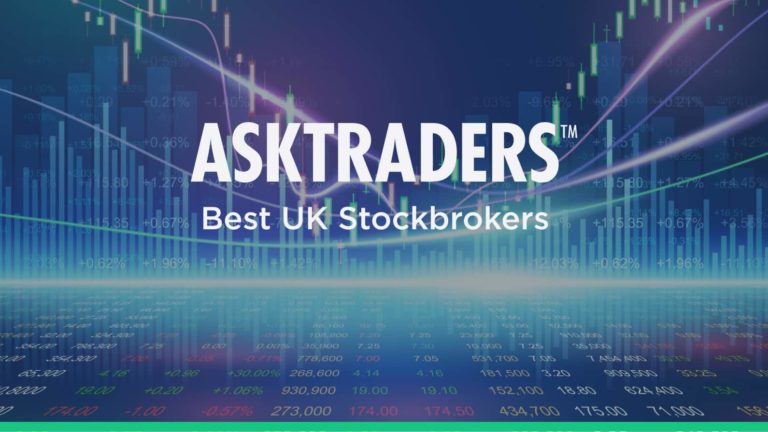 Looking for the best UK stock brokers? Look no further. Whether you're just starting out or a seasoned trader, these top-rated brokers are some of the best around when it comes to stock trading. We're confident they'll have everything you need, from top-notch regulation to award-winning customer service and powerful trading platforms. Read on to discover why you're in good hands with these UK stockbrokers.
The Best UK Stock Brokers
#1

eToro
What We Liked
A good range of big-name global stocks to trade
Robust regulatory framework involving Tier-1 authorities
The option of copy trading is particularly appealing to beginners
Lots of user-friendly research materials
The site functionality is very user-friendly
The incredibly popular eToro provides one of the best UK stock trading platforms. The firm has millions of clients and a global outlook. The regulatory structure is particularly strong, for example. Its UK and European clients are respectively covered by the FCA (Financial Conduct Authority) and CySEC (Cyprus Securities and Exchange Commission).
The default settings allow even novices to get on and book trades. The easy to navigate website provides all the portfolio and profit and loss reports that would be expected, but in a very convenient way. It's also straightforward to adjust the settings on the account, for example selecting two-phase authorisation on log-in. It's neat features such as these that make trading easier and more secure.
The eToro stock trading platform is a blend of powerful software and simplicity. It's always good to be looking out for the cheapest stockbroker and eToro is currently going some way to meet that target by offering zero commissions on unleveraged US stock trades.
The copy trading service gives eToro a considerable edge over its peer group.
Exposure, financing costs (if applicable), stop losses, leverage and take profit details are all laid out in front of you. Adjusting any of them to suit your preference can be done by at the click of a button.
The Virtual Account is also set out in precisely the same format as the Real account, meaning you can practice trading stocks with the $100,000 Virtual dollars the platform gives to eToro Demo account users. It's possible to buy stock ranging from US Steel to Ericsson, depending on whether your strategies are based on playing the US-China trade war protectionism theme or the 5G telecoms rollout.
When you are ready to take the next step to trade real funds, all the functionality of real trading is the same, which means you can minimise 'fat finger' errors. The even better news for beginners is that the Virtual account will continue to be accessible even when you are trading real funds, in case you want to test any new strategies in a no-risk environment.
The eToro stock trading platform is a blend of powerful software and simplicity.
The copy trading service gives eToro a considerable edge over its peer group. Copy trading of stocks involves taking the trading decisions of other traders and applying them to your account. You choose who to copy and the amount of your capital to use. You also decide when to break that relationship and can do so whenever you want. Also, there are no extra fees for taking on a copy trade compared to trading your account based on your own decisions.
From a security perspective, the funds under the instruction of the copy trader will stay in your account. You don't relinquish control over any of your hard-earned cash, you just take the trading decisions of others and apply them to a portion of the funds in your account. Allocating capital to a third-party does come with risks, however. If the return is a profitable one, there are no commissions to pay, as copy traders are recompensed for their efforts by eToro, not by you.
#2

IG
What We Liked
A vast library of learning and research materials
Over 16,000 international equity markets to trade
Authorised by six Tier-1 regulators
User-friendly site functionality to suit beginner and advanced stock traders
Spread betting is available
The London based stock broker, IG, has a solid track record and continues to be a strong contender for the title of 'best online stock broker in UK'. The many seismic changes in the broker sector have meant that firms have had to up their game or fall by the wayside. IG, which was established in 1974, has worked its way to the top of the rankings and continues to remain there due to its appetite for innovation, customer service and setting stock traders up with everything they could need. It also backs that up by providing tight trading spreads and competitive margins for its clients.
IG has always had a strong focus on trading equities and, interestingly for UK domiciled investors, it provides the service in spread betting as well as CFD format. That set-up means that some can benefit from tax advantages associated with trading using spread bets. Building on its initial success, the firm has continued to invest in making its site compatible for users, and intermediate and advanced traders. It has a substantial claim to be one of the best UK trading platforms.
The IG site hosts more than 16,000 equity markets, which is an incredible number in itself and a figure far higher than the average for the peer group. That means you can invest in UK and international companies ranging from the US tech giant Amazon down to exciting smaller firms in emerging markets.
It (IG) has a substantial claim to be one of the best UK stock brokers.
US tech stocks are currently popular to trade and IG offers extended hours trading on over 70 key US stocks so that pricing is available even when the US stock exchanges are closed.
That means there is less chance of being caught out by 'gapping', which is a price move between the hours an exchange such as the Nasdaq closes and opens again. It might seem like a minor detail, but it can help with risk management and therefore your trading bottom line.
The educational and learning resources at IG are hard to beat. IG's 'Week Ahead' video, for example, is released before each trading week begins and helps IG clients, whether beginners or advanced, to pick out what to look for in the coming days. IG has a strong reputation in the stock trading community. Its coverage provided by its customer support teams is quite rightly award-winning. It is also well regulated and has licences from six Tier-1 regulators, including the Financial Conduct Authority (FCA) in the UK and in Australia by the Australian Securities and Investments Commission (ASIC).
#3

Degiro
What We Liked
Some of the lowest costs around
Intuitive and easy to use trading platform
A strong focus on stock trading
Impressive catalogue of industry awards
Friendly and informative customer service
If you're wondering which is the best stock broker for UK traders, you might want to consider Degiro, which has picked up many notable awards.  Degiro has been awarded the title of 'Best broker for stock trading' in 2020. Also, the Financial Times and the Investors Chronicle (UK) awarded Degiro the award of 'Best Low-Cost Stock Broker' two years in a row.
The Degiro platform accommodates all types of traders but is well equipped to meet the needs of stock traders who have a longer investment time horizon. You might also note that Degiro has a complete focus on the trading of the equity markets. Unlike most of the peer group, Degiro doesn't support forex trading, which is at first surprising but is ultimately good news if stocks are your favoured market.
#4

Admiral Markets
What We Liked
Over 4,000 international stock markets to choose from
Accounts designed to fit different trading styles
Lots of additional analytical tools, especially Premium Analytics
Authorised by the Financial Conduct Authority (FCA)
Super-tight trading spreads, as low as 0.0 pips
One particularly pleasing feature of the online stock broker, Admiral Markets, is the provision of different account types. Equity trading is provided via the MetaTrader 5 (MT5) trading platform, which is widely seen to be one of the best trading platforms on the market. The terms and conditions of the three accounts on offer are clearly laid out.
It's usually a good sign if a broker is transparent about its terms and conditions. In the case of Admiral Markets, it is able to highlight that its stock trading includes spreads of zero pips. It's not just a case of trying to gain the title of 'cheapest stock broker UK' as the firm also offers an impressive range of markets. Those using the Invest.MT5 account, for example, can trade 4,350 stocks and more than 200 ETF's.
Admiral Markets' Premium Analytics package…is an excellent resource for anyone looking to trade.
There are two other accounts available on the MT5 platform (and more on the MT4 platform), which makes Admiral Markets one of the best MT5 brokers in the market. Regardless of whether your strategies lean towards short or long-term holding periods, Admiral Markets has an account type to suit you.
The research and analysis tools are equally diverse. There are articles and software tools that use technical and fundamental analysis to identify trading opportunities. Admiral Markets' Premium Analytics package is a handy amalgamation of both types of analysis and is an excellent resource for anyone looking to trade.