Gold prices are moving sideways into the end of a wedge pattern.
Set to break out one way or the other — data suggests two different types of trader are involved.
The gold market is throwing up some interesting situations. A lot of technical indicators are pointing towards a downwards move in price, but the metal still keeps finding support. Yet this strength hasn't brought about a bull market. The sideways price movement could signal a battle between head and heart.
Technical analysis
Of course, the technical analysis is never guaranteed to be correct. Chief market strategist at BubbaTrading.com, Todd 'Bubba' Horwitz, maintains that the clues still point downwards. In his analyst report, released through specialist gold site Kitco.com, he stated:
"Gold bulls won't give up… From history we know a couple of things, markets typically will follow the footprint they leave and following the footprint gives you a higher probability of success. The footprints in metals suggest both gold and silver are headed lower. Of course, there are no guarantees."
Source: Kitco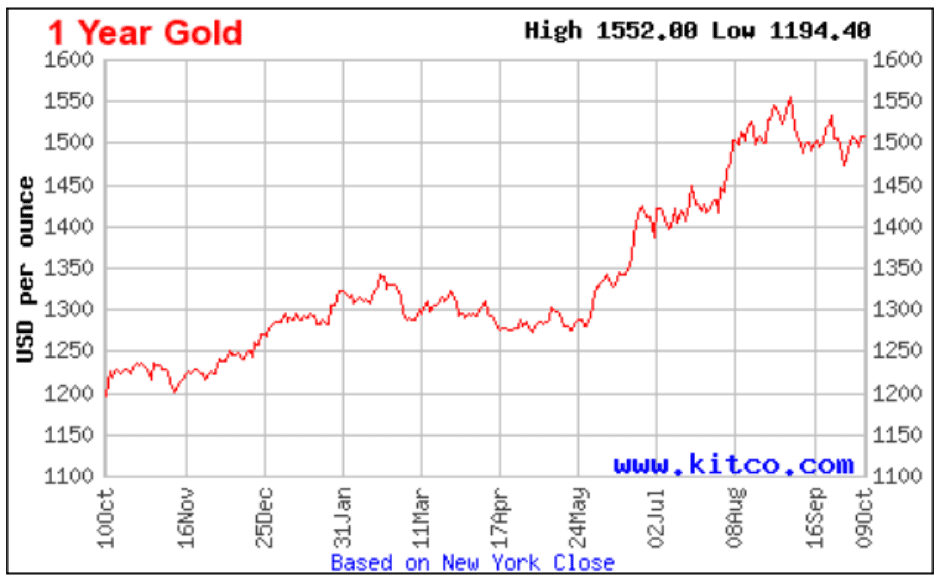 The situation could reflect the fact that all trends have a 'bend in the end'. The technical pattern may be about to shift. Or it could reflect a move into gold by investors with a long time holding period and an appetite to move into gold for reasons based around security. These investors are, of course, delighted if they get into the metal at a 'good' price, but the major driver appears to be a flight to safety.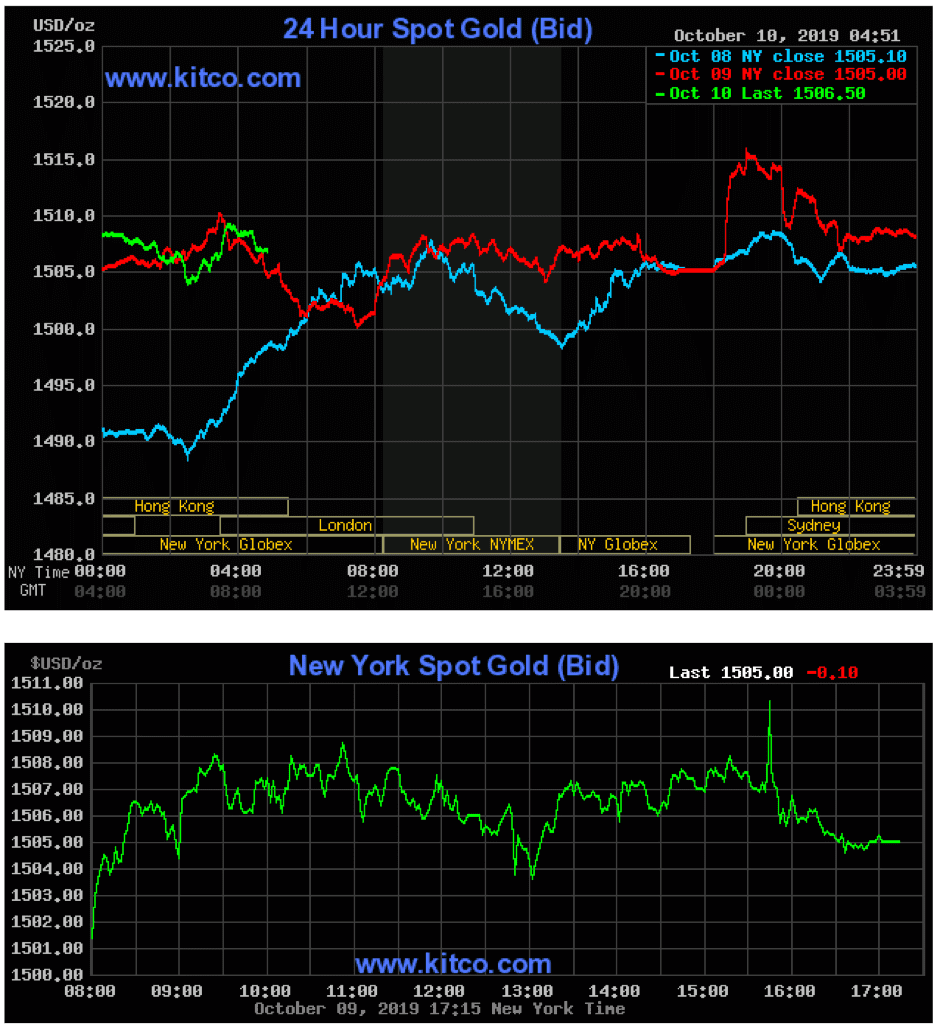 The suggestion is that the support for price isn't being driven by gold specialists or technical analysts, but more by the general public moving in to take positions.
Horwitz has identified a short term downtrend, but notes:
"Investors in equities and metals can buy and hold knowing that those markets go up and down but over time they work higher."
Source: Kitco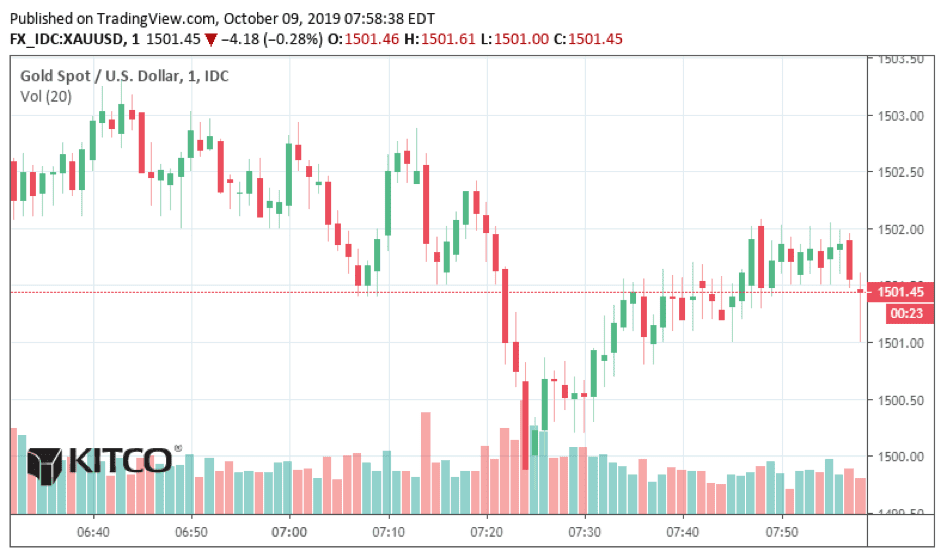 The 1,500 'round number' support is showing significant strength. This chimes with the suggestion that it is the average person on the street rather than a gold-bug who is buying. Whether that support builds or fades is the key question. It is a situation worth monitoring and Horwitz, for now, maintains a short bias:
"For now, we are short and will stay there until silver closes over $18.00 and gold closes over $1,520."
Source: Kitco 
Horwitz is not alone. The 'ideas' section on Trading Views has several other analysts releasing recent reports that see the price of gold falling.
Adz786 has a target price of 1,450: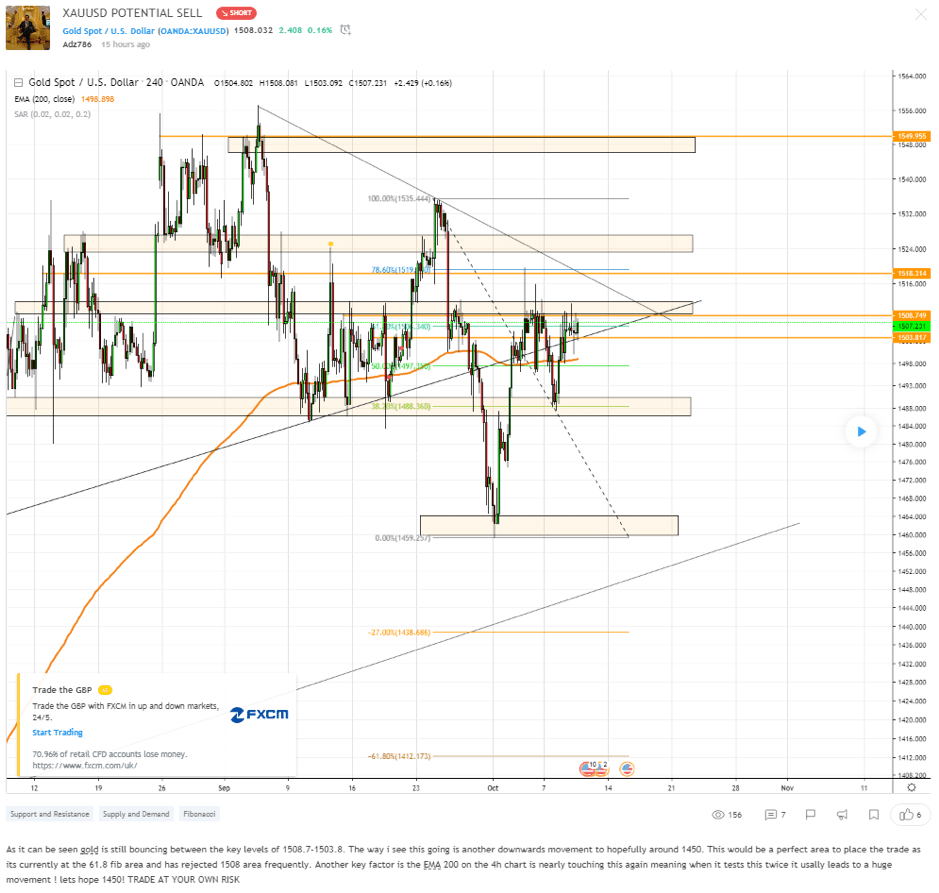 Jaxpx also picks out the wedge pattern and takes the view that the break, when it comes, will be to the downside: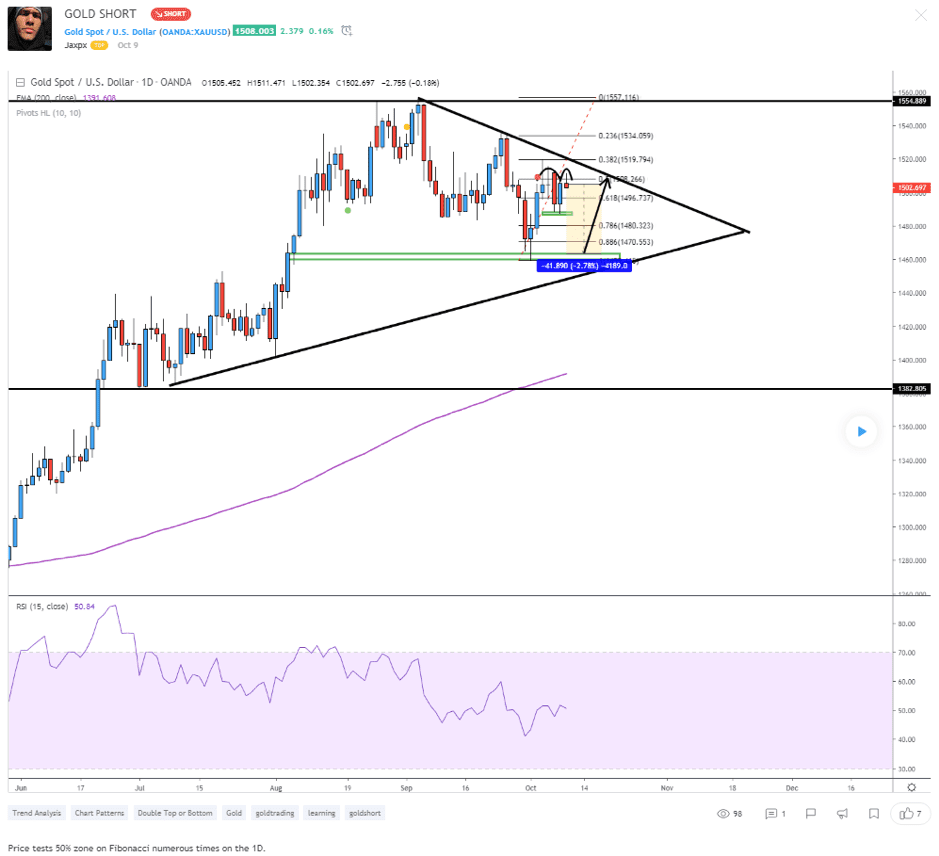 Jeafx sees the resistance at 1,507 as too much of a barrier. The first target is 1,490, then 1,450 and beyond: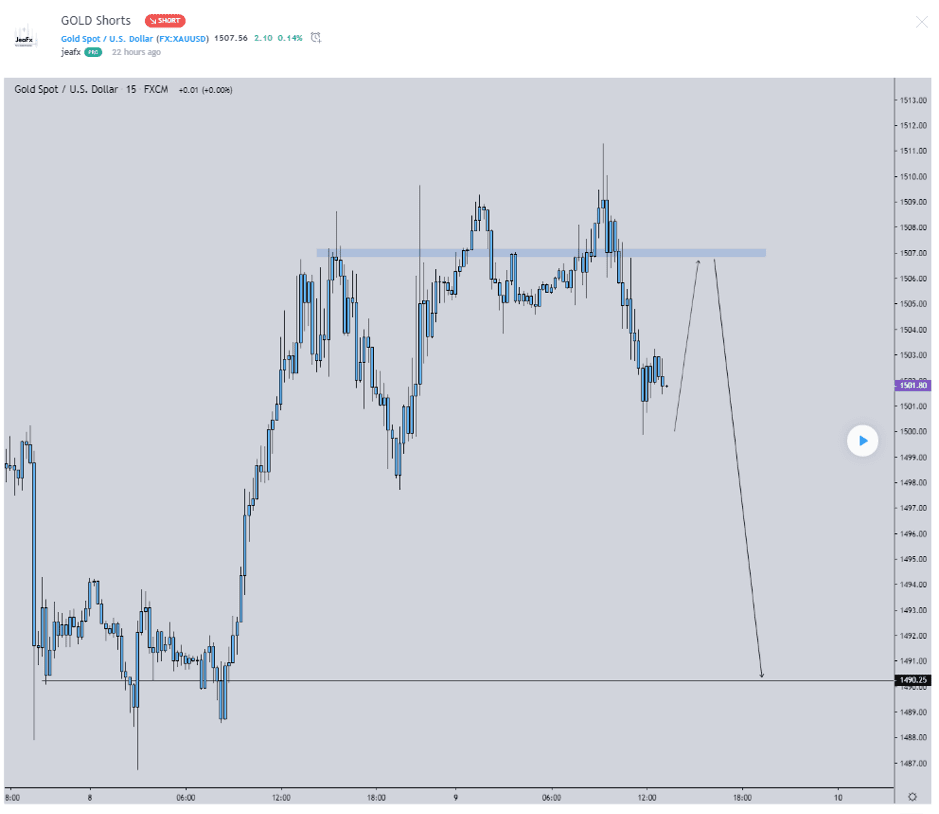 Furthermore, there are analysts on the Trading View 'ideas' section who have also used technical analysis to establish a case for the bulls. Abulqasimfx has pasted analysis of short term opportunities going long (source: TradingView). As has Splutinum: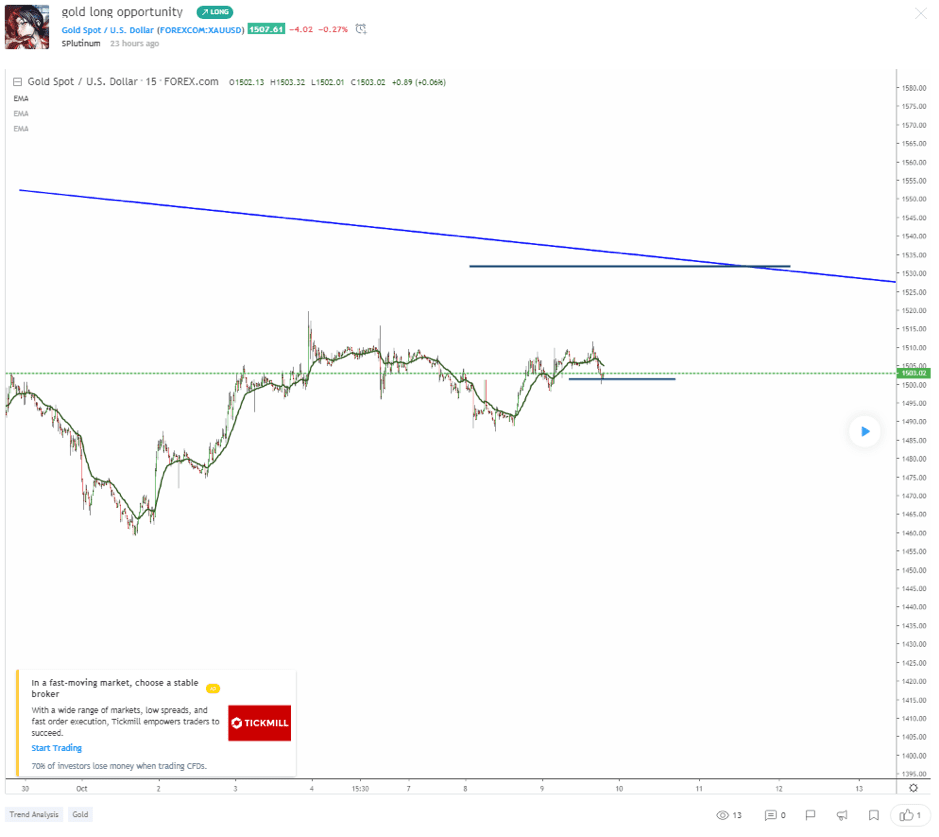 Gold ETFs
One representation of the groundswell of gold demand is the Exchange-traded fund (ETF) market. These instruments, which typically come with lower transaction and management costs, a degree of tax-efficiency and stock-like features are particularly popular among less active investors.
A Bloomberg report released on Wednesday began with the headline 'Gold ETFs Post Longest Run in a Decade as Anxiety Mounts' (source: Bloomberg). Investor holdings in gold-based ETFs have increased for 17 consecutive days. This pattern represents the longest inflow into gold ETFs since the financial crisis of 2008.
Analyst reports from some of the bigger banks signal Wall Street is willing to support the case for long-term price increases. Citigroup now considers a price of $1,700 to be feasible, noting:
"Gold inflows are likely to persist… Markedly weak manufacturing and services ISM data show that the slowdown in global trade is starting to bite the US economy."
Source: ZeroHedge
If China and the US can't reach a mini deal this week, Adarsh Sinha, co-head of Asia FX and rates strategy at Bank of America Merrill Lynch believes that "gold obviously stands to benefit" (Source: ZeroHedge)
According to the World Gold Council, ETFs now have their all-time high levels of gold holdings. Around 2,808 tonnes of the metal are held to back the holdings in ETFs. That pile saw 75 tonnes added to it in September alone. The all-time high figure has to be caveated by two factors, which distort the data, but in different ways. The first is that ETFs have become more widely traded since the last high of 2012. The second is that the price in 2012 when the previous high was recorded, was in the region of $1,700.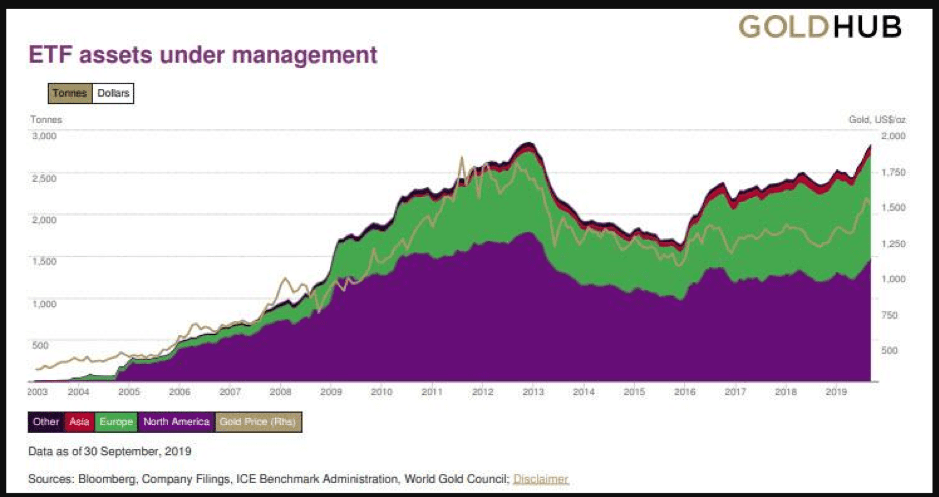 Another trend picked up by the data is that the demand for ETFs is being driven by non-US investors. European and Asian buyers have moved into the market and hold more gold in the form of ETFs than they did in 2012. North America, on the other hand, currently has less of the asset in ETF form than it did back in 2012.
The gold price is seeing shorter-term technical analysis largely point downwards but price support coming from the broader market. Two very different forces are in play. Looking at the wedge pattern, it might be a case that the result is shared sooner rather than later. All the analysis reports referenced are included for informative reasons, rather than to influence the trading decision. It will be interesting to see which of the two prevails.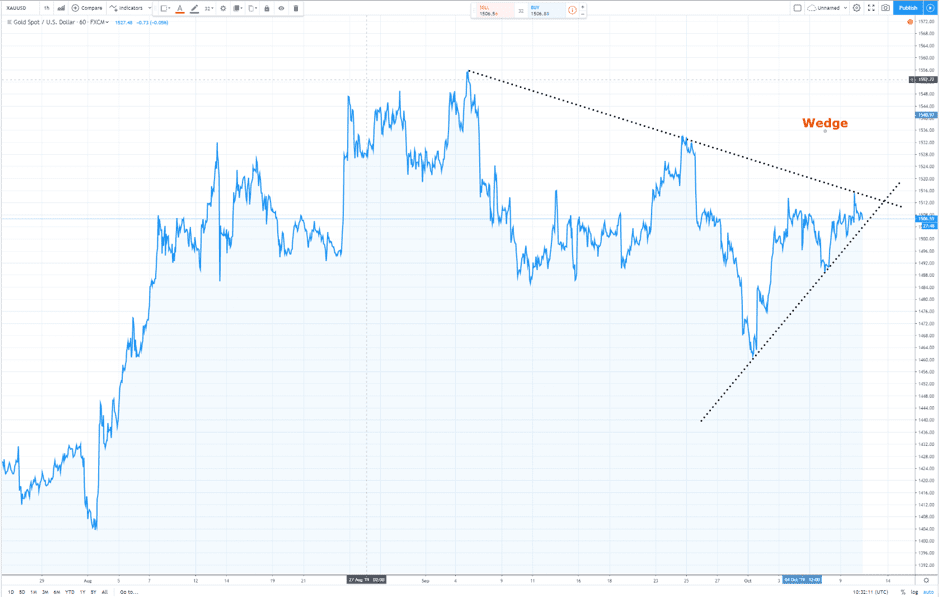 The rotation from North American to European buyers might be significant in other ways. Jerome Powell, Chair of the Federal Reserve maintains that the data indicates that the US population is not exposed to too much stress. If Powell looks to indicators such as gold-buying data and sees strength in the US domestic economy, it may encourage him to resist further rate cuts.