Every year some of the world's best companies decide to list their shares on exchanges to be bought and sold by the public. In our 2023 IPO calendar, you can find the latest details on some of the largest private companies expected to go public this year, as well as planned IPOs for the current month.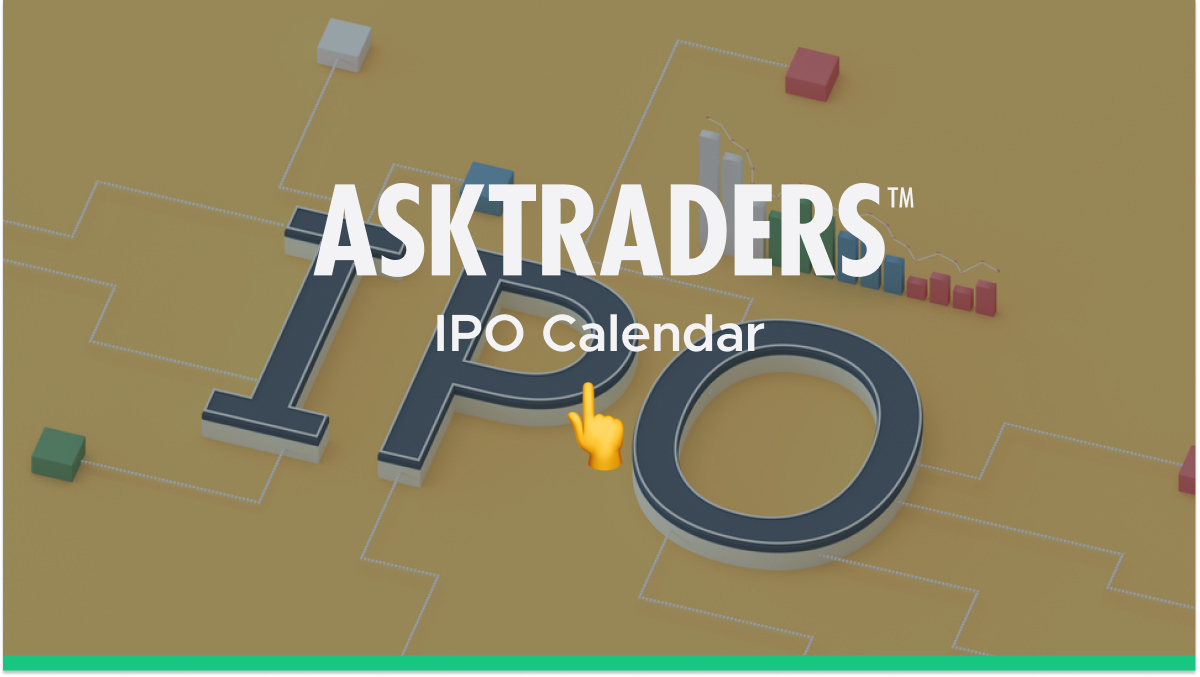 Scheduled IPOs
| Date | Company | Ticker | Exch. | Sector | Price Range | Exp. Mkt Cap |
| --- | --- | --- | --- | --- | --- | --- |
| 05/05/23 | Acelyrin Inc | SLRN | NASDAQ | Healthcare | $18 | |
| 10/05/23 | Golden Metal Resources | GMET | LSE (AIM) | Mining | 8.8p | |
| 10/05/23 | Strong Global Entertainment Inc | SGE | NYSEAmerican | Entertainment | $5 | $38M |
| 11/05/23 | CaliberCos Inc | CWD | NASDAQ | Financial | $5 | $103.08M |
| 12/05/23 | First Person Ltd | FP | NASDAQ | Consumer Staples | $5.50 – $6.50 | $49.43M |
| 12/05/23 | ParaZero Technologies Ltd | PRZO | NASDAQ | Aerospace & Defense | $4 – $6 | $29.76M |
| 16/05/23 | ALE Group Holding Limited | ALEH | NASDAQ | Industrials | $4 – $6 | $117M |
| 16/05/23 | MDNA Life Sciences Inc. | MDLS | NASDAQ | Healthcare | $5 – $6 | $51.95M |
| 18/05/23 | Azitra Inc. | AZTR | NYSEAmerican | Healthcare | $4.50 – $5.50 | $64.79M |
| 26/05/23 | Hanryu Holdings, Inc. | HRYU | NASDAQ | Communication Services | $9 – $11 | $490.53M |
| 26/05/23 | Fitell Corporation | FTEL | NASDAQ | Consumer Discretionary | $4 -$6 | $55.60M |
Sources: LSE, NASDAQ, StockAnalysis
Anticipated IPOs in 2023
Many companies list each month. However, it's the major names, usually within fintech, that are hotly anticipated. Even though the IPO market has slowed down somewhat this year, giants such as Arm, Reddit, Monzo, and Discord are expected to list in 2023.
ARM – Semiconductor firm Arm recently filed to sell its shares in the US. Softbank, which owns Arm, said it had "confidentially submitted a draft registration statement" to the SEC.
STRIPE – Digital payment processing business Stripe was recently reported to still be planning to proceed with its IPO. However, it is said to be unlikely this year.
REDDIT – The social media giant's IPO has consistently been pushed back due to market uncertainty. Recent reports state Reddit is aiming to go public later this year.
INSTACART – Grocery delivery app Instacart's IPO has been delayed due to market uncertainty. A recent report said Instacart raised its internal stock price by 18% in late February.
DISCORD – While there is no date or recent reports regarding a potential Discord IPO, it's rumoured that the company will look to publicly list its shares in 2023.
KLARNA – Buy now, pay later (BNPL) firm Klarna has not yet announced plans to go public but said in 2021 that it was in the works.
SHEIN – The Chinese online fast fashion retailer is eyeing a US IPO this year. However, Reuters said some US officials are calling for a halt until Shein verifies it does not use forced labor.
REVOLUT – The founders of the fintech firm said they currently have no immediate plans to list the business but recently revealed they would not consider floating in London.
MONZO – Digital banking firm Monzo is said to be in no rush to go public, but reports earlier this year stated it has been approached by investment banks regarding a potential IPO.
ETORO – The broker did have plans to list via SPAC last year, but it fell through, and so far, there have yet to be any further updates regarding an IPO.
HUEL – Meal replacement company Huel has not yet set a date for a public listing, but it is expected to after previously hiring Goldman Sachs and JPMorgan to advise on the process.
Where Can You Buy IPO Stocks?
YOUR CAPITAL IS AT RISK. 68% OF RETAIL CFD ACCOUNTS LOSE MONEY
What is an IPO?
An initial public offering, or IPO, is when a private company sells its shares to the public for the first time by listing on an exchange such as the NYSE, NASDAQ, or LSE. Deciding on a public listing allows the company to become publicly traded and raise capital. Furthermore, IPOs can be a great way for companies to grow and expand their businesses.
What Should You Know About IPOs?
IPOs can be a good way for businesses to raise capital – When going public, a company can raise a large amount of money that it can use to grow the business.

IPOs are not always a good investment – Just because a company is going public, it doesn't mean you should invest in it. Make sure to carefully research the company and be prepared for the risks involved.

IPOs can be volatile – The share price of a newly public company can fluctuate wildly in the early stages. Investors should be prepared for this volatility and not take any unnecessary risks. Some investors choose to wait at least a few quarters of a company being listed before considering an investment.

IPOs can help to increase a company's visibility – Going public can help to raise a company's profile and attract new customers and investors.
How Does An IPO Work?
The IPO process usually starts with the private company hiring an investment bank to help them with the offering. The investment bank will assist the company in setting a price for its shares, market the offering to potential investors, and underwrite the risk of the offering.

Once the investment bank has been hired, a registration statement is then filed by the company with the Securities and Exchange Commission (SEC). The registration statement contains information about the company, including its financial statements, management team, and business plan.

Once the registration statement has been filed, the company will commence marketing the offering to potential investors, usually through various channels, such as analyst meetings and press releases.

After that, the company will then set a price for the shares and begin trading on a stock exchange on a set date that is pre-announced.