Key points:
Sabre Insurance is down 27% on interim results for the half year
Inflation on claims bills is harming the underwriting performance
This could revert, as Sabre claims it will, as premiums also rise
Sabre Insurance Group (LON: SBRE) shares are down 27% at open in London on the back of their unaudited results for the half year. The results for those first 6 months of 2022 do not make happy reading. Profits have slumped to £4.3 million (before tax) from £22.2m for the 6 months a year ago, and £37.2m for the full year 2021. This is not, as they say, a good performance.

There's a significant growth in premiums written, 17.4%, a small decline in the expense ratio, but a blowing out of the net loss ratio. The amusement, if that's what it can be called, in the release is in this line "We have continued to prioritise pricing policies correctly over growing volume" Well, no, not really you haven't. Writing more and less profitable insurance doesn't quite meet that standard.
The actual claim is that Sabre is facing inflation. Which, if we're fair about it, is fair. For premium rates – the book is mainly motor insurance – are set at the beginning of 12 month cover but with an inflation rate of 8 or 9 % (the specific rate faced on claims is 8%, whatever the ONS says the general inflation rate is) then costs of claims are going to rise over the year. But it's not possible to alter the premium rate in the middle of such inflation – Sabre has to wait until renewal to be able to change what is charged to insurees. This is simply one of those problems of an inflationary environment.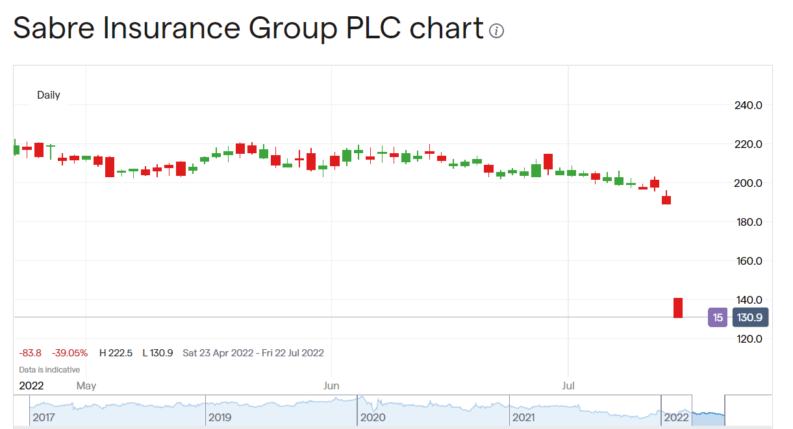 Also read: NEM Insurance PLC.
It's also possible to see some light at the end of this tunnel. Perhaps inflation will moderate after all and the problem recede – become something that affects just the one set of results. Sabre also points out that they had to discount to gain business during Covid and those lower premiums are still working their way through the system.
But there's also something about insurance company accounting that's worth recalling. Those premiums are paid in in advance, claims come later. This gives an insurance company an investment float – the profits of which belong to the insurance company. Yes, motor policies tend to last only for a year, so the average float holding will be 6 months on a book where claims and expenses exactly equal premiums – ie, there's no underwriting profit. Rising interest rates increase the profits on that investment float – given the turnaround between premium receipt and claims paid it always will be in short term instruments for a motor insurer.
So, for an insurer rising interest rates are profit enhancing, even as the inflation that requires the higher rates is profit decimating, as here. The interest rate rises come after the inflation of course.
The longer term view of Sabre Insurance share valuation needs therefore to add in this one other factor. Investment earnings will be rising as the Bank of England acts to choke off the problematic inflation. This may or may not compensate for the underwriting earnings of course.