Key points:
United Maritime Was Down 32% yesterday, up 80% today
Something is driving this volatility
It could well be just the novelty of its arrival on NASDAQ
key point
United Maritime (NASDAQ: USEA) stock was down 32% at the close of play last night and now has risen 80% premarket this morning. This sort of volatility is not, as they say, usual, so what actually is going on here? The answer is, probably, that the market simply hasn't worked out its view of this recent spin off from Seanergy Maritime (NASDAQ: SHIP). There's always a worry when there is a spin off like this – why are these guys doing this? What do they know about future valuations that we don;t?
It's worth, as background, recalling John Paul Getty's comment about oil – sometimes it's cheaper to go drilling on the stock exchange. His point being that in a cyclical business – and shipping is definitely one of those – there are times when it's cheaper to build new assets – in Getty's world, drill the ground for oil – and sometimes it's cheaper to buy undervalued assets on the stock exchange. If this is true, and it is, then the reverse must also be true. Sometimes it's more profitable to unload assets onto a stock exchange than it is to run them directly as producing assets. So, always there's the thought that if someone is unloading business assets, into a spin off company, then are they calling the top of the market there? Are these assets worth more as a stock market company than they are as actual assets?
If that's so then this is the time that we as investors should be doing exactly what that company is doing. Unloading the stock market assets and buying into the creation of new ones. But into shipbuilding rather than extant ships that is. Now, whether that's the correct analysis of what's happening at United Maritime is another matter – but it's one that will be running through investors' minds.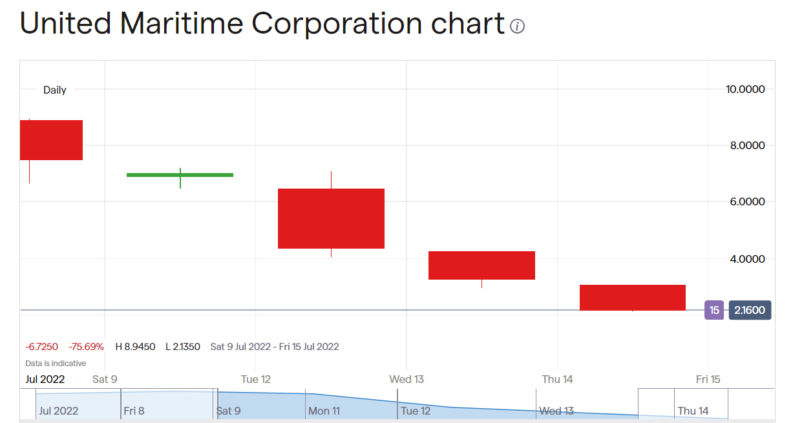 Also read: Best Oil Stocks To Buy Right Now.
It's possible that the thing causing this volatility in United Maritime is simply that it's so new to the markets – only a week on NASDAQ for USEA so far. In that time it has also added four ships to its fleet. Which isn't the action of people just giving off assets at the peak of the stock market valuations. That's people buying in new assets to then run them operationally. Now it's true, those four vessels are a bit old by modern shipping standards. Coming up to major refit status soon enough.
On the other hand it's also true that the oil market is going through great turbulence. The thing about the bans on Russian oil being that they don't change how much oil is produced or consumed, only where each load of oil goes. This is clearly increasing prices in the tanker market currently. So right now – but for how long? – owning physical tankers is a good business to be in.
The likelihood is that this is what is driving the United Maritime volatility, down 32% yesterday, up 80% or so premarket, no one as yet has a firm grasp on what the valuation should be therefore it's highly variable.