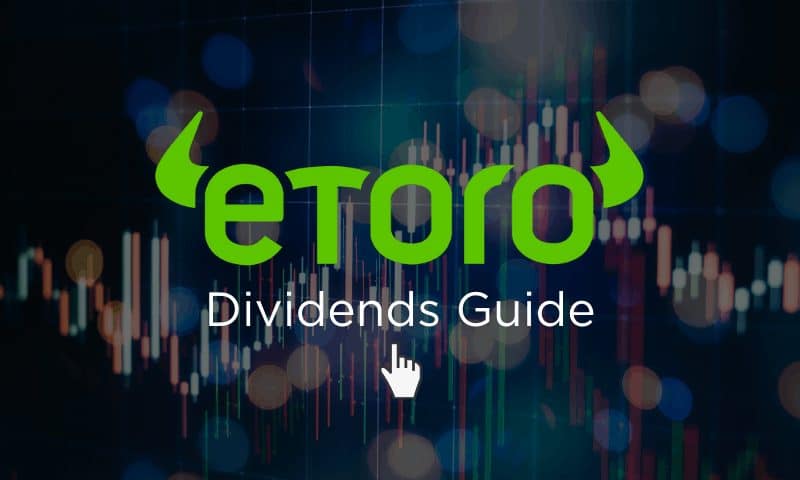 When it comes to dividends, eToro is a one-stop-shop for aspiring and seasoned traders alike. With a robust dividends payment system and unique features not found anywhere else, eToro makes it easy to profit and prosper from dividend trading.
In this guide, we'll take a look at:
How eToro makes dividend payments
What eToro pays dividends on
What makes it so unique
The highest dividend stocks available right now
How to maximise dividend profit
Does eToro Pay Dividends?
Yes, eToro pays dividends on a range of instruments including Stocks, ETFs, Real Assets and Indices that pay a dividend. Unlike most brokers, eToro also pays dividends on CFDs. Dividends are paid into or removed from your account balance depending on the position you hold.
A quick note on Real Assets – Dividends are only paid on Non-leveraged 'Buy' positions for Stocks, ETFs & cryptocurrencies.
How Does eToro Pay Dividends?
The way eToro pays dividends depends on the positions you hold in:
CFDs – If you hold a CFD position you will receive a dividend on the ex-dividend date (Date of Record) that will be shown in your available balance.
Real Assets – In order to receive a dividend payment, you must have held the position before the market closes 2 days before the ex-dividend date (Date of Record).
When Does eToro Pay Dividends?
eToro dividends are usually paid out overnight. They are calculated automatically as refunds and then added to your profits. In case you had eToro fees from holding the stock, the refunds will reduce the accrued fees.
Copy Dividends
If you're already trading with eToro, you'll be familiar with its unique Copy Trading platform. If not, Copy Trading – as the name implies – lets you copy your favourite trader's moves and portfolio. Every position they hold and trade that they make will automatically happen in your own portfolio.
Copy Dividends, on the other hand, allows you to benefit from the same profits as the traders you're mimicking. If the superstar trader that you're copying has made some big profits after a couple of weeks and decides to withdraw, then a commensurate amount will be removed from your copycat allocation, i.e. the amount you've allocated to the trader.
Confused?
Let's say that the Superstar Trader has £1,000 in their account
You decide to allocate £100 (10%) to them and are willing to sit back and see what happens
They make £200 in profit over the next couple of weeks
£20 (or 10%) is removed from your allocation and sent to your account balance
Avoid copying traders who have 100% gain plus, because they are most probably employing high-risk strategies. Follow traders who are moderate risk takers with around a 30% gain, since this still gives awesome returns without much exposure to extreme risk.

Dividends Tax
In some instances, receiving a dividend payment is taxable depending on the laws of your country of residence. Withholding tax rates vary from country to country, so we recommend contacting eToro directly or speaking with a qualified tax professional.
How to Maximise Profit From eToro Dividends
When you trade on eToro CFDs (Contracts for difference), you have the opportunity to:
Earn on an upward price movement when you purchase stock
Earn from a downward price movement when you sell the stock, and
You can use leverage on your trades.
eToro is an exception in the broker world as most other brokers don't offer dividends on CFDs. Using the Dividend Calendar and Leverage, the following steps will help you extract profit from your eToro dividends:
Research the stocks that will be paying dividends on a particular day
Open a 'buy' position a day before the dividends are paid out for any stocks with opportunity for dividends (use leverage if you intend to increase risk and profits)
Receive profits from an overnight dividend pay-out
Close at the opening and repeat the strategy the following day with different stocks
An important point to note is that you should always refrain from purchasing stock when the market is in a downtrend. To predict whether the price of a stock will go up or down the next day, use short-term technical analysis.
Unique Features of eToro
Outside of Copy Trading, the 'Popular Investors' programme is another unique eToro feature. It gives rewards to users based on the number of trade copiers they have in the form of monthly commissions (up to $10,000 per month). With these tools available, little or no financial knowledge is needed to get started with an eToro demo account.
Further Reading