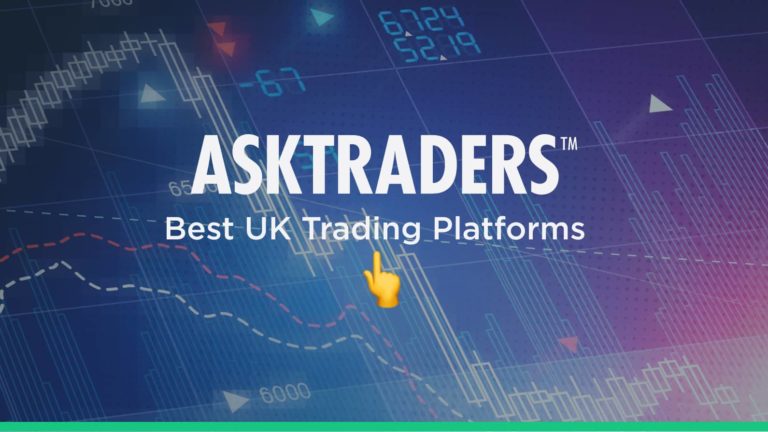 Looking for the best UK trading platforms? Look no further. These top-rated broker platforms are some of the best around. With a clutch of advanced analysis features, educational resources and top-notch security, these platforms make trading a breeze for traders of all ability levels.
Best trading platforms in the UK
#1

Pepperstone

Open Account

77.6% of retail investor accounts lose money when trading spread bets and CFDs with this provider.
What We Liked
Being able to choose from four top trading platforms – MT4, MT5, TradingView and cTrader
Research material that helps identify trading opportunities
Great trade execution functionality
Customer support of the highest level
Strong regulatory credential
An abundance of trading tools and indicators
Pepperstone is a well-regulated broker with a distinctive approach that appeals to many. It's considered to be one of the best UK trading platforms due to its dedication to regulatory compliance while also providing clients with some of the best trading software UK on the market.
In terms of actual trading, Pepperstone stands out by offering you the choice of four top trading platforms. MetaTrader 4 is for very good reason the most popular retail trading platform, and Pepperstone's MT4 is recognized as one of the best in the world. MetaTrader 5 and cTrader offer the same quality of service but with slightly different functionality. You can also gain access to TradingView by means of a Pepperstone Razor account. It's a real positive to be able to test from a range to find the one that suits your needs.
To help its clients make the most of the trading platforms, the broker offers a lot of support services. The 'research and learning' material is of a very high grade. The broker's 'Week Ahead' online video captures the upcoming news and gives it a trade-orientated spin.
A quick online search also shows that its customer support is often ranked 'best in class'. While some other brokers are scaling back on their levels of customer support, Pepperstone is definitely bucking that trend. That is something to considers, as immediate access to professional staff can turn a loss-making trade into a profit-making one.
Pepperstone's customer support is often ranked best-in-class
The various trading platforms offer very different functionality. The MetaTrader suite of platforms is packed full of razor-sharp charts and charting tools. There are over 30 'indicators' built into the software package, each one supporting the efforts of traders to spot a trade entry or exit point.
Then there is the MetaTrader community, which has been built up over decades. This online community is a forum in which traders can share their trading ideas (and signals) or just catch up on the latest trading platform trends.
CTrader is more colourful and has tools designed to help you monitor the moves in the market. There are even monitors that allow you to see the buy and sell orders feeding through the pipeline and into the market. An interesting tool that is used by many that are looking to catch the optimal moment to execute a trade and to get if off to a good start.
With offices in locations ranging from Australia to the UK and an emphasis on forex markets, Pepperstone continues to take steps towards becoming a significant global player. The approach is paying off and the firm can now provide UK clients with some of the best trading platforms in the market.
#2

XTB
What We Liked
An exceptional in-house trading platform, xStation 5
Super-fast execution speeds
Cutting-edge technology combined with simple to use functionality
Technical support on hand 24/7
A global broker which is listed on the London Stock Exchange
XTB is a relative newcomer to the broker space but is certainly making waves. One of its appealing features is the ability to choose between the MetaTrader 4 and xStation 5 trading platforms. MetaTrader 4 is virtually bulletproof and has functionality which is particularly attractive to forex traders looking to tap into some of the best trading software in the market.
The proprietary xStation 5 has won a range of awards and is a contender for the title of the best online trading platform UK. The web-based platform has an appealing aesthetic, intuitive functionality and is very user-friendly.
Behind the user-facing features is some of the best trading software in the market, and the firm prides itself on the speed of trade execution.  The tools available if you set up with XTB include data on market order depth – how strong are the respective forces of buying and selling.
There are also sentiment indicators and some very impressive performance statistics reports. In many ways, xStation 5 indicates the direction that the next generation of trading platforms will be heading.
Another way that XTB stands out is around the clock customer support coverage. Offering support on a 24/7 basis means that technical issues relating to your trading development can be addressed at a time to suit you – something that is particularly appealing to those with a busy day job.
#3

Tickmill
What We Liked
High execution speeds plus low commissions and fees
FCA regulatory oversight, along with CySEC and regulators in South Africa, Seychelles, Cyprus, and Labuan
An abundance of training materials and in-house analysis support
All trading strategies enabled, including EAs, hedging, and scalping
Dedicated Customer Support in several languages
MetaTrader family of platform products
Tickmill is an award-winning and industry-acclaimed Forex and CFD broker headquartered in London. It also offers Futures contracts. Its primary regulator is the FCA UK, but it also has an international presence across the globe with additional regulatory compliance with the FSCA in Seychelles, CySEC in Cyprus, Labuan FSA and the FSCA in South Africa. It was founded in 2014, but the staff have experience in the industry dating back to the seventies.
The firm offers retail services to individual traders and investors, but it also has a large clientele of "B2B" institutional customers, including banks, hedge funds, money managers, and brokers. It has built a deep network of liquidity providers and counterparties, such that it has extremely low fees and commissions and fast execution speeds with no requotes. The breadth of Tickmill's extensive connectivity also benefits its retail customers. Low fees, high execution speeds, and the safety of segregated accounts in major banking institutions are a given.
There are three account classifications for the retail Forex and CFD customer – Pro, Classic, and VIP. All strategies are allowed, whether it be standard trading, the use of EAs, hedging or scalping. A single Futures account provides access to a variety of exchanges in this medium. There is also no internal dealing desk since 100% of orders are cleared through liquidity providers.
The management team at Tickmill has chosen to offer the highly popular MetaTrader family of trading platform products. MT4 and its other variations are known for user-friendly interfaces, charting tools, and broad support communities. Tickmill's Advanced Trading Toolkit augments those capabilities with a host of features related to news feeds, trader sentiments, and market overviews. The firm also provides an extensive library of training materials for clients, including video tutorials, webinars, seminars, and eBooks.
The Tickmill Group has won several prestigious industry awards in recent years related to the quality of its service delivery. In 2020 and 2021, they included #1 Broker for Commissions and Fees, Best Customer Service, Best Trading Experience, and Most Reliable Broker.
With over 200 employees globally, over 350,000 registered accounts, and 385 million trades executed as of August 2021, Tickmill has established a reputation for service excellence among its broad customer base. It is also one of the fastest-growing brokers in the industry and is well worth your consideration.
#4

Plus500 (CFD provider)

Open Account 79% of retail investor accounts lose money when trading CFDs with this provider.

You should consider whether you can afford to take the high risk of losing your money.
What We Liked
Excellent platform functionality
More than 13 Cryptocurrency markets to choose from (*availability subject to regulation)
Bespoke features unique to Plus500
Tight trading spreads
Advanced risk management tools
Feedback from the trading community is that the Plus500 platform is one of the best online trading platforms available.
The proprietary platform comes with a lot of user-friendly features that allow you to set site functionality just the way you want it. Being in the best position to trade is essential and neat features of the Plus500 platform include being able to adjust the layout and appearance using one-click functionality rather than working through 'settings' options.
The different areas of the site remain out of view until required, which means you can focus on what you need. Navigation across the different areas of the platform is effortless, and each area is packed full of useful tools.
The Plus500 platform gains extra points for the range of markets it offers.
The 'Account Snapshot' screen is one example of how thoughtful design can enhance the user experience. It provides clients with all the information they need about their account simply and in a  straightforward manner.
The Plus500 platform gains extra points for the range of markets it offers. It's one of the best options for UK platforms with instruments available ranging from single stock German equities, through commodities and on to Italian market indices.
The most demanding experienced traders may notice some aspects of high-level functionality are missing. The decision by Plus500 to leave out some of those high-end tools means the platform is uncluttered and very easy to use to get into the markets.
Despite being exceptionally easy to use Plus500 also operates a 24/7 help-desk. This above-average customer support is vital for those who use weekends to review and develop their trading activity.

#5

eToro
What We Liked
Excellent mobile trading app
Market-leading Copy Trading
Straightforward site functionality
Strong regulatory framework
Hassle-free cash deposits and withdrawals
The fact that millions of traders use the eToro platform speaks for itself. The broker has developed a trading platform which operates equally well in desktop and mobile formats. If you asked traders for an opinion on which is the best trading app in the UK, many would point to eToro, which has powerful functionality on handheld devices.
The eToro platform is packed full of powerful software tools, yet maintains a crisp and clean feel. The process of booking a trade is straightforward. All of the other essential account management functions such as depositing and withdrawing funds are also as efficient as with any other broker in the market.
If you asked traders for an opinion on which is the best trading app in the UK, many would point to eToro.
It makes using the eToro platform not only easy but also fast. This possibly is another nod to why the platform is particularly popular with those who trade on the move.
The eToro platform is also recognised as being the 'go-to' platform for copy trading. The platform supports thousands of traders who (for a fee) will provide trading signals for your account.
This offers an opportunity to the very busy and hands-off traders who are looking to gain exposure to the financial markets. The eToro platform helps its clients by applying a system of metrics to the different copy traders.
They are graded in terms of risk-return and details such as trading track record are all shared to ensure a high degree of transparency. As an investor, you can't get too much of that kind of information, so eToro has done well to set up in that manner.
#6

IG
What We Liked
The trading platform has a particularly attractive layout
An abundance of research and analysis tools
Over 10,000 markets to choose from
Spread-betting markets
In-house TV channel 'IG Live' helps traders keep on top of events
Excellent customer support
IG is one of the most popular brokers in the market and a lot of the firm's success is based on its trading platform. Not only is it packed full of markets and powerful software tools, but it is also particularly well laid-out.
IG's mobile app carries over the same functionality. However, those who open the platform on a larger desktop screen will see it looking its best.
The firm offers more than 10,000 markets to trade, which puts it into a very select group of high-end multi-asset brokers. Incredibly, each market is also covered in great depth with extra fundamental and technical data available to help you make the best trading decision you can.
Whether you are looking for stock trading, options, commodities or ETFs you'll be hard pushed to find IG not supporting that market.
The 'Client Sentiment' function is particularly useful. It shows the percentage of IG client accounts with positions in a market that are currently long or short calculated to the nearest 1%. The Trading Activity monitor shows the proportion of long and short trades over various periods.
Whether you are looking for stock trading, options, commodities or ETFs you'll be hard pushed to find IG not supporting that market. The firm's claim to be the best online trading platform UK is backed up by its long history of also offering spread-bet in addition to CFD markets.
There is no difference in the functionality of the spread-betting and CFD platforms. The instruments are very popular with UK clients looking to take advantage of the different way that tax is applied to profits made in the respective markets.