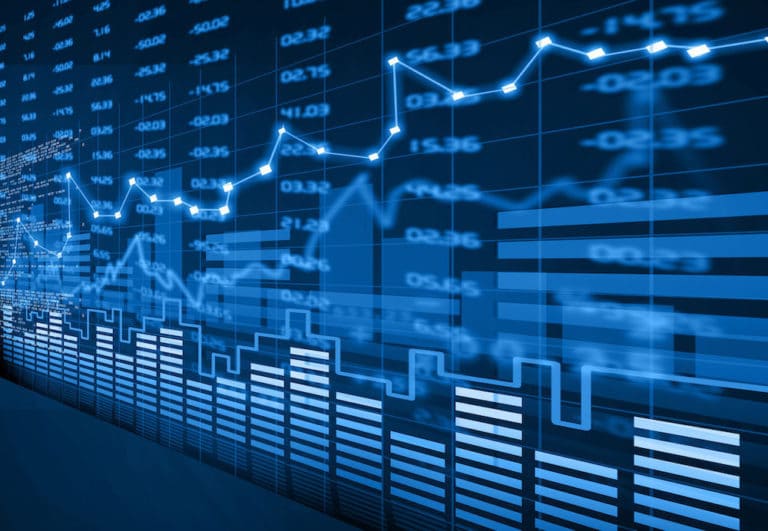 To begin your trading journey in a risk-free manner, Pepperstone demo is certainly a fantastic choice with a professional set-up. In this article, we're going to cover the following points:
How to open a demo account
How to get started
Pepperstone demo account review
Advantages of Pepperstone demo account
How to Open A Pepperstone Demo Account
1. Head Over To The Pepperstone Demo Account Page
Click the link found HERE to navigate to the Pepperstone demo account sign up page.
2. Fill Out Your Personal Details On The Sign-Up Page
You'll notice the left-hand bar gives an overview of the four steps required to set up a live account. The good news is that setting up a demo account requires completing just 'step one'. It's an effortless process and can even be done by piggy-backing off your Google or Facebook profiles.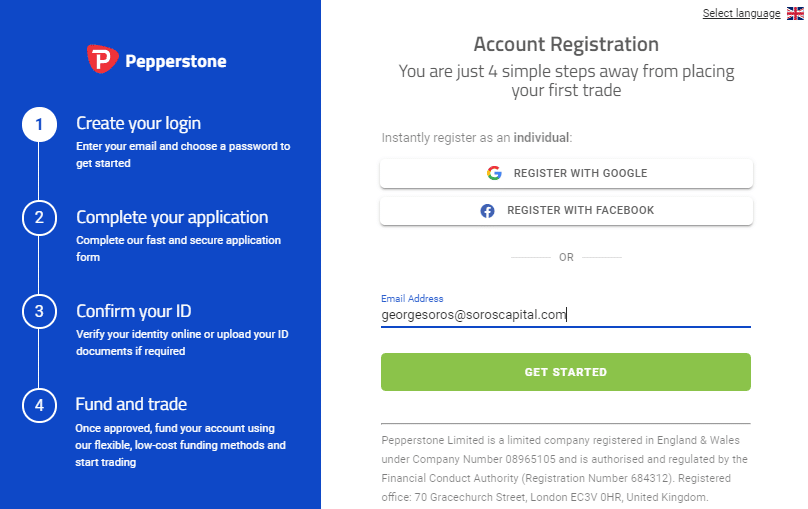 The next stage involves ticking the boxes that the broker needs you to complete for regulatory reasons. That is a good thing and one of the signs to look out for to indicate that you are onboarding with a reputable broker.
First, you have to declare you are over 18 years of age and agree to Pepperstone's policies.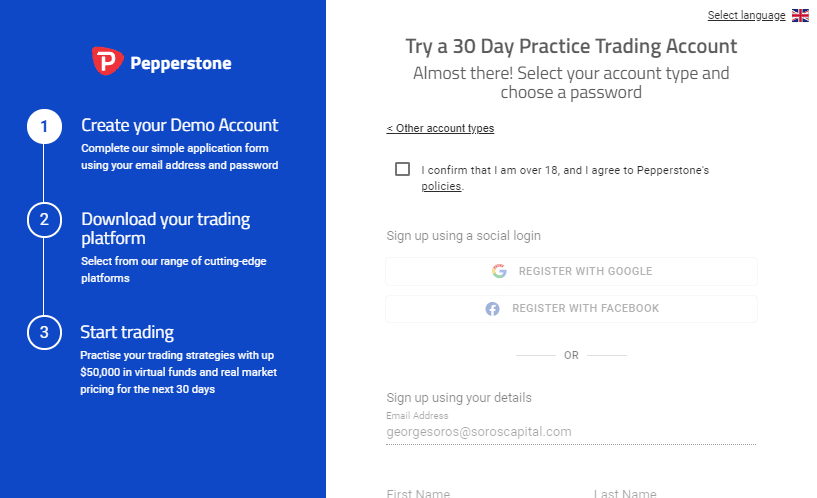 Then complete the personal information section. The standard rules about password criteria apply and keeping that information secure will mean that only you can access your account.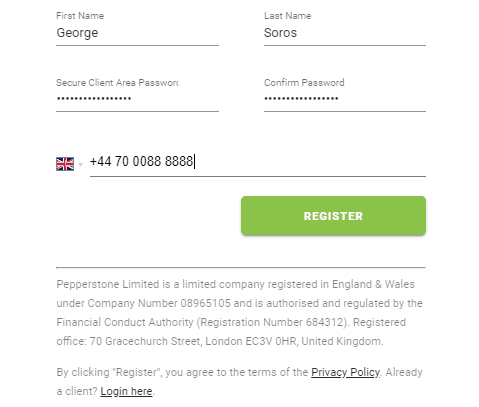 Your account is now ready.
Getting Started
One of the good things about Pepperstone is it offers clients, even those on demo accounts the chance to run their trading on a choice of platforms. The options include:
MetaTrader4 (MT4) — the most popular retail trading platform in the world
MetaTrader5 (MT5) — the second-generation MetaTrader platform with a range of new neat features
cTrader — named the best FX Trading Platform of the year 2018 at the London Summit Awards 2018
All of these third-party platforms are held in high regard. They are available in WebTrader, Desktop Download and mobile App format.
After selecting the platform of your choice, you'll be taken to a new screen confirming your balance of £50,000 virtual capital with which to trade.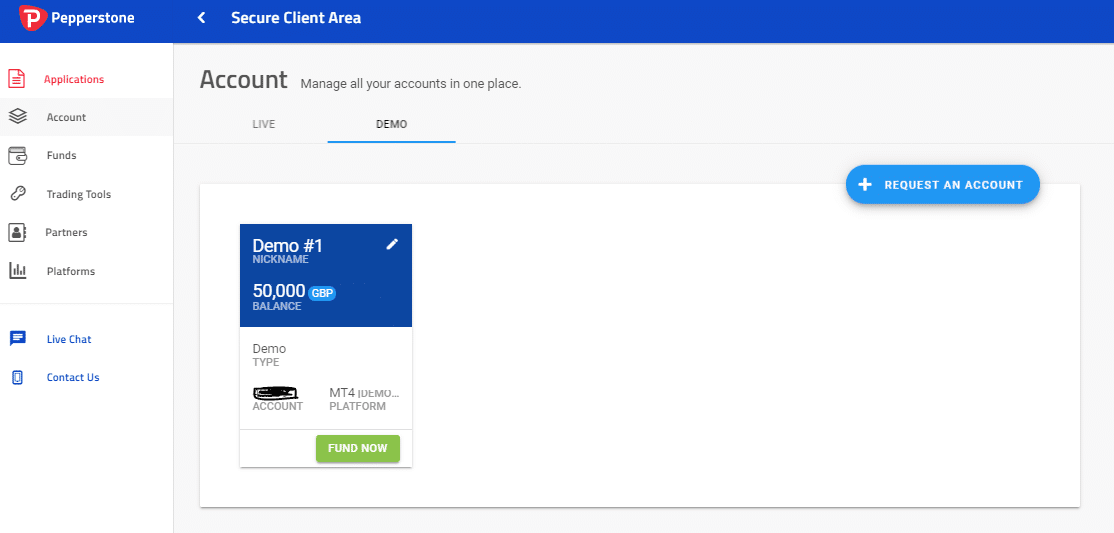 Choose Your Account Settings
It's possible to set up your account in up to nine other base currencies, if that is your preference.
Then click on 'Platform Type' (in this case cTrader) and then 'Account Type'.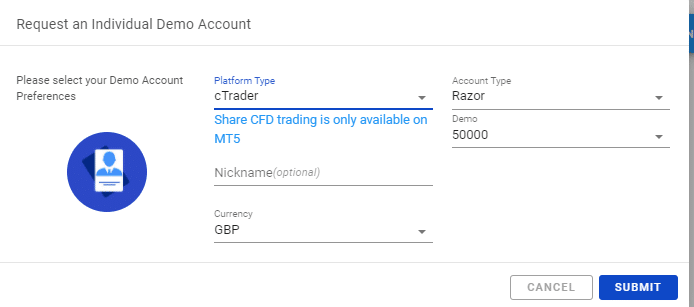 In terms of demo accounts, the account type is not a deal-breaker. It is possible to set off and trade on the one that catches your eye. Given that this testing process has real value, it is, however, a good idea to give some thought to what account you'll ultimately use to trade.
Pepperstone offers three account types:
Standard — The Standard account offers competitive spreads and no commission. It is the ideal account choice if you're new to trading or prefer to place long-term trades.
Razor — Transparent, competitive FX trading costs with no account fees.
Spread betting — Offering the same trading functionality with certain tax advantages if your country of domicile permits it.
Pepperstone Demo Account Review
Many traders will already be familiar with MT4/MT5, so our demo-run is going to take advantage of cTrader. Clicking through and trying what is offered by the Pepperstone site itself is also a good idea.
It describes the features of cTrader as:
"Intuitive design that replicates an institutional trading environment – perfect for those getting into trading."
There's no need for FOMO, as it's always possible to adjust your profile to try out one of the other two platforms whenever you like. The broker also offers a handy overview of the different features associated with each one. Its summary analysis allows you to go into as much detail as you like.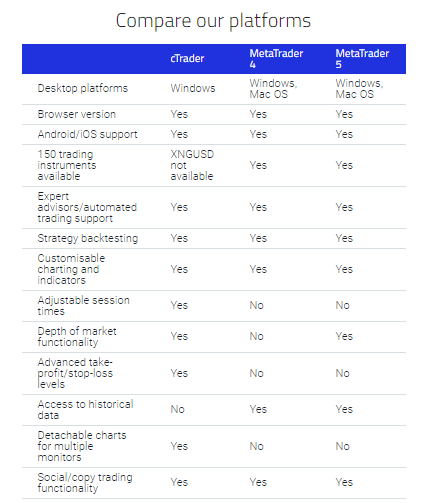 Once you are through to the demo account, there are options to save passwords and a direct route to putting on your first trade.
As with most platforms, the process of booking a trade involves selecting a market.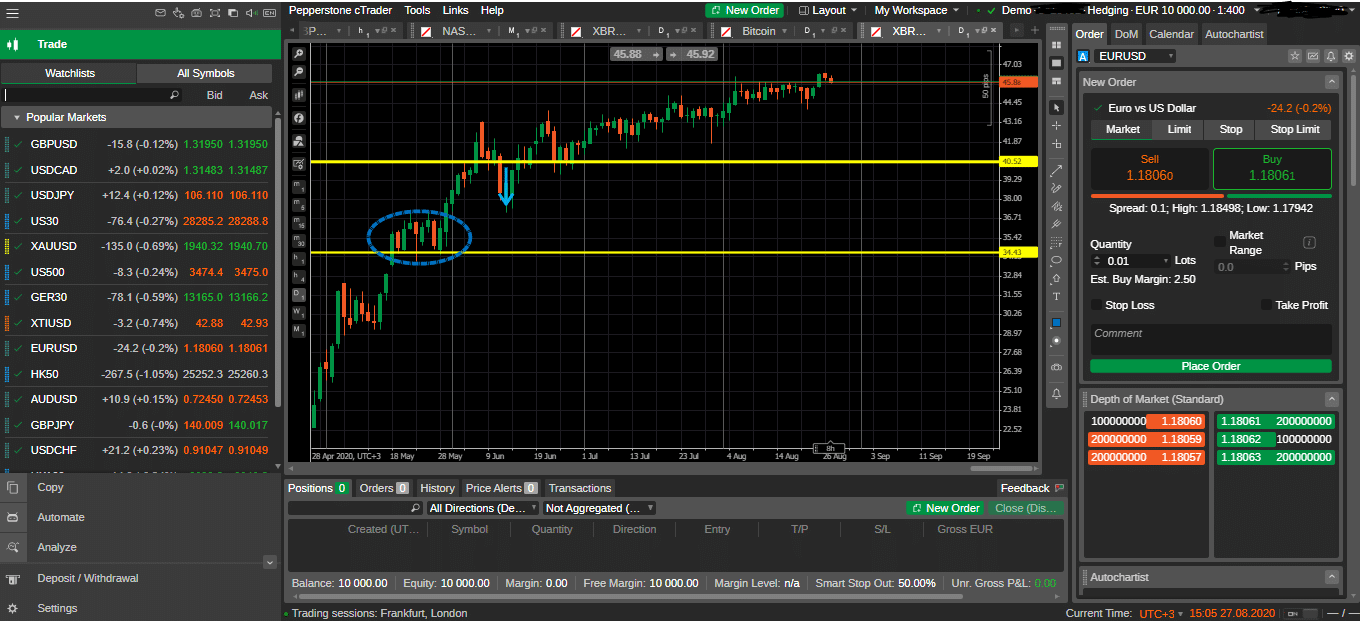 The above example is the EURUSD currency market. A buy trade here will buy euros and sell US dollars. Depending on the subsequent changes to market dynamics, our demo trade will show a profit or loss based on the continuously moving market prices.
A real plus point for the Pepperstone cTrader demo account is that it allows you to test some of the more advanced functions. The cTrader automate function is a service offered to those looking to trade their own automated systematic programs.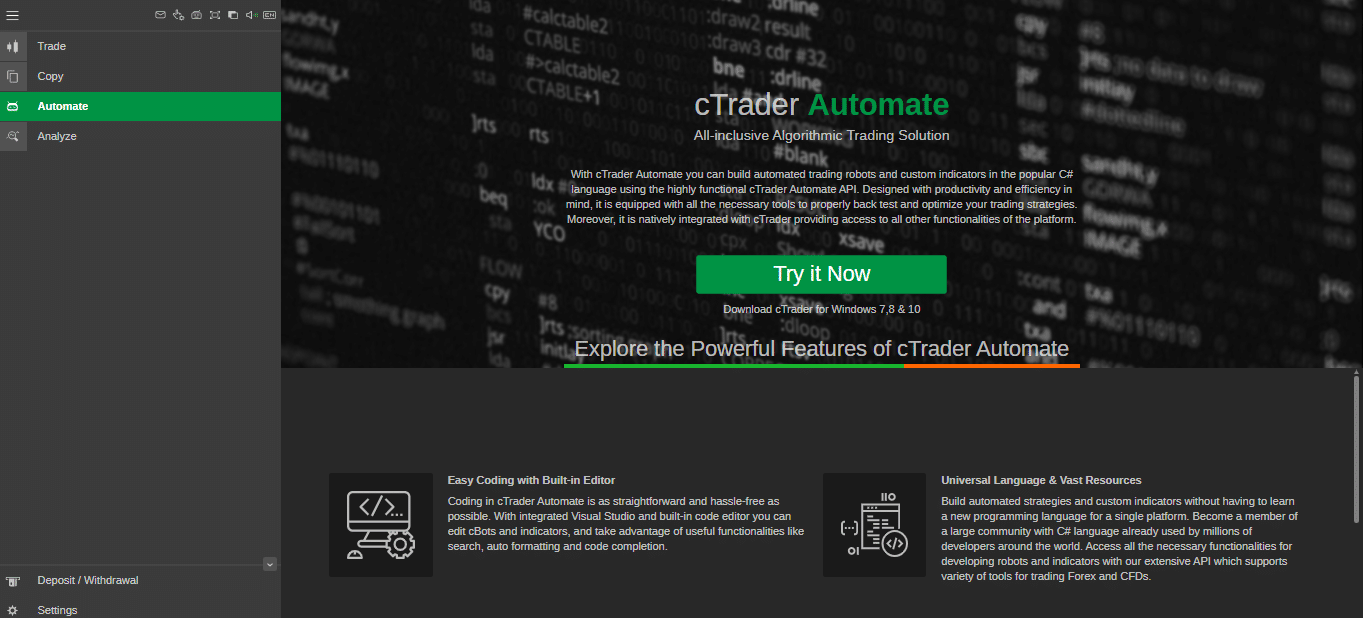 There is also the Copy Trading area of the site where you can take a more hands-off approach. Copy Trading involves applying the trading signals of other (more experienced traders) and applying them to your account.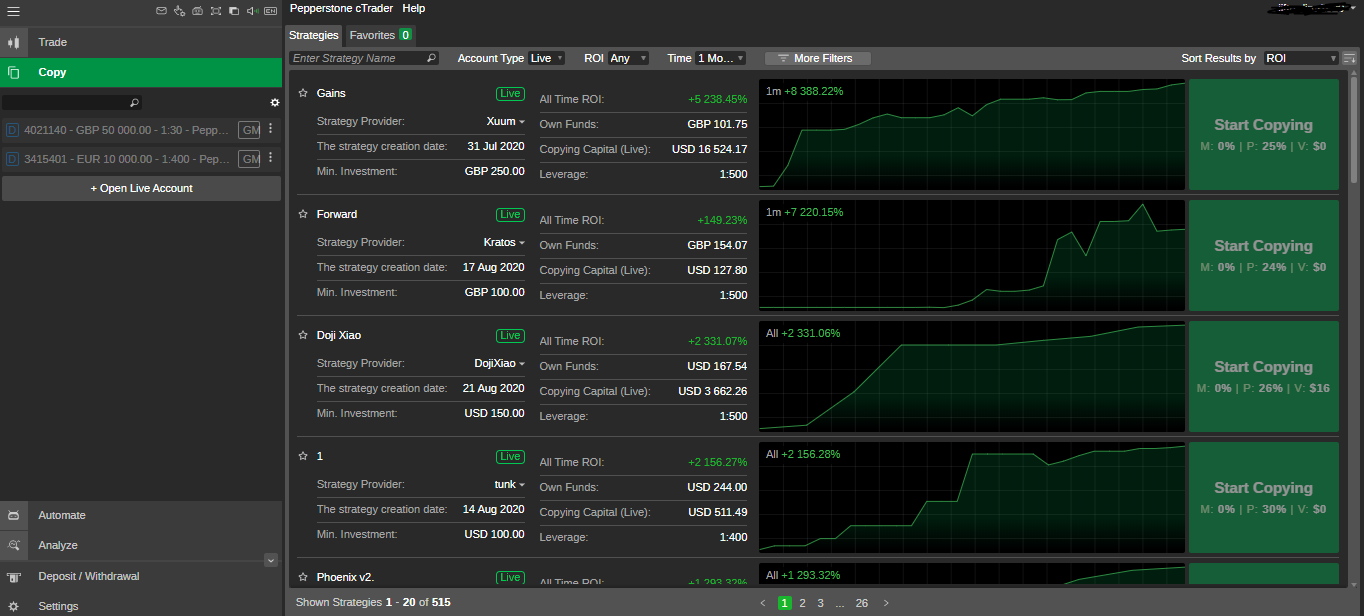 The demo account allows trading with virtual funds and it also provides an opportunity to become familiar with the admin side of things. The cTrader platform at Pepperstone does an excellent job of making such processing user-friendly. It also keeps it tucked away so as not to get in the way of actual trading.
It is a fantastic and professional set-up, where you can use a plethora of technical analysis indicators and open and close positions with a single click. The platform also has a mobile app that you can use via iOS or Android.
Advantages Of A Demo Account
Fast-tracked learning — The ubiquitous training materials found online can be very useful.
A demo account helps you skip some of those lessons by providing a hands-on experience that enables you to gain a better understanding of trading.
Testing — Follow the lead of institutional investors and use virtual accounts to test out new strategies.
New tricks — Demo accounts can be particularly useful when branching out into unfamiliar territory. Whether it is a particular currency pair or an entire asset group such as cryptocurrencies.
Information is power — A demo account allows you to get to know how your broker works. There are plenty of alternatives and demo accounts are free, so if it's not a good fit, you can quickly move on.
Operational risk — 'Fat finger' errors plague all traders, even seasoned pros. It is just that the top guys have learnt they need to know their systems and check their trades. A demo account offers an insight into how to do that and provides a risk-free chance to practice.
The Bottom Line
The Pepperstone demo account is only active for 30-days. Such restrictions are increasingly becoming the industry norm as brokers adopt good housekeeping practises.
The time provided is easily enough to get to grips with the cTrader platform. There is also the option of opening a new account with a different email address if more time is needed.
It's a wonderful blend of intuitive functionality and super-powerful software. The institutional-grade platform is a great way to test out trading and a good choice if and when you decide to fund the account and trade real funds.
Some of our testers found there was a delay between signing up and receiving the email with the required log-ins to the cTrader account. The Pepperstone Support Team explained that as cTrader is a third-party product, so that might sometimes occur.
The staff at Pepperstone have racked up a host of industry awards for customer service and the problem was promptly fixed. While slightly inconvenient, gaining access to the impressive cTrader platform was undoubtedly worth the wait.
One of the great aspects of demo account trading is that it is risk-free. Do bear in mind though that the switch to trading real funds can play tricks on your 'trading psychology'. One top tip is that when that time comes, start trading in a small way.
People Who Read This Also Viewed: