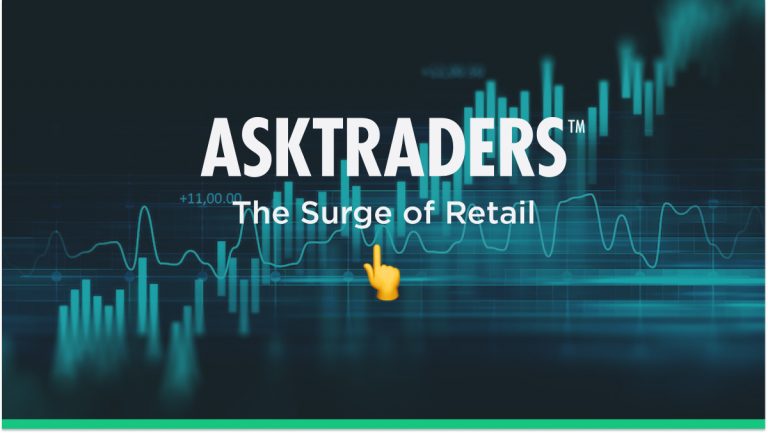 We at AskTraders decided to conduct a detailed analysis to find the top-performing and least-performing US states for retail spend, as retailers big and small closed 12,200 stores last year after the pandemic ravaged through each U.S state.

With the country moving forward from the COVID-19 pandemic, stores have started to reopen and retail in general have opened their doors to the general public, meaning that the economy will start working towards an upward trend.
We looked at data from Census.gov which gathers national data to determine the percentage growth of all retail sales per US state. With this, we discovered and ranked the best and least-performing states for retail growth in 2021.
RECOVERING FROM ONE OF AMERICA'S WORST ECONOMIC CRISIS
More than 9,300 stores closed in 2019 and a record 12,200 stores shut their doors in 2020, equivalent to 159 million sq feet of retail space. JC Penney filed for bankruptcy in the Spring of 2020, along with GAP and Gamestop.
Even before the 2020 lockdowns, mall-based retailers had struggled as more and more consumers chose to buy online rather than in-person. Some retailers like Walmart were deemed 'essential' during lockdowns, whereas others like Abercrombie and Fitch weren't, making members of the U.S public confused as to what shops were open for in-person shopping.
People didn't stop buying from retailers though – their method of shopping was all that changed. Consumers spent $791 billion online with U.S merchants online in 2020, up by an incredible 32.4% from 2019. That's the highest annual e-commerce growth over the last two decades. Amazon accounted for more than a third of these sales.
STORE CLOSURES IN AMERICA ARE EXPECTED TO DROP A 5-YEAR LOW
The state of US retail bottomed out last year, store closures hit record highs as more consumers chose to shop online rather than in-store. Since the rough year of 2020, when COVID stifled in-store shopping, consumers have started returning to shopping in person after vaccines were rolled out. In June, retail sales were up by 15.8% from last year and clothing stores were up 43.4%.
NEW YORK, THE BIG APPLE CONTINUES, REVEALED AS THE TOP PERFORMING STATES IN THE US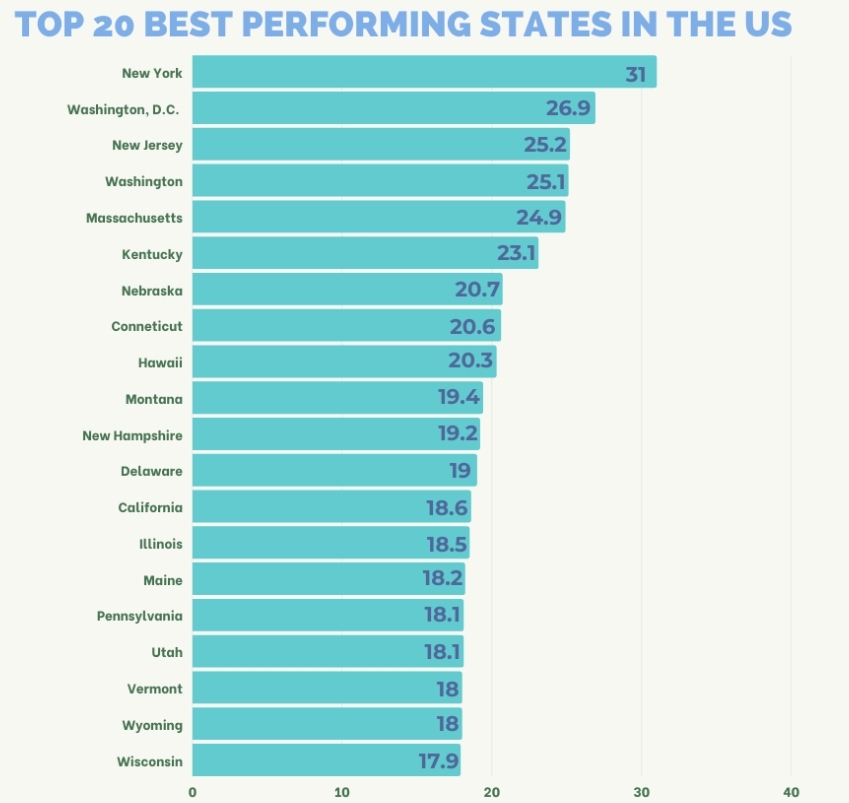 The data reveals which may not come to us a surprise for most is that New York is the top state in the US with an overall growth of 31%. Last year alone New York had a GDP of $1.7 trillion, this would also mean that New York on its own would be placed as the twelfth largest economy in the world if it was considered as a country.
If we focus on retail itself, $64.5 billion was added by retail alone to New York's GDP in 2020. Increasingly, there are about 941,000 workers across 77,000 retail businesses in the state according to the Retail Council of New York State.
Washington, D.C.comes in at second place with a 26.9% overall growth. Home to the US government, Washington, D.C. is considered to be one of the fastest growing regions in the US. The state itself houses multiple embassies and is leading in the international trading sectors which is having a positive impact on the state's retail growth.
In third place, New Jersey takes the spot with a 25.2% growth. Although New Jersey experienced a negative impact from COVID-19 from a reduction in employment and overall spending, the state bounced back heavily due to opening of stores and the easing of lockdown.
ALABAMA, REVEALED AS THE WORST PERFORMING STATE IN THE US
The data reveals that Alabama comes in as the least performing state in the US with a 12.8% growth. This may also not come as a surprise for most as the state is considered to be one of the poorest in the country and one of the clear indications of this is due to median family income being well below the national average.
Louisiana ranks as the second least performing state in terms of retail growth with a 13% performance. Although the median household income is above the livable wage, the poverty rate is considered to be one of the highest in the country with a 19.% rate.
North Carolina is placed third among the least performing states with a 13.5% retail growth rate. With the state already being considered as one of the lowest income rates per family household, North Carolina faced a huge problem with the pandemic as 1.4 million residents were already in poverty. This would mean a smaller growth rate in the state's retail sectors.
Sam Boughedda, Equities Trader at AskTraders says "the retail industry took an enormous hit from the pandemic and accelerated the shift towards online shopping, which meant e-commerce platforms (Amazon especially) saw sales surge.
However, one retail store that saw a big jump in sales as a result of the pandemic restrictions was Home Depot. Its stores were allowed to stay open after being deemed essential due to the nature of the items they sell. The stay-at-home orders also meant people had time to upgrade their homes, therefore heading to home depot to purchase goods.
To add to this, it is always good news that the economy is thriving despite the numerous financial setbacks the country faced, specifically the world wide pandemic. Regardless, the lockdowns are hopefully behind us, and US retail sales rose for the third month in October despite the rising price of goods. Moreover, with the US opening up to European and UK travellers in November, states such as New York will surely reap the benefits".
Methodology
The state rankings are based on the overall retail sector growth in the 2021 which are found in census.gov database. We then created an interactive infographic showcasing each growth per retail sector in each state.