Price swings in the global currency markets continue to provide opportunities for South African forex traders to make profits. Successful forex trading is about more than getting a few trades right. Long-term success requires some planning and step one is choosing the right broker.
This review of the best forex brokers in South Africa offers a shortlist of safe candidates, one of which might be an ideal partner for you.
Best Forex Brokers in South Africa
#1

FXTM
What We Liked
A trusted and well-established broker with around 2 million traders already using the platform.
The innovative Cent account allows new traders to start trading in small size.
Super-low minimum opening balance on the Cent account of only $10.
Tight spreads.
Hi-tech infrastructure to ensure reliable and fast trade execution.
Market-leading mobile apps, perfect for those who want to trade on the move.
Winner of the World Finance, Best Trading Experience award 2020.
High-quality risk protection and platform security.
24-hour customer support available in 18 different languages.
A well-regarded broker with a strong focus on educating new traders.
Free demo account
Lots of add-on trading tools, including FXTM Pivot Point Strategy and Trading Signals.
The increasingly popular broker FXTM has established a high-quality and client-focused platform designed to cater to South African traders. The firm has a reputation for developing ground-breaking technology and presenting that to its clients in user-friendly formats. It's also trusted thanks in part to the licences it operates under, including one from the Financial Sector Conduct Authority (FSCA) of South Africa.
The platform is well thought out and packed full of innovative features, which make trading easy. It's a happy combination of user-friendly functionality and powerful software tools to give its clients an edge when trading. So, it's no surprise the broker continues to pick up industry awards and new customers.

FXTM has invested heavily in providing a trading platform that is 'just right' for a lot of traders. Many of the features have been developed in-house and are unique to FXTM, so visiting the platform to try out its service using a demo account is a wise way to explore more.
Trading using a demo account is recommended as a first step into trading as it offers a risk-free way to practise. It's better to make any mistakes with virtual funds and then step up to live trading.
There is a difference between trading virtual and real funds and FXTM does well to offer its Cent Account, which has a minimum opening balance of just $10. New traders are able to develop the trading psychology needed to be successful but without the risk of burning through their cash pile before they get up to speed.
The Cent account found at FXTM really ought to be industry standard. It is just one example of how FXTM is reinventing what brokers offer clients and how they aim to help their traders be successful.
In terms of pricing, FXTM is hard to beat. The broker is so comfortable of its position in the market that it willingly shares data on its pricing and about how efficient its operations are. Not many brokers offer this kind of transparency and FXTM needs to be applauded for taking this approach to the broker-client relationship.
Broker Fees
FXTM offers four types of account types, Standard, Shares, ECN Zero and Cent, with slightly different T&Cs. But all are super-competitive.
EURUSD as low as 0.1pips
EURUSDStandard spread: 1.9 pips
EURUSD Average RAW spread: Standard spread 0.6 pips
GBPUSD Average RAW spread: Standard spread 0.5 pips
Commissions USD: $2

Source: FXTM
Trading Limit
Leverage terms can be adjusted to suit your needs and appetite to risk. The maximum margin terms for FXTM clients in South Africa is 1:2000. FXTM has a reputation for catering to traders with smaller accounts and allows for trades as small as 0.01 lots
FXTM provides access to a range of asset groups: 120 currency pairs + 36 commodities + 58 indices + 7 cryptocurrencies + 77 ETFs and 4 bonds
The minimum initial deposit requirement at FXTM is $10 for the Cent account and $100 for the Standard, Stock and FXTM copy trading accounts.
Maximum number of orders: 100.
Features
A trusted broker that is on the same side as its clients.
Step-by-step guidance on how to trade and your own account manager.
The Cent Accountis ideal for beginners looking to move up from demo account to live trading.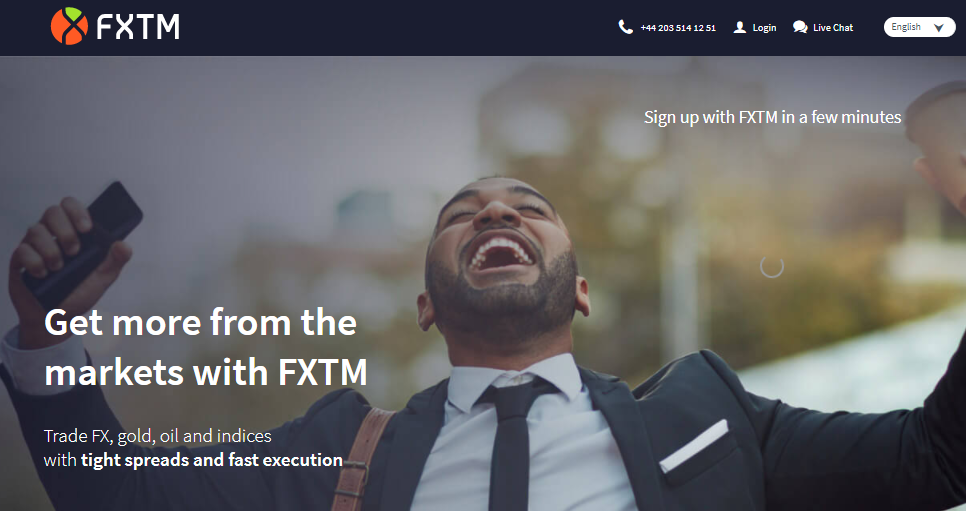 Regulation
ForexTime Limited is regulated by the Financial Sector Conduct Authority (FSCA) of South Africa, with FSP No. 46614.
Client funds remain segregated from the company's funds in top-tier banks, which means in the unlikely event that they fail, your funds are safe.
Platform
The FXTM offers its South African clients the choice of two of the world's most popular retail trading platforms. MetaTrader MT4 and its sister platform MT5 are the benchmarks other platforms measure themselves by. Both are available in desktop, WebTrader and mobile app format so that clients can keep in touch with the markets 24/7.
MT4 is packed full of powerful software tools such as trade indicators, which help traders spot opportunities in the markets. These are user-friendly but, once mastered, can take your trading up to another level. The graphics are razor-sharp it's also possible to access the Expert Advisors service and bolt-on third party services, which do your trading for you.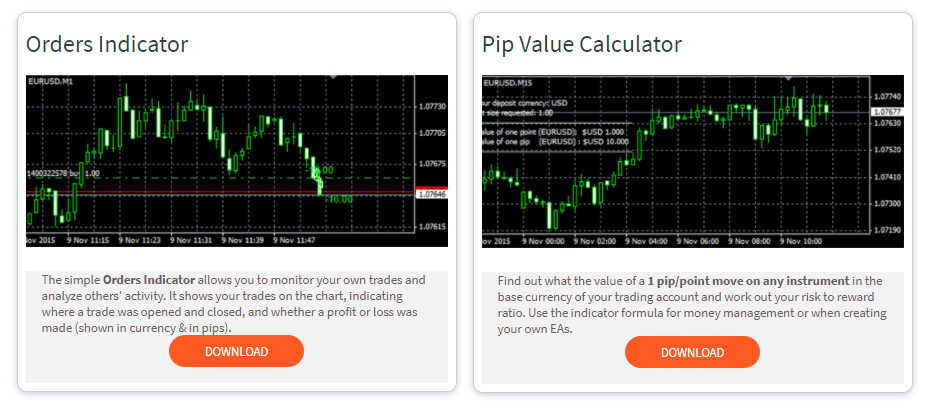 For those who are new to trading, FXTM has a great deal of training material to help new traders get started. For more advanced traders, there is a range of videos and webinars on topics ranging from analysis techniques to popular strategies.
The MetaTrader5 platform has more indicators and more time-frame settings and supports strategies such as hedging and scalping. The reality is that the MT4 and MT5 platforms complement each other and deciding between the two comes down to personal preference. It's good news that both are available at FXTM and trying them in a free demo account is highly recommended.
It's also worth mentioning some of the behind-the-scenes trading infrastructure. Both the MT4 and MT5 platforms allow you to take advantage of free VPS hosting, which means the servers with your trades on are situated close to the exchanges. Neat features like this mean improved trade efficiency and better pricing for FXTM clients.
The final platform to mention is the FXTM Invest Copy Trading service. This offers another way to get exposure to the financial markets and allows you to use other traders' ideas. Copy Trading is popular with beginners, and those who don't have the time to develop and manage their own strategies. At FXTM, there are more than 5,000 traders to choose from. The minimum opening balance for a Copy Trading account is only $100 and the best bit is that you only pay commissions on profitable trades.
Customer Support
FXTM takes client support very seriously and was awarded Best Trading Experience and Best Trading Condition awards at the World Finance Awards in 2020.
In the unlikely event that you do need to contact the FXTM customer support team, they are available in 18 languages and 24 hours a day. FXTM also provides multi-lingual dedicated account managers to help you get the most from trading. Both services are part of the reason FXTM wins so many awards in this area and it's possible to contact them via email, telephone and live chat.
#2

AvaTrade
What We Liked
A trusted global broker with a reputation for integrity and fairness.
Multi-lingual customer service available 24/5.
User-friendly — ideal for beginners but popular with more experienced traders too
Low minimum account balance — just $100
Free demo account
Markets available in indices, commodities, shares, forex, cryptocurrency, bonds, vanilla options and exchange-traded funds
Has been operating since 2006
Recent upgrades to educational and research materials
AvaTrade has been operating for over a decade and has gone about doing things the right way. As a result, it has a strong reputation in the trading community and has picked up a pile of industry awards. It has a strong focus on regulatory compliance and is licensed by seven different global regulators. As well as being trustworthy, AvaTrade demonstrates a willingness to introduce neat new ideas, which makes trading easier.

The research and learning sections of the platform have been recently upgraded and offer a modern approach to client development. Topics covered range from entry-level topics such as 'How to trade online' but move on to hints and tips relating to more complex strategies.
AvaTrade also offers its clients access to Copy Trading. Taking the ideas of others and applying them to your account is increasingly popular. There are still risks, even experienced investors can lose money, but it does allow a more 'light-touch' way of getting exposure to the financial markets.
Broker Fees
AvaTrade is in line with its peer group in terms of fees. It doesn't offer any super-deals, but nor is it a no-frills broker — you get what you pay for.
Inactivity fees do apply and are something to watch out for. They are $50 per quarter and kick in after only three months of trading inactivity. This issue can be managed by planning your trading.
Trading Limit
Margin terms vary across the different markets on offer and are in line with the FSCA rules and regulations. One neat feature is the AvaTrade Trade Calculator, which allows you to review and adjust leverage terms and costs prior to putting a trade on. This degree of flexibility makes the Trade Calculator a great way to manage risk.
The minimum account opening balance is $100 or the equivalent and paying money into your account using the following payment methods is free of charge:
Credit card
Wire transfer
e-Payment
Features
Copy trading using the ZuluTrade and DupliTrade services.
Join AvaTrade today and get a new client bonus of up to $10,000.
More than 50 currency markets to choose from and over 1,250 instruments in total
AvaProtect – check out the broker's revolutionary risk management tool, which offers up to $1m in protection.

Regulation
AvaTrade's regulatory structure has always been particularly strong. As well as South Africa, the firm is licensed as a regulated broker in locations including the EU, Japan and Australia.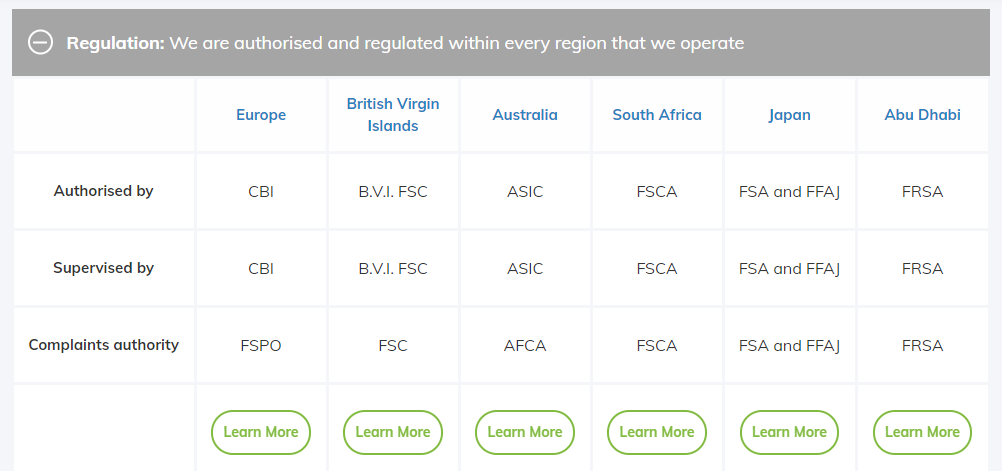 All client funds are segregated from those of the broker, meaning if they fail, your money is protected. Clients who register accounts protected by the Abu Dhabi regulator have their funds held at Barclays bank.
Platform
AvaTrade offers its clients a choice of two proprietary platforms, AvaTrade and AvaOptions. It also provides MetaTrader's MT4 platform and the ZuluTrade, and DupliTrade copy trading platforms.
The automated trading services offered by AvaTrade are particularly strong. The broker is fully prepared to host algorithmic models you develop or buy from others.
Another plus point for AvaTrade is it mobile app service. The AvaTradeGO platform works particularly well in the smaller screen format — available to you anytime, anywhere. It provides a user-friendly interface and innovative tools and is highly transportable. Whether you're on a business trip, at the office or on a holiday, you can access the markets at any time.
Customer Support
The award-winning AvaTrade customer services team is famous for its professional and responsive multi-lingual customer support. The team can be contacted via telephone, live chat or email. You can also reach them on social media platforms, including Twitter. AvaTrade's customer service provisions are offered in 15 different languages.
Upon your first deposit of $1,000 or more, you will be assigned a dedicated Account Manager. They will guide you through your first trades and teach you how to get the most out of the trading platform.
#3

Pepperstone
What We Liked
Well regulated
Choice of three market-leading platforms
Low-cost trading, raw spreads and low-latency
Demo account — free to use and doesn't expire
Super-fast execution — most orders are executed in less than 30ms
No account inactivity fees
Pepperstone is an Australian online broker, which has been successful enough to become a global player. It has a reputation for providing its clients with high-quality access to the international markets and is available to South African citizens. The broker is known for having award-winning customer service and providing a user-friendly trading experience.
Broker Fees
Execution spreads at Pepperstone are super-tight. The average for EURUSD is 0.16 pips, but being variable, they can be tighter than that if you are trading at times of good market liquidity. If you trade at the right time of day, the spreads in major currency pairs can be as tight as 0.0 pips.
Those looking to trade the commodity markets will find the pricing to their liking. The average spreads on Gold are an impressive 0.18 points.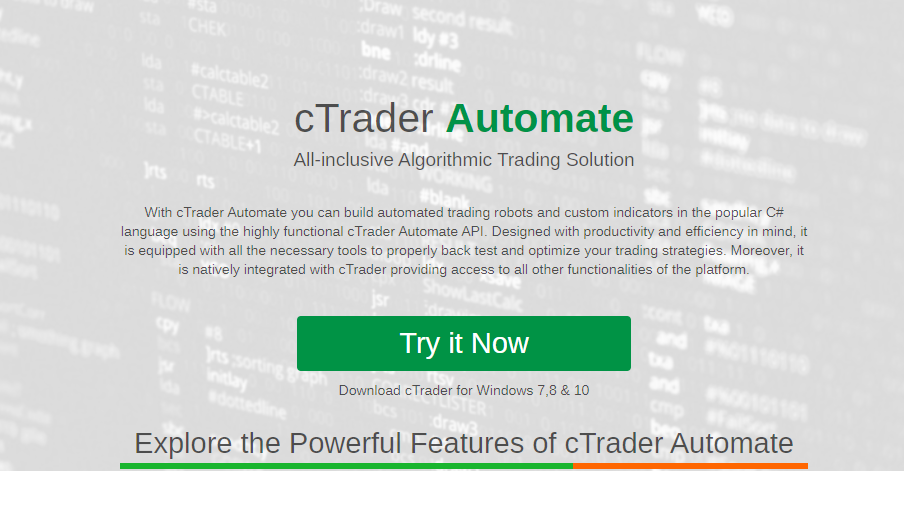 Trading Limit
There's little chance of running out of space at Pepperstone because it's possible to open up to 100 trading accounts. Leverage terms are also flexible and can go to as high as 1:500.
The minimum account opening balance is $200 and you can fund your account in a variety of ways, including credit card and bank transfer. If you want to practise first using a demo account, then those are free to use, easy to set up and Pepperstone doesn't put a limit on how long you can use it.
Features
Super-fast execution and achoice of two account types.
Most orders are executed in less than 30ms thanks to ECN and STP trade processing.
Scalping and hedging are permitted.
Regulation
Pepperstone is also authorised and regulated by a range of Tier-1 global regulators, including ASIC in Australia and the FCA (UK). In South Africa, Pepperstone Group Limited has applied to operate under licence from the FSCA (FSP Nr. 49497) but for now South African clients trade under the licenses of ASIC and the FCA.
Pepperstone can be considered one of the safest, as well as one of the best trading platforms that supports South African clients.
Platform
Pepperstone offers its clients the choice of three market-leading platforms, MT4, MT5 and cTrader. These are all third-party services and are very popular choices with traders around the world. Each of the platforms are packed with a wide range of educational material and research tools.
They are available in desktop, web-browser and mobile app format on iOS and Android devices.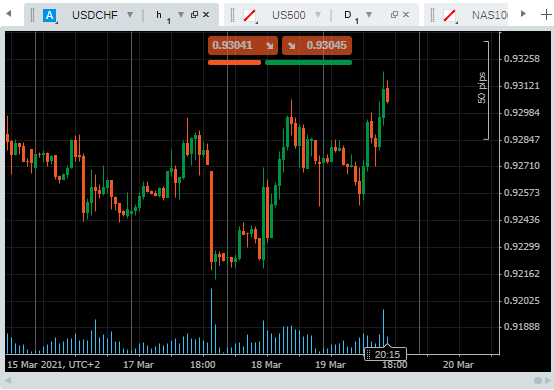 If you're looking for copy trading, then you can access the ZuluTrade platform from your Pepperstone account. Social trading is available via the MQL5 forum set up by MetaTrader users.
The Pepperstone platform is designed to accommodate beginners but is also able to take your trading to the next level. The Autochartist service is ideal for learning how to spot trade entry points.
Customer Support
The educational tools at Pepperstone are some of the best you'll find in the sector. Some are bought-in from third parties and some are developed in house. All in all, it's an impressive suite of services designed to build up trading skills.
As mentioned, the Pepperstone customer services team has a very strong reputation and keeps on winning industry awards. The team is professional, prompt and informed and supports clients across the world on a 24/5 basis.
It's possible to contact Pepperstone's customer service via telephone, live chat or email and having them close to hand is important. Having high-quality of customer support available at all times can be the difference between making a profit or a loss.
#4

FXCM
What We Liked
A global broker, established for 20 years.
Access to the highly regarded Trading Station platform and tight trading spreads.
High-quality trading tools such as NinjaTrader, TradingView, Capitalise AI and trading signals.
Free SMS trade alerts and online live classrooms.
Transparent reporting. Data willingly shared on broker performance topics ranging from slippage to average spreads.
Free demo account
Accesses deep liquidity pools with trading relationships with UBS, Barclays, Citi, Morgan Stanley and other big banks.
Winner of the Investors Chronicle Top Rated 2020 Forex Trading Platform award.
FXCM is a top-rate global multi-asset broker. The firm has been operating for 20 years and built its success on putting clients first. It offers an impressive range of markets, including forex, stocks, indices, commodities, asset baskets and cryptos.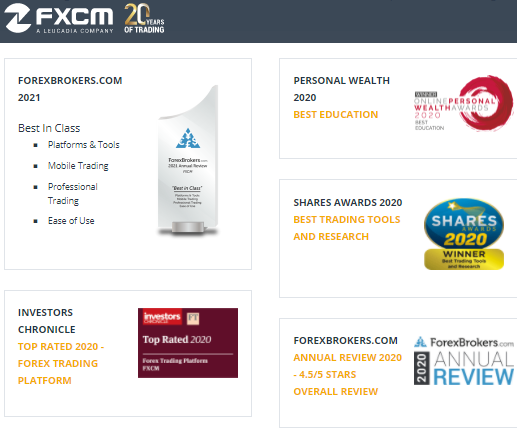 The platform has been designed with clients in mind. It's an ideal starting place for beginners due to its intuitive functionality but comes packed full of powerful trading tools which support intermediate and advanced trading techniques.
It is well regulated and, to offer clients extra security, has bricks and mortar offices in key markets, including FXCM South Africa (PTY) LTD.
Broker Fees
One sign of a good broker is that it is willing to share information on the costs it charges. Not only does transparency build a healthy client-broker relationship, it's also a sign that the broker is confident that it's competitive. FXCM does well in this respect and has given over part of its platform to share with clients the latest data on pricing levels.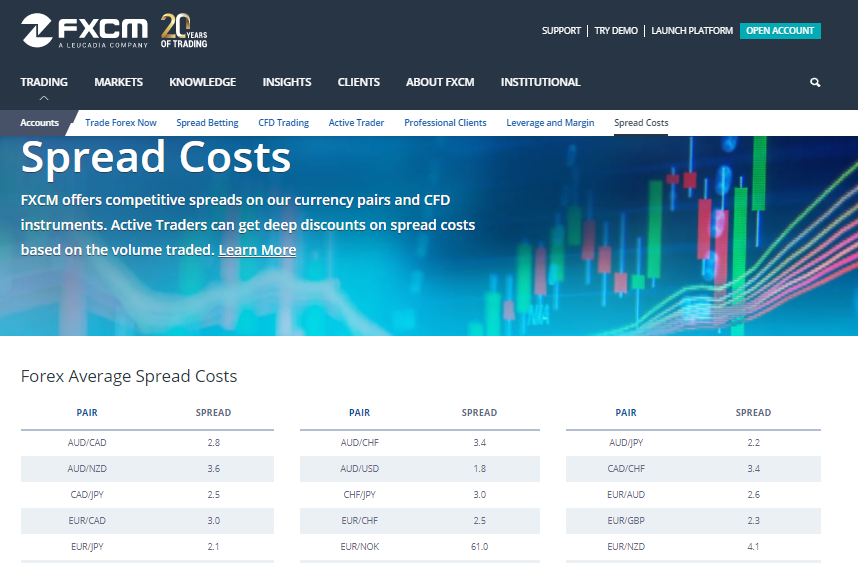 Fans of share trading will be pleased to know that some markets come with zero commissions.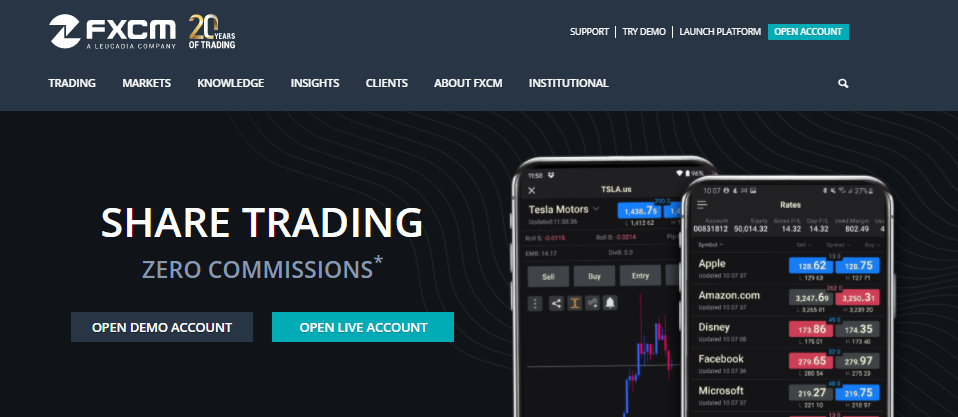 Trading Limit
Features:
The FXCM Rebate program returns cash to traders when they trade. Trade, get paid, repeat.
Back-testing and strategy optimisation tools are best-in-class
Regulation
FXCM South Africa (PTY) LTD is an operating subsidiary within the FXCM group of companies (collectively, the 'FXCM Group').
As stated on its website: "FXCM South Africa (PTY) LTD is an authorized Financial Services Provider and is regulated by the Financial Sector Conduct Authority under FSP No 46534". (Source: FXCM)
Registered address: 114 West Street, 6th Floor, Katherine & West Building, Sandton, 2196, Johannesburg, South Africa.
Platform
FXCM provides clients with the option of using MetaTrader4 MT4 or Trading Station. MT4 is incredibly popular due to its ability to support automated trading. It makes building your own algorithmic models or using those of others particularly easy. The option to use FXCM's VPS service for MT4 trading ensures trading is fast, low-cost and reliable.
Trading Station is a very impressive in-house-designed trading dashboard. It's worth trying out an FXCM demo account just to see what the Trading Station experience is like, as it is in many ways cutting edge. It has an attractive aesthetic and is super-easy to use but also includes powerful analytical tools, which can support even the most advanced trading strategies.
Trading Station is available in a downloadable desktop format, WebTrader, and in Android and iOS format so that you can keep in touch with the markets at all times.
Customer Support
FXCM provides around the clock customer support with the 24/5 coverage being provided by South African staff out of the Johannesburg office. The staff are knowledgeable, professional and client-focused.
#5

Tickmill
What We Liked
Hard to beat trading spreads.
Award-winning 24/5 customer service
Powerful research tools with an emphasis on spotting trade entry and exit points.
User-friendly website — ideal for beginners.
Free demo account with no time-limit.
Low minimum opening account balance of just $25.
Promotional offers including a cash-prize demo account competition and a $30 welcome account offer where the broker gives you real cash to trade with.
Tickmill is an ideal option for beginners who want quick access to the markets. The free demo account takes moments to set up and there is no time limit on its use. Those who want to start trading real cash might be interested in the minimum account opening balance being only $25. Trading in small size can be a good idea for those starting out.
Tickmill provides high-quality access to a wide-range of global financial markets. It is regulated by tier-1 authorities and has super-competitive pricing terms.
It's little surprise that Tickmill keeps on adding to the list of industry awards it has one. Some of the most recent prizes include:
Forex Awards Most Transparent Broker,
The Online Personal Wealth Awards Best Forex CFD Broker
co Awards Best Forex Execution Broker
Tickmill is a trusted broker that delivers to its clients everything they need to set up to trade the markets. It's a great place to start trading and you can head here to try it out.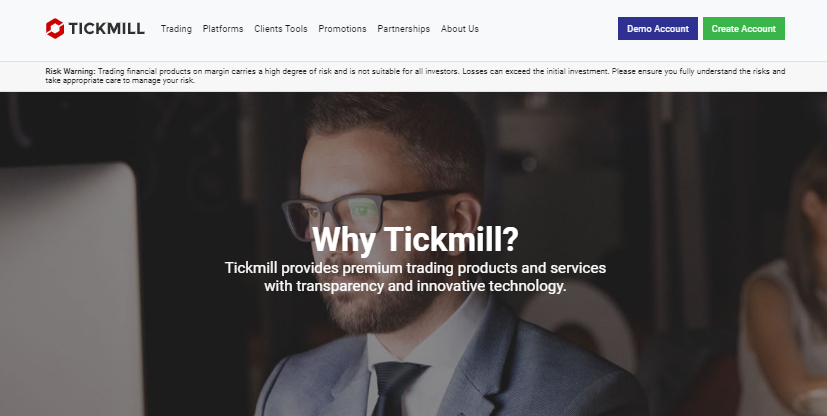 Broker Fees
Tickmill provides all clients with low-commission trading. Whichever of the three different trading accounts you choose, you can be confident you're operating using market-leading pricing schedules. Not only has Tickmill cut back trading costs but, at the same time, the broker has increased the quality of execution. Their platform has access to deep liquidity pools, which cuts back on trading times and slippage.
The spreads for the Pro and VIP accounts stand out because they begin at 0.0 pips. Those who trade using the VIP account will find commissions as low as $1.6 per lot, per side.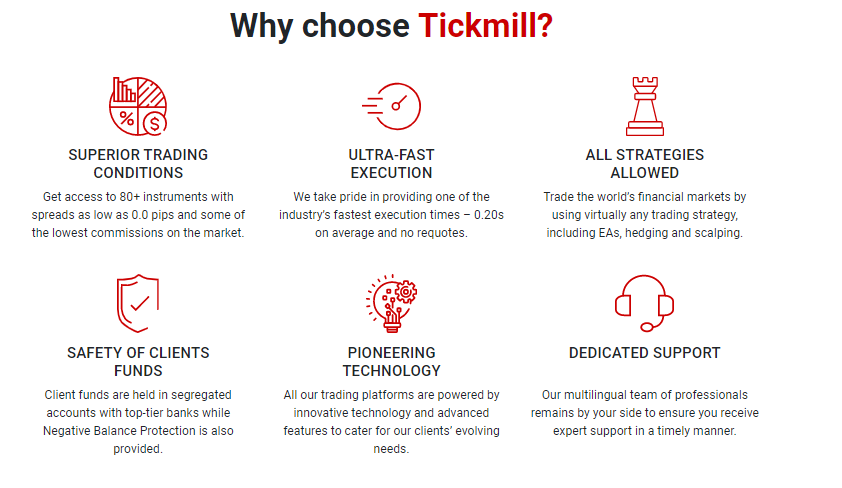 Trading Limit
Maximum leverage settings are in line with regulatory restrictions set out by the Seychelles Financial Services Authority (FSC). It's possible to set leverage terms from anywhere between 1:1 to as high as 1:500.
There are no restrictions on types of trading strategy which means scalping and hedging are permitted.
Features
Trading infrastructure includes ECN and VPS services, which ensures your trading is fast and reliable as well as cost-effective.
Tickmill offers South African clients a range of promotional offers, including cash incentives to start trading.
Regulation
The Tickmill group of companies employs more than 200 people worldwide and is regulated by some of the world's most reputable financial authorities.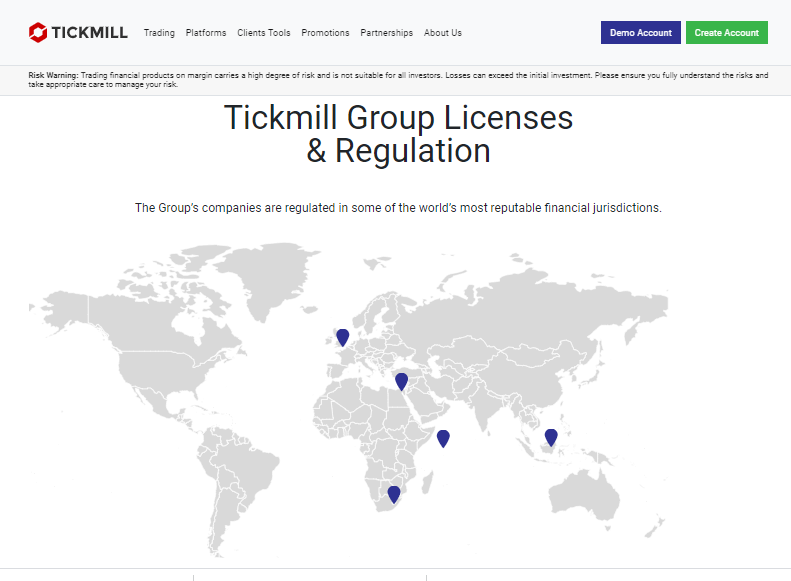 Tickmill Ltd is regulated as a Securities Dealer by the Seychelles Financial Services Authority and has licence number SD008.
As noted on the Tickmill website: "FSA is established under the Financial Services Authority Act 2013. The regulator's key responsibilities include the licensing, supervision and development of non-bank financial services in Seychelles through a solid regulatory regime". (Source: Tickmill)
Platform
Tickmill offers its clients access to the most popular trading platform in the world, the tried and tested MetaTrader4 platform. It is known for its reliability and powerful software tools and for supporting automated trading.
The default MT4 package comes with 30 built-in indicators, but there is the option to bolt-on dozens more. It can be installed on Mac, Windows, Android and iOS devices. It is also available in a WebTrader format, which means when you're trading with Tickmill, you have a variety of ways to keep in touch with the markets.
The Expert Advisors (EA) service is an ever-popular method of trade using algorithmic models. You can build your own using the MQL5 language or use those of third-parties. Automated trading is popular with those who want exposure to the markets but don't have enough time or experience to develop their own strategies.
Tickmill is not just about low-cost trading and the additional services on offer are very impressive. AutoChartist, Myfxbook and Pelican trading are third-party research and analysis platforms that offer Tickmill clients something extra.
Customer Support
In the unlikely event that you do need to contact the multi-lingual Tickmill customer service, they are available via telephone and email.