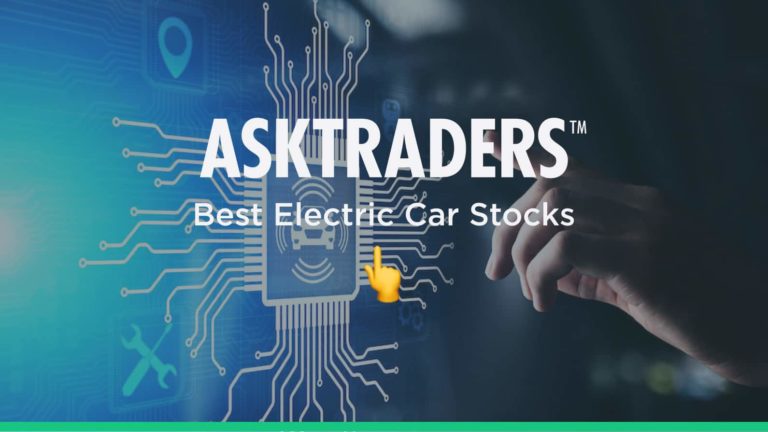 The risk-return ratio of electric car stocks is particularly high, which is why doing your research and choosing the right broker is crucial.

The Best Electric Car Stocks to Buy Right Now
EV manufacturers have sprung up across the globe. The below list includes stock names from different regions and with different approaches. They offer investment opportunities for both speculative traders and long-term investors.
Tesla
NIO
Renault
Workhorse Group
Hyundai
Tesla, Inc. (Nasdaq:TSLA)
Without doubt the EV manufacturer with the greatest brand recognition is Tesla (Nasdaq:TSLA). Such factors are important in ground-breaking markets and holders of the stock will hope Elon Musk's firm is one day held in the same regard at Hoover or Thermos.
There is a chance that's going to be the case. Last year TSLA scaled up production and the workforce came close to meeting Musk's demanding annual sales targets, 499,500 sold compared to 500,000 targeted.
The Tesla Model 3 was in fact the world's best-selling EV in 2020, the vehicle sold more than three times as many units than the second-place entrant.
The culture of innovation has not been slowed down by the stock becoming part of the S&P 500 equity index, as taking billion-dollar positions in bitcoin and looking to use the crypto for purchases testifies. This review offers a step-by-step guide on how to buy Tesla stocks.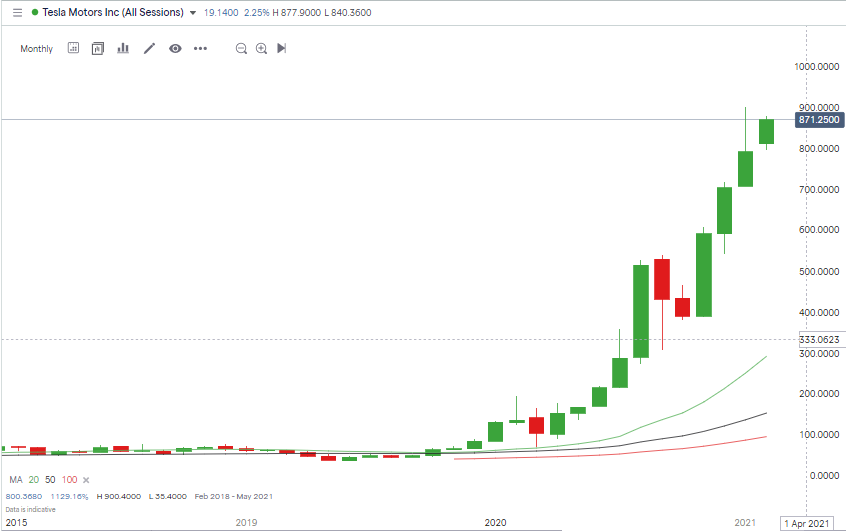 Source: IG
NIO (NYSE:NIO)
Chinese EV firm NIO (NYSE:NIO) also has a listing on the New York Stock Exchange. Available in ADR form under ticker NIO the firm designs and manufactures EVs and is also a lead player in the autonomous driving market.
It offers exposure to a broad range of new technologies and electric vehicle-related services. NIO Service is a network of vehicle service centres, NIO Power is a network of battery swap centres and NIO Life is the firm's clothing range. It's got all bases covered and a share price which in the six months following May 2020 increased in price by 1,757%.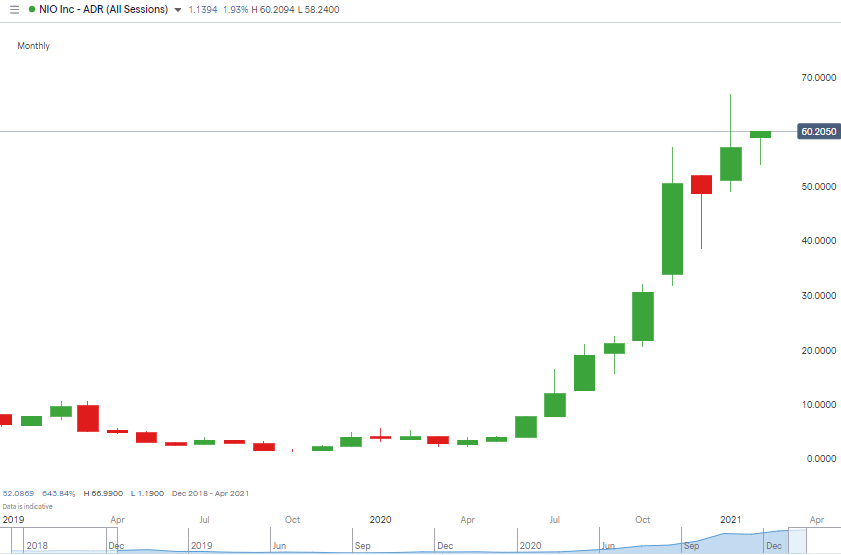 Source: IG
Renault SA (RNO.PA)
Renault SA (RNO.PA) leads the pack of traditional auto manufacturers looking to switch to the new way of doing things.
The Renault Zoe claimed 100,000 sales in 2020, making it the third most popular EV in the world. When it comes to EVs, small cars make sense due to their efficiency. If the switch from carbon-fuelled cars to electric ones also sees consumers downsize, then Renault will be well-positioned to pick up market share.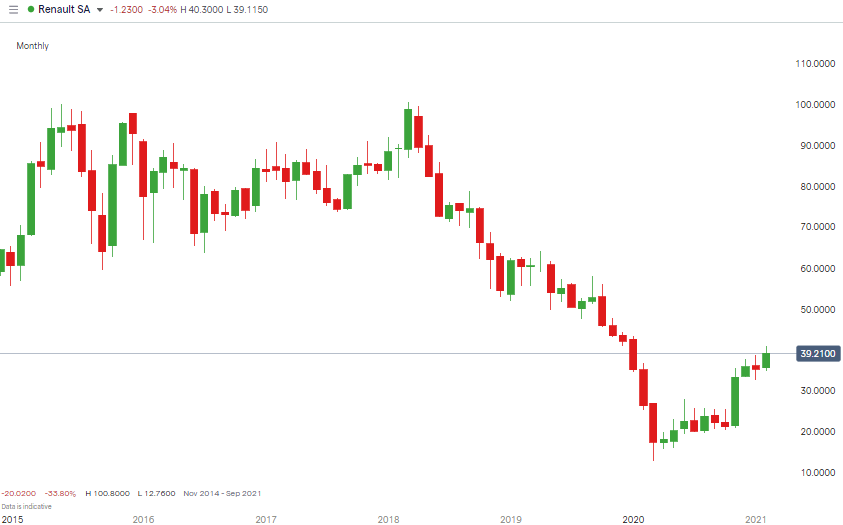 Source: IG
Workhorse Group Inc. (NASDAQ:WKHS)
The US-based operator specialises in producing electric commercial vehicles. Its fleet of vans are ideal for the last-mile delivery sector which boomed after the COVID-19 pandemic and home-delivery took off at a speed no-one was expecting.
WKHS is one of the most exciting electric vehicle stocks. In June 2020, it was trading at $2.45 and eight months later was printing as high as $42.96, a staggering 16,264% return.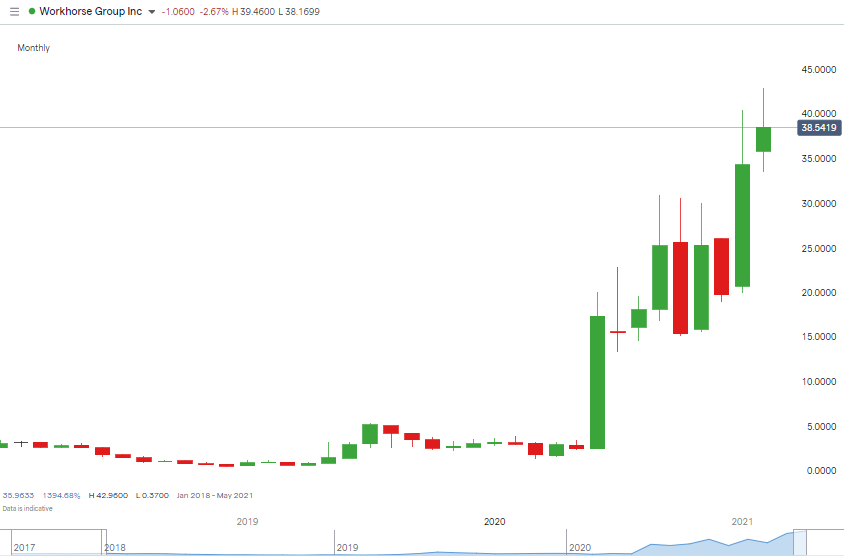 Source: IG
Hyundai Motor Co (HYMTF:OTCPK)
Hyundai (HYMTF:OTCPK) is also looking to capitalise on its early adopter status. The firm had 24 EV models in 2019 and is looking to expand its offering to 44 by 2025. It plans to invest $87bn over five years and match the success of its Kona model, which in 2020, was one of the top-5 EVs in terms of global sales (65,000).
The Hyundai share price has more than doubled from its 2020 low, suggesting investors could be moving in and taking positions.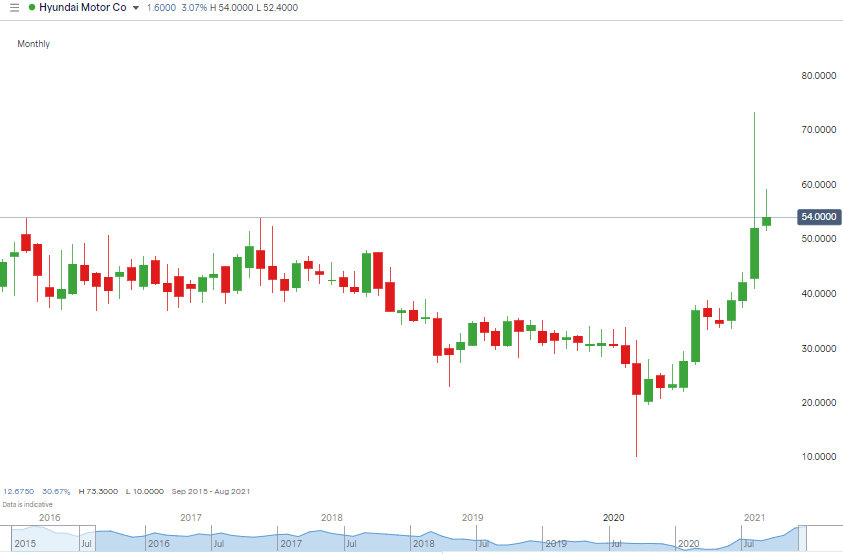 Source: IG
Why Invest in Electric Car Stocks Now?
The best investment strategies include a catalyst, a special factor that can lead to stocks really taking off. In terms of electric vehicle stocks, there's not one potential catalyst, but four.
Tipping Point
One of the biggest drags on adoption rates has been a lack of infrastructure to maintain and run EVs. Practical issues may soon be appearing in the rear-view mirror. In September 2020, sales of plug-in electric cars reached an all-time high of 345,000. That's almost double what was sold in September the previous year and means that 1 in 20 new cars is rechargeable.
Green Deal / New Deal
There's little doubt that, due to the environmental impact of electric vehicles, governments around the world are about to dramatically increase the amount of public investment in EV infrastructure. Following the global pandemic, such plans simultaneously tick two boxes. They jump-start economies after lock-down and help them demonstrate a willingness to meet carbon emission targets.
Consumer Appetite
Ethical lifestyles and investing are no longer about putting your heart above your head. It's one of the big trends in the market and some ethical investment stocks are outperforming the general market, as this report explains.
Improved Technical Spec
Electric car battery manufacturer stocks look particularly ripe for investment. The products being made are getting better and cheaper. The firms that push the technical limitations the furthest can quite rightly hope to secure a foothold in a sector worth billions of dollars.
Revolutionising modern transport infrastructure will be a major operation, but it's now one that looks certain to take place. Firms such as Tesla, which went all-in, generated stellar returns for shareholders with that stock increasing in value by 1,377% between Jan 2019 and Jan 2021. There appears to be plenty of reasons to think the electric car stocks as a whole might continue to soar.
What to Know Before Investing in Electric Car Stocks
It's important to keep a few factors in mind when trading electric car company stocks.
It's high risk-return — Even NIO almost went bust in 2020 before then seeing its share price sky-rocket.
Diversification might help — Taking smaller positions in a wider range of companies will mitigate against single-stock risk.
Holding periods — Even if EVs take off, there's no guarantee of when.
Greatest fool risk — It's a hot sector and a lot of professional investors are active. Make sure you're not the last to know when there is good or bad news released.
How to Start Trading Stocks Online
Online stock trading has revolutionised the finance industry. It's possible to trade your account with the click of a button or tap of a screen, from desktops and mobile apps. You can even copy the ideas of others or engage in social trading where investors share ideas and news.
The best part is that the growth of the sector has led to intense competition and this has driven down costs.
A lot of the brokers have developed user-friendly sites to support beginners. Pick the right one and start registering for an account now, and you could be buying electric vehicle stocks within a matter of minutes.
The most important thing to remember is to use a legitimate broker. One that is regulated helps you avoid the scams and scammers.
1. Research Electric Cars and Battery Manufacturers
Successful trading relies on investors having and sticking to a well-thought-out strategy. The best brokers provide their clients with free research materials and this is a good starting point. Don't, however, dismiss your own gut instinct. Electric cars are, after all, a consumer good so listen out for feedback from contacts.
2. Choose a Broker
Safety & Regulation— The importance of choosing a regulated broker can't be too heavily stressed. There's no point making a paper profit if when it comes to getting your money back, the broker disappears. If your broker is regulated by a tier-1 authority, then you're off to a good start.
Tier-1 Regulators:
The Financial Conduct Authority (FCA)
The Australian Securities and Investments Commission (ASIC)
The US Securities and Exchange Commission (SEC)
Cyprus Securities and Exchange Commission (CySEC)
Practise using a Demo account — These reviews will help you build up a shortlist of brokers. By trying out demo accounts with a few, you'll get to know the pros and cons of each and also develop your trading skills.
eToro:
68% of retail CFD accounts lose money
Take a look
Some brokers offer more equity markets than others. If you're looking to buy some of the smaller names, then that may influence your choice. Otherwise, a lot of the selection process comes down to personal preference.
3. Open and Fund an Account
To comply with their regulatory obligations, brokers are required to ask a few questions of onboarding clients. These are ultimately designed to protect the customer, so while they can slow you down, it is for good reason.
Most brokers support at least a handful of funding options. Costs and speed of processing may be factors you want to consider, but that information should be easy to access directly from the broker's T&Cs.
Once your account is verified and your Know Your Client (KYC) documentation is logged, you're ready to trade live funds.
4. Set Order Types
If you haven't already practised using a demo account, don't worry, you can always run demo accounts and live accounts in parallel. Any uncertainty can be worked through using virtual funds, but once you've mastered the basics, buying electric vehicle stocks really is as simple as going online, entering the amount of shares you want to purchase, and clicking 'buy'.
It's possible to set more complex orders that buy at a certain price level. One risk management tool is 'stop-losses' where trading instructions are built into your account to kick you out of a position if a position goes wrong.
5. Select and Buy Electric Vehicle Stocks
Good online brokers offer more than just trade execution. Choose the right broker and you'll be able to tap into a range of research and analysis tools such as price charts, company information, news reports and analyst forecasts.
Summary
There's a lot to the electric car stocks sector and it's constantly changing. This is what generates the investment opportunities but also introduces an element of risk.
Whether you're looking to buy electric car battery manufacturer stocks or hybrid car stocks, the one factor that is within your control is selecting a safe broker. Control what you can, because a lot of the swings will be down to factors outside of your control.
Opting to take only small positions in your favoured electric vehicle stocks may, in the long-run, actually turn out to be more profitable. Electric car prices are highly volatile and investing a small amount of money might make it easier to ride out short-term noise and stick with a long-term winner.
People Who Read This Also Viewed