What is ethical investing?
Ethical investing is relatively new but is a trend that has been steadily establishing itself for decades. An indication that it hasn't quite reached maturity is that it is also known by a range of other names. They include socially responsible investing, social investment, sustainable socially conscious, or 'green' investing.
The broad definition is that it is an investment strategy that seeks to consider financial return with social and environmental factors. Those other factors can include societal change, environmental impact, worker's rights and corporate governance.
In one sense, it turns its back on the economic orthodoxy that returns on capital are an investors priority. In another way, it is fully aligned with economic theory. Markets are, after all, a place for participants to express their desires and on a micro-economic level, the customer is always right.
If an investor wants to sacrifice some of their financial return in return for confidence that the business carried out is in line with their ethical values, then it's the job of the market to take note. The growth in ethical investment products suggests they have.
One of the largest investment funds in the world, PIMCO, has $1.92tn under management. Its investor homepage advertises four products, ETFs, Mutual Funds, Alternative Investments and ESGs (Environmental, Social and Governance).
Top UK ethical firms to invest in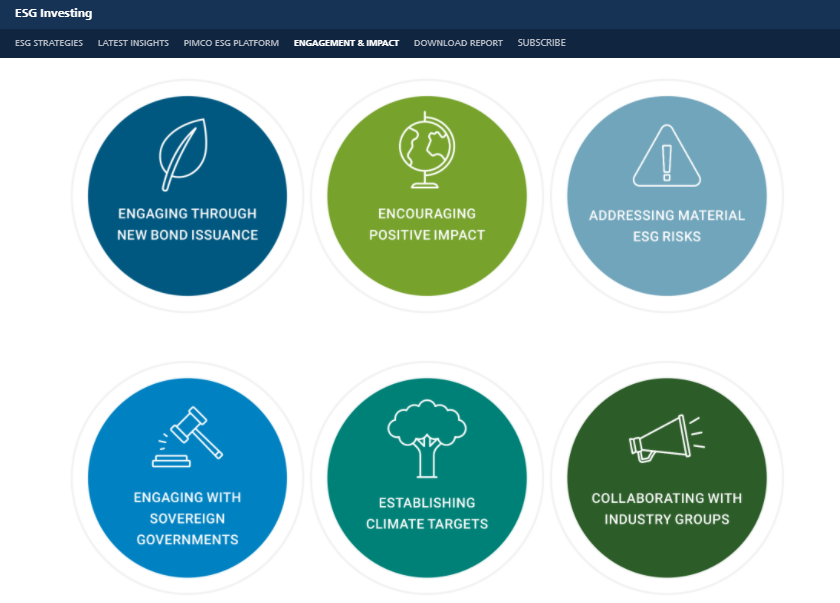 Source: PIMCO
The fact that a considerable investment fund such as PIMCO gives ethical investing such prominence is a serious buying signal. There's no point missing out on the opportunities that come with being in the right positions when a wall of cash comes into the market.
You don't need to invest in funds to gain exposure to the sector. In fact, by picking individual stocks, it's possible to find names which provide a best-fit in terms of performance and social responsibility.
Can you make money investing ethically?
If you think that investing ethically is going to leave you out of pocket, it's time to think again.
Stock prices ultimately depend on demand and supply. One of the neat features of ethical investments is that they have the potential to tap into a groundswell of buying otherwise untapped pressure. If supply is constant and demand shifts upwards, then prices will rise.
Consider the number of people in the UK who have historically steered clear of the stock markets because of its negative connotations. If only a percentage of those millions of people buy into ethical companies, then that would act as a catalyst for price increases.
The big institutional investors, such as pension funds, prioritise ROI (Return on Investment). If their client base is looking for a more ethical approach, then those funds will have to increase their allocation to ethical stocks to keep the customers happy.
Don't forget that the generations who started advocating greener lifestyles in the 1960s and 1970s are now likely to be significant players in terms of personal wealth and investments.
There are lots of reasons to believe there is a strong demand for a different approach. The below data shows how the situation has developed.
5-year track record of Kames Cautious Ethical Managed Fund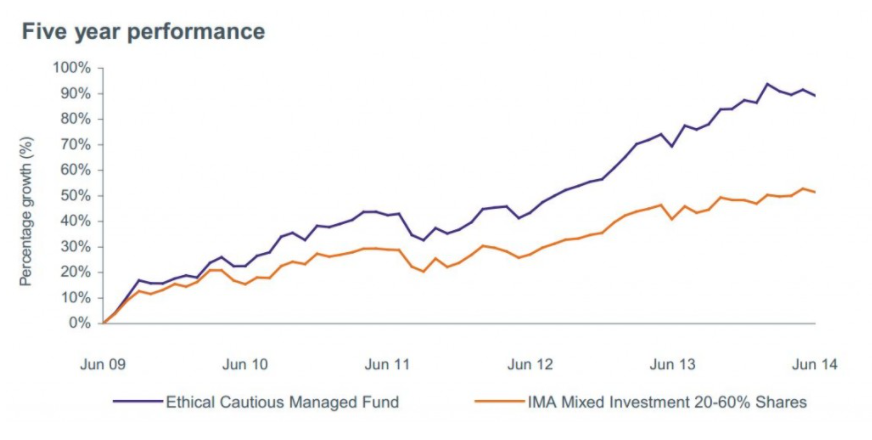 Source: aesadvisor.com
Top ethical UK companies to invest in
With investing in ethical businesses becoming increasingly fashionable, it's possible to invest in firms ranging from tech start-ups to retailing giants. There's something for everyone.
Pavegen
Pavegen is a breakthrough 'smart city' technology that converts pedestrian footsteps into electricity. Another aspect of the firm's appeal is that it will collect valuable data relating to footfall and revenue from data collection grew by 18% in 2018.
It has made sales in 36 countries with support from governments being guaranteed. Not only do the extra footsteps generate power but they mean more of the general public travelling on foot rather than by carbon-fuelled transport.

Source: Crowdcube
Investing in Pavegen currently involves getting in at the seed-investment stage. Its latest round of funding was oversubscribed with £2,431,900 rather than the target £950,000 being raised. That puts it in a strong position in a growth sector. Smart cities investments totalled £235bon in 2018 and are expected to be twice as large by 2023.
PensionBee
Innovative Fin-tech firm PensionBee is looking to list on the London Stock Exchange and could be an IPO you don't want to miss. Dubbed 'the Monzo of pensions', the firm is lining up bankers to help it become publicly traded. Current estimates are that it could be valued at £300m when it comes to the market.
Technological innovations have allowed disruptor firms to enter the finance sector but PensionBee also has an ethical advantage. Not only will PensionBee allow savers to combine their pensions into a single online plan but it will also launch a fossil-fuel-free pension.
The firm claims the fossil-fuel-free offering is the first mainstream product of its type and will exclude companies with coal, oil or gas reserves. Tobacco companies and manufacturers of controversial weapons will also not be included.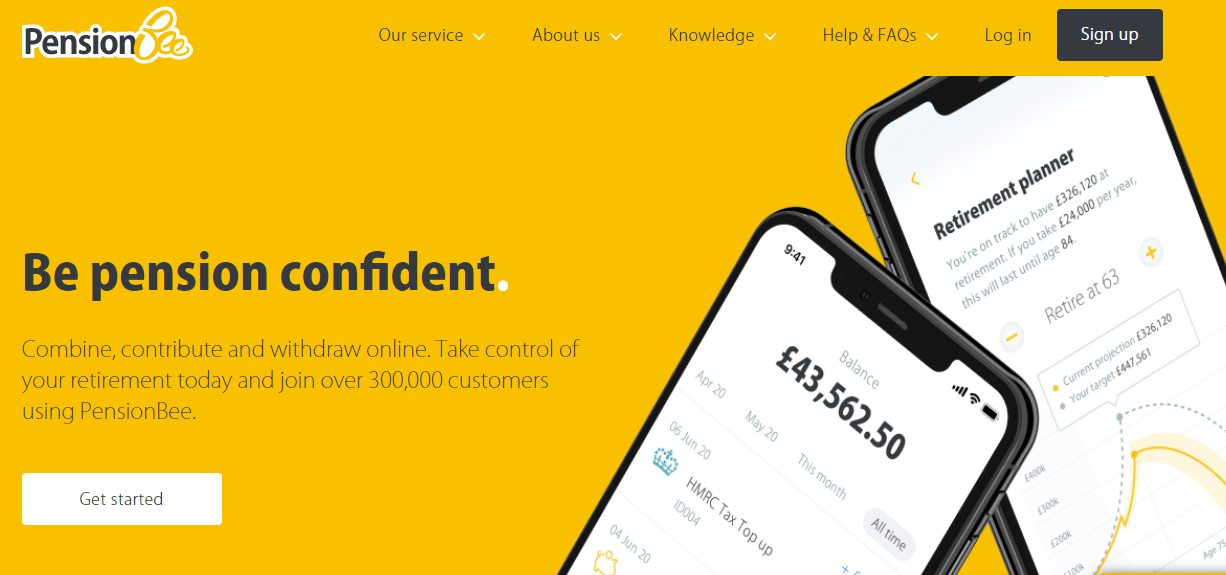 Source: PensionBee
It's a bona fide operation with investment management carried out by Legal & General. Founded in 2014, PensionBee has seen encouraging levels of demand from customers looking to invest in products that are more socially responsible while not sacrificing their pension returns.
Its last round of crowd-sourced funding was in 2017, so the fact that it is in a position to now take a stock-exchange listing indicates that the firm might be viable. Nothing is guaranteed, and investing in the firm's IPO would represent a relatively high risk-return proposition.
If it does appeal, then using brokers such as IG who have a strong position in equity trading, would be a way to take a position.
Good Energy Group PLC
It's been possible to buy shares in green energy company Ecotricity since 2015. Listed on the London Stock Exchange as the Good Energy Group PLC (LSE:GOOD) the firm has ethical credentials that are hard to beat.
It was founded in 1996 with one wind turbine operating from one trailer in the English countryside. Today the world's first green electricity company has thousands of those turbines in operation. It is even responsible for an electric car-charging superhighway which runs the length of the country.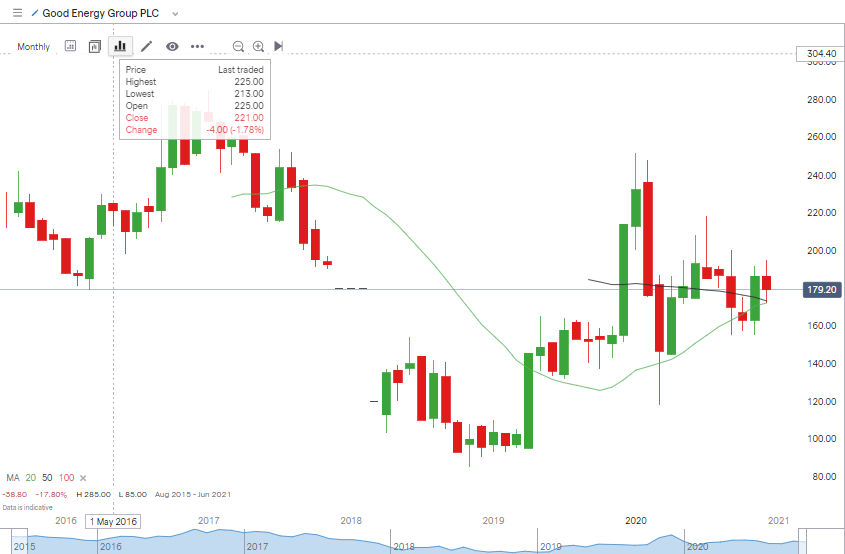 Source: IG
Shares in GOOD can be bought at IG and have historically traded between the 100p and 300p levels. It is a utility firm, after all, so there is some stability to the share price, which currently trades in the middle of the price range.
Its market cap of £29m means a lot of bigger investors will overlook it. However, smaller buyers might be interested to know that Simply Wall Street currently estimates the firm to be trading at 25.6% below its fair value and is likely to increase revenues by 99.07% per year.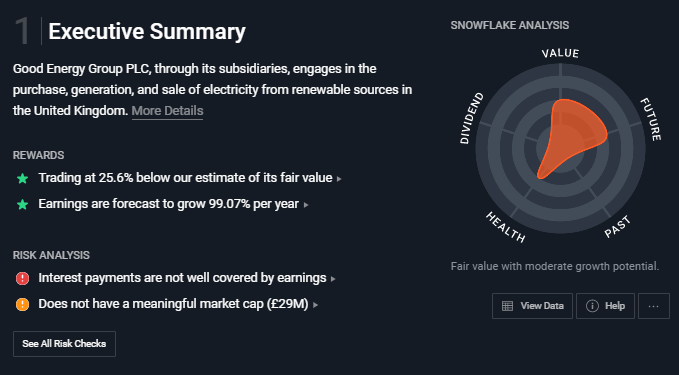 Source: Simply Wall Street
The firm has strong brand awareness and a charismatic founder and Managing Director, Dale Vince, whose entertaining back-story includes years living an alternative lifestyle. Such things are likely to keep the firm at the centre of the discussion about why investing in ethically run firms is a good idea.
Tesco PLC
Tesco (LSE:TSCO) may not be the obvious pick for the purist, but it is building its social awareness credentials and appeals to the head as well as the heart.
It still has an unenviable reputation for turning the screw on suppliers and building land-banks of development sites which it purposefully leaves dormant. This kind of activity will be enough to put off some ethical investors, but its inclusion in the list is notable for highlighting how ethical issues are going mainstream.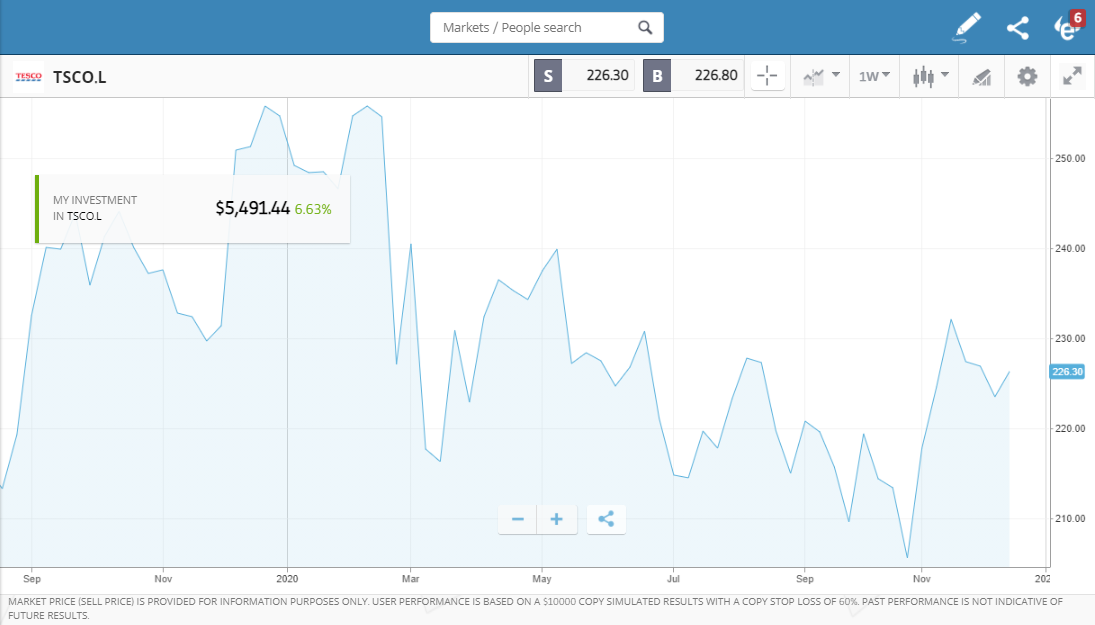 Source: eToro
Tesco's inclusion in the list of candidates also gives investors a chance to invest in a different type of stock. Ethical investing is about balancing financial rewards with a social conscience. The firm's change of direction may be enough for some to snap up a high-yielding defensive stock with strong long-term prospects.
Dividends– The company appears to have turned a corner in terms of distributions to shareholders. It is forecast to provide a dividend yield of 4% by 2022. Given the near-zero returns offered by high street bank accounts that number looks quite appealing.
Growth – Tesco is limited by geography. The UK is its primary market and there just aren't many locations where it can expand. That said, ethical investing isn't all about the money and the firm has taken a positive step towards greater social responsibility.
ETI– Tesco has begun to pay more attention to its role as an Ethical Trading Initiative (ETI) member — a project it has been a member of since 1998. The alliance of companies, NGOs and trade unions aims to promote respect for workers' rights around the globe.
All corporate members of ETI agree to adopt the ETI Base Code of labour practice and collectively tackle issues that cannot be addressed by individual companies. The code applies globally and means Tesco monitors the treatment of staff at suppliers in countries ranging from Peru to Italy.
FIIN – The Food Industry Intelligence Network was established in 2015 to help ensure the integrity of food supply chains and protect the interests of the consumer. Tesco's Food Technical and Agriculture Director sits on the board of FIIN, so the firm has a high-profile role in an organisation with direct involvement in safeguarding the quality of food in the UK.
Tesco's recent upgrade of its work practices will go some way to improving its reputation but only time will tell if this is the start of a significant overhaul. Its membership of the ETI didn't stop it being castigated by that organisation and the FIIN initiative was a reactionary response to industry-wide malpractice.
Did you know Tesco is involved in more than 30 ethical initiatives? The list of projects represents something of an alphabet and includes the GTA (Global Tuna Alliance), GCP (Global Coffee Platform), RCWS (Responsible Car Wash Scheme) and SBTi (Science-based Targets Initiative). As involvement with such projects become more well-known, it will be considered by a wider group of investors.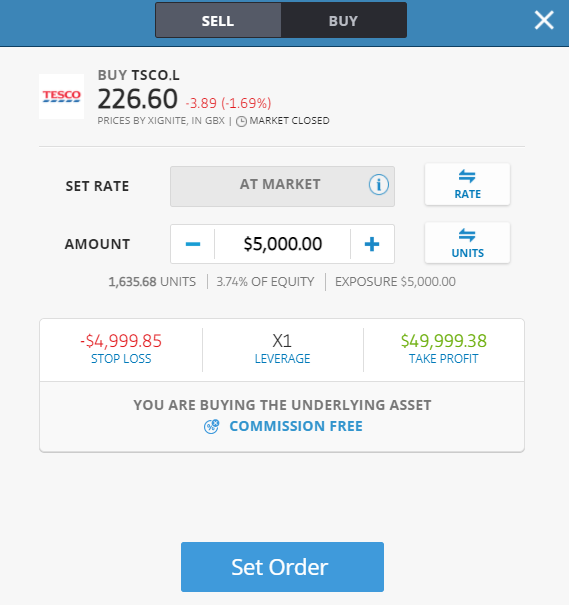 Source: eToro
If it can get to a stage where it ticks the box for the majority of ethical investors, then that would signify increased demand for a stock which is stable and high-yielding. Tesco stocks are widely available at online brokers and eToro runs occasional promotions where clients can buy them commission-free.
Best Brokers for Trading Ethical Stocks
eToro:
68% of retail CFD accounts lose money
Take a look
From 0% commission to low trading fees and top-tier regulation, these brokers are best-in-class when it  comes to buying and selling ethical stocks.
Final thoughts
Making money never goes out of fashion, but ethical investing has demonstrated that returns don't need to come at any cost.
Being a new and somewhat counter-intuitive approach to investing has meant ethical assets have had to fight their way into mainstream markets. They've not had it easy but have come through that challenge and are continuing to increase in popularity.
Ethical work practises mean firms incur extra costs. Established players like Tesco are better positioned to adopt them, but they do increase the height of the barriers to entry faced by smaller and start-up rivals. This does open the door to a revision of whether ethical investing ultimately achieves its aim, but that question, for now at least, does appear to be some way off.
The call for firms to carry out business with a social conscience is building momentum. Whether you are fully on board with the ethos or more interested in spotting trends, ethical investment is something well worth considering, for financial as well as moral reasons.
People who read this also read: