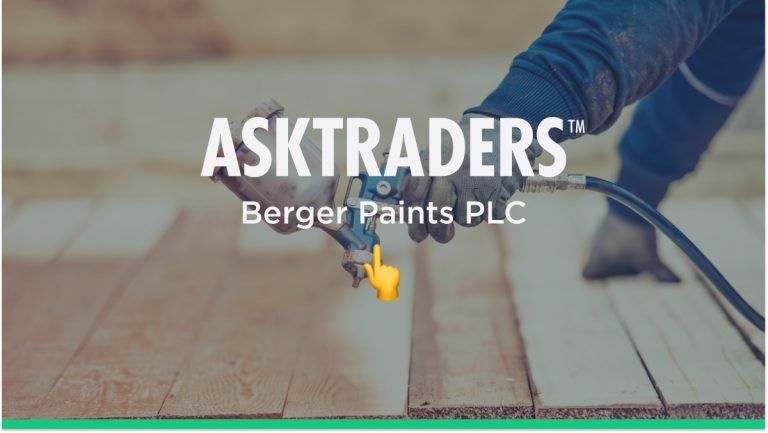 Through its history until today, Berger Paints PLC has built a significant and good reputation for being a market leader in Nigeria. Berger Paints PLC has set the standard in the paint industry in Nigeria, with a proven track record that can be seen clearly in its scorecard.
Berger Paints PLC has pioneered an impressive portfolio of speciality products for Nigeria which are high in demand across all industries, and the company was the first to unveil an ultra-modern, fully automated factory with a daily production capacity of 10 million litres.
Berger Paints PLC has a variety of decorative brands including Super Star, Robbialac, and Luxol, with a diverse product portfolio that includes:
Luxol Gloss
Fire Retardant paints
Rufhide, and several other products native to Berger Paints PLC.
In addition, Berger Paints PLC also provides a wide range of non-decorative products including general industrial products, automotive vehicle refinishes, and several others.
Berger Paints PLC's equity stocks are for sale online on the Nigerian Stock Exchange (NGX) under the stock symbol BERGER. Today, Berger Paints PLC is based in Ikeja, Nigeria where it operates in the chemical manufacturing industry.
Berger Paints PLC Performance
The current share price for Berger Paints PLC stocks is 8.90 NGN [2021/09/20] and the company has a total market capitalization of 2.58 billion NGN, with a P/E ratio of 7.30 NGN and earnings per share of 1.22 NGN, and a total of 290 million shares outstanding.
During an analysis of its financial performance data for the second quarter of 2021, which ended in June, Berger Paints PLC announced that it achieved profits of 441.14 million NGN with total revenue amounting to 1,129.10 million NGN and a net income of 58.47 million NGN before taxes.
After tax deductions, Berger Paints PLC's net income amounted to 39.76 million NGN and there was a total operating income for the period of 66.66 million NGN. Berger Paints PLC's diluted EPS excluding ExtraOrd items was 0.13 NGN, and the company reported a diluted normalized EPS of 0.13 NGN.
This analysis shows that Berger Paints PLC achieved stable financial performance and consistent profits for the quarter. This means that investors who want to buy or sell BERGER stocks can be assured of lucrative dividends and earnings.
An analysis that was done on the live chart of BERGER stocks allowed analysts to forecast further improvements in the chemical industry, especially with a continued return to normal operations across the region.
Highlights of Berger Paints PLC in 2021
Berger Paints PLC started the year with a share price of 7.35 NGN and since this price valuation, BERGER stocks have gained 21.1%, subsequently ranking Berger Paints PLC 37th on NGX according to its year-to-date performance.
Berger Paints PLC is the 94th most-traded stock on NGX and when analysing trading data over the past three months, BERGER achieved a total trading volume of 4.28 million shares which were executed in 614 deals, to the value of 36.2 million NGN during this period.
There was an average of 67,911 BERGER shares traded during each session and Berger Paints PLC achieved a trading volume high of 650,981 in July, with a low of 379 in September. Despite this low, however, investor confidence in BERGER stocks was undeterred, as can be seen in the trading data.
BERGER stock performance shows significant improvement for the past year. There are increases of 15.6% in the past three months, 36.9% in the past six months, and 47.1% in the past year, which indicates that shareholders can expect lucrative dividends.
When comparing the financial performance for Berger Paints PLC between the end of the quarter and March, gross profits increased from 425.11 million NGN to 441.14 million NGN, showing an increase of 17.03 million NGN or 4.02%.
How to buy Berger Paints PLC stocks Step-by-step
The stock market is one of the most attractive financial markets that sees millions of retail investors and traders' participation daily. To buy, sell or trade BERGER stocks, traders and investors can follow these simple steps:
Find the share that you want to purchase, in this case, "BERGER".
Select a forex broker that offers access to the Nigerian Stock Exchange(NGX).
Review the broker's trading conditions, fees, deposit and withdrawal methods, trading platform, customer support, regulation, and other components to ensure that they are aligned with your trading
Open a live trading account with the broker by completing the online application form and providing the necessary documentation to verify the trading
Make your first share purchase through the broker.
Build and diversify your portfolio when you buy more shares.