Charles Schwab is one of the largest, most reputable, cost-efficient, and versatile of all financial brokerages. With the recent takeover of TD Ameritrade, its domination of the market is set to increase even further.
With 0% commissions there are few disadvantages to this established trading platform. Like many other large brokerage firms, Schwab adopted a commission-free structure in 2019. In terms of published research, Schwab is one of the most widely recognized platform that regularly sponsors and publishes industry findings.
Schwab is one of the biggest brokerages on the globe, with over $3.9 Trillion in client assets, 12 million brokerage accounts, 1.4 million banking accounts, 20,000 employees, and 1.7 million employment plan participants. They are a massive outfit with low fees, the latest research, and a variety of trading tools to work with. There is something for everybody with Charles Schwab. Along with the commission-free stocks, ETFs, and mutual funds, Schwab has recently dropped its account minimum from $1,000 to $0. It's very hard to beat right now.
The bottom line is that Charles Schwab is good for all types – day traders, swing traders, passive investors, short-term investors, retirement planning, institutional investors, and more. It also has a robo-advisory service known as Schwab Intelligent Portfolios for those looking for a passive investment strategy. However, the account minimum for this feature is $5,000.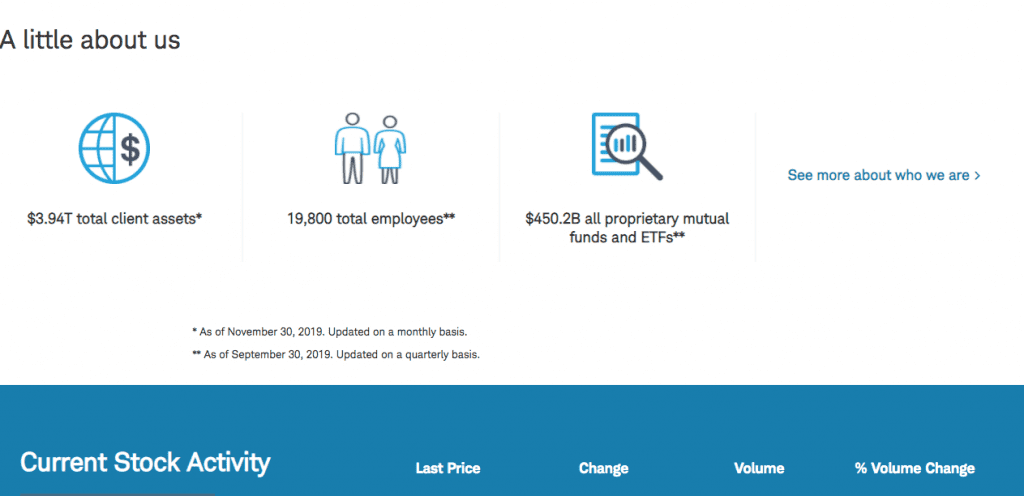 At Charles Schwab, you can trade stocks, bonds, mutual funds, ETFs, futures, and options. You cannot trade Contracts for Difference, FX, or cryptocurrency on this platform, though you can gain exposure to these asset classes using futures.
Charles Schwab Review Navigation
Stocks
| | | | |
| --- | --- | --- | --- |
| Min Deposit | App Support | Max Leverage | Trading Fees |
| $1 | Good | 1:1 | Low |
With a 0% stock commission and an extensive array of management tools, Schwab is an excellent platform for all kinds of traders. Schwab has designed stock trading tools for both new and experienced traders.
Advanced stock screeners and the Charles Schwab Stock List helps to find ideas, compare different kinds of stock, and create customized searches based on different strategies. Schwab Equity Ratings offers easily comprehensible grades that range from A-F, indicating the Schwab yearly forecast on over 3,000 US stocks.
Commodities
| | | | |
| --- | --- | --- | --- |
| Min Deposit | App Support | Max Leverage | Trading Fees |
| $1 | 1000 | 1:1 | Mid |
According to Schwab, the best way to gain exposure to commodities is through Exchange Traded Funds ('ETFs').  Direct exposure to commodity stocks can be difficult, and such stocks are notoriously volatile. Unless you have a significant reason for investing in a specific commodity stock, it is best to stick to these more reliable ETFs, such as the SPDR Gold Shares ('GLD') and iShares Gold Trust ('IAU'). These are actually trusts, and they use their assets to buy gold bullion that is stored in bank vaults.
Charles Schwab Indices Review
Schwab provides over 4,000 commission mutual funds and a huge range of ETFs, which is far more than most of its competitors. On top of this, the sorting and filtering mechanisms for these funds are very helpful. The Schwab ETF Select List allows users to filter for their preferred fund based on features, expense ratio, benchmark index, morningstar rating, and many more filters.
Futures
| | | | |
| --- | --- | --- | --- |
| Min Deposit | App Support | Max Leverage | Trading Fees |
| $1 | Good | 1:1 | High |
There are no broker-assisted futures trading fees or account fees. The Schwab StreetSmart Central platform has a suite of tools for trading futures and options. It is one of 3 primary trading tools provided by Schwab, aside from its core website. The other two are StreetSmart Edge and TradeSource.
With StreetSmart Edge, traders can select from more than 40 trading tools, including customizable features that help to plan and execute simple and complex strategies. Like all brokerages, additional requirements need to be met before traders can execute futures and options. You can trade futures on cryptocurrencies and Forx, though you cannot trade the underlying products with Schwab.
What did our traders think after reviewing the key criteria?
Charles Schwab Fees
Our review team were more than impressed with the vast array of investment options and research tools available from the Charles Schwab platform. The issue with researching this platform is that the sheer amount of features, platforms, tools, and account offerings are too extensive to look into in detail. For options traders, the StreetSmart platform is superior to most other technical trading platforms from competitors.
The brokerage provides an incredible amount of research and comes with every possible feature a trader or investor could possibly want. There were no areas where they did not perform exceptionally well. Customer service, research tools, trading platforms, and educational resources are all at the cutting edge. In addition, Schwab has a huge range of commission free stocks, ETFs, and mutuals funds, with very reasonable options contracts at $0.65 cents.
The bottom line is this brokerage delivers a serious amount of value for all types of investor, with its recently introduced no account minimum. Anybody can get up and running with Charles Schwab in no time, whether they are a novice investor, active day trader, or planning for long-term retirement goals.
Perhaps the only criticism of Schwab is that they are a little 'pushy' in terms of marketing their services. They constantly suggest using the services of one of their financial advisors. In addition, interest paid on cash balances is quite low.
Charles Schwab Fees
It is nearly impossible to beat the fees with Charles Schwab – after all, its free. There is no commission fees on stocks or ETFs. There is also no commission fee on options, though there is a fee of $0.65 per contract. Schwab also offers very low expense ratios on its proprietary list of ETFs and mutual funds, around the same price of Vanguard and Blackrock. Its is free to deposit and withdraw with Schwab, depending on the transfer type. For indices not on the commission free list, the fees are stiff at $49.95.
Account Types
There are two primary kinds of Schwab brokerage standard  account – joint and individual. It takes just 10 minutes to open an account with Schwab, and you will need a primary identifier, proof of address, an SSN or tax identifier, and potentially your employer name and address, if applicable. There are no account maintenance or setup fees. However, there is a $50 account closing fee and a $50 account transfer fee.
Other Charles Schwab brokerage accounts include individual, custodial, community property, joint tenant with rights of survivorship, and tenants in common ('TIC'). Revocable Living Trust accounts can be single trustee or multiple.
Schwab robo advisor is also available with multiple retirement accounts, including Traditional IRA, Roth IRA, Rollover IRA, Simple IRA, and SEP IRA. The type of account you select will depend on how you plan to use the Schwab Intelligent Portfolio in the future and is subject to the same considerations you would make before opening any other type of account. Keep in mind that the minimum for a Schwab Intelligent Portfolio account is $5,000.
Platforms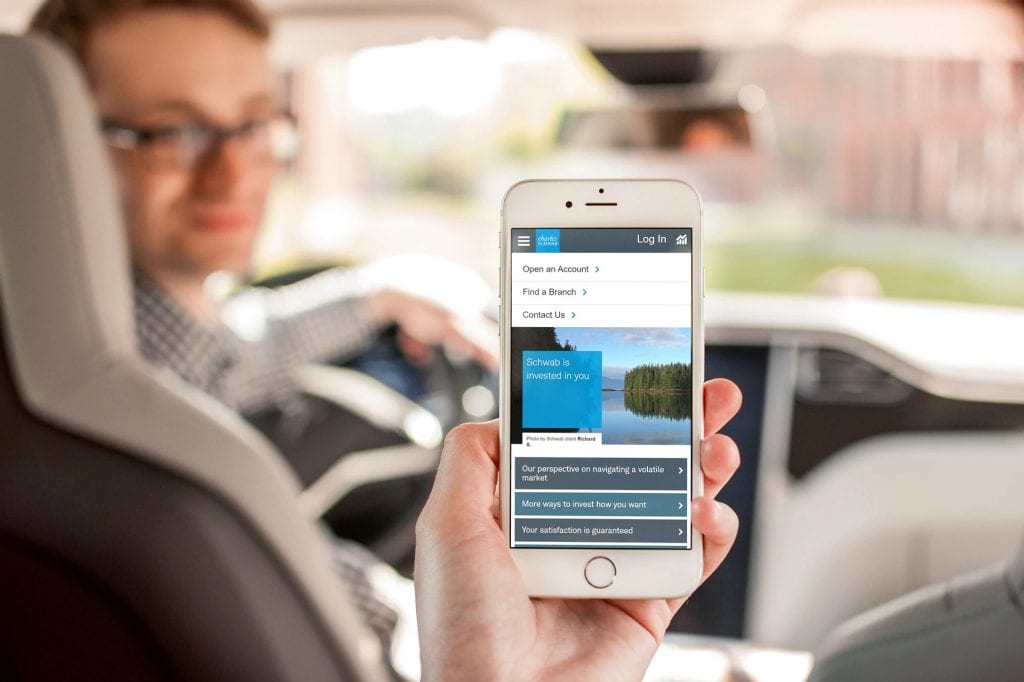 The Schwab trading platform is known as StreetSmart Edge, and it is a highly versatile tool for traders and investors. It can be downloaded to the desktop and comes with a customizable charting toolkit as well as real time quote streaming. In addition to StreetSmart Edge and the core website, they also offer a platform known as TradeSource.
Trade Source lets traders monitor their portfolio and the markets, access research, and view technical data. TradeSource features an intuitive trade ticket for stock, ETF and options orders that incorporates the relevant market data.
TradeSource is not quite as sophisticated as StreetSmart Edge and some of the functions overlap. Basic trades can be placed through the Schwab core website, and both platforms have advanced tools for specialized traders. Schwab also offers a suite of programs called StreetSmart Central, for options trading. All of these platforms are very robust and functional. No matter what your trading strategy or interest, you will find a the necessary tools and features with this brokerage.
Usability
The Schwab platform is very user-friendly and intuitive, though not as smooth as some of its competitors. While the mobile application is generally quite robust, our team noted some login errors and other difficulties. Other users are reporting running into similar issues.
While not the very best in terms of usability features, it is still relatively easy to use. Specialized information can be difficult to find on the website and it could be a little more organized in this regard, but the trading tools are above average in terms of usability and functionality. The StreetSmart Edge platform might take a while to get familiar with, but is straightforward after a certain point.
Customer Support
Unlike many of the newer brokerage firms that have emerged in the past decade, Schwab maintains over 300 physical branches for clients to book an appointment. In addition, it provides 24/7 phone, email, and chat support. Customer support is well above industry standard. However for issues that require specialist assistance, there are some complaints that the quality of service can be lacking.
Payment Methods
Schwab accepts a number of different payment methods, including an online transfer with Schwab MoneyLink, check, wire transfer, account transfer, 401(k) rollover, online bill pay, or Schwab mobile deposit. All of these methods are free for depositing funds. However, the time for funding will be significantly different depending on the method. Checks take 7 business days, account transfer take 5 – 10 business days, while MoneyLink takes 1 – 2 days.
Withdrawals are also quite simple, using a wire transfer or ACH. The quicker wire service charge does incur a $25 fee. The international wire transfer facility is available only in US Dollars. You can also submit a withdrawal via check.
Best Offers
Our team could not find any promotions or sign up bonuses at the present time. However, with 0% fees and such a hyper functional trading platform, it is not that much of a problem. Schwab delivers enough that it can skimp on the free promotions for now.
Regulation and Deposit Protection
As a huge international conglomerate with trillions in assets, Charles Schwab is obviously as regulated and protected as you might expect. It is a member of the Securities Investor Protection Corporation ('SIPC'), which provides brokerage clients with up to $500,000 coverage for cash and securities held by the firm. Coverage of cash is limited to $250,000. Schwab has numerous subsidiary services and is a regulated investment advisor and broker dealer with the Securities and Exchange Commission ('SEC').
Charles Schwab Bank is a member of the FDIC and an Equal Housing Lender. However, brokerage products are not FDIC insured. This is for its banking arm and not its investment/trading accounts.
Awards
Yet another category where Charles Schwab stands out is the number of awards it has won over the years. There are too many to go into in detail as it regularly picks up multiple awards. But the latest ones include the J.D. Power 2019 Self-Directed Investor for customer satisfaction, the J.D. Power 2019 Direct Banking for customer satisfaction, the 2019 Investor's Business Daily Best of the Online Brokers, Fortune 2019 World's Most Admired Companies, the StockBrokers.com "Best in Class" Overall, and Investopedia "Best Overall" 2019.
Our review panel loves this tier one investment and trading platform. And they are not the only ones who do, as judged by many other reviews and achievements.