Robinhood began its process of formation nearly a decade ago, with its story outlined on its website. It began as an idea between two classmates and roommates, Baiju and Vlad. Following graduation, they built finance companies where they sold hedge funds trading software. This led to the realization that while most people trade as much as $10 per trade, major Wall Street firms pay almost nothing.
They moved west and founded Robinhood in California with the goal of creating products that gave everyone access to financial markets.
Our Robinhood review team appreciates the way that this broker puts people first. In addition to offering low-cost trades to those from all walks of life, the broker also treats its employees very well, with premium insurance and other perks.
As you review Robinhood investment options, you will find stocks, ETFs, shares, gold, cryptocurrency, and cash management.
Robinhood Review Navigation
#

Robinhood Stocks Review
| | | |
| --- | --- | --- |
| App Support | Max Leverage | Trading Fees |
| Good | 1:5 | Mid |
This Robinhood review points out that the broker offers a range of stocks, and this is one of the main focuses of its brokerage.
As you attempt to review U.S. stocks on Robinhood, you may become frustrated, as they are not clearly listed anywhere on the broker's website. There is not even a clear indication of how many stocks are available to trade, other than the reference to "thousands." They are also commission-free.
However, it is clear that the broker offers fractional shares. Our Robinhood review team suggests using these fractional shares as a starting point for those who are new to trading. Robinhood advertises that you can invest in these fractional shares with just $1 and access thousands of stocks. This particular feature is still in the early access period but should be more widely available soon.
Robinhood Forex Review
There is not a reliable Robinhood forex review available, as the broker does not offer access to this asset class. The closest thing to forex is cryptocurrency, which you can find. Those who are disappointed in the lack of ability to review Robinhood forex offerings will want to look for another broker that does offer access to this asset class.
#1

Robinhood ETF Review
| | | | |
| --- | --- | --- | --- |
| Min Deposit | App Support | Max Leverage | Trading Fees |
| $1 | 2000 | 1:5 | Low |
This Robinhood review also lets readers know that you can invest in Exchange Traded Funds via the broker. ETFs offer investment bundles for a convenient way to diversify your portfolio.
As with stocks, Robinhood is not at all clear about how many ETFs are available to invest in, although it is clear that they are commission-free.
#2

Robinhood Crypto Review
| | | | |
| --- | --- | --- | --- |
| Min Deposit | App Support | Max Leverage | Trading Fees |
| $1 | Many | 1:1 | Low |
Most Robinhood cryptocurrency reviews that you come across will offer high praise for trading this asset class with the broker. It is still rare to find cryptocurrency offerings from brokers that specialize in traditional assets, so this Robinhood review greatly appreciates the presence of cryptocurrency from the broker.
As you review Robinhood cryptocurrency trading details, you will notice that this type of trade is commission-free, just like most other assets from the broker. Additionally, it is possible to trade cryptocurrency 24/7.
This particular aspect of Robinhood's offerings is run by Robinhood Crypto, which protects clients' cryptocurrencies as well as their personal information. If you review the cryptocurrency information on Robinhood's website, you will notice that the broker offers Bitcoin, Ethereum, and Dogecoin, as well as other cryptocurrencies. It does not specify these other cryptocurrencies.
What did our traders think after reviewing the key criteria?
Robinhood Fees
Robinhood offers excellent fees when it comes to creating trades, with our Robinhood review finding the commission-free offerings to be class-leading. It is hard to beat the ability to trade stocks, options, cryptocurrencies, and other assets without any commission.
We also appreciate that Robinhood does not have a minimum deposit for opening an account. Keep in mind that if you plan to trade on leverage, you will need $2,000 in your portfolio to open your margin account.
The aspect of fees we do not like in our review of Robinhood is the difficulty in finding information about them. Clients must search the website high and low or go so far as to contact customer support to view fees for other actions. Most Robinhood reviews do agree that the broker's fees are on the low side of average.
Account Types
As you review U.S. account types on Robinhood, you will only find one main type of account. This is the default account that all traders will have, and it provides access to education, news, and the full range of assets on a commission-free basis.
Although there is only one main account type, this review does point out Robinhood Gold, which is for those who want a more advanced trading experience. Access to Robinhood Gold costs $5 per month and allows for additional features, including Level II market data, investing on margin, and access to unlimited Morningstar in-depth research on about 1,700 stocks. Robinhood Gold also provides instant access to $5,000 to $50,000 from your deposits, based on the account balance. It is free to try Robinhood Gold for 30 days.
It is also important to note that Robinhood Gold membership includes $1,000 of margin. There is an interest fee of 5 percent annually on interest for margin used that is more than $1,000.
The other unique element that expands Robinhood account types in some ways is Cash Management. This allows for clients to earn as much as 1.8 percent APY on their uninvested cash, which this Robinhood review points out is a strong rate, especially compared to similar accounts from other brokers. There are no minimums, transfer fees, or foreign transaction fees with this type of account. It also provides a MasterCard debit card for fee-free access to more than 75,000 ATMs.
Platforms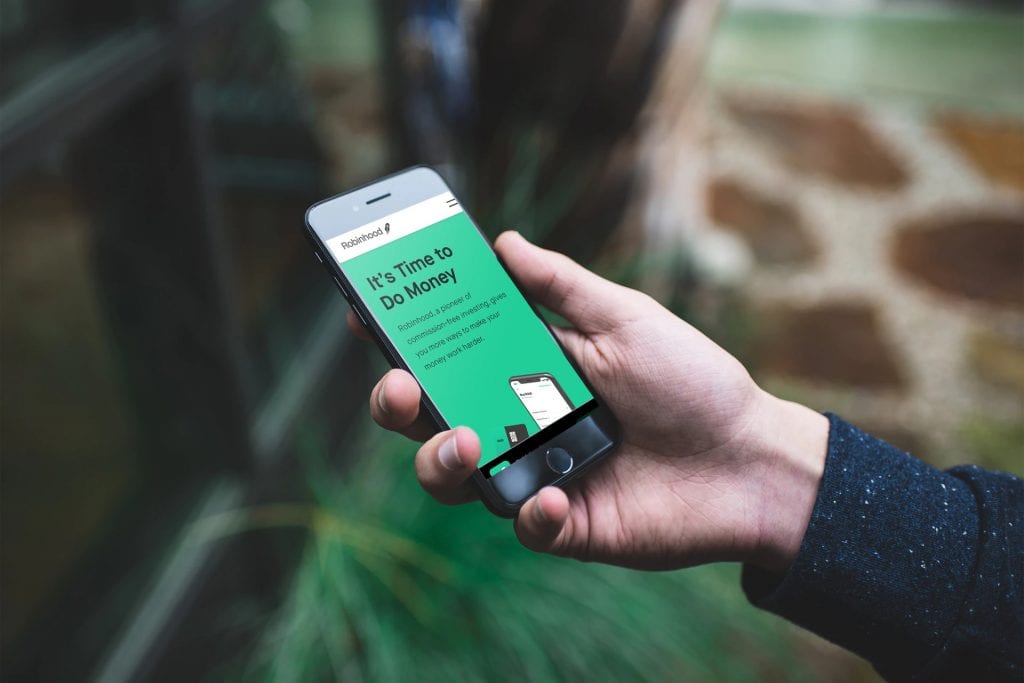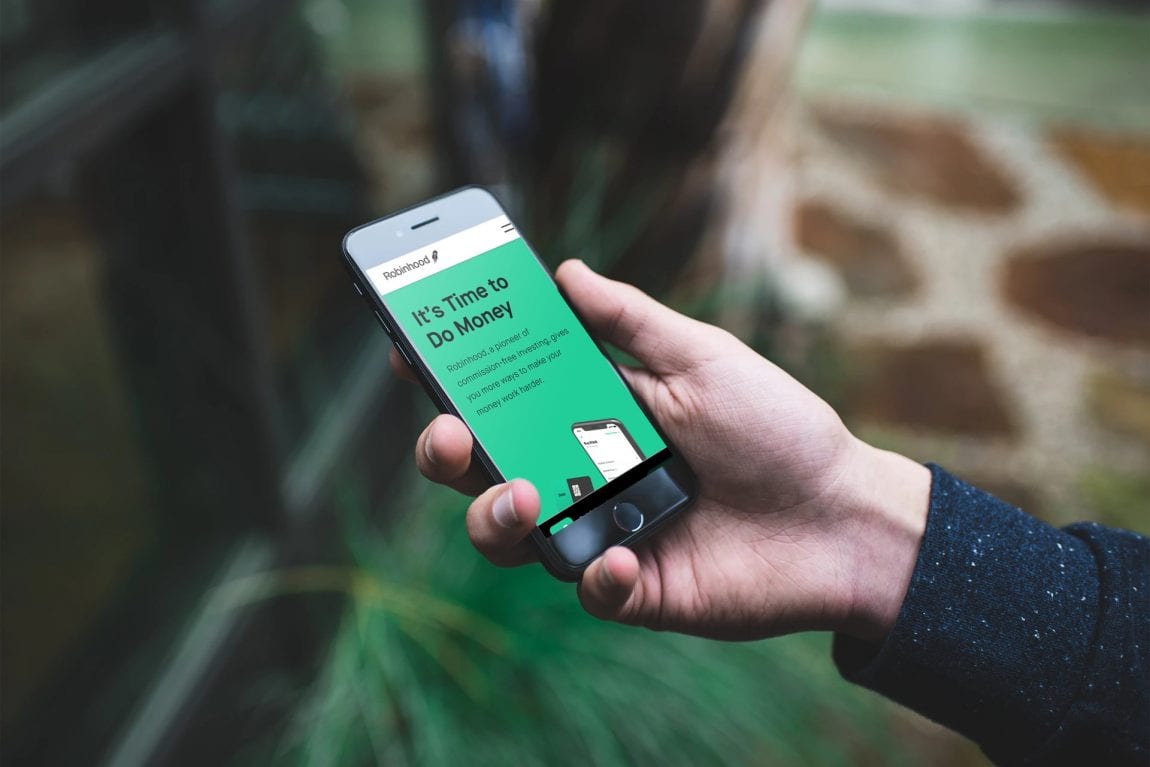 Our Robinhood review found that the platforms offered by the broker will appeal to those who prefer to trade on mobile devices. The platforms are relatively intuitive to use, but you will not find some of the advanced features that experienced traders typically want.
The platform will be more than enough for most beginners and many intermediate traders. Those who like to trade larger quantities or make more complex trades may want to look elsewhere. Additionally, our Robinhood review team suggests that anyone in search of customization should look at other brokers.
When it comes time to trade, you can access your Robinhood account via a mobile device or the web. To provide an idea of where Robinhood's priorities lie, the web trader followed the mobile platform, as this broker aims to mostly appeal to mobile users.
Usability
The usability we found in this Robinhood review is somewhat mixed. Beginners will find the platform to be highly usable since it does not have extra bells and whistles to get in the way. On the other hand, advanced traders will probably find it hard to use since they cannot access the advanced features and tools that they expect or need.
The broker's website has a clean, professional appearance with a hint of fun, but it could use some organizational improvements. For example, there is no easy-to-find list of the number of assets or even the assets themselves. Similarly, there is no simple way to find the various fees, other than the fact that trades are commission-free and that Robinhood Gold costs $5. Due to the website's organization, those considering Robinhood are likely to find themselves frustrated with an inability to find information.
Customer Support
This Robinhood U.S. review found that the support page is easy to find. We also appreciate the presence of the FAQ section with its clear divisions and search bar. Website visitors are likely to use the search bar since the categories in the FAQ section feature sub-categories before reaching the questions.
Oddly enough, there is no simple method to reach the contact page from the Robinhood website. Clients can contact the broker via LinkedIn, Facebook, Instagram, or Twitter. To actually get to Robinhood's Contact Us page, you must visit the Support page, then scroll down to the almost-invisible highlighted text that reads "Contact Robinhood Support." From there, you can contact the support team via a form that asks for a category, topic, your email address, and the issue.
There is no readily available phone number nor a live chat option. Both are serious negatives against the broker in this Robinhood review.
Payment Methods
There is only one deposit method for Robinhood clients, but at the very least, the broker provides "instant" deposits.
Bank wire transfer
Deposits to your Robinhood account can only be done via bank transfers. Clients can enjoy instant deposits totaling as much as $1,000 a week. If you have Robinhood Gold, this amount increases to $50,000.
Best Offers
This Robinhood review appreciates the range of educational material available. Most of the educational materials in the Learn section are ideal for beginner traders, and realistically, there is enough to get traders started. There is even more additional similar information mixed into the FAQ page.
The downside is that all of the educational content is in the form of articles, without any videos. While this will be fine for many clients, some will be disappointed, especially visual learners.
There is also minimal access to market information and research. Those who want the type of news, research, and analysis typically offered for free from other brokers will want to opt for Robinhood Gold. Keep in mind that this costs $5 per month.
Robinhood also has a referral program in which clients get a free stock for referring friends. At the time of writing, this program is "Refer 3, Get 4." To participate, clients refer three friends who successfully have their applications approved by Jan. 1. The referring client then receives a fourth free stock.
Regulation & Deposit Protection
This Robinhood review points out that Robinhood Markets, Inc. has wholly owned subsidiaries of Robinhood Financial LLC and Robinhood Crypto, LLC. Robinhood Financial is a Financial Industry Regulatory Authority (FINRA) member. It is also a member of SIPC, which provides protection on securities for as much as $500,000, which includes as much as $250,000 in cash. Robinhood Crypto is not a member of either SIPC or FINRA, so cryptocurrencies do not come with that protection.
Awards
Between its relatively short history and the somewhat limited offerings of assets, it is no surprise that few Robinhood reviews honor the broker with awards. The broker does not even have a section of its website dedicated to listing various awards, honors, and accolades like most competitors do.
However, this Robinhood review was able to find some honors for the broker. In May 2016, the broker earned a Google Play Award for the "Best Use of Material Design." This was part of the first Google Play Awards to take place, making Robinhood the first ever to win that honor.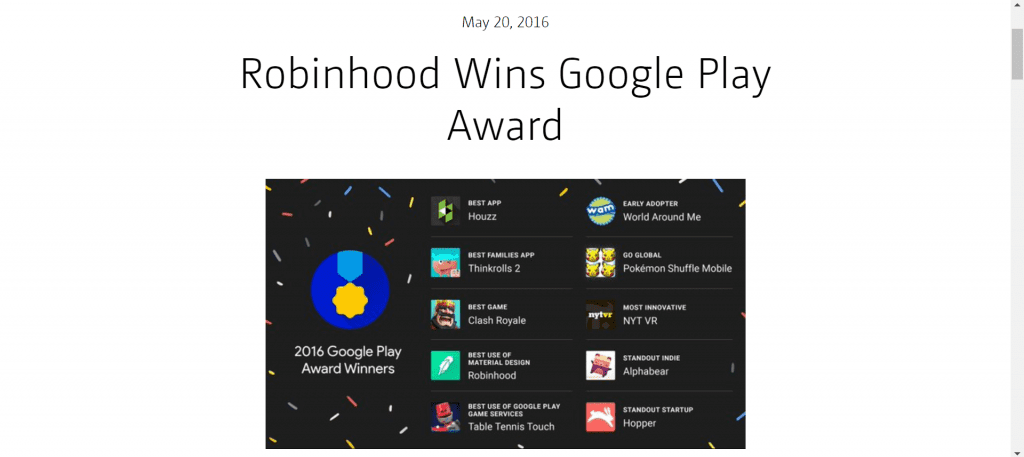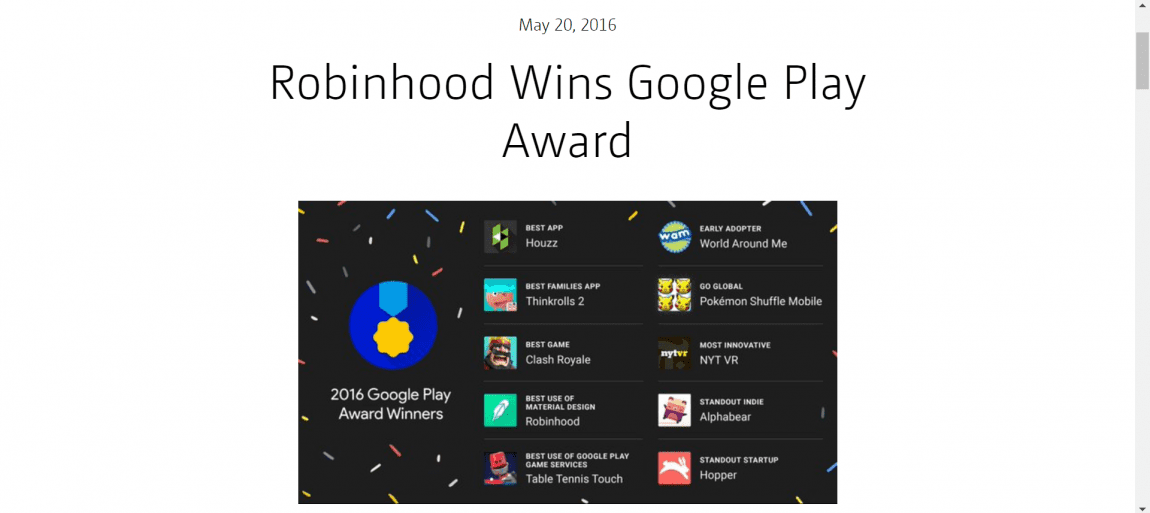 Additionally, Fast Company lists Robinhood as one of the "Most Innovative Companies." It also made the website's 2017 list for Finance and the 2016 lists for Top 50, Design, and Finance.