Ally invest has a lot of features, but it really shines through for active traders. Like many of the top brokerage firms, Ally Invest offers $0 commission trading along with a $0 account minimum, making it suitable for all classes of investors.
Ally Invest is relatively new to the world of trading, but it is making quite an impact. In 2016, it bought out a well-recognized trading company known as TradeKing, and rebranded it as Ally Invest. TradeKing was known for its low fees and its focus on options trading. Ally has since added its own features to enhance the service. Ally's sister company is known as Ally Bank, one of the world's foremost online banks. It employs more than 7,000 people with over $70 Million in deposits. Ally Invest now serves more than 250,000 accounts with over $4.7 Billion in assets.
Ally Invest also offers top research and analytical tools, with a very robust web platform that is suitable for both beginners and advanced traders alike. Coupled with excellent promotions, Ally Invest is up there with Charles Schwab and Fidelity as a tier one brokerage firm that offers something for everyone.
However, Ally Invest is probably a little better suited as a trading platform than a passive investment vehicle. Clients looking for a completely passive investment model are best advised to go down the robo-advisor route, such as Wealthfront or Betterment.
Ally Invest offers a huge variety of trading options. You can trade stocks, bonds, mutual funds, ETFs, Forex, futures, and options through this trading platform. It also offers Certificates of Deposit ('CDs').
#

Forex
| | | | |
| --- | --- | --- | --- |
| Min Deposit | App Support | Max Leverage | Trading Fees |
| $250 | Good | 1:30 | Mid |
Ally Invest has its own branch for Forex trading, known as Ally Invest Forex LLC. The minimum deposit for a Forex account is $250. Traders can make use of the web or desktop platforms and a comprehensive suite of analytical tools.
Both Ally Invest Forex and Ally Invest MetaTrader are sophisticated tools for advanced Forex traders. It also offers reasonable Forex spreads along with 80 currency pairs, including gold and silver.
#1

Stocks
| | | | |
| --- | --- | --- | --- |
| Min Deposit | App Support | Max Leverage | Trading Fees |
| $1 | Good | 1:1 | Low |
All Ally Invest stocks are commission free. Ally Invest requires a minimum opening purchase of $100 per order in OTCBB and Pink Sheet stocks and adds 1 cent per share on the entire order for stocks priced less than $2. There are thousands of stocks to choose from. You can also invest in International equity ETFs which track a basket of stocks from around the world, commission free.
#2

Commodities
| | | | |
| --- | --- | --- | --- |
| Min Deposit | App Support | Max Leverage | Trading Fees |
| $1 | 500 | 1:1 | Low |
Ally Invest offers a number of methods to gain exposure to commodities. The most direct is through stocks, but it also provides commodities-based ETFs and mutual funds. Some of the more popular commodity ETF options include the WisdomTree Continuous Commodity Index Fund ('GCC)', the iShares Gold Trust ('IAU'), the iShares Bloomberg Roll Select Commodity Strategy ETF ('CMDY'), and the Invesco DB Precious Metals Fund ('DBP'). It is also possible to invest in companies directly using the self-directed trading tools.
Ally Invest Indices Review
Ally Invest offers a huge range of mutual funds to select from, totaling over 12,000. Unfortunately, from this giant range, none of them are free from the $9.95 transaction fee. As cheap as this is, there are 100%  fee free options available with other brokerages. Ally Invest also offers 500 commission free ETFs.
#3

Futures
| | | | |
| --- | --- | --- | --- |
| Min Deposit | App Support | Max Leverage | Trading Fees |
| $1 | Good | 1:1 | Mid |
Ally invest is excellent for the trading of futures and options. Options are only $0.50c per contract, recently reduced from $0.50. Charles Schwab, TD Ameritrade, and Fidelity still charge $0.65c. The array of research tools provided makes it excellent for trading volatile products. It includes equity, index and ETF options, as well as Binary Return Derivatives.
What did our traders think after reviewing the key criteria?
Our review panel was more than satisfied with this well-rounded online brokerage. Ally Invest offers low fees, an excellent platform, fantastic customer support, and a highly customizable dashboard perfect for advanced traders.
However, there are a few areas where it could fare better. One of these areas is price execution.
Ally Invest does not use a smart order router, which means that their price execution statistics could be improved. Traders might not be getting the very best price for their trades; at the time the trade is placed. It is possible to direct your order route to where you want it to be positioned, but you will need to talk to a live broker. This is at no extra charge.
Though Ally Invest is perfect for active traders, it cannot exactly be called 'weak' in terms of portfolio management. While the fees may not be as low as robo advisors, they are not overly steep and come with a tone of benefits. For instance, Ally Invest offers the Cash Enhanced Managed Portfolio. This service provides professionally designed and personalized portfolios made to fit your preferences and financial aspirations. It features automatic rebalancing to keep the target portfolio allocation constant.  Further, you will only need to deposit $100 to get started. With this portfolio, 30% will always remain in cash. Low cost ETFs are used to create the portfolio, based on your risk tolerance.
For Forex and Futures traders, Ally Invest is unparalleled. The research and analytics are very detailed. All trades take place in real time with a transparent pricing structure. The strong customer support and excellent desktop trading platforms are flawless. The Forex & Futures service offers a customizable trading platform that includes metals, agriculture, indices and bonds from various exchanges. It also boasts tiered commission plans that offer reduced fees for high-volume trading and customizable charting capabilities based on more than 100 technical indicators.
Ally Invest Fees
Ally Invest fees are among the lowest on the market right now. The brokerage offers $0 commission on stocks, ETFs, and options. However, it does come with some fees, like all brokerage platforms.
There is the $9.95 fee for mutual funds. But this is quite trivial overall. For a $10,000 investment, you would be paying less than 0.10%,  which is tiny. But there are other expenses such as the $4 paper statement fee, though this can easily be avoided simply by opting for electronic mail. The Ally Debit card option is relatively expensive. It costs $35 annually with a $1 fee per ATM withdrawal using the Apex Select™Annual Debit Card.
Alley dropped its price for option trades from $0.65c to $0.50c per contract. It does charge an additional $0.35 per contract on specific option index products in certain instances.
For stocks that cost under $2.00 per share, Ally Invest charges a commission of $0.01 per share (with a minimum of $4.95), though the total commission cannot exceed 5% of the entire trade value. In other words, to buy 5,000 shares of a $1 stock, the commission would be $50, rather than the standard cost of $4.95. This applies only to penny stocks.
Account Types
Unlike some of the other streamlined platforms like Robinhood, Ally Invest offers over 13 account platforms similar to classical wealth management centers. When you first register with Ally Invest, you need to choose your account type.
Self-Directed accounts include the Traditional, Roth, Rollover, SEP, SIMPLE IRAs, and Coverdell. Ally also offers managed portfolio services for individual and joint taxable accounts, as well as Traditional, Roth, and Rollover. The standard taxable account is the most widely used. Speciality accounts for trusts, partnerships and LLCs are available as well as custodial accounts. Ally does not offer 401(k) plans or 401(k) assistance.
Platforms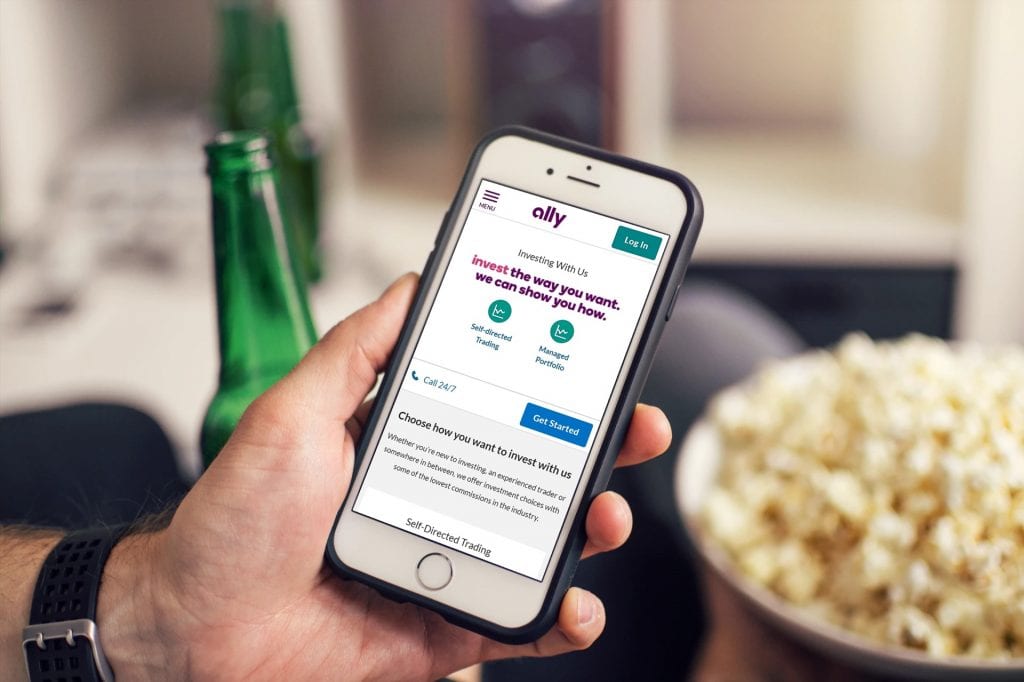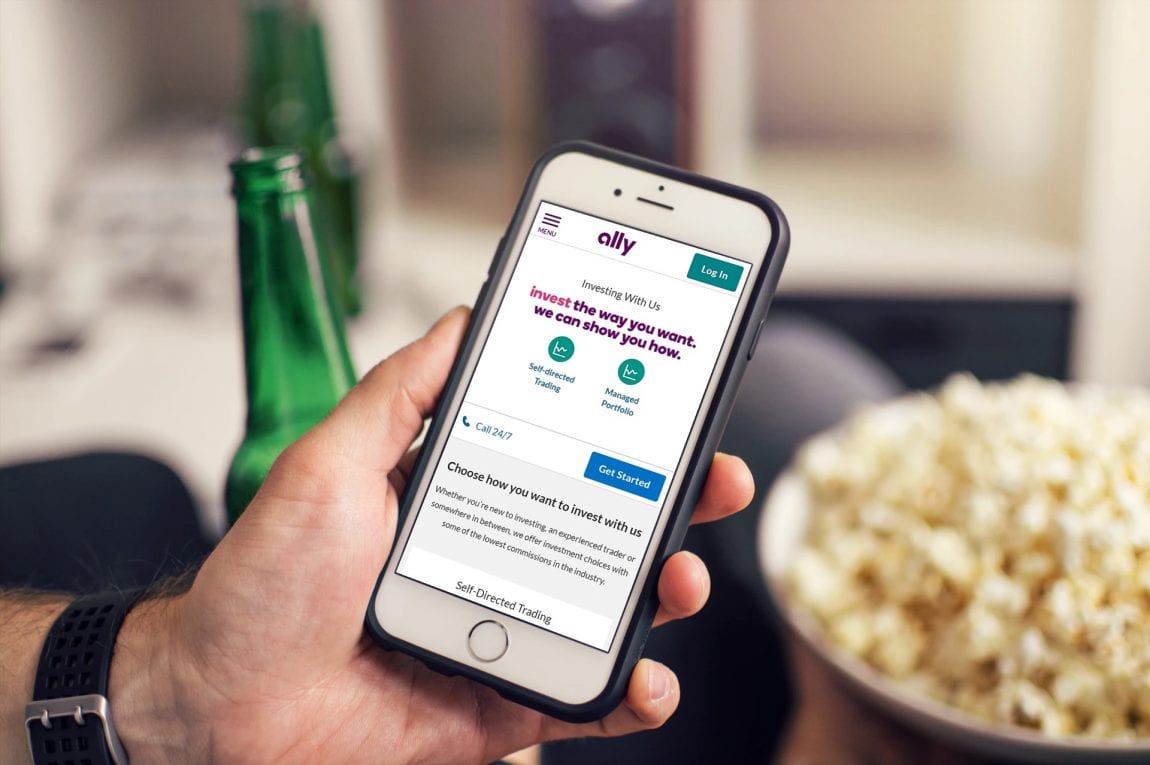 The HTML5 InvestLIVE platform is responsive and streams real-time quotes on all displays, including for multi leg option contracts. You can drag and drop widgets on your dashboard, choosing the location of your news feed, watchlist, portfolio holdings, and other indicators.
InvestLIVE's bulk order entry feature enables you to create a trade basket to place several transactions at the same time.  InvestLIVE is easy to use and intuitive. However, it falls a little short of competing platform, such as Charles Schwabs 'SmartStreet Edge'.
Ally Invest mobile platforms function smoothly. All Ally Invest mobile apps and mobile browser pages offer streaming quotes, watchlists and ACH transfers. Ally Invest mobile apps include charting capabilities with 17 available indicators.
Technical trading tools available with this broker include watchlists, profit/loss calculators, streaming charts, market data, chain options, and profitability calculators. However, portfolio analysis tools are quite limited.
Usability
The 'Classic' trading platform is best avoided, as it is severely outdated. Though Ally Invest has been accused of usability issues on its site and platforms, most of these issues have been resolved.
The InvestLive platform is easy to use and straightforward to navigate. The sheer amount of accounts, platforms, and investment options can be a little overwhelming to a novice investor. But once you know what you want to do, you can find the account, platform, and investment option to suit with Ally Invest.
Customer Support
Ally Invest customer support is top of the range. You can have phone or email access to a live agent, 24/7. It's hard to beat live 24/7 support. Ally also provides an online chat service. The only aspect of customer support where it falls down is that it does not have live branches, unlike its counterparts such as Charles Schwab or E-Trade. But this is not necessary given the strong level of support provided by Ally Invest.
Payment Methods
The easiest way to fund an Ally Invest account is with a debit card, as it is the quickest. Wire transfers will take a couple of days to go through. These can be done with USD, EUR, CAD, JPY, CHF, AUD or GBP. if you wish to fund your account using ACH transfer, it can take up to 5 business days. A check can take 10 days.
Best Offers
Ally offers an impressive $50 to $3,500 bonus with a minimum qualifying deposit of $10,000.  In order to qualify with this offer, customers must fund  new accounts within 60 days of opening, and the $10,000 minimum must remain in the account (minus any trading losses) for at least 90 days.
Regulation and Deposit Protection
Ally Invest Securities LLC is a member of the Financial Industry Regulatory Authority ('FINRA') and the Securities Investor Protection Corporation ('SIPC'). The SIPC is an insurance that provides brokerage customers up to $500,000 coverage for cash and securities held by the firm (cash coverage limited to $250,000).
Ally Invest Advisors Inc is a registered investment advisor registered with the Securities and Exchange Commission ('SEC'). The website and platform are secured with military grade encryption. Derivative products may go up or down in value and no protection is provided for such trades.
Awards
Ally Invest wins so many awards, it's hard to keep track of them all. Among the more noteworthy include the "Best Online Bank" by Money Magazine for 2019, the Best Bank for No-Fee No Fuss by Kiplinger's Personal Finance, the Magnify Money Best Bank for CDs, the Magnify Money Best Bank Overall, the Magnify Money Best Bank for Account Savings, the Nerdwallet Best Broker for Stock Trading 2019, and the 2019 Best Online Bank by GoBanking, Ally Invest also picked up 10 awards from the Financial Communications Society 25th annual portfolio awards.