OANDA was founded by an economist and a computer scientist to use technology and the internet to improve access to currency trading and data.
This OANDA review lets readers know that the broker has been offering online access to global currencies since 2001. Overall, the broker has 23 years of experience offering forex trading opportunities.
The broker has an award-winning platform, along with global regulation, global client service teams, and a client-first approach. It also has incredibly popular exchange rate APIs that are in frequent use by some big names. To provide an example of the reach of OANDA, some of the major companies that work with it include Google, FedEx, Twitter, Expedia, Deloitte, and Airbnb.
The company has a truly global presence, with dedicated services and websites for 27 countries in Africa, the Middle East, and India, as well as 14 countries in the Asia Pacific region, 38 in Europe, 22 in Latin America and the Caribbean, and two in North America. Our OANDA review team feels that this global reach helps show its reputability.
#1

OANDA Forex Review
| | |
| --- | --- |
| App Support | Trading Fees |
| Good | High |
Nearly every OANDA review you come across will be about forex, as that is the asset class that the broker specializes in. Throughout its history as a broker, OANDA has offered a range of forex pairs to clients around the globe.
There are more than 70 pairs for clients to choose from as they review OANDA's forex offerings. This broker also offers spreads as low as 0.0, depending on the account type that you choose. Those spreads can be found on USD/JPY as well as EUR/USD on certain account types.
Most OANDA reviews agree that the broker successfully meets its claims of offering tight spreads along with a wide range of majors and minors.
As you review OANDA's forex pairs, you will notice that the margin requirement varies, with many being 2 percent to 5 percent but some at 12 percent or higher. The maximum leverage overall is 50:1.
Clients who want to review OANDA's forex pricing and margin rates themselves can easily find this information on the broker's website.
OANDA CFD Review
You can find an OANDA CFD review for most markets. This is an instrument class that the broker offers in regions of the world where there are no laws or strict regulations against it.
Due to legalities, there are no OANDA CFD reviews for the United States. Those in search of this asset class in the U.S. will need to look elsewhere.
OANDA Crypto Review
You should not be able to find an OANDA cryptocurrency review, as this asset class is not available from the broker.
The lack of ability to trade and review OANDA's cryptocurrency instruments applies globally, including in the United States. There is currently no indication that this asset class will be added in the future. However, it would be a logical extension of OANDA's forex offerings to do so.
What did our traders think after reviewing the key criteria?
OANDA Fees
Our OANDA U.S. review team appreciates the broker's transparency about fees and feels that most of the fees are around average or low for the industry. There may be a fee associated with certain types of withdrawals or deposits, but these are from the payment provider, not OANDA. Additionally, premium clients will have all their bank fees and OANDA applied fees refunded.
There are also inactivity fees, but these require inactivity for at least 12 months, which is long enough to not affect most clients. The inactivity fee is $10 each month, and the charge continues until the account is closed, you continue trading, or your account balance reaches $0. You cannot get a negative account balance from inactivity. This OANDA review also found that the broker does not charge multiple inactivity fees each month to clients, even if they have multiple subaccounts. It is even possible to request refunds for as much as three months of inactivity fees.
The overall pricing for OANDA depends on your chosen model. You can pay either solely spreads or core pricing with commissions. The broker's website clearly outlines prices for each model. Core pricing can have spreads from 0.0 and has a $50 commission on each $1 million. As an example of the difference in spreads, EUR/USD has spread-only pricing of 1.4 and core pricing of 0.4, while USD/CAD has spreads of 2.2 and 0.9, respectively.
Our OANDA review also cautions clients that the broker charges financing costs or financing credits on positions that are held overnight. This is expected to find from a forex broker, and we appreciate that OANDA is clear with the pricing. However, clients should keep in mind that an admin fee also applies to the financing.
Account Types
This OANDA U.S. review found that there are two types of accounts available, each with their own options for pricing. Each allows for the choice of pricing models.
Both account types offer access to 70 forex pairs, institutional-grade execution in less than a millisecond with the V20 platform, no requotes, access to the range of platforms, automated execution, API trading, 24/5 support, variable contract size starting at 1 unit, and the OANDA trading performance analysis dashboard.
Standard Accounts have no minimum balances, and the MT4 open order indicator refreshes three times per hour.
Premium Accounts have minimum balances of $20,000, and the open order indicator refreshes 12 times per hour. This type of account also comes with priority service queues, unlimited free wire transfers, and a dedicated relationship manager.
There is also an Advanced Trader Program, which requires you to have a monthly volume of at least $10 million or deposit at least $20,000 into the account. There are tiers of Advanced Traders with Tier 1 offering spread discounts of 0.1 pips and commission discounts of $5 on each $1 million traded. There is also API support and discounted third-party platform access.
Tier 2 is for those with between $100 million and $500 million in monthly trade volume. Tier 2 clients receive discounts of 0.2 pips on the spread and $10 on commissions for each $1 million traded. Tier 3 requires more than $500 million traded each month. This results in a discount of 0.3 pips on the spread and $15 on the commission.
Demo and corporate accounts are also available.
Platforms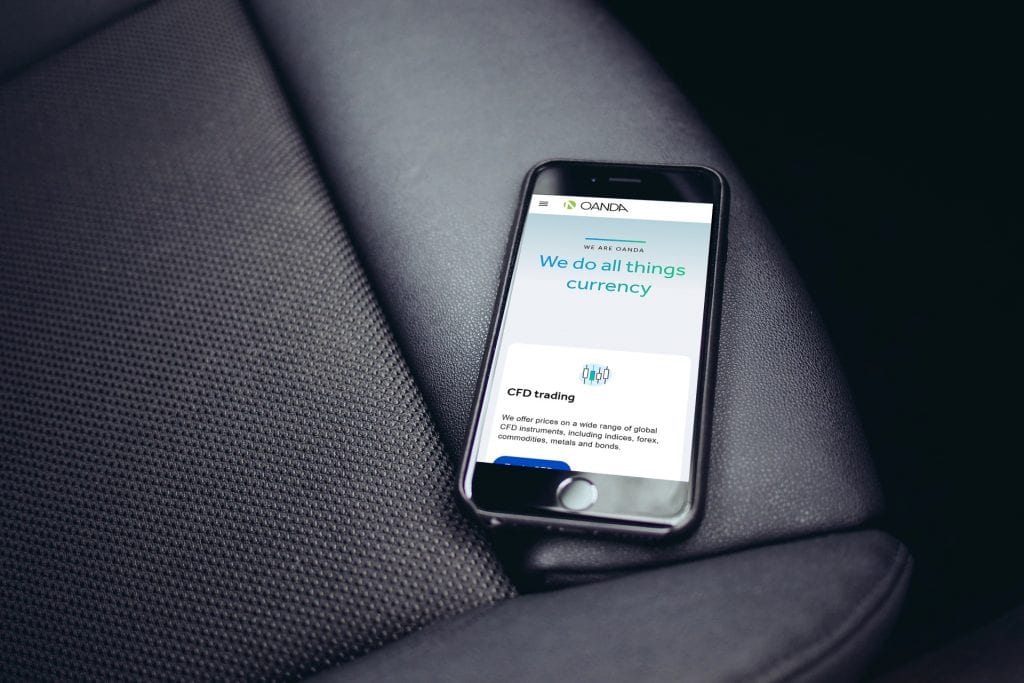 As you review OANDA's U.S. platform choices, you will find four options, including the broker's award-winning platform.
OANDA Trade Web is a browser-based trading platform with advanced charting, trader analysis, and exceptional execution. It also features personalized layouts, the ability to set several trading profiles, trade performance analytics, risk management tools, market data coverage, and the ability to trade via charts.
OANDA Trade Desktop has no requotes, an intuitive interface, professional drawing tools, leading-edge indicators, one-click trading, innovative trader analytics tools, fully automated trading, risk management tools and orders, and world-class execution.
OANDA Trade Mobile and Tablet App lets you trade with this broker on the go via your iPhone, Android, or tablet. The functionality is the same as the web platform, but this one has been optimized for mobile devices. You can also set up notifications and price signals and enjoy full-screen charts or multiple charts at once. The interface is customizable, and you get up-to-date market analyst commentary and news and no dealer intervention.
Our OANDA review team also appreciates that the broker supports MetaTrader 4, as this is among the most popular forex platforms in the world. You can use OANDA with all MT4 platforms, including the mobile applications and the desktop download. MT4 features no requotes, customization, support for expert advisors and indicators, and intuitive use. There is also an MT4 custom bridge from OANDA that provides the execution and pricing of the broker along with MT4's famed analysis and charting.
Usability
Most OANDA reviews agree that both the website and the platforms are easy to use and offer a clean, professional appearance. The only downside of the website is that from the homepage, you must click to view the menu instead of it automatically appearing. As this takes only a second to do, it should not be a serious concern. There is also a convenient bottom navigation bar on every page of the website to make it easier to find relevant information.
Customer Support
Our OANDA U.S. review found that the support from the broker has some room for improvement. The OANDA Help Portal features an FAQ section as well as the option to use the OANDA Assistant, which is the broker's virtual assistant chatbot. Between the FAQ and chatbot, most people should be able to find the information they need.
Talking to a real person on OANDA's support team is more challenging. There is the option to send the broker an email from the top-right corner of the page. Clicking this will launch your email program of choice. Other than this, you can contact OANDA via social media, including YouTube, Facebook, Twitter, and Instagram. Other OANDA reviews indicate that it is possible to contact OANDA via phone or live chat; however, this contact information is not readily available on the broker's website.
Payment Methods
This OANDA U.S. review outlines several methods that clients can use to make deposits into their accounts.
Card Payments
Debit card payments are accepted from Visa, MasterCard, and Discover. The maximum deposit via this method is $20,000 per month.
Bank Wire Transfer
Domestic bank wire transfers take between one and three business days, while international wire transfers take up to five. There are no minimums or maximums.
Checks
OANDA accepts checks in USD that come from a U.S. bank. This method usually takes four to six business days to clear.
Automated Clearing House (ACH)
Once ACH deposits are set up, it can take as long as six days for processing. There is a maximum of $50,000 per deposit.
Best Offers
As you review OANDA, you will notice that the broker offers a long list of tools to help traders analyze and make decisions. Tools include Advanced Charts Powered by TradingView with more than 65 technical indicators, Algo Lab, Technical Analysis Powered by Autochartist, economic overlay, MotiveWave professional charting analysis, and Dow Jones FX Select for breaking news and analysis.
There are also numerous OANDA partners, including MultiCharts, CQG FX, and TradingView. VPS partners include BeeksFX, Liquidity Connect, and Commercial Network Services.
OANDA also offers a useful amount of educational resources to clients, including the basics of forex, tools and strategies, and capital management information. The OANDA Classroom features events and webinars, including on-demand learning of previous webinars and a premium webinar series.
MarketPulse is another key part of OANDA's offerings, showcasing relevant market news and technical analyses. The broker offers a convenient currency converter.
Regulation & Deposit Protection
In the United States, OANDA is a registered Retail Foreign Exchange Dealer with the Commodities Futures Trading Commission as well as a National Futures Association Forex Dealer Member.
All client funds are stored in top-tier banks. Customer funds are only withdrawn due to withdrawal requests or trading-related activities. Due to financial regulations, clients can rest easy knowing that OANDA's capital reserves are at required levels.
Awards
OANDA has too many awards and honors to list concisely, as it has earned multiple awards in most recent years and has been in existence for more than two decades. Honors in 2018 include the "Highest Overall Client Satisfaction" from the Investment Trends – US Foreign Exchange Report and "Best Retail FX Platform" from FX Week – eFX. The US Foreign Exchange Report from Investment Trends also honored OANDA for "Platform Features," "Value for Money," Mobile Platform/App," "Customer Service," and "Education Materials/Programs."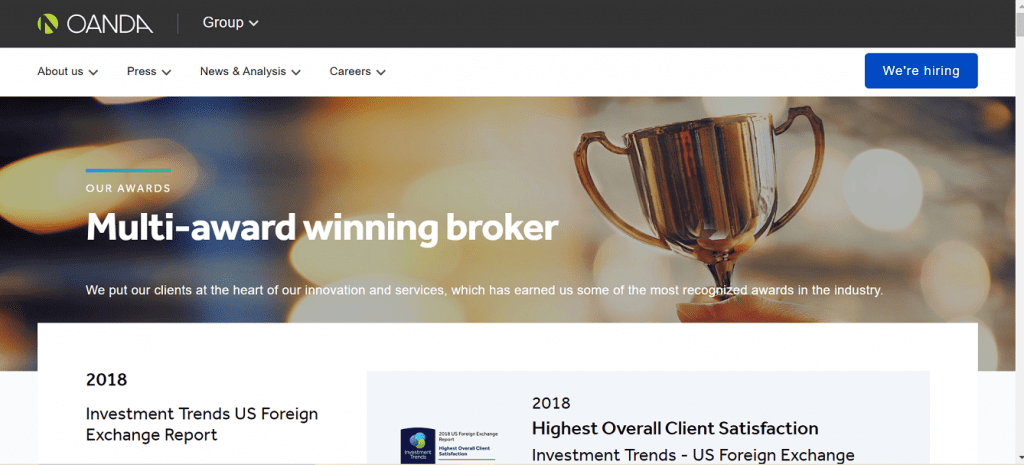 There have been similar honors in previous versions of the report, as well as additional global honors, such as "Best Forex Trading Technology" from the UK Forex Awards.