TD Ameritrade has been serving clients since 1975, giving this broker more than 40 years of experience. Over the years, there have been numerous TD Ameritrade reviews that point out the "firsts" this broker achieved. It was the first company with touchtone phone trading in 1988, and it acquired the company that executed the first online trade, K. Aufhauser & Co., in 1995. Since March 1997, the multiple brokerage units of the company have been one in the form of Ameritrade, Inc.
As you review TD Ameritrade's history, you will notice that it was a pioneer in online trading, making significant advances in 1998 and 1999. Over the years, TD Ameritrade has purchased various other brokers and financial entities, expanding its reach and offerings. Today, the broker offers access to stocks, options, ETFs, mutual funds, futures, forex, margin trading, cryptocurrency trading, managed portfolios, cash management, annuities, bonds, fixed incomes, IPOs, dividend reinvestment, and a collateral lending program.
Recently, TD Ameritrade reached a definitive agreement with Charles Schwab. The latter will be acquiring TD Ameritrade, although the details are still to come.
TD Ameritrade Review Navigation
#

Forex
| | | | |
| --- | --- | --- | --- |
| Min Deposit | App Support | Max Leverage | Trading Fees |
| $1 | Good | 1:1 | Low |
This TD Ameritrade forex review lets readers know that there are numerous opportunities via this broker. You can review TD Ameritrade's forex offerings from around the world and then trade them. There is also access to news and tools, including trading maps.
TD Ameritrade prides itself on offering straightforward pricing on forex without any hidden fees. There are 75 currency pairs available from the broker, including majors, minors, and exotics. As such, you are likely to find the pair that you want as you review TD Ameritrade's forex pairs.
#1

Stocks
| | | | |
| --- | --- | --- | --- |
| Min Deposit | App Support | Max Leverage | Trading Fees |
| $1 | Good | 1:1 | Low |
Stocks are the main asset offered by the broker, so you will find them mentioned in any TD Ameritrade review. Trading stocks with this broker includes access to complimentary independent research, powerful platforms, and intelligent order routing.
Trading stocks with TD Ameritrade does not come with any fees for platforms or subscriptions.
#2

ETF
| | | | |
| --- | --- | --- | --- |
| Min Deposit | App Support | Max Leverage | Trading Fees |
| $1 | 2300 | 1:1 | Low |
Those interested in trading ETFs will find access to this type of asset from TD Ameritrade. The broker prides itself on offering a "complete" investing experience. ETFs are accessible 24/5 for selected securities. There are also useful ETF trading tools, such as the ETF Comparison Tool and education.
Our TD Ameritrade review team is very impressed with the fact that this broker offers access to more than 2,300 commission-free ETFs. This is a large number of Exchange Traded Funds, especially to be commission-free.
#3

Futures
| | | | |
| --- | --- | --- | --- |
| Min Deposit | App Support | Max Leverage | Trading Fees |
| $1 | Good | 1:1 | Low |
Our TD Ameritrade U.S. review team encourages those looking to diversify their portfolios to invest in futures via the broker. The broker offers powerful platforms, futures trading support, and tools like paperMoney, so you can practice techniques.
There are more than 70 futures available via TD Ameritrade. The broker also offers Micro E-mini Index Futures, which have lower margin requirements and a lower entry cost. Trading futures with TD Ameritrade does not come with any hidden fees.
Those who prefer mutual funds will also appreciate the access to more than 13,000 of this type of asset, a strong point in this TD Ameritrade U.S. review. Many of these even have no
#4

Crypto
| | | | |
| --- | --- | --- | --- |
| Min Deposit | App Support | Max Leverage | Trading Fees |
| $1 | Many | 1:1 | Low |
At the moment, a TD Ameritrade cryptocurrency review shows very limited offerings, although they will grow in the future. TD Ameritrade Holding Corporation has invested in ErisX. ErisX is a company offering cryptocurrency spot and future contracts on one exchange. This should provide additional access to cryptocurrencies in the future.
For now, qualified clients at TD Ameritrade are eligible to trade Bitcoin futures. Those who want to trade more can send the broker an email, so they are among the first to review TD Ameritrade's cryptocurrency offerings when they become available. Hopefully, the broker's investment in ErisX will lead to additional offerings in TD Ameritrade cryptocurrency reviews in the very near future.
What did our traders think after reviewing the key criteria?
TD Ameritrade Fees
If you plan on making full use of the broker's trading platforms and completing trades yourself online, then your review of TD Ameritrade will find that the fees are excellent. There are $0 commissions for online trades of options, U.S. stocks, and Canadian and domestic ETFs. This applies regardless of the shares purchased or your account balance. Options trading comes with a fee of just $0.65 per contract.
There are no fees for using the platforms, accessing market data, or inactivity. Clients also get free checks and no ATM fees. Fees for other services, which are unlikely to be used, tend to be moderate to high. Overnight delivery is billed at cost, and stop payment costs $25. Electronic statements are free, and so are paper statements on accounts valued at more than $10,000. Otherwise, they cost $2.
Clients should keep in mind that outgoing wire transfers are $25, and an outbound full account transfer is $75, but an outbound partial account transfer is free.
Our TD Ameritrade review team also appreciates the lack of minimum deposit. Those interested in margin trading with TD Ameritrade should keep in mind that this type of trading increases the minimum deposit to $2,000, as does trading options.
Account Types
Our TD Ameritrade review team appreciates the fast range of account types that are available from this broker.
Standard accounts can include Individual, Joint Tenants with Rights of Survivorship, Community Property, Tenants in Common, Tenants by the Entireties, and Conservatorship or Guardianship. This is the most common type of account from TD Ameritrade, and you can easily use it to trade forex, futures, or options if you want.
Retirement accounts are also available, including Traditional IRAs, Rollover IRAs, and Roth IRAs. There are also SEP IRAs, SIMPLE IRAs, Solo 401(k)s for small businesses, and Person or Profit Plans.
Education accounts include 529 Plans, UGMA/UTMA accounts, and tax-free Coverdell accounts.
The broker also offers managed portfolios for those who want to invest in stocks and other assets without having to conduct their own research. Managed portfolios allow clients to choose their guidance level, with the choice of Essential, Selective, or Personalized Portfolios. Each has a different level of customization, with greater customization requiring higher minimum deposits.
Margin trading accounts are available to let clients trade with leverage. Our TD Ameritrade review team only suggests this type of account for experienced traders.
Finally, TD Ameritrade offers a long list of "specialty" account types, including Limited Partnership, Partnership, Trust, Limited Liability, Investment Club, Corporate (nonprofit or profit), Sole Proprietorship, Small Business Plans, and Non-Incorporated.
Platforms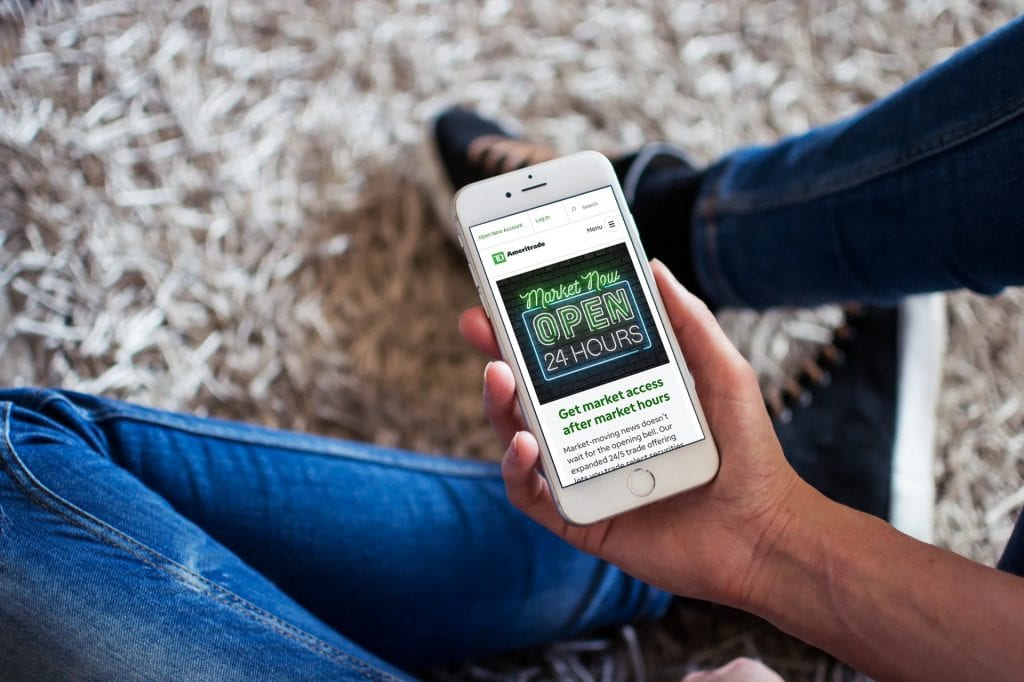 Our TD Ameritrade U.S. review team appreciates the range of platforms that the broker offers, as well as the features and tools found on them.
The Web Platform makes it simple to trade without requiring any downloads and working with most browsers. There are customizable modules via The Dock, access to the Education Center, Social Signals, predefined screeners, a Stocks Overview, and SnapTicket, which is always visible. Clients can also use Watch Lists, GainsKeeper, and calendars on the Web Platform.
Thinkorswim is perfect for advanced traders who want access to a dedicated trade desk, education, and insights. It features what TD Ameritrade describes as "elite-level trading tools." This platform offers a demo account via paperMoney as well as a one-on-one demo. It features Social Sentiment, chat rooms, custom alerts, an in-app chat, device sync, and economic data.
For those who want to trade on the go, this TD Ameritrade review suggests using the thinkorswim Mobile App or the TD Ameritrade Mobile App. Both are optimized for mobile devices and feature nearly identical features to the desktop or web versions.
Usability
As you review TD Ameritrade's website, you will likely find it simple to navigate with a clean design. Perhaps the only downside is that to access subheadings from the main navigation bar, you must click on the main heading and wait for that page to load. A dropdown or hovering menu would be a nice change. Those with slower connections who do not want to load an extra page can get around this by using the bottom navigation menu instead.
All relevant information on the website is easy to find in the location we expected to find it in our TD Ameritrade review. We also found the layout to be clean and professional without being boring.
Customer Support
This TD Ameritrade review found that the broker offers reasonable customer support with reasonable client ratings. The Contact Us page of the broker's website features multiple numbers for everything from new accounts to existing accounts to support in other languages. There is also the option to send a fax, send an online message, or visit one of the more than 275 nationwide branches in person. TD Ameritrade offers a convenient branch finder on the Contact Us page, so you can easily see which location is closest to you.
There is also a small FAQ section on opening an account for further help.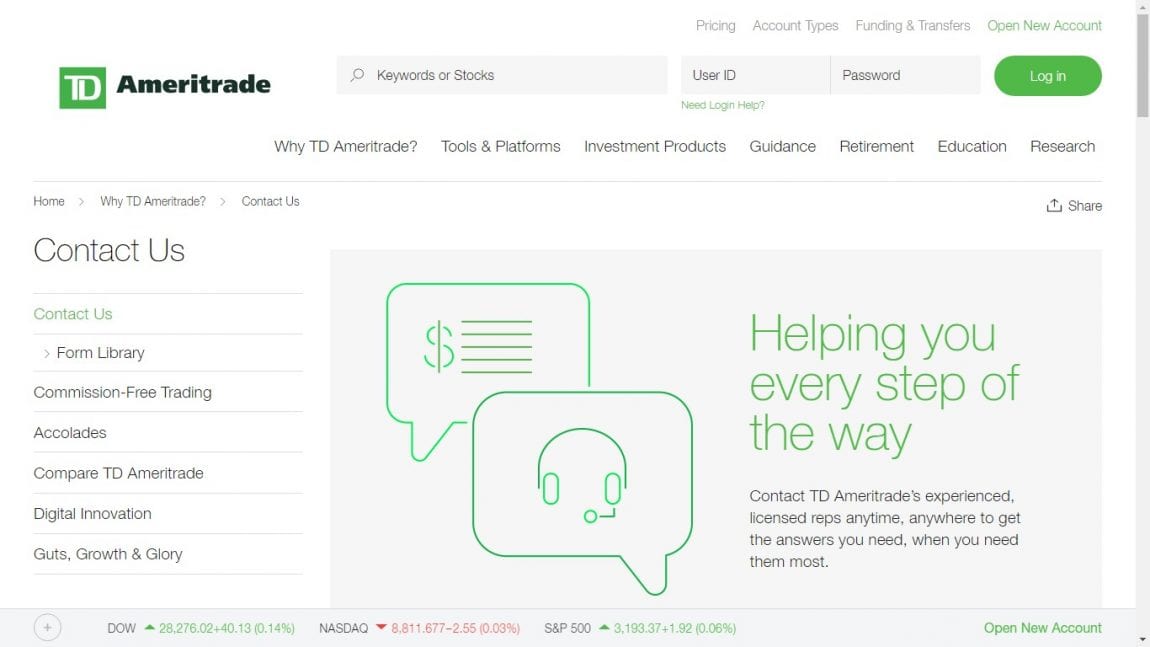 Payment Methods
With the range of funding options, our TD Ameritrade review team feels that most clients should have no problem depositing into their accounts.
Electronic bank deposit (ACH)
Most ACH deposits take about five minutes after the initial setup. This method can deposit $50 to $25,000.
Bank wire transfer
Bank wire transfers have no deposit limits and typically take one business day.
Checks
TD Ameritrade also accepts checks without a deposit limit, either via the mobile app or by mailing it in. This method usually takes one to three business days following receipt of the check.
External securities transfer
Clients can transfer ETFs, stocks, or options, among other assets, from another firm without a limit. This typically takes around a week.
Physical stock certificates
There is also the option to mail in a physical stock certificate without a limit. Processing typically takes one business day after receipt.
Best Offers
Our TD Ameritrade U.S. review team appreciates that the broker offers extensive educational information and research tools.
Research includes access to Market Edge, the ETF Market Center, Social Signals, Stocks Overview, Stocks Charts, Screeners, the Premier List, the CD Center, the Bond Wizard, and Market Java, which offers a daily morning report and more.
The Education Center includes immersive courses, especially for beginners but with some choices for more advanced traders. It also features more than 200 instructional videos, numerous tutorials, and access to investing publications. Clients can also access webcasts, the TD Ameritrade Network, and in-person seminars.
Regulation & Deposit Protection
TD Ameritrade is a member of FINRA/SIPC. It is jointly owned by the Toronto-Dominion Bank and TD Ameritrade IP Company, Inc. The membership in SIPC includes security protection of up to $500,000. The broker also offers $149.5 million in protection for securities and $2 million in cash per client.
Awards
Over the years, numerous TD Ameritrade reviews have praised the broker, which has also received many awards and accolades. In 2018, Kiplinger's Personal Finance Best Online Brokers review named TD Ameritrade the "Best Online Broker."
Honors from StockBrokers.com include #1 in Customer Service, Platforms & Tools, Education, Beginner Investors, Broker Innovation, New Tool: Apple Business Chat, Trader App: TD Ameritrade Trader, Trader Community, and Desktop Platform: thinkorswim.