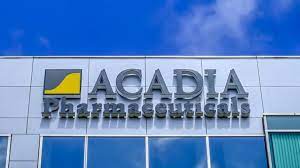 Acadia Pharmaceuticals (NASDAQ: ACAD) rallied strongly in Tuesday premarket, reaching gains of nearly 20%. Investors have a few things to be happy about this morning; firstly, the company released positive top-line results from its Phase 3 Trofinetide trial, and secondly, Acadia has been given the green light by a series of analysts this morning, spurring further price action moving forward. 

The Trofinetide trial illustrated evident improvement in base symptoms and conditions over the placebo alternative, as well s improvements in communication and behavior. The trial involved a selection of girls and young women between the ages of 5 and 20 suffering from Rett syndrome. 
Jeffrey Neul, Professor of Pediatrics at Vanderbilt University Medical Centre, summarised:
"Patients reported improvements in core symptoms, like being able to respond to a choice when asked by their parents, or experiencing more freedom from the repetitive hand movements that create obstacles in other areas of their lives"
Yet there are other factors at play here; Acadia received widespread positive ratings from a selection of analysts this morning, further bolstering bullish incentive. 
Oppenheimer raised its price target from $20 to $23 suggesting a further 18.5% continuation to the upside, with a 'market perform' rating. JMP Securities adjusted its price target from $35 to $39, keeping an 'outperform' rating. Citigroup also adjusted its price target from $25 to $29 but still maintains a 'neutral' rating.
Investors tend to react well to analyst ratings, and with the data released from the Phase 3 trial, it's a strong start to the week for Acadia. As we edge closer to the opening bell, ACAD stock has lost a little of its momentum, now showing gains of just under 15%. ACD stock is sitting at $22.30 premarket, it will be interesting to see how price action fares as retail traders flood in with the market open. 
Is Now a Good Time to Invest In Acadia Shares?
Healthcare stocks, including XX shares, saw a wave of investors buy their shares during the pandemic. Governments also pumped money into the companies in an attempt to speed up the vaccine process. But, what happens now vaccines have been approved and the pandemic is becoming less prominent? Should we still invest in coronavirus-focused healthcare stocks? Or should we look to firms tackling other areas? Here are the best healthcare stocks to buy now…