Best Healthcare Stocks to Buy Right Now
Trade Healthcare Stocks with eToro
eToro: 67% of retail CFD accounts lose money
Take A Look
eToro is the world's leading social trading and investing platform and is perfect for those who are looking to add healthcare stocks to their portfolio. Their platform is very user-friendly and with 0% commission to pay they are a great choice.
Best Healthcare Stocks Overall
1. Intuitive Surgical
Intuitive Surgical is a company that develops, manufactures and markets robotic products used in surgery.
It was reported that in the US, robotic surgery increased from 1.8% of surgical procedures in 2012 to 15.1% in 2018, and I don't expect that increase to slow down. In its third-quarter earnings, Intuitive saw procedures using its da Vinci product increase 7% year over year with its installed base growing 8%.
Now, while the company's shares aren't cheap (priced at $729.82 at the time of writing), I believe it is an outstanding healthcare stock to have in your portfolio.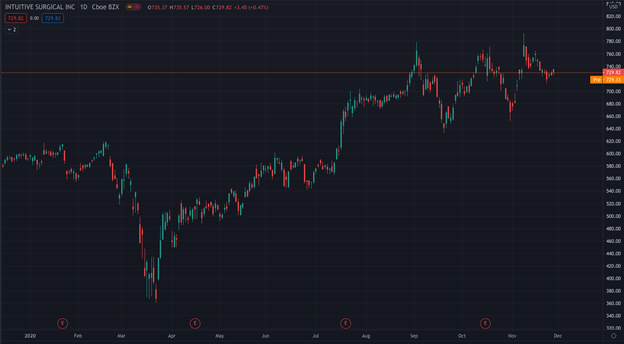 2. Teladoc Health (NYSE: TDOC)
Teladoc is a telemedicine and virtual healthcare company based in the US. Due to the nature of its business, the company has seen rapid growth this year with its share price gaining 134.65% for the year to date.
The company recently released its third-quarter earnings that showed year over year revenue grew 109% with total visits increasing 206% to 2.8 million, and as a result, they raised full-year expectations.
If and when the coronavirus vaccine begins to be rolled out across the globe, I expect Teladoc's growth to subside a little. However, I do feel that telehealth will continue to grow. The Trump administration expanded the number of telehealth services that Medicare pays for, and I don't expect Biden to change that.
Therefore I see Teladoc as one of the best healthcare stocks for the future.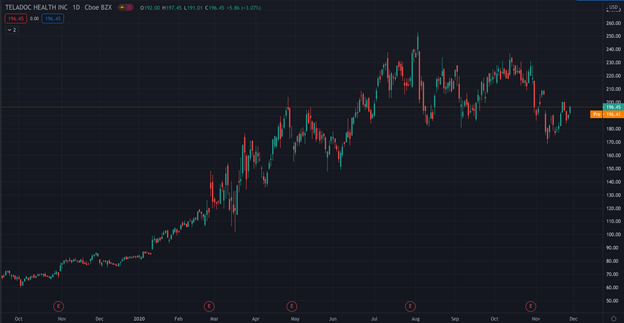 3. Bio-Rad (NYSE: BIO)
Bio-Rad Laboratories develops and manufactures specialised technological products for life science research and clinical diagnostics markets.
Bio-Rad's third-quarter revenue increased by 15.5% compared to 2019, while its net income also grew from $8.68 per share in Q3 2019 to $43.64 per share in Q3 2020.
The company is in a great financial position, it has a P/E ratio of 59.44, and Wall Street analysts have set price targets around the $660 level.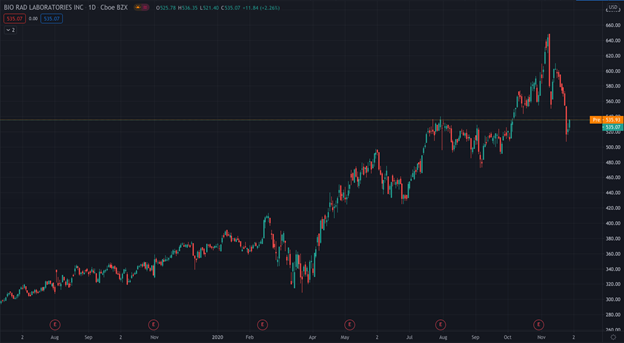 Best Healthcare Dividend Stocks
1. UnitedHealth Group  (NYSE: UNH)
UnitedHealth Group is a managed healthcare company that offers healthcare products and insurance services and is considered the most significant health insurer in the world.
Its current dividend yield is 1.48%, and its next dividend payment will be $1.25 per share. UnitHealth's stock is about to trade ex-dividend in three days, so if you want to receive the next dividend payment, you better hurry.
Its dividend payment will be made on the 15th of December.
2. Johnson & Johnson (NYSE: JNJ)
Johnson & Johnson, as I'm sure you know, is an enormous American company that develops medical devices, pharmaceutical products, and consumer packaged goods. It also has a drug development arm that is currently working on a coronavirus vaccine.
The company had to make this section as it continues its streak of dividend payouts. Despite the impact of the coronavirus pandemic, the company's dividend yield is 2.81% while its current trailing twelve-month dividend payout is $4.04.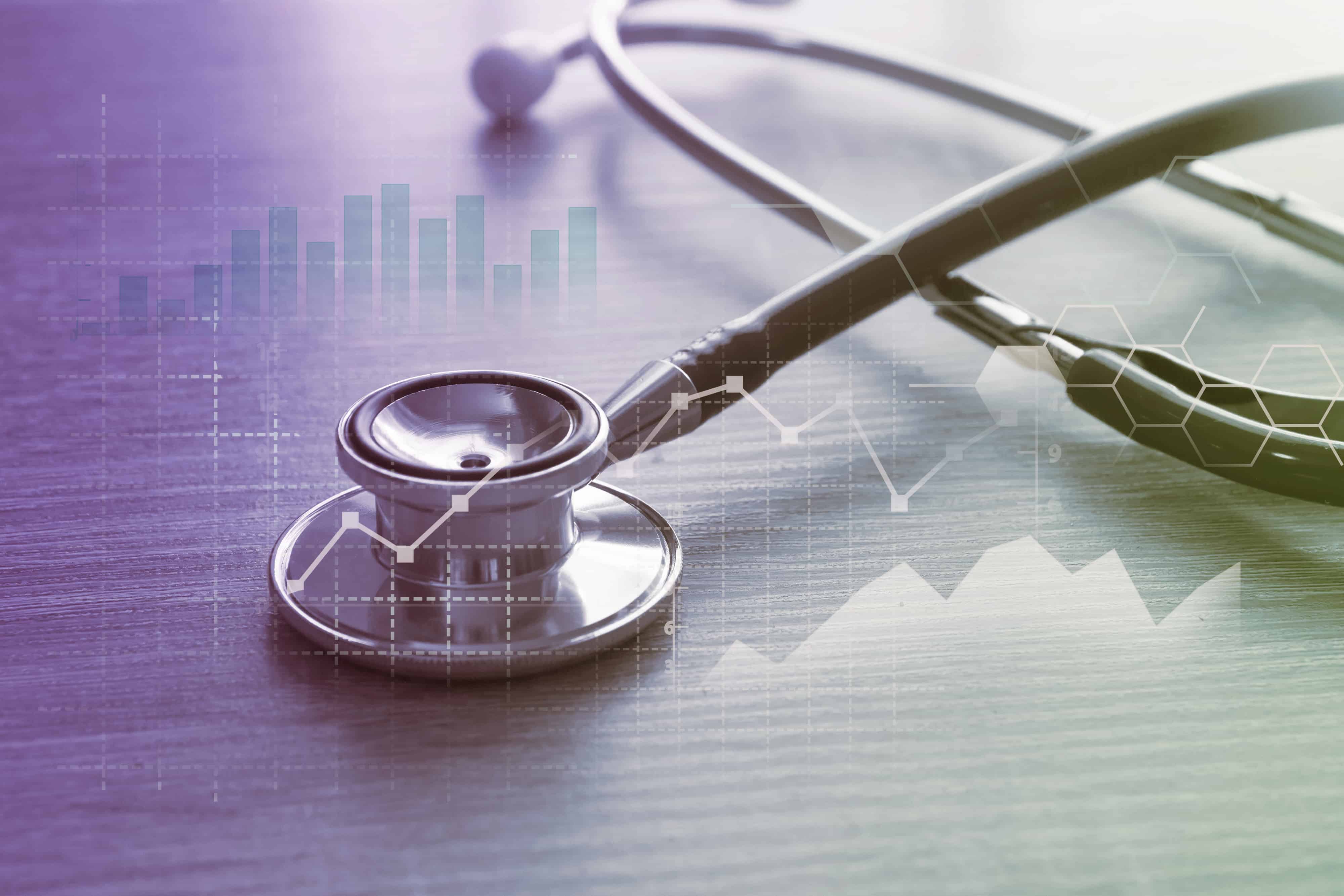 3. AbbVie Inc (NYSE: ABBV)
AvvieVie is a researched-based biopharmaceutical company that split from Abbott Laboratories approximately eight years ago.
The company has a strong history of dividend growth, and it will likely want that to continue going forward.
Its current dividend yield stands at 4.6% and, back in October when it reported its third-quarter results, the company announced a 2021 dividend increase of 10.2% with a dividend payable in February 2021.
Best Healthcare Penny Stocks
1. Revive Therapeutics (OTC: RVVTF)
Revive Therapeutics is a life sciences company that researches and develops therapeutics for rare disorders and infectious diseases.
It is another healthcare company with a potential COVID-19 treatment in the works, and so far it has shown positive results.
Revive most recently provided an update on its Phase 3 study of the drug, named Bucillamine, saying that over 200 patients will have completed the study for interim analysis by the end of December.
Shares of Revive are currently priced at $0.228.
2. 4D Pharma (LON: DDDD)
Despite its share price falling slightly since the last time I wrote about this AIM stock, 4D Pharma is a company I am still in favour of.
It is a live biotherapeutics company focused on using bacteria within the human body as potential new therapies. Again, as mentioned in my previous analysis, this is an area of promise within the pharmaceutical field.
4D Pharma shares rallied recently after filing a registration statement in the US as it prepares to launch a new American depositary receipt programme tied to its proposed Longevity Acquisition Corp merger.
4D shares are currently trading at 98p after a 28% fall in the last three months.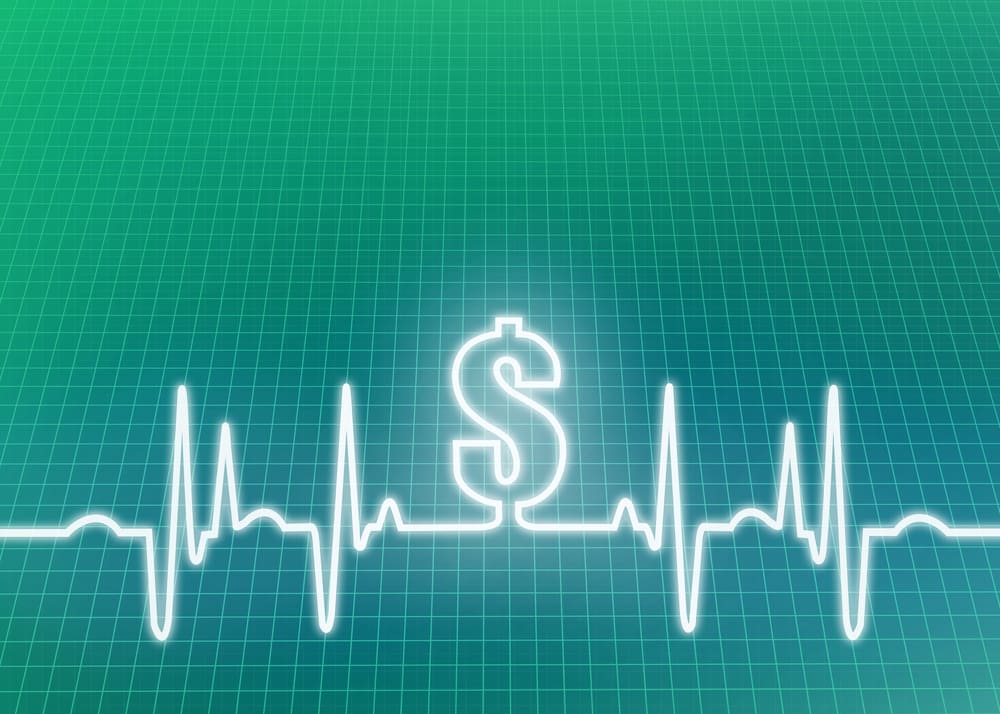 Types of Healthcare Stocks and Companies
There are four domain types of healthcare stocks and companies. These are:
Drugmakers: These companies concentrate on the development of drugs to treat diseases and conditions. A recent example of a drugmaker would be Pfizer who, along with BioNTech, created a possible coronavirus vaccine. A smaller drugmaker is a company like Synairgen, whose shares are up 1355% for the year to date. The company is currently working on the development of flu and coronavirus treatment.
Medical Device Manufacturers: These companies create and develop devices that are used to care for or treat patients. An example of a medical device manufacturer is Intuitive Surgical.
Health Insurers: Insurers, as I'm sure most o you are aware, charge individuals and companies to cover healthcare costs when they are needed. An example of a healthcare insurer is UnitedHealth Group, which is considered the largest health insurer in the world.
Healthcare Providers: These companies provide people with healthcare services. Teladoc, who we mentioned above, are a great example of a healthcare provider stock.
Why Invest in Healthcare Stocks Now
You may have noticed that we are in the middle of a pandemic, and so, healthcare, especially at this time, is vital, but it won't go away, whether we are in a pandemic or not, people will always need healthcare.
And now, as we enter a new age where people are becoming more health-conscious and aware of the importance of obtaining the best healthcare possible, investing in the industry can be an excellent way of capitalising.
What to Know Before Investing in Healthcare Stocks
There are a plethora of healthcare stocks available, and that means there is always a competitor around the corner looking to develop the next best drug, device or service. Again, if we look at coronavirus vaccines, there are three leading candidates with many others still in Phase 2 trials.
That leads nicely on to the next aspect, which is regulation. The industry is highly regulated, and even if you think a company has the next best treatment for a particular disease, it could fail to meet the regulatory requirements which will impact the company and its share price. It may also fail to meet its study endpoints which will also affect the company's share price.
How to Start Trading Stocks Online
1. Research Healthcare Stocks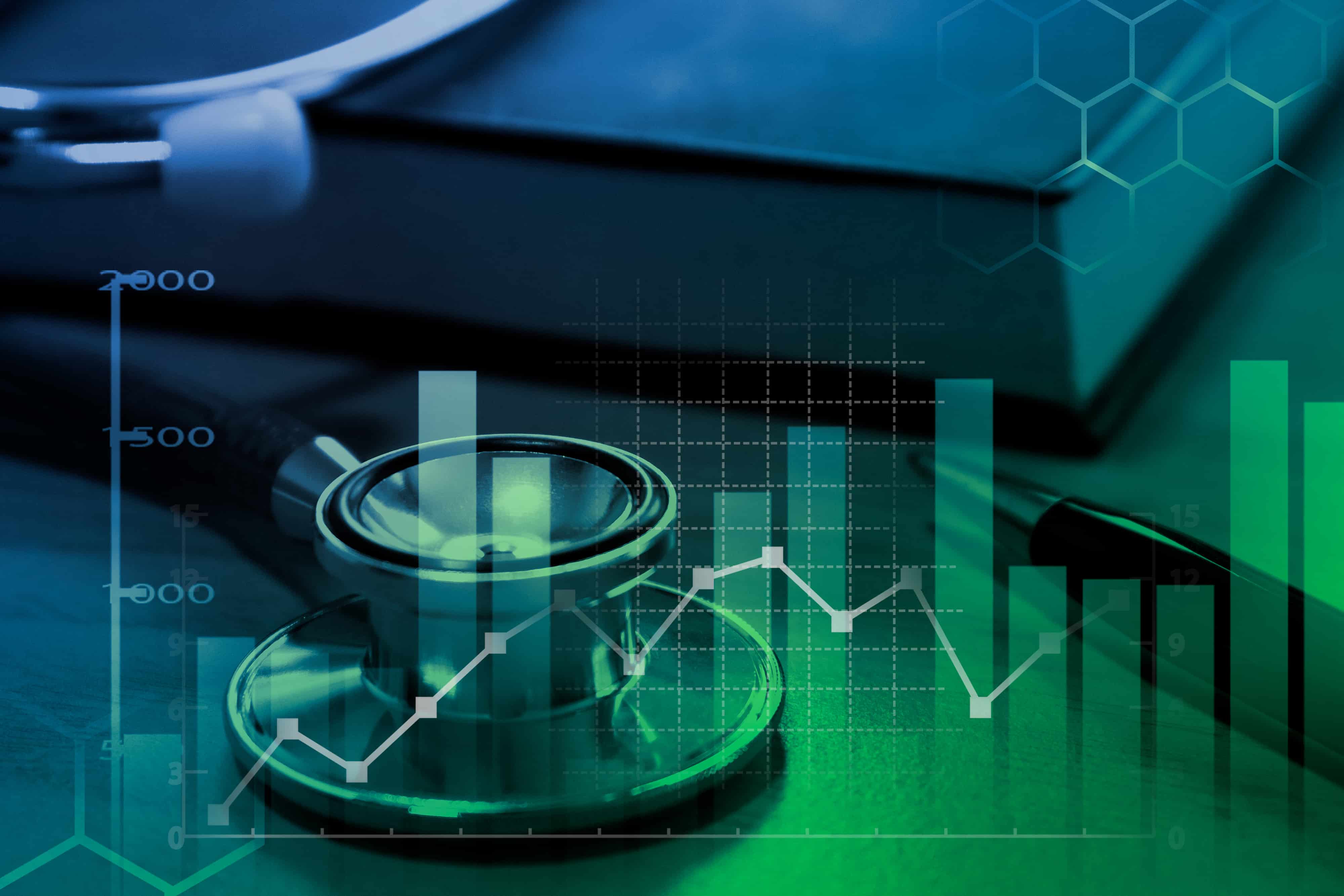 When investing in any stock, you will first need to research the company. Take a look at the companies earnings, the treatments, or products it is developing. Also, examine any debt the company may have and their ability to pay it off. Finally, look at the demand for the company's product or service, this will help in analysing its growth prospects.
2. Find a Broker
The broker you choose is a vital part of the process. When looking for a broker, focus on aspects such as whether they are regulated in your region, offer the assets you want to invest in or trade, and the fees they charge.
3. Open & Fund an Account
Opening an account is a straightforward process with the majority of brokers. They will usually ask a series of questions before requesting some sort of identity verification, which generally involves sending a picture of your drivers license or passport. Once the account is open, you can then deposit funds. Most brokers allow for funds to be deposited via bank transfer, debit or credit card, or an eWallet.
4. Set Order Types
Order types will depend on the price you want to buy the asset at. You must understand what market and pending orders are so that you can use them to help you in your investing and trading. You will also need to learn about stop-loss and take profit orders to help you protect your capital.
5. Select & Buy Healthcare Shares
The final part is to select and buy the shares of the company you want to invest in. Remember, research is vital, and the more knowledge you have, the better you will be at making investing decisions.
Best Brokers to buy Healthcare Stocks
eToro:
67% of retail CFD accounts lose money
Take a look
Finding the right broker for you is perhaps the most important part of the process. While you can buy Healthcare stocks with most brokers on the market today, not all brokers are created equal. If you are a new trader looking to get started, or someone who has some experience in the markets, then these trading platforms are perfect. Each of the brokers above is fully regulated and provides a safe and secure trading environment, giving you peace of mind. The platforms include a wide range of stocks to choose from and educational resources to help you get started and make your first trade.
Summary
Despite the risks associated with healthcare stocks, the industry is in a good position when we look at the long term picture.
With technology continuing to change at a rapid rate, there is a constant stream of new ways in which healthcare companies can develop products and drugs to help better treat and look after patients.
It means that there is always an opportunity around the corner for investors to profit when healthcare stocks are part of their portfolio.
PEOPLE WHO READ THIS ALSO VIEWED: