Healthcare is without a doubt a large market to invest in. The worldwide healthcare services market is predicted to increase at a 9.8% compound annual growth rate (CAGR) from $6,872.86bn in 2021 to $7,548.52bn in 2022.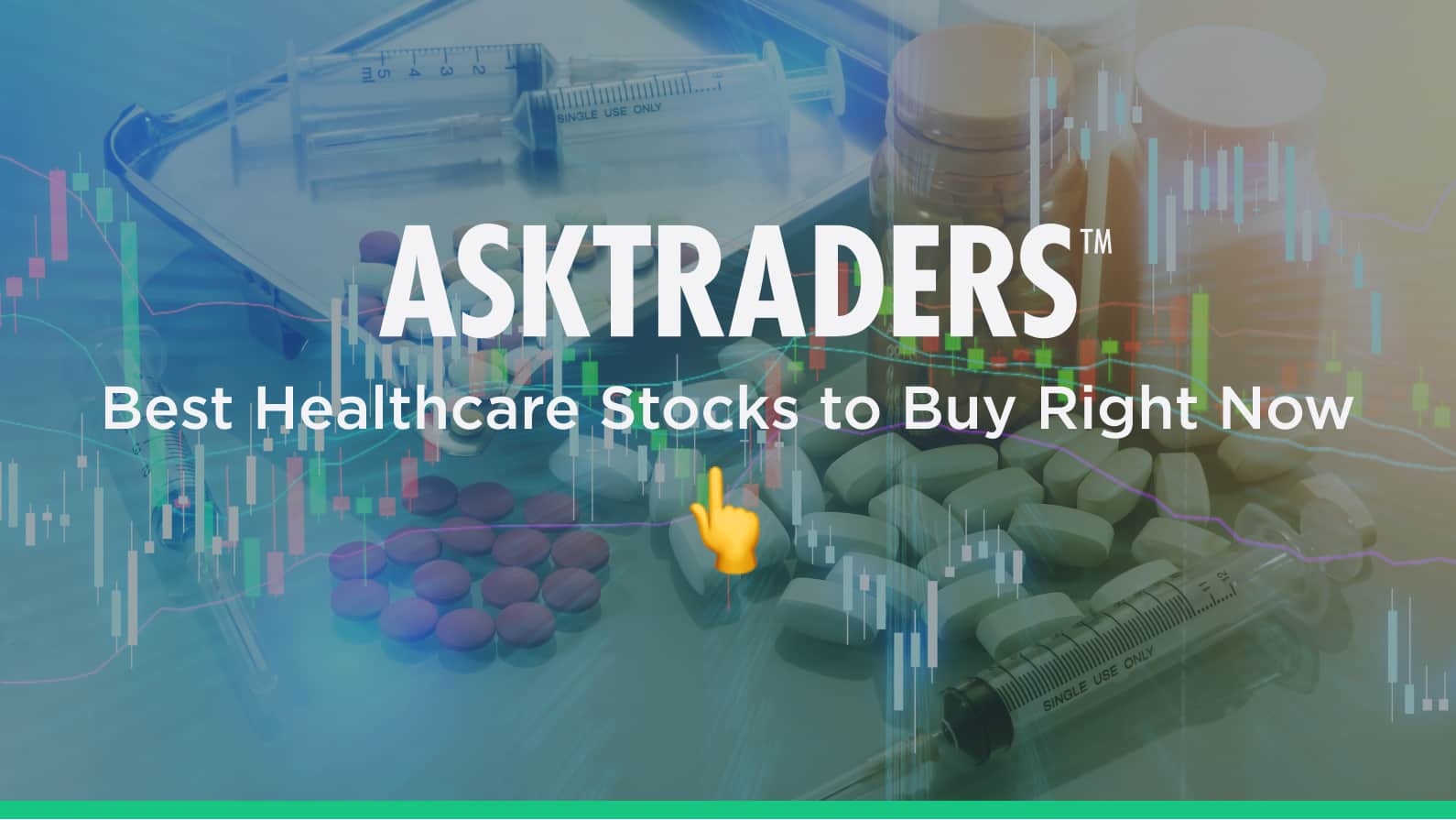 This increase is primarily due to companies reorganising and recovering from the impact of COVID-19. Notably, virtual work and the shutdown of commercial activities created operational challenges. At a CAGR of 8.4%, the market will reach $10,414.36bn in 2026.
Given how the Delta variant of COVID-19, which is more than twice as infectious as the original virus, wrought havoc in mid-2021, scientists are now concerned that other coronavirus offshoots will be even more virulent.
As a result, new vaccinations will be produced to combat these new virus strains, keeping COVID-19 and vaccine news in the spotlight in 2022 and placing some healthcare stocks in the pilot's seat in terms of growth.
While some companies' stocks have reduced in value, this article provides an update on the best healthcare stocks to buy right now.
Best Healthcare Stocks to Buy Right Now
The compilation of high-performing stocks below is based on the recent updates in the stock market as of April 2022:
1. UnitedHealth Group Inc (NYSE:UNH)
UnitedHealthcare Group Inc. is committed to assisting individuals across the globe in living better lives by streamlining the healthcare experience, meeting consumer health and wellness needs, and maintaining trusted connections with providers.
The company goals look promising and advantageous for investors to invest in. The company has experienced a significant increase over the past years and is still on the rise currently. This stock has moderate day-to-day swings and a high trading volume; thus, the risk is deemed medium. At the time of writing, the stock had average daily volatility of 2.45% over the last week.
In light of the present short-term trend, the stock is anticipated to climb 13.47% over the next three month period, concluding the period with a price between $555.97 and $621.07.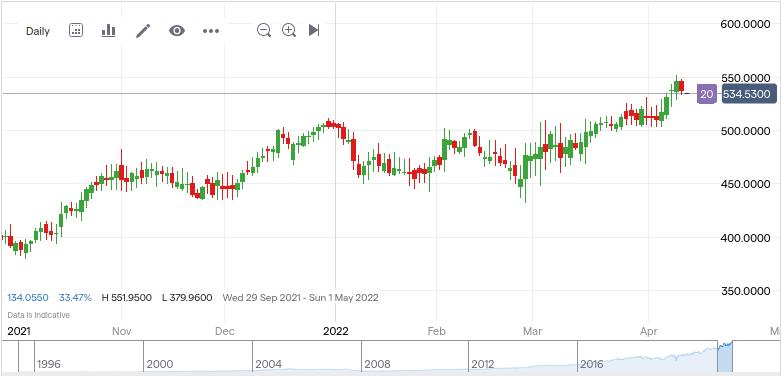 Source: IG
2. Johnson & Johnson (NYSE:JNJ)
Johnson & Johnson is a colossal American corporation that manufactures medical equipment, pharmaceuticals, and consumer packaged goods. It has also served as a drug research arm for coronavirus vaccine development.
As of 11th April 2022, the stock price was around $179.91. According to analysts' predictions, it is expected to attain a median target of $184 with an upper estimate of $215 and a low estimate of $169. The median estimate is up +2.23% from the previous price of $179.91.
Source: IG
3. Danaher Corporation (LON:0R2B)
Danaher Corporation, headquartered in Washington DC, is an American worldwide diversified conglomerate. Professional, healthcare, industrial, and commercial goods and services are designed, manufactured, and sold by the corporation. 'Life Sciences', 'Diagnostics', and 'Environment & Applied Solutions' are the company's three platforms.
Recently, the stock of Danaher Corporation had a sales forecast from the short-term moving average, but a buy signal from the long-term moving average. As the short-term average is higher than the long-term average, the stock has a general buy signal, indicating a good outlook.
Several short-term signs are encouraging, leading us to believe that the current level may represent a buying opportunity, as Danaher Corporation stock has a good possibility of doing well in the short run. As of 11th April, 2022, the stock price dropped from $299.15 to $291.12, a -2.68% decrease.
At the time of writing, the stock is moving in a broad and horizontal trend, and more movement within this trend is likely. Given the horizontal direction, Danaher Corporation stock is expected to trade between $345 and $400 within the next 12 months.
A break in a horizontal trend is frequently accompanied by a significant rise in volume, and equities seldom manage to travel straight from the bottom to the peak of a trend. Stocks that are rising in the centre of a parallel trend are seen as potential runners.
Source: IG
4. AbbVie Inc. (NYSE:ABBV)
AbbVie is a biopharmaceutical business founded on research. It broke away from Abbott Laboratories approximately nine years ago.
The firm has a long history of increasing dividends, which is expected to continue in the future. AbbVie generates a lot of income and its stock is now considered cheap. At the time of writing, the stock price has fallen from $168.18 to $167.42. AbbVie stocks forecast and predictions look promising on a long-term basis.
The consensus price target for AbbVie Inc. among the 21 analysts that provide 12-month price projections is $161, with an upper estimate of $192 and a low estimate of $115. At the time of writing, the median forecast is down -3.09% from the previous price of $167.14.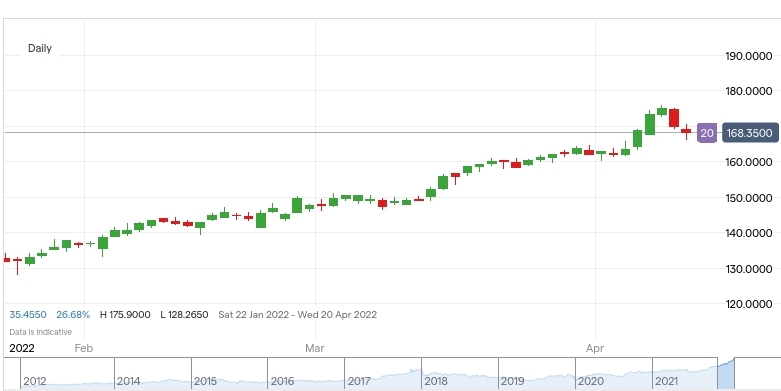 Source: IG
5. Pfizer (NYSE:PFE)
Pfizer has a market cap of $298.2bn as of April 2022. According to statistics, Pfizer is one of the world's most valuable corporations by market capitalisation.
It is a standard metric for determining how valuable a firm is. Compared to 2021, the market cap has decreased by 5.99%, which makes it a good time to buy.
Will the stock of PFE, which has dropped 8% in the last month (at the time of writing) continue to fall, or will it rise? Based on experience, there is a strong possibility that PFE stock will grow.
In the previous 10 years, 68 of the 106 times PFE stock has seen a 21-day drop of 8% or more, it has resulted in PFE stock increasing over the following one-month period (twenty-one trading days).
This historical pattern indicates that PFE stock has a 68 out of 106 probability of rising in the next month, signalling that PFE stock is a decent wager at its present levels, even in the short term, in our opinion.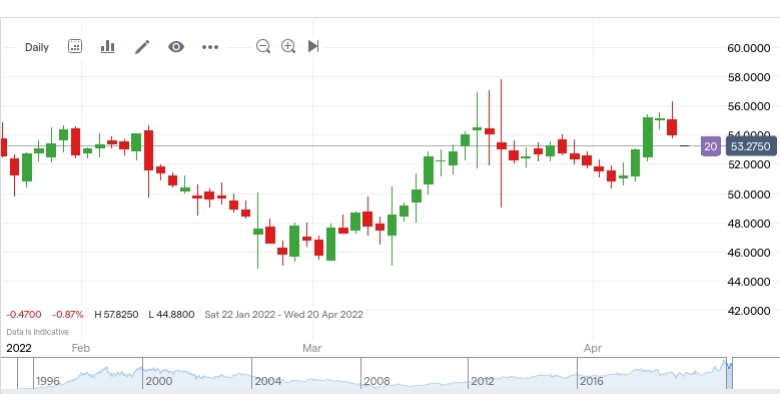 Source: IG
Why invest in healthcare stocks now?
Technological advancements, an aging population, and improved therapies for chronic illnesses and ailments are all propelling the industry forward. Whether we are amid a pandemic or not, humans will always require healthcare.
Today, as we enter a new era where people are more health-conscious and mindful of the significance of receiving the greatest healthcare available, investing in the healthcare industry can be a great way to profit.
How to start trading stocks online
1. Research healthcare stocks
Before investing in any stock, you should research the firm. Examine the company's earnings, as well as any therapies or products it is producing. Consider the demand for the company's product or service; this will aid in determining the company's growth potential.
2. Select a broker
The broker you select is critical to the process. When looking for a broker, consider if they are authorised in your location, whether they provide the assets you plan to invest in, and how much they charge in fees.
3. Create a new account and fund it
With most stockbrokers, opening an account is a simple process. All you must do is answer a few questions and submit a form of identification verification, which usually entails providing a photo of your driver's license or passport.
After the account has been opened, you can begin depositing funds. Many brokers accept deposits through bank transfer, debit or credit card, or eWallet.
4. Set types of orders
The order types you choose will be determined by the price you wish to pay. To use market and pending orders to aid your investing and trading, you must first understand what they are. To assist you with preserving your cash, you'll also need to understand stop-loss and take-profit orders.
5. Select and buy healthcare stocks
The last step is to choose and purchase the stock of the company you wish to invest in. Remember that research is essential, and the more information you have the better your investment judgments will be.
Best brokers to buy healthcare stocks
Best Brokers to buy Healthcare Stocks
eToro:
68% of retail CFD accounts lose money
Take a look
Finding the right broker for you is perhaps the most important part of the process. While you can buy healthcare stocks with most brokers on the market today, not all brokers are created equal. If you are a new trader looking to get started, or someone who has some experience in the markets, then these trading platforms are perfect. Each of the brokers above is fully regulated and provides a safe and secure trading environment, giving you peace of mind. The platforms include a wide range of stocks to choose from and educational resources to help you get started and make your first trade.
Summary
Despite the risks associated with healthcare stocks, the industry is in a good position when we look at the long-term picture.
With technology continuing to advance at a rapid rate, there is a constant stream of new ways in which healthcare companies can develop products and drugs to help better treat and look after patients.
It means that there is always an opportunity around the corner for investors to profit when healthcare stocks are part of their portfolio.
Explore AskTraders' range of recommended brokers to begin your healthcare trading journey.
People Who Read This Also Viewed: