Key points:
AMTD stock is soaring hundreds of percent
This is off the IPO of the subsidiary HKD, which is up thousands of percent
The big question is whether this will all last or the frenzy fade?
AMTD International (NYSE: AMTD) or, AMTD Idea Group, stock has jumped 240% this morning premarket. This is off the back of the performance of the IPO of the subsidiary, AMTD Digital (NYSE: HKD). Effectively, AMTD is a cheap way of buying into the soaring price of HKD – or last least it was until the stock price rise this morning. As to what happens next, well, that depends upon the performance of HKD stock, given that that's what is driving the experience in the first place.
The driver here really is that HKD stock price. The IPO was at $7.80 and is now topping $750. An absolutely extraordinary rise for any stock let alone a Chinese financial. But then hope springs ever eternal on things from far away. There are two different ways to think of AMTD Digital. One is that it's a collection of the usual buzzwords including metaverse and so on and so this is a soar which will soon enough turn into a dive. That is indeed a possible way to think of it.
The other is that AMTD Digital is a business accelerator with a lot of backing from the right sort of people. They'll thus be able to spark some to many successful new companies which will support this valuation. That second view is possible although we might regard it as a bit hopeful.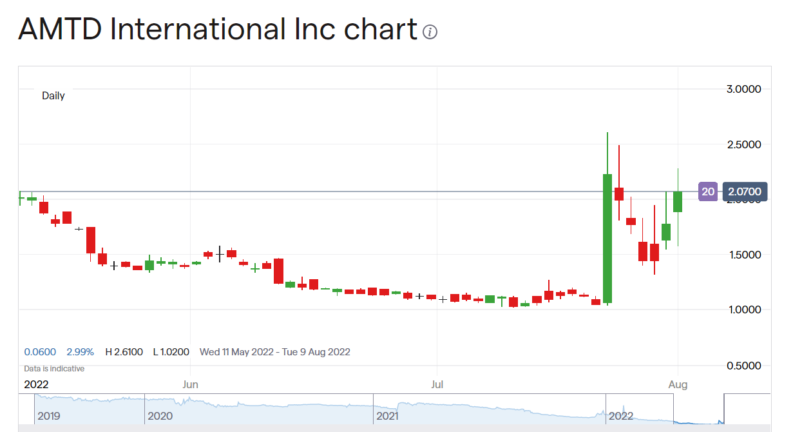 Also Read: 3o Global Stocks That Warrant Your Consideration
In one sense AMTD Ideas soaring off the AMTD Digital IPO is obvious. For, even after the IPO, they still own the majority of the firm. So, if the price is now 100 times the IPO price then the value of AMTF's stock in HKD has, well, let's say it has improved, shall we? "AMTD IDEA Group is expected to own 88.7% of the issued and outstanding shares, and 99.4% of the total voting power in AMTD Digital immediately following the completion of the initial public offering." Yes, that'll do it. So, we can think of AMTD as being a cheap backdoor into gaining exposure to that soaring HKD IPO price if we like. Less cheap than it was yesterday but still.
On the other hand that valuation does indeed depend upon the HKD price. And there, well, why? As the company itself says "To our knowledge, there are no material circumstances, events nor other matters relating to our Company's business and operating activities since the IPO date." They're as mystified as we are about that soaring HKD stock price.
There's a certain thought therefore that the HKD price soaring is just one of those frenzies that sometimes happen in stock markets. One which will fade at some point. This would then have the obvious reverse implications for the AMTD stock price too.
It's also possible to be ever so slightly cynical here. AMTD itself runs as a business incubator. At which point, creating something that soars like HKD is pretty good. Or is it? Something that soars just after you sell might be seen as being not very good at the job of pricing, couldn't it?