Key points:
Avacta's share price crashed 23.6% after suspending the sales and marketing of its AffiDX® COVId-19 test.
The company attributed the decision to a study of the lateral flow test's sensitivity to the Omicron variant in low viral loads.
Today's decline seems like a market overreaction since Avacta is working to fix the issues with its test.
The Avacta Group Plc (LON: AVCT) share price crashed 23.6% after announcing that it had stopped marketing its AffiDX® SARS-CoV-2 antigen lateral flow test (LFT) due to its diminished sensitivity in detecting low viral loads of the Omicron variant.

Investors reacted negatively to the news as expected, leading to the significant decline in Avacta's share price, but all is not lost. A closer look at the press release indicates that the test's weak link is the commercial antibody used in the test.
Let me explain. The AffiDX® SARS-CoV-2 has a proprietary Affimer® reagent and a commercially available antibody. Unfortunately, the antibody does not detect lower loads of the Omicron variant.
The latest studies conducted by Avacta revealed that the proprietary Affimer® reagent sensitivity to low viral loads of the Omicron variant remains just as high as with other variants, including the Delta variant. Therefore, the only problem with the tests is the commercial antibody.
It will not take long for Avacta to procure another highly sensitive antibody to both minor and higher Loads of the Omicron variant that can be paired with its proprietary SARS-CoV-2 testing platform.
Today's crash seems like a market overreaction, and I expect Avacta's shares to recover once it has incorporated a new highly sensitive antibody into its test and resumed the marketing of its AffiDX® SARS-CoV-2 antigen lateral flow test.
Alastair Smith, Avacta Group's CEO, commented: "The continued high performance of the Affimer® reagent in the AffiDX® antigen test, despite the large number of mutations in the Omicron variant, is testament to the robustness of our platform technology. As a responsible business, we set very high standards for ourselves and our products and have continually kept the performance of the AffiDX® antigen test under review as new SARS-CoV-2 variants have arisen."
Adding:
"We believe COVID-19 testing remains a long-term commercial opportunity. We will therefore use the robustness of the Affimer® platform and what we have learned about the SARS-CoV-2 virus to generate the next generation antigen test that will be as resilient as possible to any future mutations."
Alastair also warned that the reduced sensitivity witnessed in Avacta's SARS-CoV-2 antigen lateral flow tests might also affect similar tests currently being marketed by other companies.
The company also reminded investors that initial sensitivity tests were positive since they were done on samples with high viral loads. However, the deficiencies were discovered after a broader study that included samples with low viral loads.
Avacta shares seem pretty attractive at current prices, especially for long-term investors interested in owning a stake in the firm. However, there are no guarantees that we won't get a further decline in future.
*This is not investment advice. Always do your due diligence before making investment decisions.
Avacta share price.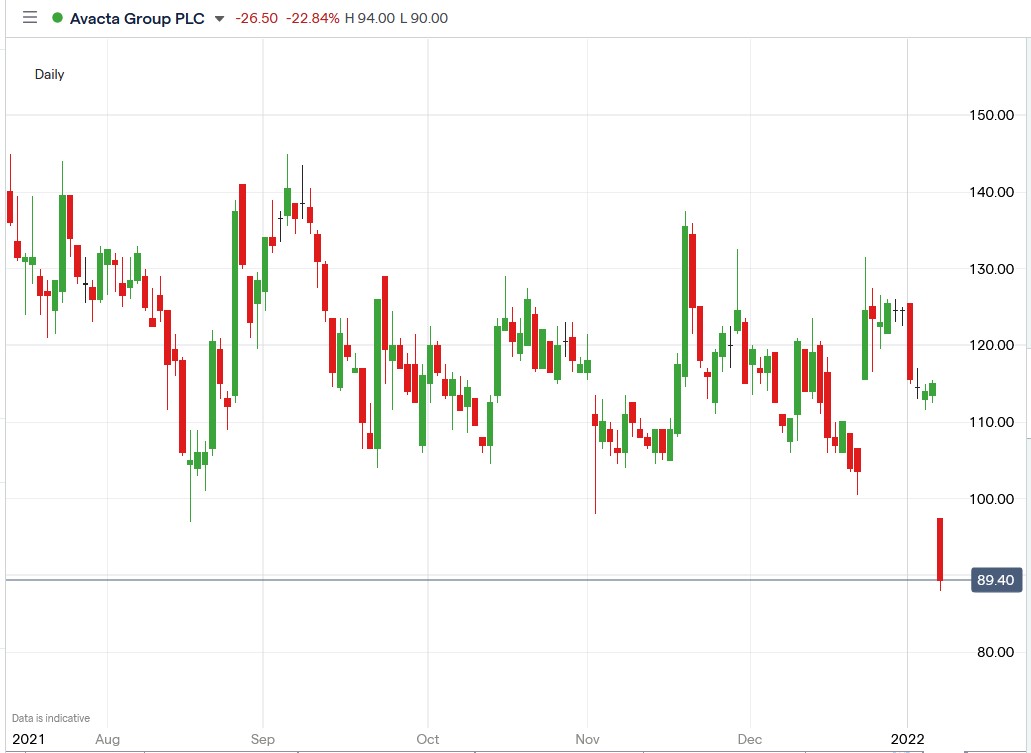 Avacta shares crashed 23.56% to trade at 87.90p, falling from Friday's closing price of 115.00p.