Key points:
Bakkt shares rallied up to 19% higher premarket on the Nexo custody deal.
Investors cheered the partnership that could unlock additional revenues for Bakkt.
Bakkt has built a reputation for itself since its founding in 2018.
Bakkt Holdings Inc (NYSE: BKKT) stock rallied 19.1% premarket after entering into a partnership with Nexo to hold its crypto assets via a framework that involves cold and warm storage wallets.

Bakkt was founded in 2018 to power the digital assets economy and has built a reputation within the industry as a trusted platform for crypto custody services and a blockchain business targeting consumers.
The firm will use its proprietary platforms and technology to hold crypto assets on behalf of Nexo clients, utilising cold and hard storage wallets.
Bakkt uses a particular rebalancing system to alternate the storage of crypto assets between cold and warm wallets to compensate for the security vulnerabilities associated with warm wallets.
Investors cheered the partnership that marks a step in the right direction for Bakkts, which has grown exponentially since its launch and established itself as a leading player in the crypto ecosystem.
Dan O'Prey, Bakkt's Chief Product Officer for Crypto, commented: "The cryptocurrency market continues to expand at a robust pace, leading reputable crypto companies to diversify custody of assets. We are pleased that Nexo has chosen the Bakkt Warehouse as a trusted solution. As we build upon our partnerships with businesses and expand our network of operations and revenue, secure custody continues to be a pillar of Bakkt's strategy, leveraging state-of-the-art physical and cyber security, institutional-grade technology and governance, and backed by insurance."
George Manolov, a Business Development Executive at Nexo, added: "As a global digital asset institution, Nexo acknowledges the need for a trusted partner to bring an extra level of security and credibility to our clients' cryptocurrencies. We recognized that Bakkt's infrastructure and regulation-first approach to crypto was a natural fit, and we're confident that this partnership will benefit all our clients and expand Nexo's ability to service the unprecedented institutional demand for cryptocurrencies as well as individuals' growing transaction volumes."
Many analysts recently raised their Bakkt targets before today's announcement, which should unlock more revenues for the company.
On January 12, 2022, an analyst at Jefferies Financial Group raised his 2024 earnings per share (EPS) target for Bakkt from $0.05 to $0.08 while maintaining a hold rating and a $7 price target.
*This is not investment advice. Always do your due diligence before making investment decisions.
Bakkt Holdings stock price.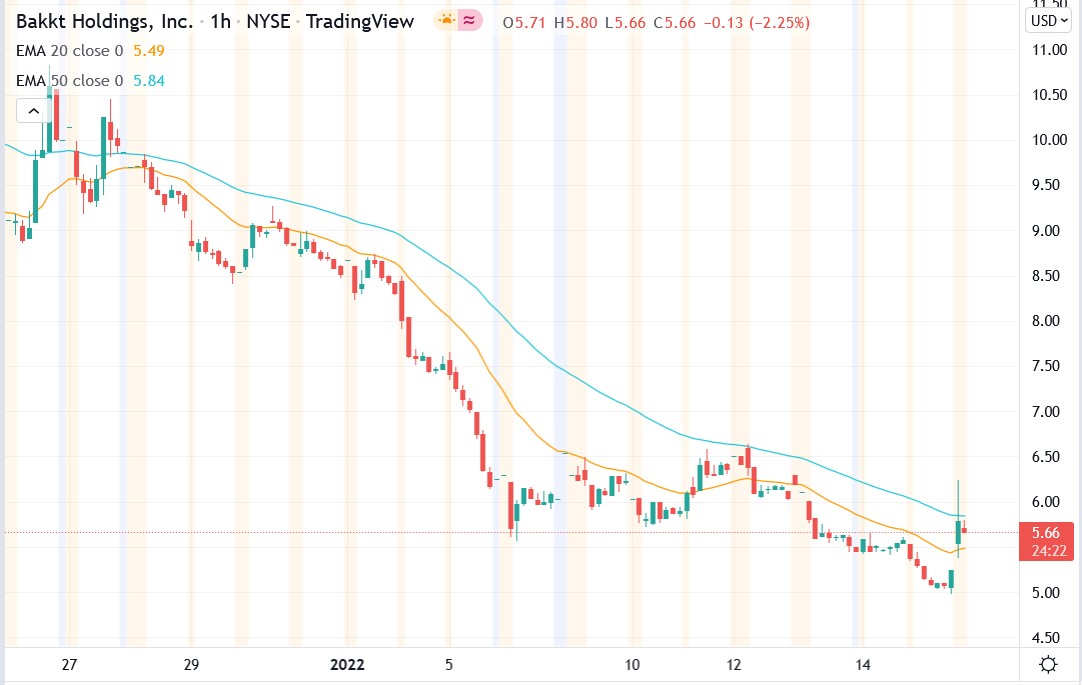 Bakkt stock rallied 19.08% to trade at $6.24, rising from Tuesday's closing price of $5.24.