Bed Bath & Beyond Inc. (NASDAQ: BBBY) stock fell 28% premarket after the company reported disappointing results for its second quarter.

The big-box retailer's sales slumped 26% to $1.98 billion compared to last year's $2.06 billion.
The company suffered from supply chain challenges that were felt across the entire industry,w which led to higher costs eating into its profits.
Bed Bath & Beyond also saw customer numbers drop sharply in August, which hurt its sales figures.
The firm reported a loss of $73.2 million during the review period translating to a $0.72 per share loss, leading to its dismal earnings per share of $0.04 versus the expected $0.52 earnings per share.
The retailer had to slash its revenue forecasts to between $8.1 billion and $8.3 billion while reducing its earnings per share to $0.70 and $1.10 per share.
Company CEO Mark Tritton said: "While our results this quarter were below expectations, we remain confident in our multi-year transformation. Following solid growth in June, we saw unexpected, external disruptive forces towards the end of the quarter that impacted our outcome."
As expected, investors reacted negatively to the news, leading to the massive selloff in the premarket session and into the open.
However, the retailer's fundamentals remain solid, and it will likely recover in the coming quarters.
*This is not investment advice.
BBBY Stock price.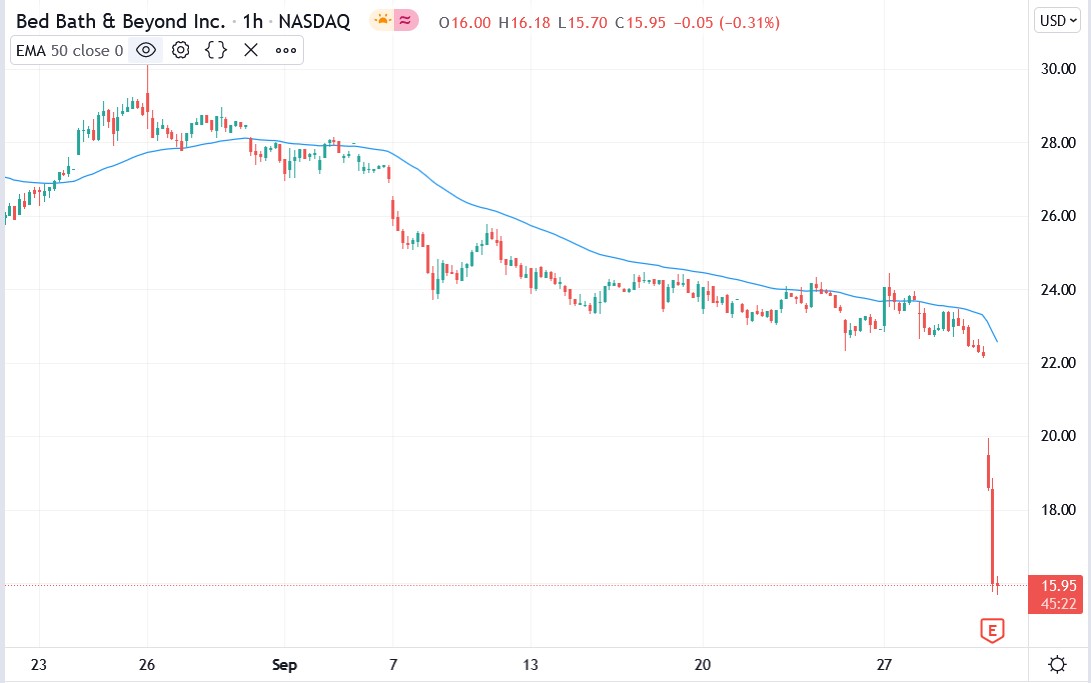 BBBY stock fell 28% to trade at premarket $15.95, falling from Wednesday's closing price of $22.20.