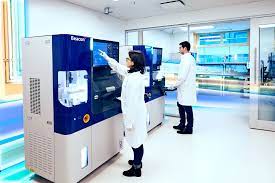 Berkeley Lights stock down 30% premarket
The company announced 2021 revenue estimates that fell short of estimates by around $4M
Long-standing CEO Eric Hobbs will be transferring roles within the company
Investors didn't take kindly to the news that Eric D. Hobbs, Ph.D. will be imminently leaving his position as Berkeley Lights (NASDAQ: BLI) CEO in a move towards the Antibody Therapeutics line. In a further blow to investor confidence, the company announced that last year's revenue wasn't quite up to analyst expectations, perhaps spurring the CEO change. Either way, things aren't looking all that bright over at Berkeley. 

In a post-market announcement on Wednesday, the medical technology company revealed that its 2021 revenue estimations would be between $84M and $84.5M – around $4M less than analyst predictions made last year of around $89.2M. Despite the earnings miss, Berkeley still forecast a 30% growth in revenue for 2022, which would match the growth pattern of 2021- based on current Q4 statistics. 
It seems that the main focus of investor selling revolved around the all-important CEO change; a renowned leader in digital cell biology that propelled the company forward with the discovery of the innovative, first-of-its-kind 'beacon system' – a leading platform for functional characterization of live single cells. At a time when many medical stocks have benefitted from the innovation forced through the pandemic, Berkeley Lights now have a difficult road ahead. 
Gregory T Lucier, Chairperson of Berkeley Lights Board of Directors, outlines the great impact that Hobbs had on the company during his stint at CEO:
"Under Eric's leadership…Berkeley Lights has realized a more than a 10-fold revenue increase, released multiple transformational products, and completed a successful IPO in 2020"
Adding…
"We are grateful we will continue to benefit from Eric's leadership, talent, and insight as we revolutionize how scientists can access primary cell biology to make extraordinary discoveries."
Investors this morning didn't seem too confident in the new changes; sellers dominated the market, with Berkeley stock showing a pre-market loss of just under 30%. 
Is Now a Good Time to Invest In BLI Shares?
Healthcare stocks, including BLI shares, saw a wave of investors buy their shares during the pandemic. Governments also pumped money into the companies in an attempt to speed up the vaccine process. But, what happens now vaccines have been approved and the pandemic is becoming less prominent? Should we still invest in coronavirus-focused healthcare stocks? Or should we look to firms tackling other areas? Here are the best healthcare stocks to buy now…