Key points:
BTCS stock gapped 44.8% premarket but opened up 20% after giving up some gains.
The stock rallied higher after incorporating Algorand into its infrastructure platform.
The company is pretty attractive as a pure-play blockchain infrastructure firm.
The BTCS Inc (NASDAQ: BTCS) stock gapped 44.8% higher after announcing that it had added Algorand (ALGO) to its infrastructure staking operations. 
Investors cheered the move, as evidenced by the premarket rally in BTCS stock. However, the stock had given up almost half of its gains by writing.
The positive reaction from investors was driven by Algorand's leading positions as a blockchain platform focused on payments processing and is currently worth $9.5 billion.
Algorand has distinguished itself as a leading blockchain platform that allows users to develop assets, execute smart contracts and atomic swaps.
BTCS is set to benefit from today's integration by earning additional tokens from Algorand to convert into revenues. The company has also implemented a proprietary script that compounds its token rewards daily. 
Michal Handerhan, BTCS' COO, stated: "More than 500 global organizations leverage Algorand's technology – from university partners (MIT, UC Berkeley, Peking University), to ecosystem players (Orion Protocol, Chainalysis, Hummingbot), to key stakeholders (Union Square Ventures, Cumberland Advisors), to government enterprises (Marshall Islands). Given this, we believe ALGO is a great addition to our blockchain infrastructure efforts,"
Adding:
"The ALGO Foundation proposed a roadmap going out as far as 2030 focusing on ecosystem support, community incentives and decentralized governance. We look forward to monitoring its developments over the years,"
Investors cheered the new partnership, as evidenced by BTCS's initial rally, but the stock had opened up for trading at the time of publishing. 
BTCS was an early adopter of blockchain technology and was the first "Pure Play" publicly listed US company solely focused on blockchain infrastructure and technology. 
The firm secures proof-of-stake blockchains by actively processing and validating blockchain transactions via its blockchain infrastructure services. 
BTCS is currently working on a proprietary Staking-as-a-Service platform that will allow users to stake their crypto tokens and delegate the cryptos supported by the platform through a non-custodial service. 
The company is also working on a data analytics platform to track digital asset prices, allowing their clients to track their crypto portfolio across multiple wallets and exchanges. 
BTCS stock opened the session, trading up 20%, keeping a decent portion of its initial gains.
*This is not investment advice. Always do your due diligence before making investment decisions. 
BTCS stock price.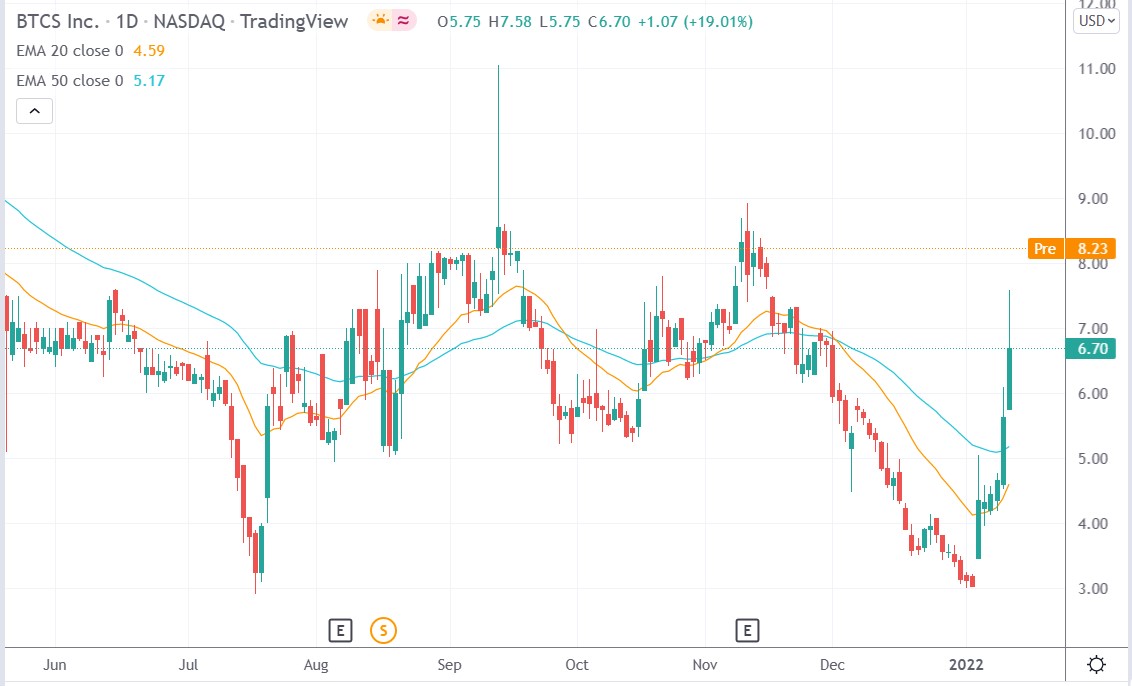 BTCS stock rallied 44.77% premarket to trade at $9.70, rising from Wednesday's closing price of $6.70.