Key points:
The GBPUSD pair rallied higher as August inflation fell slightly.
The August CPI print came in at 9.9% versus the expected 10%.
Investors are currently bullish on the pound and the BoE.
The British pound (GBPUSD) currency pair rallied higher after the UK's CPI print fell to 9.9% in August, beating analysts' expectations set at 10% and recording a slight decline from the 10.1% figure recorded in July.

The pound's rally signifies investors' expectations that the Bank of England will raise rates at its monetary policy meeting scheduled for Thursday, September 22, 2022. Investors expect the BoE to hike rates by either 0.75% or 0.50% next week following the Fed's rate hike.
Also read: Is Forex Trading Profitable?
The BoE has to remain hawkish to boost the pound as a shift to a dovish stance could weaken the pound as other leading central banks led by the US Federal Reserve continue hiking rates to fight inflation.
The latest UK jobs data released yesterday showed that demand for labour remained higher while the unemployment rate fell to a record low of 3.6%, last witnessed in 1974. However, some analysts have attributed the lower unemployment rate to people leaving the workforce rather than to more people getting jobs even as the number of job opportunities increases.
Unlike its neighbours in the EU, the UK's energy crisis is not about having a sufficient energy supply but is more about the prices. The recent announcement by the Liz Truss government capping energy prices could provide significant relief to consumers if implemented for the proposed two years.
A key figure highlighted in the latest jobs data was the massive increase in the number of people with long-term illnesses who had to exit the workforce, rising by 150,000 in the past two months.
The GBPUSD daily chart below shows that the currency pair is trading above crucial long-term support that could trigger a rally higher if its holds over the coming days. However, the real test will come next week as the Fed and the Bo/e announce their respective interest rate hikes.
*This is not investment advice.
The GBPUSD price chart.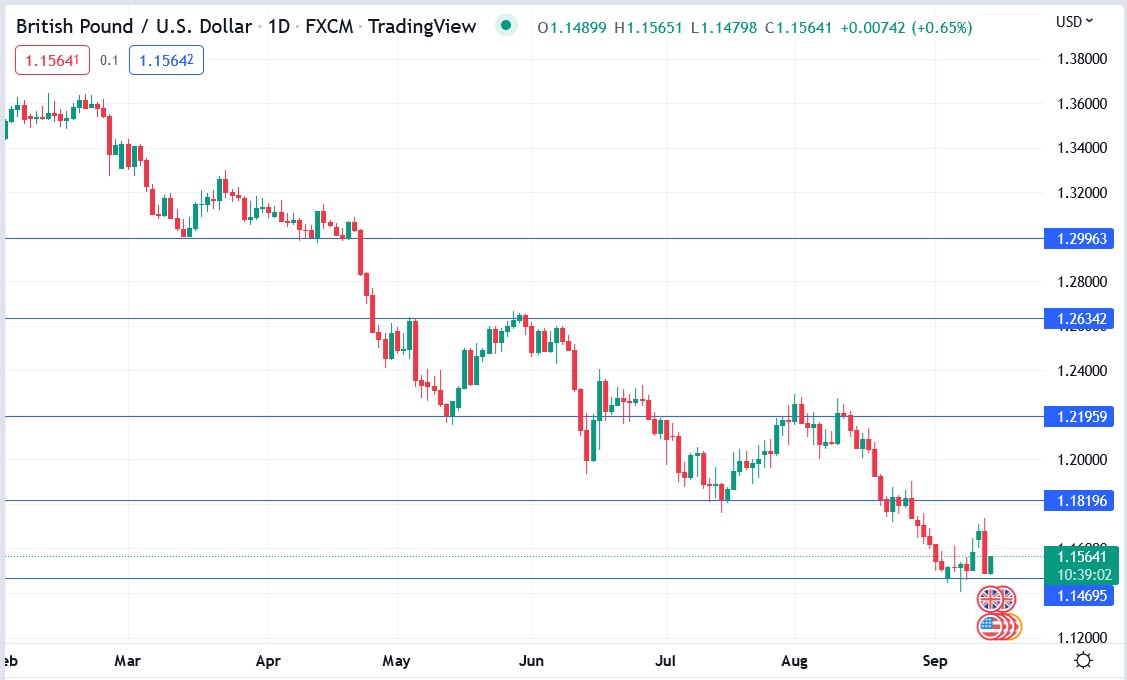 The GBPUSD currency pair was trading up 74.2 pips (0.65%) after the positive inflation data.