Shares of Ceres Power Holdings plc (LON: CWR) fell back into the trading range highlighted in my last article instead of rallying higher. Here's what happened to the stock.
The hydrogen energy company's shares broke out of the trading range and attempted to rally, but the buyers failed to step in and support the uptrend causing it to quickly fizzle out and reverse course as the sellers stepped in.
Ceres Power shares have fallen to the lows of the trading range, giving bullish traders another opportunity to buy them at a much lower price than they could have at the top of the range.

The shares are now subject to the range trading strategy, which requires investors to buy at the bottom of the range and sell at the top. The current price is a good buying opportunity from a technical perspective.
As always, it is essential to have a stop-loss order on your position just in case the shares break below the support level and head lower to minimise your losses.
The hydrogen fuel cell company's fundamentals remain the same since there have been no significant announcements in the recent past, leaving its shares at the mercy of investor sentiment.
As I have clarified in the past, Ceres Power needs to invest heavily in research and development to keep up with changes in the hydrogen fuel cell market by developing new technologies aligned with broader industry trends.
Ceres Power is still a significant player in the solid oxide fuel cell market projected to hit revenues of $2.88 billion by 2025 and is well-positioned to profit from the projected growth.
The company also has an asset-light business model with significant margins since it does not manufacture the hardware used with its technology making it an attractive business.
Bullish investors could use the latest decline as an opportunity to buy more shares. However, nothing is guaranteed in the markets.*
*This is not investment advice.
Ceres Power share price.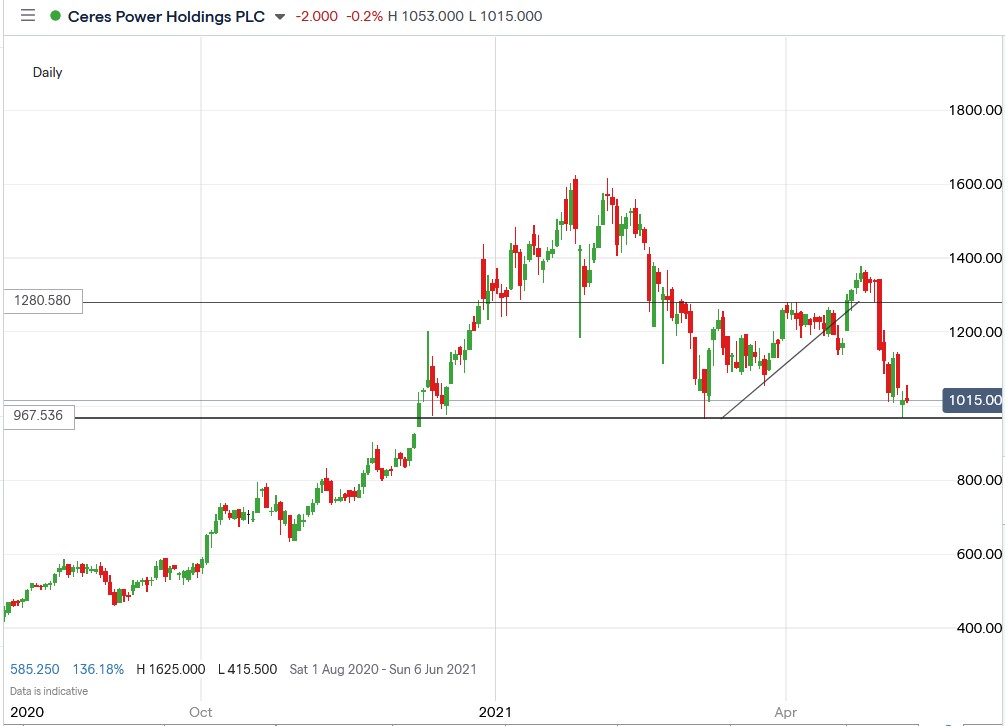 Ceres Power shares fell bank into the trading range but appear to have bottomed. What's next?